The Good Doctor: Season 4/ Episode 3 "Newbies" – Recap/ Review (with Spoilers)
In "Newbies," we are introduced to 6 characters, of which 4 will continue – which ones will join "The Good Doctor" and potentially become regulars?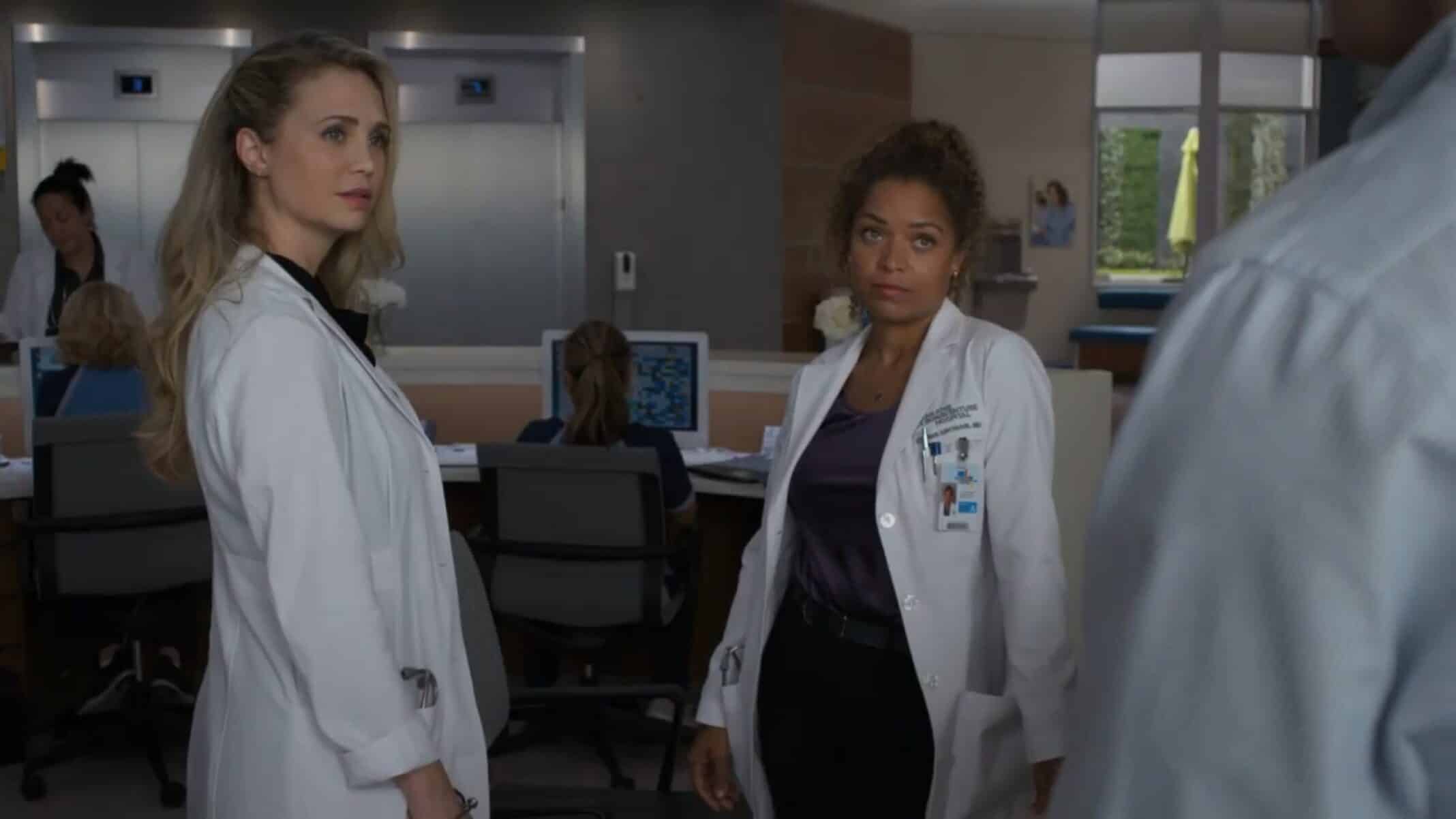 In "Newbies," we are introduced to 6 characters, of which 4 will continue – which ones will join "The Good Doctor" and potentially become regulars?
---
Director(s)
David Straiton
Writer(s)
Thomas L. Moran, David Renaud
Aired (ABC)
11/16/2020
Introduced This Episode
Jordan
Bria Henderson
John
Michael Liu
Asher
Noah Galvin
Olivia
Summer Brown
Will
Sam Robert Muik
Enrique
Brian Marc
This content contains pertinent spoilers. Also, images and text may contain affiliate links, which, if a purchase is made, we'll earn money or products from the company.
Recap
Meet The New Kids – Jordan, John, Asher, Olivia, Will, Enrique
So the candidates are Will, who is well connected, knowledgeable, but a bit problematic due to him cutting people off and mansplaining – which neither Morgan nor Claire like. Following him is Enrique, who is worldly, but his relaxed attire does put off Claire. Though, one could submit the calm and kindness he shows is very much like how Claire is when she isn't stressed out.
Following them is Olivia, who is as educated as Will, but with insecurity oozing from every statement, so comes the question if she can ever be assertive? Making her too almost like Claire, in her early days on the show. This brings us to Jordan, who, following the "mirror-universe" approach Andreas mentioned (check out the comment section of previous episodes), gives you a mix of Morgan with Claire when she started to get too assertive for Dr. Melendez's taste.
Leaving John and Asher. Considering how quiet he is, you almost are left to wonder if John is similar to Shaun, but higher functioning, or displaying autism differently. However, him being reserved more so stems from his concept of what professionalism is – which he thinks most do not display. Then with Asher, there is an intensity there that is mostly in his look. However, with his eagerness and keen eye, you can see a bit of Shaun, a bit of Morgan, almost like those two had a child. One social awkward but willing to take initiative, child.
The Multiday Interview – Jordan, John, Asher, Olivia, Will, Enrique, Lea, Shaun, Claire, Morgan, Dr. Lim, Dr. Andrews, Alex, Dr. Glassman
When it comes to the potential first years, they are split between Dr. Andrews, Shaun, Alex, and Dr. Lim, with Claire. Under Dr. Andrews' team is Jordan, John, and Enrique, who all bring something different to the team. John brings medical knowledge and eye that rivals Shaun. Hence him saving their patient's life. However, what John has in medical prowess he lacks in being able to deal with Shaun after he offends Lea.
You see, while John doesn't like to get personal, Jordan has no issue doing so. She questions Dr. Andrews in front of a patient looking for breast augmentation, and after Shaun says he likes Lea's body but isn't fond of her voice, she checks him as well. This leads to Shaun talking to Dr. Glassman and figuring out where he went wrong, since Lea did get upset, but between Dr. Glassman and Enrique's encouragement, Lea and Shaun reconcile.
As for Dr. Lim's team? Well, Morgan and Claire going back and forth eclipses Will, Asher, and Olivia to a large degree. In fact, they are often thrown into their spat or, in the case of Will, join in uninvited. But, like with Dr. Andrews' patient, we get a miraculous solution that allows the patient to live.
The Final Decision – Shaun, Claire, Dr. Lim, Dr. Andrews, Alex
So who gets to stay and who is asked to go? Well, there are some twists and turns with that. Initially, Will was a shoo-in because of how hard Dr. Lim pushed for him, with Jordan following since Dr. Andrews loves how assertive she is. Thus leaving John because of his knowledge and Asher, because he was just generally well-liked.
However, John drops out because he just can't deal with being expected to listen and deal with relationship drama. Then with Will, Claire opens up about thinking he would be insufferable and taking note of Alex saying they should pick someone they can stand to be around, Will doesn't make the cut. Thus making the final four: Jordan, Asher, Olivia, and Enrique.
Things To Note | Question(s) Left Unanswered
So, should we consider the first two episodes simply a nod to the COVID pandemic but not necessarily in the show's regular timeline?
Collected Quote(s) & .Gifs
You're big on opinions, how are you with ideas?
— Dr. Andrews
It's better to show my love than try to explain it.
— Shaun
Review
---
Community Rating:
---
Highlights
With New Residents Comes A Feeling of Renewal [87]
Despite noting nearly half remind you of Claire or Morgan during their development, their existence shakes things up immensely. Dare I say it, the idea of new characters brings new energy to a show that was starting to feel rather routine. For whether it was the patient of the week, Shaun's relationship drama, Claire losing the person who finally got her to open up, and then spiraling, it all felt like an endless cycle.
However, with new blood comes the inability to maintain those old cycles since everyone has been promoted to act as supervisors. Hence, John's inclusion to remind you that a lot of what goes on isn't professional nor appropriate. Yet, because the lead cast live in this cocoon, what is strange to outsiders are normal to them. Hence why Dr. Andrews going from wanting Shaun fired to just giving him a proverbial hand slap.
But now, we're given these strong personalities in Jordan and Asher who will challenge the status quo, people like Enrique who will break up expectations, and then Olivia? Well, I foresee her possibly becoming to Morgan what she wanted to have with Claire. Especially if they are allowed to bond over coming from an accomplished family and trying to forge their own path to relevancy amongst them.
Thrilling Surgeries [85]
While Morgan's patient I can't recall the name of, and the girl Shaun was over not being much more than a catalyst, I must admit the ins and outs of them being diagnosed and their surgeries were thrilling! Which I haven't said in who knows how long since the medical aspect of The Good Doctor had long become boring since patients lacked oomph. Alongside that, rarely knowing, if ever, a patient would be lost, it took away any rush, thrill, or need to fear. For, as seen with John's discovery, someone will discover something minor or come up with an out-there procedure to save the day.
Yet, and I attribute this to the new faces, with them shaking up what has become the norm, there is an excitement that I think could only come from people who could and are likely to make mistakes.
This Claire v. Morgan Rivalry [86]
Claire and Morgan have had a love/hate relationship since Morgan was introduced. If it isn't a personality clash issue, it is because Morgan got a little too close and chummy, so Claire felt the need to push her away. Now it seems Morgan's desire to still feel connected to the surgical team bugs Claire as if she feels like Morgan is a specter trying to take something from her.
This, to us, is probably going to be the driving point of Claire's development for her difficulty in being close to anyone is the core of her character. I'd even say, similar to what Enrique was talking about with Lea and Shaun's relationship, in terms of being vulnerable enough to allow someone to see their flaws, that is what Claire is looking for.
However, with Dr. Melendez's death, I think she has reverted back to wanting to hide rather than venture out and grow close to anyone. Also, lest we forget, it took nearly 3 seasons for those two to come to be. So when it comes to Morgan, maybe by the end of this season something could happen between them? I mean, Dr. Melendez and Claire had a moment that took a long time to develop. Would it be wrong to say, especially after how Claire and Morgan were after Claire's mother died, they could have something by the end of this season or the next?
Summary
---
Community Rating:
---
This Claire v. Morgan Rivalry - 86%
Thrilling Surgeries - 85%
With New Residents Comes A Feeling of Renewal - 87%
With new characters comes a show which finds its second leg after starting to feel like it was on a steady decline.
---
Follow, Like, and Subscribe
Community Rating: 0.00% (0) - No Community Ratings Submitted (Add Yours Below)