The Good Doctor: Season 1/ Episode 2 "Mount Rushmore" – Recap/ Review (with Spoilers)
---
Community Rating: 0.00% (0) - No Community Ratings Submitted (Add Yours Below)
---
This post may contain affiliate links and spoilers. Please read our disclosure policy.
---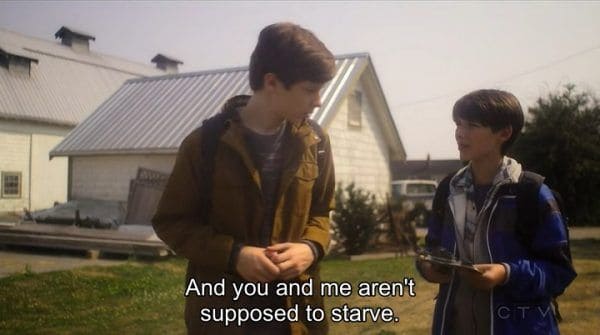 Between Shaun's bedside manner, learning to let things go, and lacking a real mentor, there is some struggle. Yet, as Steve's influence continues to affect Shaun, the memories of his brother help push him to do what he believes is right.
We Gotta Eat: Steve, Shaun
Steve isn't written off the show! Despite us seeing him likely die in episode 1 and in the process of maybe dying this episode [note]I would love for him to be alive but I fear him maybe being a vegetable or with severe disabilities. Though, with Shaun mentioning Steve is in heaven, unless someone lied to him, there is an overwhelming possibility the boy is dead.[/note] it seems his time on the run with Shaun will continue. Perhaps with each episode featuring how Steve prepared Shaun for the life he has now. Such as being capable of telling white lies in order to get what you need or having the confidence to engage with people. To perhaps look them in the eye.
One Blunder After Another: Shaun, Dr. Melendez, Nurse Fryday (Eve Gordon)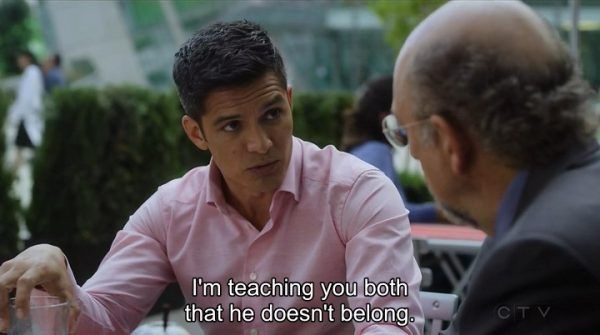 Which, even 10+ years later, Shaun hasn't mastered. He is as blunt as can be and it scares people. Especially as he orders a bunch of unnecessary tests to double check other people's work. Which doesn't lead to any doctors being insulted but nurse Fryday surely aggravated. However, it is Dr. Melendez, with Dr. Andrews over his shoulder, sending mixed signals, which makes the situation difficult.
So, to get him out of his hair for a day, Dr. Melendez assigns Shaun to Nurse Fryday and deems her his boss. This is done to allow him to maybe learn how not every patient should be met with pessimism. That people with ear infections don't need MRIs and that there are ways to convey your truth while still telling people what they need to hear. A lesson Shaun by no means masters but is in progress. The legal team hasn't gotten called just yet.
Two Good Ideas and Credit For One: Jared, Claire, Shaun, Dr. Melendez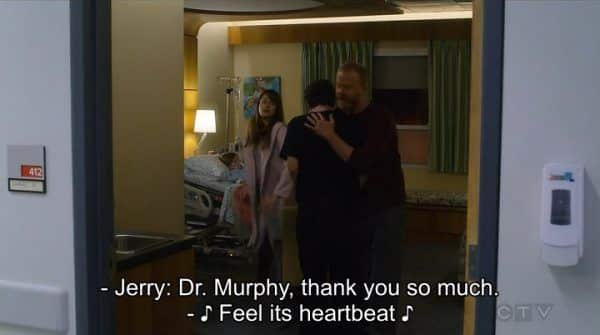 Though Shaun struggles a lot on his official first day, from being late to overdiagnosing people, he does get two victories. One of which Jared claims. Long story short, a woman named Stephanie (Nancy Stone) comes in and we learn she has a tumor. The tumor is in a difficult place to really get a gander at and the tests done before didn't fully prep the surgeons for what they need to do.
So, Shaun has the brilliant idea of cutting out a kidney for a better view. However, he doesn't tell this to Dr. Melendez, Jared does. Then, to make matters worse, Jared also takes credit and shares not one lick of it since he took the risk. Now, as for what this has to do with Claire? Well, she decided to promise the woman she'd live through surgery and recover in time to see her son get married. An event within two weeks. However, she didn't vouch for this procedure Shaun came up with and Jared executed. Making Jared a bit upset that not only didn't she call him out if she was so against it, much less would let him take the fall for it, but also her being a hypocrite. But, in the long run, Stephanie didn't care. She is alive and without that tumor taken out, she would have had three months to live.
Leading to the victory Shaun does get to claim. It deals with a little girl who seemingly just had a tummy ache but really had something twisted in her intestines. I won't rehash the medical details but let's just say that Shaun had to fight and really go with his gut, sale his idea if you will, to get that girl to surgery and save her life. Making it seem Steve training Shaun to sell himself to convince people to give him money worked. He didn't get to finish the job but enough of the foundation was laid for Shaun to pick it up later.
Highlights
Another Episode Leaving Me In Tears
I hope I'm not the only one crying here but there is just something about Steve's effect on Shaun's life that gets to me. How even, at least 10 to 15 years later, what Steve taught Shaun, or tried to, is finally clicking. What that little kid was trying to instill on his brother for their survival is being put to good use. And when you think about how what Steve did is allowing Shaun to have this life with such possibilities, it is hard to not get teary eyed.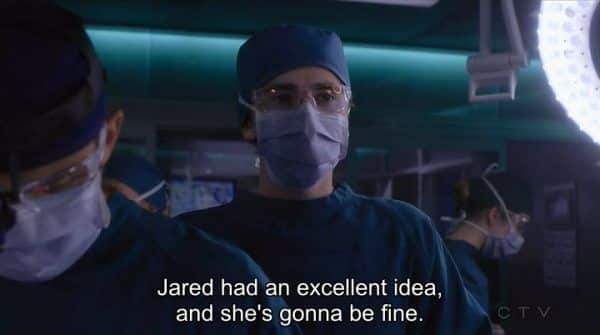 Yet, that isn't the only reason to cry. There is also what Jared did. Him stealing Shaun's idea I bet isn't the first time this has happened to Shaun. After all, Shaun has had to go through med school right? How many projects and brilliant ideas or papers were probably stolen or given credit to other people because Shaun was either underestimated or taken advantage of? Perhaps just happy someone was treating him like a normal person so he paid the toll for some kindness and company.
Criticism
How Sheltered Was Shaun?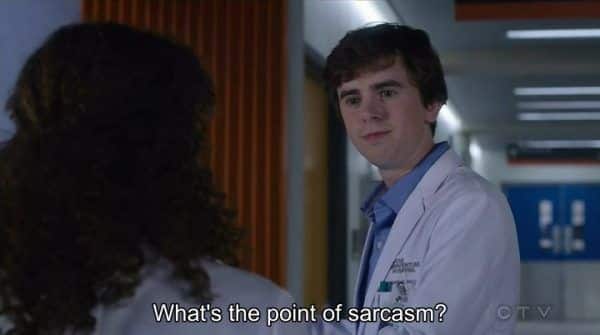 It isn't clear how close Shaun was to Dr. Glassman, such as whether he raised him or not, but with Shaun acting as if he doesn't know what sarcasm is comes that weirdness Atypical had. The idea that this person who, yes, is autistic, has lived in such a bubble that common things like sarcasm have to be defined. Now, if it was he simply isn't good at deciphering it, fine. But Shaun isn't a teenager. He went through med school and I think Dr. Glassman's fight for Shaun to work in the hospital would have been impossible if that was all online. If not mostly online. So there is this need to really put this show under a microscope and wonder what happened between Steve dying and Shaun showing up at this hospital?
Something seems off here.
On The Fence
Dr. Andrew
Politics. Most can't stand talking about them, especially when dealing with those with an opposing opinion. However, the politics I'm sure universally people hate is office politics. Of which Dr. Andrew is in for the presidency and it isn't really clear whether he is tipping things his way or just rolling the dice without a care. After all, like he said, if Shaun does well, he gets credit for his advancement since he works in his department. Yet, if he fails, there is this assumption Dr. Andrew will become president. Assumption being the keyword for who really wants a president who seems like such a douche?
According to Deadline, The Good Doctor has a full season pick up. Meaning, a 22 episode season!