The Girl Before: Season 1/ Episode 4 [Finale] – Recap/ Review (with Spoilers)
---
Community Rating: 0.00% (0) - No Community Ratings Submitted (Add Yours Below)
---
This post may contain affiliate links and spoilers. Please read our disclosure policy.
---
All I can say is I knew it, I F***ING KNEW IT!
---
Aired
12/19/2021
Network
BBC/ HBO Max
Directed By
Lisa Bruhlmann
Written By
JP Delaney
Introduced This Episode
Saul
Mark Stanley
Ray Nelson
Jimmy Walker
Paul Ellis
Luke Norris
Recap
[adthrive-in-post-video-player video-id="FYI9KOFd" upload-date="2022-03-25T04:57:59.000Z" name="The Girl Before: Season 1 – Video Summary/ Review (with Spoilers)" description="A review of the first season of "The Girl Before."" player-type="static"]
The End of Emma – Saul, Simon, Edward, Ray, DI Clark, Emma
So what is the truth, the whole truth? Well, Ray Nelson, as we know, didn't rape Emma. It was actually Simon's best friend, Saul. Now, what were the circumstances? Well, Saul and Emma were drinking around the time of a work event, being flirtatious and silly, as both have been established to be. However, Saul wanted to continue things in his room, and, originally, Emma wasn't down, but when Saul texted later, against her better judgement, things happened.
This is why she didn't want to tell Simon since Saul is his best friend, and she wasn't sure if he'd believe her. Yet, when she tells the truth, he does, and this allows them to have some way back to, not a relationship, but a friendship. One that comes with the benefit of, when Ray, for some reason, breaks into Emma's home, despite all the technology involved, Simon is able to help with that incident and when someone paints "LEAVE" in the house – naturally frightening Emma.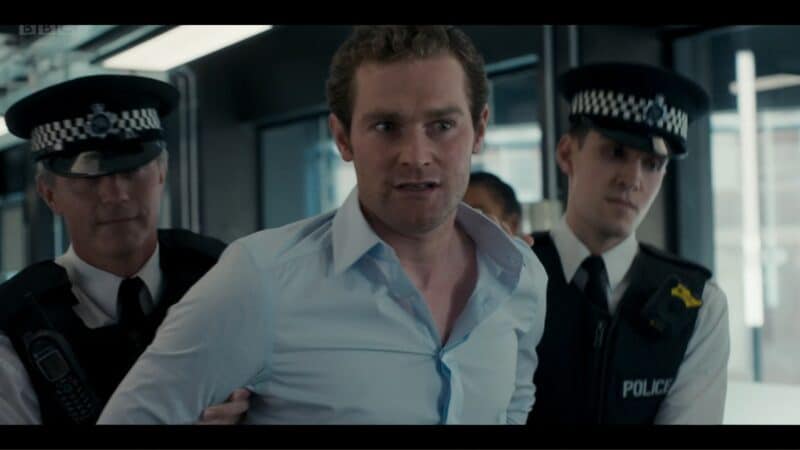 Though, what she doesn't know, and what DI Clark ignores, despite Emma calling him, is that the threat isn't Edward. In fact, it is Simon. Why? Well, give a man an inch, he'll take a mile, and with him finding himself unable to let go of Emma, he painted that "LEAVE" on her wall, and while we don't know if he was involved with Ray, he did hide in that storage area, near the servers, hence him getting to Ray so quickly. But, what led to Emma's death was Simon thinking that he and Emma could be endgame and him refusing to think she'd choose Edward over him. So, they get into a fight which ends up by the stairs, and Emma isn't pushed, but rather falls – due to Edward.
The Rise of Jane – Jane, Paul, Edward, Simon
As you can imagine, because Edward is so meticulous, methodical, and a bit cold, Jane's investigation continues to paint the picture Edward is the problem. She meets with Paul, someone who worked with Edward previously, and Paul makes it seem like Edward killed his wife and son over a wall. It was not properly placed, so he took some tool to it, and thus the wall fell on his wife and son.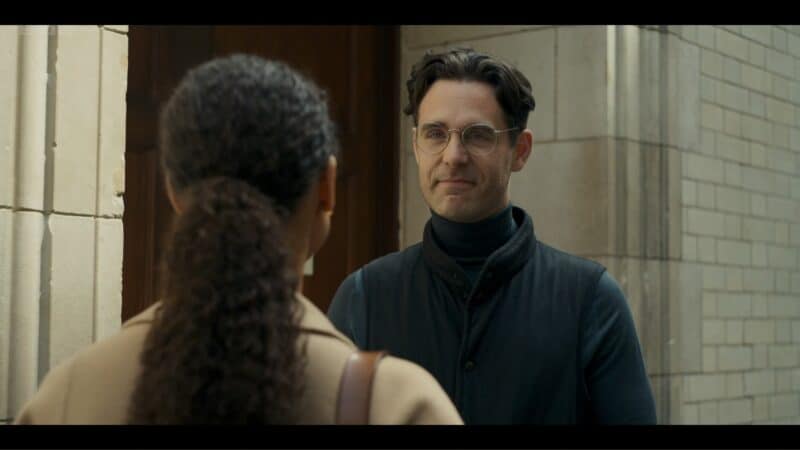 This is troubling and seems a bit absurd, yet it isn't like everyone hasn't said Edward is someone to be worried about. However, as Emma learned it is actually Simon who is a threat, so does Jane, but unlike Emma, Jane is on the right side of the stairs, and it is Simon who falls after flipping out on her for choosing Edward over him.
The Truth About Edward – Edward, Jane, Carol
With knowing Emma's full story, be it Saul raping her and Simon accidentally killing her, Jane and Edward reach a new place in their relationship. One that doesn't get a reset, but at least now she realizes he isn't as dangerous as everyone made him seem, likely due to their bias, envy, or racism (who knows?).
However, she doesn't set aside he is still a very troubled man, and with him needing therapy, she gives him Carol's card, and seemingly, until she is comfortable, she'll keep their child away from him. Which might be fine by him since he is looking for a new tenant.
Things To Note | Question(s) Left Unanswered
Question(s) Left Unanswered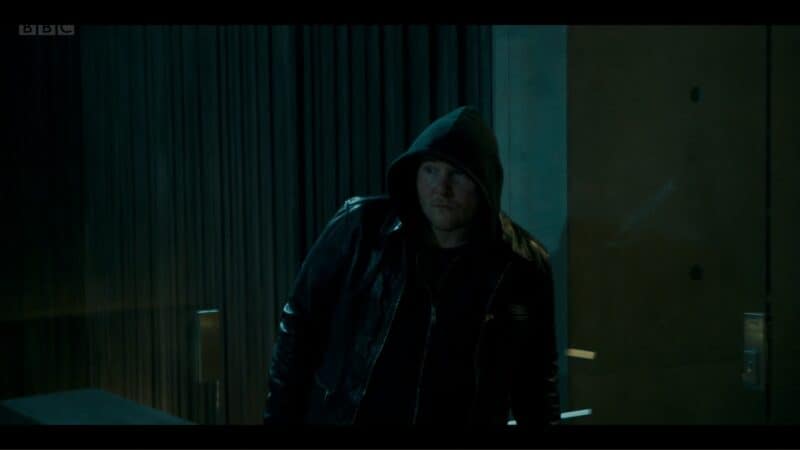 So, no red flags go off when the camera system is taken offline?
Did Simon, when Emma was killed, disable the microphones too? Also, you're telling me there was no backup system or alert either?
Um, so when would Edward get to see his kid?
Again, where are Emma's parents in all of this? Some kind of family.
Did Simon pay Ray or clue him in on how to break into the house? I would think, with all the gizmos the house runs on, someone picking a lock would set off all kinds of alarms.
Review
Highlights
Edward Was Innocent!
Where is that Sofia Vergara .gif?!
You see, the issue with everyone painting Edward as the villain in all this is that everyone who said something negative about him was a piece of s*** themselves. Amanda was, or is, married to a rapist who likely has hit on, tried to have sex with, or maybe coerced so many women in their company that her knowledge of it is basically enabling. Carol, who only spoke to Emma, doesn't know Edward at all and showed a level of bias that makes you question how good of a therapist is she really? Like, can you imagine her sessions with him after all that has happened?
Then when it comes to Paul and so many others, I truly think Edward, being a successful Black man who didn't try to be overtly charming, palatable, and instead was cold and calculating, that made them uncomfortable. After all, many people don't like a successful Black person who isn't humble, jokey and makes you comfortable about their presence. So, of course, they painted him as an ass capable of killing his wife, his kid, and more.
BUT GUESS WHAT! HE WAS INNOCENT, AND IT WAS THE BOYFRIEND! Well, ex-boyfriend anyway.
Jane A Bit Of A Manipulator As Well
You know what I appreciate about Jane? Despite her showing her hand with Edward far more than I would think to be smart, she never did lose control of the situation. She poked, prodded, definitely antagonized Edward, but I think it was all a test. As she notes, the baby was planned, in terms of her eventually wanting kids with Edward, and I think all that we saw with her investigating him was her means of vetting Edward.
Now, as for whether she knew about him before the house existed? I want to say no. However, considering we still don't know who the father was of her first baby, and the circumstances around that pregnancy, who is to say Jane doesn't have her own pattern? Maybe she takes note of successful, powerful men in their industries, brushes up enough to show she is savvy, and seduces them? Then, once she is fertilized, does things to potentially drive them away or set rules and objectives they have to reach?
I'm not saying this is who Jane is, but there is a lot we don't know about her since everything was about Edward and how Emma died.
Low Points
Simon
My main issue with Simon is I wish they did more. As noted in previous episodes, the show so heavily had you focus on Edward that it seemed like misdirection and why damn it was! Which sucks since they could have made it so everyone could have been a culprit for various reasons. Yet, they took the lazy way out and made it so, yes, people like me can get a lot from how Edward was seen and treated, but it doesn't lessen the impact of the reveal or make it less eye-roll-inducing.
[ninja_tables id="62552″]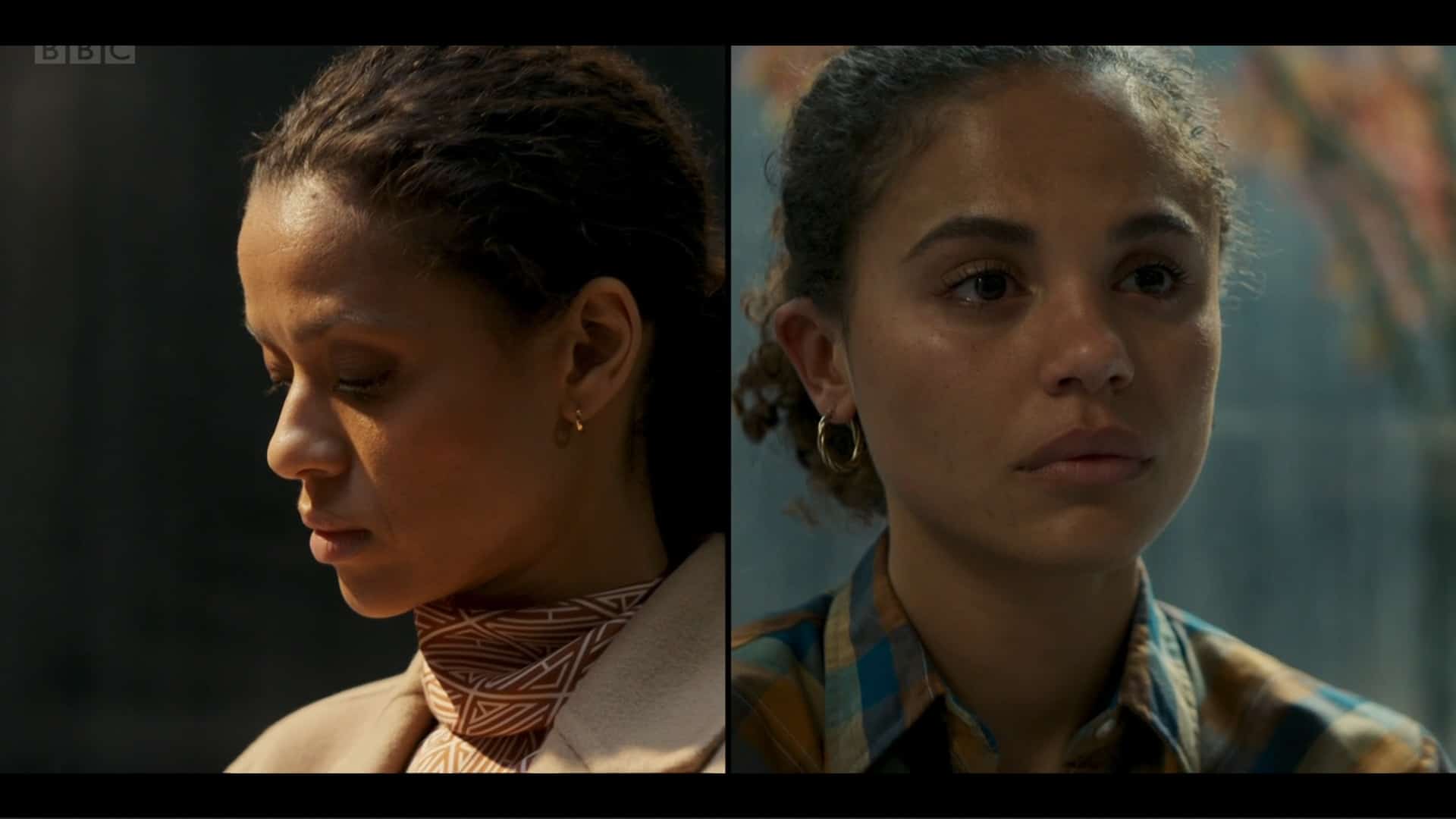 The Girl Before: Season 1/ Episode 4 [Finale] – Recap/ Review (with Spoilers)
Trajectory: Plateau
While vindicated about Edward and given an interesting reason to side-eye Jane, the reveal of who killed Emma was lackluster, as was the build-up to the reveal itself.
Highlights
Jane A Bit Of A Manipulator As Well
Edward Was Innocent!