The Chi: Season 2, Episode 9 "Guilt, Viral Videos, and Ass Whuppings" – Recap, Review (with Spoilers)
As the show preps for Brandon's exit, it becomes clear there is more than enough going on that his time can be used well.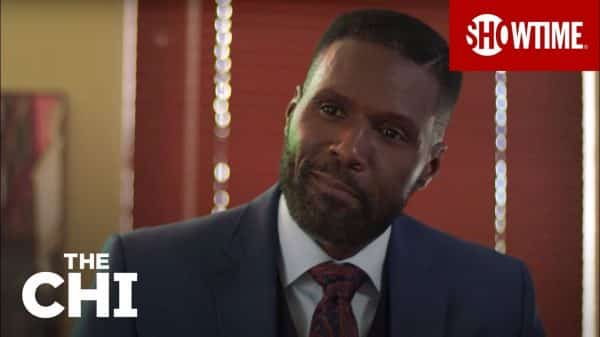 As the show preps for Brandon's exit, it becomes clear there is more than enough going on that his time can be used well.
---
Network
Showtime
Director(s)
Tanya Hamilton
Writer(s)
J. David Shanks, Joe Wilson
Air Date
6/9/2019
Introduced This Episode
Lonnie Gaines
AC Smith
Images and text in this post may contain affiliate links which, if a purchase is made, we'll earn money or products from the company. Affiliate links and external links have an upward facing, superscript, arrow.
Someone's Watching You: Ronnie, Tracy, Detective Cruz
With Cruz busting Ronnie for a DUI, he is put on notice that, one way or another, Cruz will put him back in jail. However, with Tracy's surprise return, someone seems to be looking out for Ronnie so that doesn't happen. Though whether she is ready to help him deal with his issues of rejection or not is a whole different thing. Especially since she is still healing, and with Shante talking about moving south, she may not have the strength to be someone's rock right now.
Kids Will Be Kids: Papa, Maisha, Nina, Kevin, Jake, Brandon
Kevin holding drugs for Jake becomes an issue since Michael snitched. Leading to Nina learning about that and the opportunity to go to North Side Academy. But things really come to a head when he embarrasses her and curses at her in public – leading to an ass whipping.
However, all things considered, the Maisha situation might be Kevin's biggest moment. That is, the biggest moment of the episode which shows the boy is slowly becoming trash. For while Brandon tries to talk to the kid, help him see how good life is and how his friends' influence aren't making things better, the boy isn't there yet. He still holds onto what his school and friends mean so strongly that he disses Maisha when it is revealed the two kissed. This is despite her being the one person who has been a bit weird, like licking him, but otherwise a good person in his life.
It Gets Real Sometimes: Detective Toussaint, Douda, Emmett, Tiff, Ricky, Keisha, Brandon, Detective Cruz, Lonnie Gaines, Reg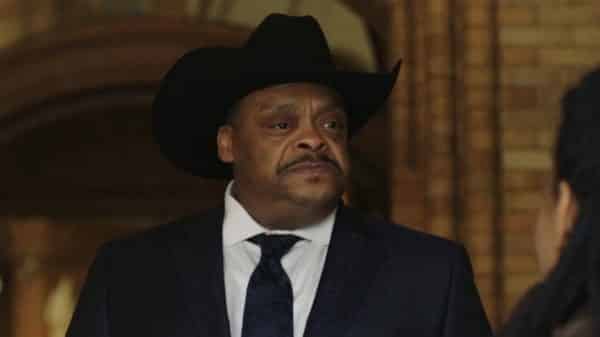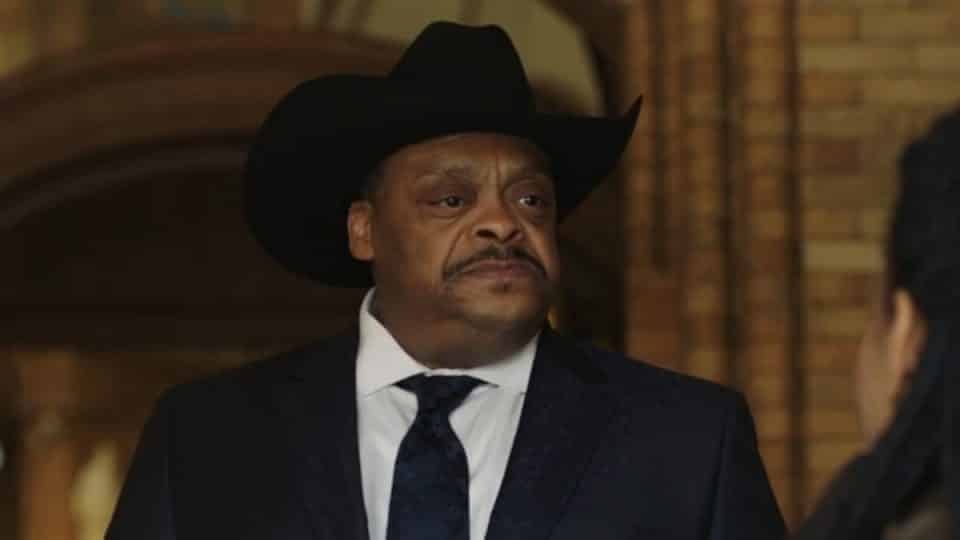 Brandon is in some deep mess right now and doesn't even know it. Toussaint is picking up steam and starting to connect the dots. She picks up on Lonnie Gaines, owner of Family C realty, boss of the white woman who died, is a former 63rd gang member. She even learns he shared a cell with Walter Burkes when in prison. Add in Douda's pizza boxes showing up around Brandon's guarded truck, and this leads to her meeting Brandon and thinking he could be a potential informant. Though with Cruz tipping him off a bit, that might make that difficult.
However, the real issue might be, after confronting Douda, Toussaint's son gets assaulted to send a message. Also, on top of tipping Brandon off about Toussaint, Cruz reveals he played a role in Coogie being killed. Something we don't see Brandon's full reaction to.
But, outside of Brandon, Emmett has stuff going on too. The likely lead once Brandon makes his exit learns Tiff is pregnant and this comes on the heels of not only winning Keisha back but getting involved with Reg. How? Well, Brandon calls in Reg to help with Emmett's issues with Ricky – who he sees with another teen girl. So now, depending on how closely Brandon is being followed, Sonny's and Emmett may soon be on the cops radar.
Other Noteworthy Facts & Moments
Walter Burkes founded the 63rd Street Mob and has a life sentence.
Commentary
Oh, They Going To Make Writing Brandon Off Something
It isn't clear how Brandon was written off or if they'll clean that up in the season 3 premiere. All that is clear based on this episode, and the preview for the next, is it is going down. However, rather than get shot up, it seems he may just get a jail sentence. One that won't necessarily explain Jerrika's absence nor what that may mean for Greavy since it isn't like the man is seen without Brandon. Much less, whether that means Hannibal too will be collateral damage.
But hey, part of accountability isn't just HR and the showrunner checking someone. Your peers got to be involved as well since everyone can be replaced or written off. Well, unless your contract has you locked in.
Child Abuse Chat
It's weird in a way how Jake, Papa, and Kevin spoke about getting ass whoopings. Maybe it is because I'm older and find the idea abusive, but watching these kids just treat it as a thing which happens, something normal, was interesting. Especially as Papa makes it clear the lengths his parents would go to whoop his behind.
Highlights
Brandon and Kevin Chat
One of the things I'll miss when Brandon exits are these chats between him and Kevin. Not to say Emmett can't step in, as the show has been prepping him to do, but it won't be the same. Yeah, Emmett is making smart moves and getting his life together, but Kevin has more than one reason to never mind Emmett and blow him off. On top of that, I can't imagine Kevin breaking down and crying around Emmett and it not seeming forced.
Papa Stepping Up
As shown throughout the show, Papa doesn't really need to be stuck in Kevin's orbit. He has presence, charisma, and jokes, which makes it so he can venture out and I'm glad he did with those girls. Granted, can't tell you a thing about any of the girls he talked to besides them being his competition for that flat screen. However, with the kids getting older and Brandon's pending absence, there does come the question whether it will be filled with new characters or dividing time up with old ones? My hope is, like Emmett is being set up for more, we're seeing Papa finally get a life outside of Jake and Kevin's drama.
R. Kelly Ain't The Only One
While the Ricky storyline isn't huge, you have to appreciate the show pointing out you don't necessarily have to be famous or in the industry to do as R. Kelly, allegedly (said for legal reasons), does. All you need is some influence. Which really puts into perspective how dangerous it is out here for young people considering how easy it is for many in a mentor role to take advantage of them. Whether they are from an urban area, never mind under the oppression of poverty, or not.
Toussaint v. Douda
Generally, Toussaint seems like a badass and has barely trembled no matter who she is talking to. However, her voice got shaky with Douda, and I don't know if that was on purpose or not, but that was one hell of a scene. The kind which pushes you to understand Curtiss Cook is not one to play with. I mean, the man was calm and cool, no yelling or cursing really, and got this actor talking in such a way you don't know if it is part of the character or genuine. Who else do you know that can do that?
On The Fence
The Way Emmett Asked Out Keisha
I would love to see Emmett and Keisha as cute, but him going to her school like that was creepy. He, an adult by age and responsibility, went to a high school, forced this girl to leave class by using the main office staff, just to ask her out. All while knowing she was dating a pedophile and trying to win her over with expensive gifts. There is something toxic here that you want to look past, but it is hard.
Detective Cruz
Again, I'm cool and understand there has to be a cop presence on this show. My problem is Cruz just ain't the one to rep how complicated the life is. Don't get me wrong, I'm still glad his home life has been cut out. Yet, him reminding us he set Ronnie up and revealing that to Brandon just seemed like a time filler. Granted, I did forget he is the reason for Coogie's death and Ronnie causing it, but there is just something about that character which seems inauthentic to me. Like we aren't getting someone rooted in being human, but he is there just to deliver a message about how hard and complicated it is to be a cop.
Follow Wherever I Look on Twitter, Like us on Facebook and Subscribe to the YouTube Channel.
Check Out The TV Master List Page
[ninja_tables id="34586″]
Brandon and Kevin Chat - 89%
Papa Stepping Up - 81%
R. Kelly Ain't The Only One - 80%
Toussaint v. Douda - 95%
The Way Emmett Asked Out Keisha - 71%
Detective Cruz - 70%
---
Follow, Like, and Subscribe
Community Rating: 0.00% (0) - No Community Ratings Submitted (Add Yours Below)