The Bold Type: Season 4 Episode 14 "The Truth Will Set You Free" – Recap/ Review with Spoilers
---
Community Rating: 0.00% (0) - No Community Ratings Submitted (Add Yours Below)
---
This post may contain affiliate links and spoilers. Please read our disclosure policy.
---
The ladies of the Bold Type come to unexpected realizations. One of which may destroy something they have invested in for a long time.
---
| | |
| --- | --- |
| Director(s) | Erin Ehrlich |
| Writer(s) | Ashley Skidmore |
| Aired (FreeForm) | 7/2/2020 |
This content contains pertinent spoilers.
Recap
Your Sacrifice Benefitted Others – Jane, Jane's Dad
Jane continues to struggle with her body, and while it has complicated dating and how she dresses, the help she has access to hasn't changed how she has felt. Be it the support group, the advice of dating her boobs, or even getting a plaster of them.
However, what does shift things are her father. Granted, in a statement that could be perceived as selfish, yet sometimes in knowing what you mean to others, you learn there are bigger things to deal with and worry about. Case in point, while Jane's worrying about how her breast make her feel, her dad is relieved she won't die like her mom, and he'd have to go through that trauma again.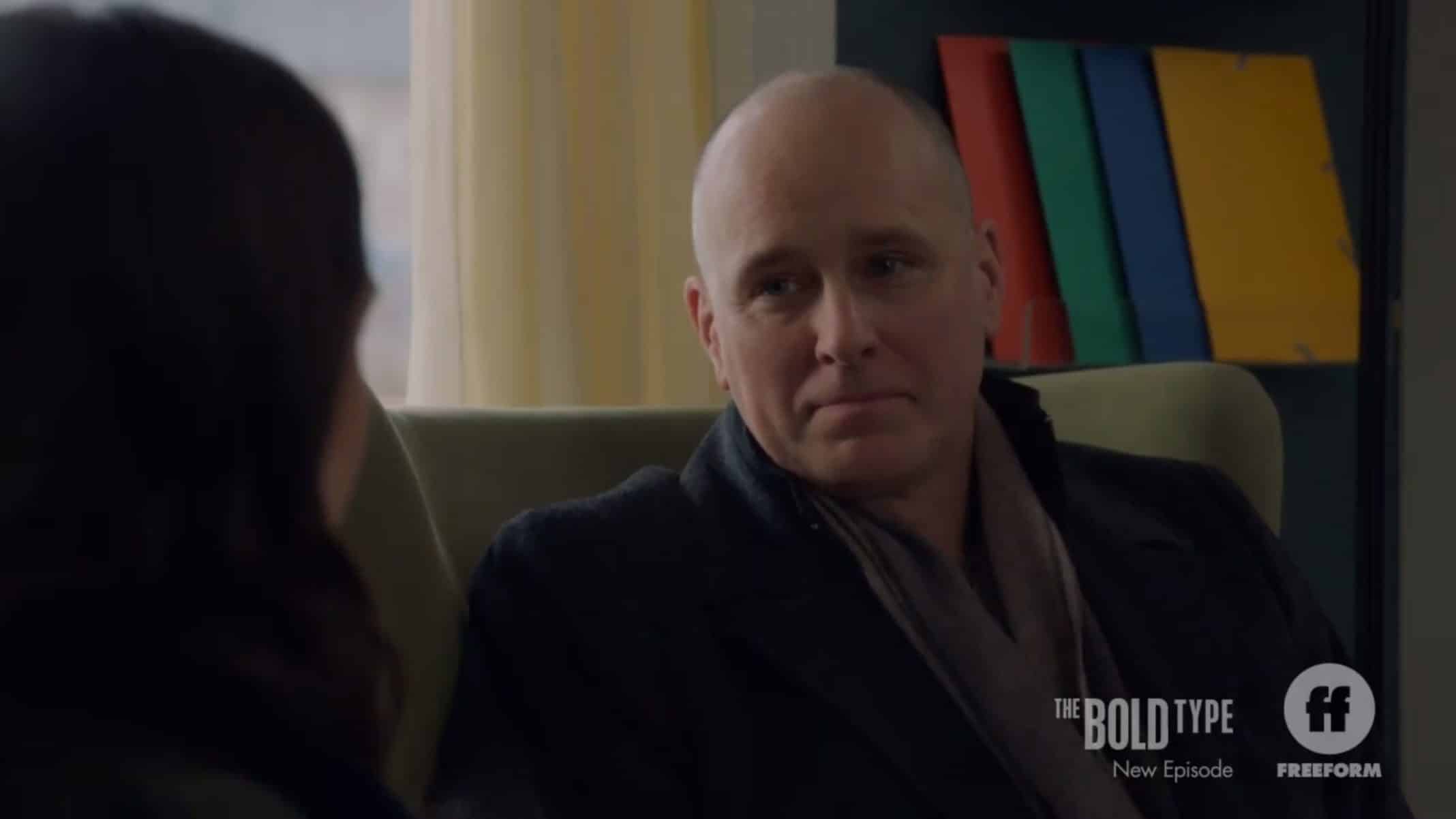 This doesn't necessarily end Jane's discomfort, but it does give her something to mentally battle her feelings. For as much as she doesn't like her breast now, or perhaps the implants and how they feel, she can remember why she had the surgery in the first place.
Life On The Other Side – Ava, Kat
While Kat isn't desperate for Ava to be on her podcast, she realizes, if she is going to start a new chapter in her life, Kat can't do what she did before and think that'll change anything. So, despite the discomfort it causes, Kat enters Ava's space, that of Republican women, for Ava doesn't believe Kat can handle a conversation with a conservative.
Now, at first, Ava was proved wrong, since Kat got into a discussion about Democratic messaging and how their passion often leads them to be off track. Ideas that are true, also can apply to Republicans, so Kat can deal with a honest criticism.
However, then comes two moms who don't like the idea of their kids possibly becoming queer and not what they deem normal, which rubs Kat the wrong way. In fact, it leads her to screw the idea of impressing Ava, and she just goes off. Not to the point of embarrassing herself, but enough to make it clear they picked the wrong one.
But, it seems Kat did the same. For after that heated conversation, Ava agrees to go on Kat's podcast and, after trying to make Ava come off as yet another straight white woman who is a bigot, Ava reveals she is a lesbian. Which perhaps explains RJ's investment in conversion therapy. It isn't said out loud that is why, but it does appear as one of the possible reasons.
Maybe We Rushed Into This? – Sutton, Richard
Sutton is a 26-year-old woman with a man who is at least 14 to 15 years her senior. As noted previously, this means, while they love each other, there is an age gap that could complicate things. For example, Sutton is just really getting to start her career and find stability while Richard, who comes from money, and also has his own, has flexibility. Hence Richard having the ability to fly cross country, have two homes, and you see minimal signs of them tightening their budget.
However, with Sutton just hitting her stride comes the idea of getting pregnant and that being put on pause difficult. For as much as they can get a nanny and all that, Sutton comes to realize, she doesn't want kids. The life she imagines is that of it being her, Richard, and them spending their lives together without a third.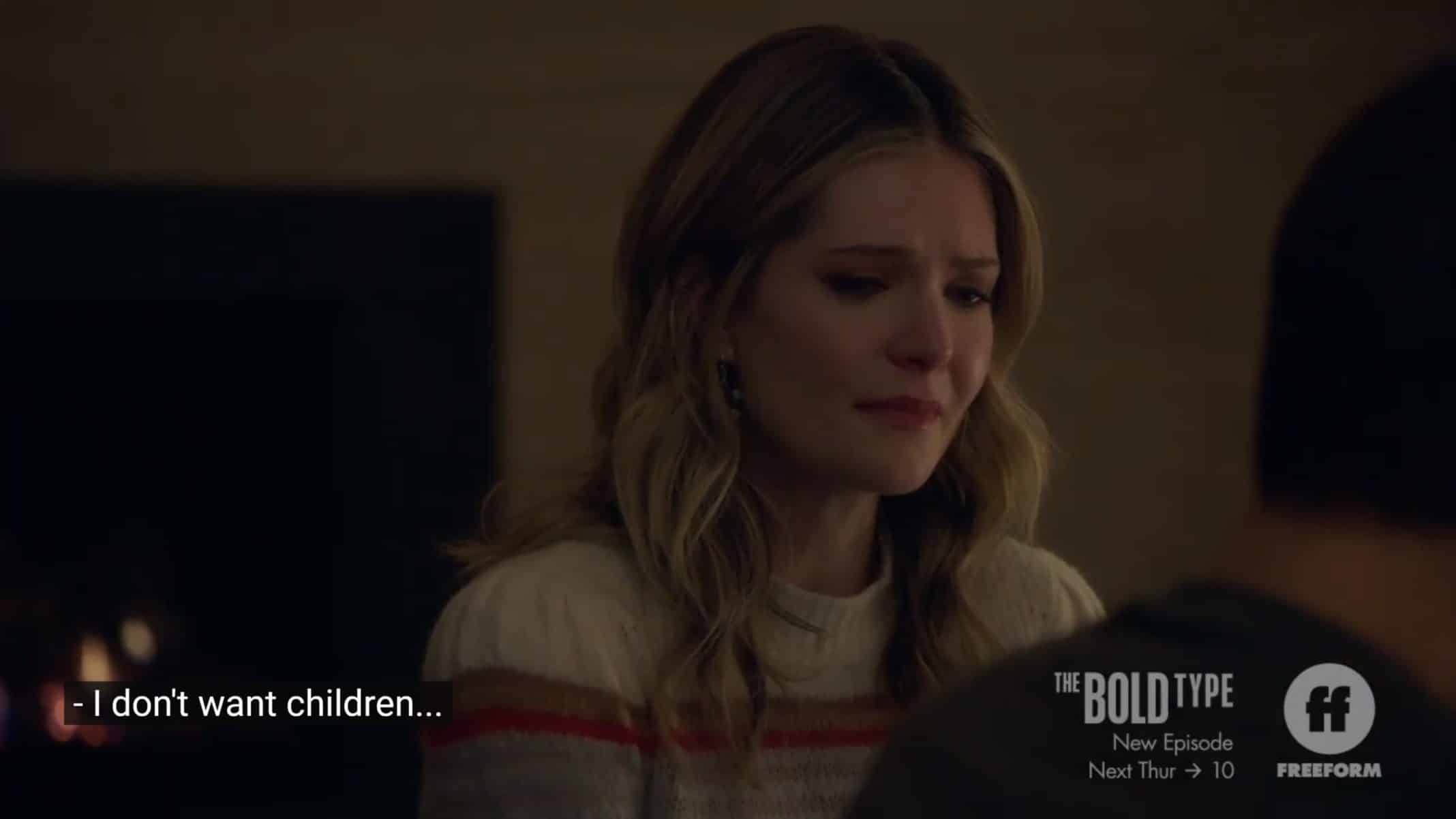 This doesn't sit right with Richard. For as much as he was willing to compromise and wait up to 5 years, being told it isn't likely to happen now? Well, cool and calm Richard throws and breaks his phone. Making it seem the man who often was understanding, and borderline perfect, may have his first real fight with Sutton that doesn't make him get seen in the best light.
Review
Highlights
Sutton Continuing To Forge A Unique Path
If you've read previous recaps, you already know we stan Sutton. Consistently she has been a unique voice on the show and in the depiction of young women on television. She doesn't come from a middle or upper-class family. She didn't get a single thing handed to her, and Sutton has struggled in ways Jane and Kat have yet to do and probably never will.
Which isn't to take away from their struggles with sexuality, dating, Jane's surgery, or their experiences with being unemployed. However, Jane's story, while it has some unique features, is what many women starring in shows have, especially if it is some form of progressive for the time. Kat, while she has the added element of being bi-racial and a woman leaning bi-sexual, she too has this air of you may not have seen her specific character before, but you can think of similar ones.
Sutton? That is much harder to do. And with the added element of her not wanting kids and being in a marriage where that is revealed after years of dating, it creates an unexpected conversation. Particularly since, as noted above, Richard has been so malleable and modeled to be the perfect guy, it gives him a chance to not be that. Now he can be mad, and justified in his anger, and not the understanding guy who changes who he is and what he believes for the sake of Sutton's joy.
Now, will this lead to a divorce? Hard to say. But, with this being the baseline couple, and Sutton struggling, badly, with dating when they did take a break, it does leave you feeling this won't be resolved quickly since, alongside money, childrearing is a subject that can upturn a marriage.
Kat In A Conservative Environment
Though I doubt it will ever happen, it would be cool to see shows like this, "Grown-ish" and others flipped a bit. For with seeing Kat in a conservative environment with people who simply disagreed with Democratic methods and ideals to people who were socially conservative, it reminds you those people exist and have been forced into a bubble.
This, by the way, isn't to say a platform should be given to bigotry and callous means of thinking. Rather, you can see how anything regarded as conservative of Republican has been demonized, especially due to their most vocal voices. But, as Ava said, it is because they're rarely is an effort to have a discussion. Often it is a debate to prove their point, make the other person look dumb, and appeal to their followers.
So, if Ava is sticking around, while we aren't over the moon about her and Kat dating, I hope she doesn't quiet her views for the sake of her relationship.
Jane & Her Dad Having Quality Time
Our favorite Jane is Jane when everything isn't going right, and rather than whining, she is reflective. For while Jane is the baby in her family, as the youngest of four, if I recall right, seeing that amongst her friend group and at work has long been a struggle. But it seems she has reached a new place, be it because of the surgery or promotion, which has made Jane less prone to be that annoying person who seemingly always got their way. Now she thinks before she speaks rather than lets her thoughts loose and then backtracks when necessary.
Those thoughts aside, I do hope whenever this show does another holiday episode, Jane has Kat and Sutton come home with her for a holiday. With meeting her oldest brother and now her dad coming to New York, that makes two brothers yet seen, and a whole bunch of nieces and/ or nephews. And with Kat from New York and us taking a trip to where Sutton is from, we're overdue to see Jane's hometown.
Overall
Trajectory – Plateau
What "The Bold Type" excels in is keeping its leads challenged. They don't allow them to reach a place of comfort where anything that comes their way they have surmounted so it is a breeze. It finds new, but not over the top, means to show how challenging life can be, even if you have or are on the path to obtaining a sense of privilege.
Sutton Continuing To Forge A Unique Path - 89%
Kat In A Conservative Environment - 90%
Jane & Her Dad Having Quality Time - 84%
What "The Bold Type" excels in is keeping its leads challenged. They don't allow them to reach a place of comfort where anything that comes their way they have surmounted so it is a breeze. It finds new, but not over the top, means to show how challenging life can be, even if you have or are on the path to obtaining a sense of privilege.