It's all about to come to a head for Kat's future in politics, Sutton in terms of design, and Jane's article. However, what journey doesn't have bumps in the road?
---
Network
FreeForm
Director(s)
Kimberly McCullough
Writer(s)
Neel Shah
Air Date
6/4/2019
Images and text in this post may contain affiliate links which, if a purchase is made, we'll earn money or products from the company. Affiliate links and external links have an upward facing, superscript, arrow.
Changing Course: Sutton, Carly, Oliver, Richard
With the opportunity for her work to be in a fashion show coming up, Sutton is working with a model and ready to buckle down. However, then Carly, Oliver's daughter, fakes sick, yet again, and Oliver has Sutton watch her. This leads to a few revelations. Specifically, Sutton realizing that she is reinforcing beauty standards by having a thin model used.
Which, it's easy to understand why Carly may have an issue with this. First and foremost, Oliver is deeply into fashion, and so Carly has no means to escape seeing beautiful, usually thin, people and imagery. Also, it isn't like Scarlet has made it a norm to do inclusive work. They have a special spread every now and then, but in front of the camera, and even behind it, usually the people look like lean models. Heck, Carly even points out Sutton could pass for one and that Richard looks like a Ken doll.
This leads to Sutton realizing she needs to, instead, use her friends to model. But, she isn't the only one changing course. Richard reveals one of his friends is starting up a company in San Fransisco and isn't asking Richard to donate or invest, but work for him. A job which is in green tech and is a dream job for Richard. However, with so much of his life in New York, and not even being able to convince Sutton to think about moving to Connecticut, California is out of the question.
Playing With Trouble: Kat, Adena, Tia, Jane, Ryan
Both Kat and Ryan have something in common this episode – they flirt with the idea of cheating. With Kat, it's talking to Adena more and more and old feelings coming back. All of which her friends known about, even throw gasoline on, but nothing is mentioned to Tia. Someone who thinks things are well but really might be coming to an end in more ways than one.
As for Ryan? Well, on this whirlwind book tour he decides to play up this book persona. You know, the one he made seem buried and that Alex made out to be a problem. Which, for the first time we've seen, is starting to make Jane a bit insecure. Especially after an NPR interview which makes it sound like Ryan misses his ho life.
A Win For Some, Loss For Others: Kat, Jane, Ryan, Patrick, Jacqueline, Pamela
Well, Kat loses the election but that at least that means she can stay at Scarlet right? As for Jane, it is a hard few days. Ryan kissed someone, while drunk, so that's an issue. Then, despite her wanting her Pamela Dolan story in the magazine, with Pamela going on the offensive she is forced to hand it to the dot com. Making it so Patrick gets a huge win and Jacqueline loses a major piece for the magazine. Which, with rumblings of getting rid of the print edition, is a major loss. Yet, Jane has bigger things to worry about now.
Highlights
Carly Calling Out Scarlet
While Jane has found empowerment through Scarlet, as well as a maternal figure, it is nice for Carly to flip all that. For as much as we see Kat be bare skinned online, she is one of a few. Largely, Scarlet might be progressive in writing but still could be seen as backwards in terms of the models it hires. But, with Carly pointing this out, it did trigger Sutton changing who and how she designs and also has created a new bond for her to have outside the friend group. One which is likely to be complicated, because she hasn't seen Carly's dark side yet, or heard it first hand, but right now is cute. Especially with Oliver noting how thankful he is that Sutton is a strong female role model in Carly's life.
The Pamela Dolan Story Finally Dropped
Can we be real for a second? The build to this Pamela Dolan story has been iffy. Yes, we got to see Jacqueline and Jane team up but the guest actors, even Pamela, have been sort of eh. So with her actually interacting with the characters now, ready to go to war, here is hoping she lives up to her name and isn't just fodder to put Jane back on the panel circuit like in season 1 or early season 2.
Kat Freaking Out
Kat has often found herself being the David to someone's Goliath and often being strong for others. So to see her breakdown over something work-related, not necessarily personal, was a treat in seeing her vulnerable. For, up until now, when it came to work, whether you were on the board or someone on her level, there was little you could say to deter her. So the political stuff making her question herself, it felt like a rare moment of indecision. One which may lead her back to Adena and possibly leave Tia heartbroken.
On The Fence
The Possibility Of Kat Cheating On Tia
With next week's preview showing Kat in bed with Adena, I fear the worst. After all, previous to their last one or two relationships, Kat and Adena were people who didn't get attached much and got around. So there is a part of them which might be capable of crossing the line. But the big thing for me is this is Tia's first serious lesbian relationship, and while she is new, I'm sure you've grown attached to her like I have done. So if she is going to be broken up with, written off maybe, I'd rather it be done with respect to her feelings than her being tossed like Sutton's former boss.
Follow Wherever I Look on Twitter, Like us on Facebook and Subscribe to the YouTube Channel.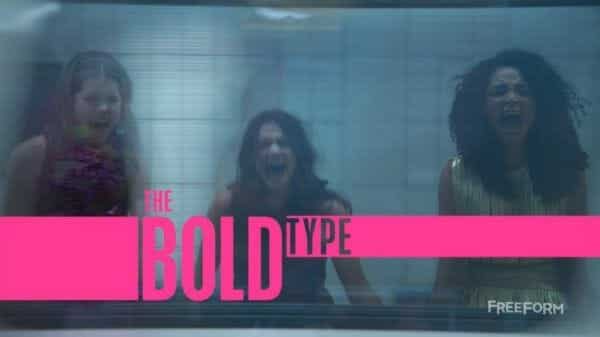 Buy Season Passes From Amazon
---
Season Recaps:
Season 1
|
Season 2
---
Find Other Recaps/Review Of TV Shows & Specials On The TV Series Master List Page
Season/ Episode
Synopsis
Episode Information
Topics & Focused Characters
Season 3, Episode 10 "Breaking Through The Noise" [Season Finale]

In the season finale, a handful of unexpected things happen. Some of which are welcomed but one major thing may leave your jaw on the floor.

| | |
| --- | --- |
| Director(s) | Victor Nelli, Jr. |
| Writer(s) | Lijah J. Baraz, Becky Hartman Edwards, Celeste Vasquez |
| Air Date | 6/11/2019 |

I Dreamed A Dream:

 

Sutton, Oliver, Richard
Sometimes What The Mind Needs Is More Important Than What The Heart Wants:

 

Kat, Tia, Adena
Making Sacrifices For What You Want:Jacqueline, Jane, Ryan, Patrick

Season 3, Episode 9 "Final Push"

It's all about to come to a head for Kat's future in politics, Sutton in terms of design, and Jane's article. However, what journey doesn't have bumps in the road?

| | |
| --- | --- |
| Director(s) | Kimberly McCullough |
| Writer(s) | Neel Shah |
| Air Date | 6/4/2019 |

Changing Course:

 

Sutton, Carly, Oliver, Richard
Playing With Trouble:

 

Kat, Adena, Tia, Jane, Ryan
A Win For Some, Loss For Others:

 

Kat, Jane, Ryan, Patrick, Jacqueline, Pamela

Season 3, Episode 8 "Revival"

Adena returns and has to deal with how she left things. Also, Sutton is pushed to recognize she is in a partnership and Jane? Well, she preps to take on Pamela Dolan.

| | |
| --- | --- |
| Director(s) | Geary McLeod |
| Writer(s) | Matt McGuinness |
| Air Date | 5/28/2019 |

A Book & A Photo:

 

Alex, Jane, Adena, Jacqueline
Accepting Help When Offered:

 

Sutton, Richard
The Troubles Of A First Love:

 

Kat, Tia, Adena, Jane, Sutton

Season 3, Episode 7 "Mixed Messages"

The ladies of 

The Bold Type

 find themselves having difficult conversations with their significant others. Mainly due to either lack of empathy or communication.

| | |
| --- | --- |
| Director(s) | Geary McLeod |
| Writer(s) | Wendy Straker Hauser, Nikita T. Hamilton |
| Air Date | 5/21/2019 |

Closed Mouths Don't Get What They Want:

 

Alex, Jane, Ryan
Suffocating On The Silence:

 

Sutton, Richard, Jacqueline
Getting To Know You:

 

Tia, Kat, Adena

Season 3, Episode 6 "TBT"

The hackers release the e-mails, and with that, it means not only damage control but also a walk down memory lane when things were simpler – sort of.

Director(s)
Anna Mastro
Writer(s)
Céline Geiger and Amy-Jo Perry
Air Date
5/14/2019
Introduced This Episode
Bobby
Peter Francis James
Pamela Dolan
Laila Robins

Minor Fallout:

 

Jacqueline, Andrew, Oliver, Jane, Bobby
The Way We Were:

 

Sutton, Richard, Jane, Jacqueline, Lauren, Kat, Bobby
A Drink To Progress:

 

Kat, Tia, Jacqueline, Bobby, Sutton, Richard, Jane, Ryan

Season 3, Episode 5 "Technical Difficulties"

As Sutton meets Richard's friends, Kat approaches Tia and Jane deals with Scarlet being hacked – and waits for the fallout.

| | |
| --- | --- |
| Director(s) | Anna Mastro |
| Writer(s) | Lijah J. Barasz, Celeste Vasquez |
| Air Date | 5/7/2019 |

Putting Yourself Out There:

 

Tia, Kat
The Truth Is Often Scary & Has Grave Consequences:Jane, Jacqueline, Patrick, Richard
Don't Rain On My Parade:

 

Sutton, Richard

Season 3, Episode 3 "Stroke of Genius"

On top of a lot of fun sex talk, 

The Bold Type

 gets real about consent and women being pressured into sex – with Alex being the one focused on.

Director(s)
Jamie Travis
Writer(s)
Neel Shah
Air Date
4/23/2019
Introduced This Episode
Linda
Mary Zu Zahalan
Kristen
Alli Chung
Tia
Alexis Floyd

From Vanilla To Candle Wax/ I Dreamed A Dream:

 

Ryan, Jane, Sutton, Richard, Oliver
Councilwoman Kat Edison?:

 

Kat, Tia, Linda, Sutton
Alex Faces #MeToo:

 

Alex, Kristen, Sutton, Jane, Kat, Jacqueline, Patrick

Season 3, Episode 4 "The Deep End"

Patrick's presence continues to create friction and a work environment Jane doesn't believe she can flourish in as Sutton and Kat look at life outside of Scarlet.

| | |
| --- | --- |
| Director(s) | Jamie Travis |
| Writer(s) | Becky Hartman Edwards |
| Air Date | 4/30/2019 |

A Critique Doesn't Mean Stop:

 

Sutton, Oliver, Carly
The Problem With Politics:

 

Kat, Tia
10 Years In, One Foot Out:

 

Patrick, Jane, Jacqueline

Season 1/ Episode 1 "Pilot"

What 

The Bold Type

 presents is what FreeForm is known for mixed with what made ABC Family great. It has FreeForm's obsessive need to feature modelesque attractive young people. However, it also contains ABC Family's ideology of pushing past the superficial and present stories and characters its viewers will become loyal to.

Season 1/ Episode 2 "O Hell No"
The Bold Type

 continues to present a different voice for the young woman. One which brings on the different thoughts, dreams, fears, and personality types without necessarily feeling like tropes. For there is a serious effort by the writers to present real people with layers and complexities and not some mindless guilty pleasure.

Money or The Dream: Sutton, Richard, Alex
The Big O: Jane, Jacqueline
Mistaken Identity: Kat, Adena

Season 1/ Episode 3 "The Woman Behind The Clothes"

As a 25-year-old Black dude, meaning I'm Sutton's age, who watches shows of which I'm probably not the aimed for demographic, it can be weird. Only because sometimes folks don't get it. Why would someone your age watch Andi Mack or even something like The Bold Type? Well, it is because we live in an age where yes, a show may be aimed at tweens, teens, women, or certain demographics. However, between the writers and actors, they expand on what can be considered a woman's issue, a teen issue, a Black issue, or what have you, and show how it is really universal. Just with different flavors or spices to make it unique and identifiable for one population. All the while, not alienating the general populace.

Sort of like eating food from a different culture. You don't have to be Italian, Indian, or Ethiopian to enjoy their food. But there are certain things, unless you were raised in that culture, you may not understand the significance behind fully.

As for what brought all this up? Honestly, it is the power of the show, of which we go into episode 3 "The Woman Behind the Clothes" below.

Taking Initiative: Sutton
Type with Kindness: Kat, Jacqueline
The Issues with Preconceived Notions: Jane, Ryan

Season 1/ Episode 4 "If You Can't Do It with Feeling"

Taking initiative, believing in yourself, and not giving up. Generally, these are framed messages in a school. Yet, with 

The Bold Type,

 they are made into real world examples. The kind you can really follow and inspire to incorporate into your life. For, as said in episodes 1 -3, this is a show made to think beyond petty villains and soap opera drama. It is about presenting the real life of characters whose circumstances are rooted in some form of reality. A reality which can be relatable to viewers.

The Up and Comer: Jane, Jacqueline
A Whole New World: Adena, Kat, Jacqueline
My True Self: Sutton, Oliver

Season 1/ Episode 5 "No Feminism in the Champagne Room"

Though I consume so many hours of media weekly, I still find it amazing when a movie or show has a moment that gets me teary eyed or inspired. For, to be honest, sometimes I just feel like I'm on autopilot but then there is Wednesday and Thursday morning when I usually watch The Bold Type and Queen Sugarand I feel renewed.

For while there are certain elements of both which may not seem new, there is a richness to their characters, of very different worlds, which have this human quality. Not a character who has one storyline thrown at them after the next, but someone experiencing life. One you can find inspiration, empathy, and even a need to reflect due to watching.

Jane's First Lawsuit: Jane, Richard
A Leap of Faith: Kat, Adena
A Safety Net: Sutton

Season 1/ Episode 6 "The Breast Issue"

Outside of one or two moments which are eye roll worthy, 

The Bold Type

 remains consistent. All the while setting us up for the idea, not everything will be an obstacle these girls can overcome. Because sometimes the "enemy" is genetics.

Working Your Network/Shooting Your Shot: Sutton, Alex
The Nipple Wars: Kat, Jacqueline
BRCA1 Gene: Jane, Jacqueline

Season 1/ Episode 7 "Three Girls In a Tub"

After watching Kat take on the patriarchy and discrimination, Jane be… Jane, and Sutton work her ass off to get to where she is — we get an episode which has major things happen, but in a very subdued way.

Playing the Bad Guy: Kat, Jacqueline, Richard
Looking For Love In All The Wrong Places: Jane, Jacqueline, Ryan
Ending Things On a High: Sutton, Richard

Season 1/ Episode 8 "The End of the Beginning"

With layoffs hitting Siemen, and possibly Scarlet, so comes the question of what life could be like if any of the ladies lost their jobs.

The One With The Most Options: Kat, Adena, Jane, Sutton
The Backup Plan: Alex, Jane
Don't Let Someone Else Steal Your Shine: Cassie (Jess Salgueiro), Sutton, Jacqueline

Season 1/ Episode 9 "Before Tequila Sunrise"

There are some twists and unexpected turns in 

The Bold Type

's season 1 penultimate episode. The kind which definitely will make the wait for season 2 difficult.

Does Alcohol Expose True Feelings or Just Leads You To Give Into Temptations?: Ryan, Sutton, Alex, Jane
Do I Stay or Should I Go?: Jane, Jacqueline
Should I Stay or Should I Go?: Kat, Adena

Season 1/ Episode 10 "Carry the Weight"
The Bold Type

 

ends its first season reminding fans, and those curious, what it is essentially about. Finding love, making mistakes, showing initiative, and realizing there is more to life than your 9 to 5 and parties. Whenever possible, find meaning in your work and life for that is what makes you the bold type.

Working Hard and Difficult Conversations: Sutton, Alex, Richard
2 Million Means Nothing Without 1: Kat, Jane
I'll Leave You With This: Jane, Jacqueline

Season 2, Episode 1 "Feminist Army"
The Bold Type

 

is back and though only two weeks have gone by in their world, it feels like so much has happened.

Director(s)
Victor Nelli, Jr
Writer(s)
Amanda Lasher
Air Date
Hulu: 6/6/2018

Freeform: 6/12/2018

Actors Introduced
Mitzi
Katherine King
Emma Cox
Brittany LeBorgne

Don't Wanna Bring Other Women Down: Jane, Victoria, Jacqueline, Emma
Sleeping Your Way To The Top: Sutton, Alex, Richard, Mitzi
You Never Eat Me Out: Adena, Kat, Jacqueline

Season 2/ Episode 2 "Rose Colored Glasses"

What's in a reputation or a label and how much should one alter it considering their environment? Those are the questions posed.

Director(s)
Victor Nelli, Jr.
Writer(s)
Wendy Straker Hauser
Air Date
6/12/2018
Actors Introduced
Dr. Marcus Edison
Curtiss Cook
Dr. Susan Edison
Fiona Highet

It Just Isn't A Good Fit: Jane, Victoria
Check Yourself But Don't Wreck Yourself: Sutton, Mitzi, Oliver, Jacqueline
What's In A Label?: Adena, Kat, Marcus, Susan, Alex

Season 2/ Episode 3 "The Scarlet Letter"

Networking and doing what you love, even when it is just a gig, is the focus of a multi-layered lesson episode. Which also includes learning from failure.

Director(s)
James Travis
Writer(s)
Celine Geiger
Air Date
6/19/18
Actors Introduced
Cleo
Siobhan Murphy

The Importance of Networking: Adena, Kat, Sutton, Jane, Ben
Working With Friends: Sutton, Oliver, Adena, Kat, Jane
Navigating Failure & Learning From It: Jaqueline, Cleo, Jane

Season 2/ Episode 4 "OMG"

Jealousy is a major issue as relationships and career progress are compared and contrast amongst the ladies.

Director(s)
Jamie Travis
Writer(s)
Neel Shah
Air Date
6/26/2018
Actors Introduced
Brooke
Alexandra Turshen

Ryan (Pinstripe) vs. Ben (The Doctor):Ryan, Ben, Jane
What's Your Body Count?:

 

Kat, Adena
Put It On The Card:

 

Sutton, Kat, Brooke, Jane

Season 2/ Episode 5 "Stride of Pride"

As Kat fights the lack of diversity at Scarlett, Jane deals with another magazine's push for diversity keeping her unemployed. All while Sutton deals with being part of an affair.

Director(s)
Anna Mastro
Writer(s)
Michelle A. Badillo, Caroline Levich
Air Date
7/4/2018
Actors Introduced
Angie
Shyrley Rodriguez
Dillon
Kevin McGarry
Leila
Katerina Tannenbaum
Allison
Caitlyn Sponheimer

I Didn't Mean To Be The Other Woman:Sutton, Allison, Richard, Dillon
Check Your Privilege:

 

Jane, Ryan, Kat
Professionally a Boss, Personally a Mess:

 

Angie, Kat, Jane, Leila

Season 2/ Episode 6 "The Domino Effect"

Things switch up in this episode of 

The Bold Type

 as Jane rebounds from all her struggles while Kat and Sutton are dealing with serious relationship woes.

Director(s)
Anna Mastro
Writer(s)
Amy-Jo Perry
Air Date
7/10/2018
Actors Introduced
Elena
Victoria Sanchez
Jessica
Tattiawna Jones

The One That Got Away:

 

Sutton, Jessica, Brooke
Tempted By The Lips of Another:

 

Kat, Adena
Everything Is Coming Up Jane:

 

Jane, Jacqueline, Elena

Season 2/ Episode 7 "Betsy"

Open relationships, gun violence, and gun ownership get featured and only as 

The Bold Type

 

knows how.

Director(s)
Marta Cunningham
Writer(s)
Matt McGuinness
Air Date
7/17/2018
Actors Introduced
Gina
Olivia Luccardi

An Open Relationship:

 

Adena, Gina, Kat
Team In Control:

 

Sutton, Oliver, Brooke
Jane (Nearly) Always Gets Her Way:Jane, Sutton, Jacqueline

Season 2/ Episode 8 "Plan B"

As Jane's BRCA diagnosis comes back to haunt her, Sutton is put into a boss position and Kat into an awkward one thanks to Cleo.

| | |
| --- | --- |
| Director(s) | Marta Cunningham |
| Writer(s) | Becky Hartman Edwards |
| Air Date | 7/24/2018 |

Do Your Research & Read the Fine Print:

 

Kat, Cleo, Jacqueline
By Any Means Necessary:

 

Sutton, Oliver
Plan B:

 

Ben, Jane, Kat

Season 2/ Episode 9 "Trippin'"

We finally meet Sutton's mom, Barbara, and Kat finds herself going toe to toe with Jacqueline as Jane toils over Ben, Ryan, and having BRCA.

Director(s)
Victor Nelli, Jr
Writer(s)
Céline Geiger, Neel Shah
Air Date
7/31/2018
Actors Introduced
Barbara
Rya Kihlstedt

A Time To Be Young and Dumb:

 

Ryan, Jane, Ben
Communication is Necessary:Jacqueline, Richard, Kat, Adena
Mommie Dearest:

 

Sutton, Barbara, Jane

Season 2/ Episode 10 "We'll Always Have Paris"

While one of the ladies gets their happy ending, when it comes to the rest we adore, it seems they are at a crossroad, or end, of their relationships.

| | |
| --- | --- |
| Director(s) | Tara Nicole Weyr |
| Writer(s) | Annie Weisman |
| Air Date | 8/7/2018 |

My Own Knight In Shining Armor:

 

Ben, Ryan, Jane, Jacqueline
Some People Wait A Lifetime For A Moment Like This:

 

Richard, Oliver, Sutton, Jessica
Some Endings Call For Tears & Others A Celebration:

 

Kat, Adena, Coco, Jacqueline

Season 3, Episode 1 "The New Normal"

One of the greatest shows dedicated to being a young professional returns, and it's as dramatic, emotional, and life-affirming as ever.

Director(s)
Victor Nelli, Jr.
Writer(s)
Wendy Straker Hauser
Air Date
4/9/2019
Introduced This Episode
Eli
Randy Thomas
Patrick
Peter Vack

Ryan Won:

 

Ryan, Jane
Meet Patrick:

 

Patrick, Jacqueline, Jane
#BeReal:

 

Richard, Eli, Sutton, Patrick, Kat, Adena, Jacqueline, Jane, Alex

Season 3, Episode 2 "Plus It Up"

Oliver has a secret which is affecting his job, Jane pushes Ryan away, and someone decides to get on Kat's bad side. Oh, and Patrick is low-key trash.

Director(s)
Ellen S. Pressman
Writer(s)
Amanda Lasher, Matt McGuinness
Air Date
4/16/2019
Introduced This Episode
Themselves
Sasha Velour
Carly
Kiara Alondra Groulx
Councilman  Reynolds
Matthew Kabwe

We Need To Talk About Oliver:

 

Oliver, Carly, Sutton, Richard
Lines Are Being Crossed Here:

 

Patrick, Ryan, Richard, Sutton, Jane
I'm Not One To Underestimate:Jacqueline, Councilman Reynolds, Sasha Velour, Patrick, Kat
Carly Calling Out Scarlet - 85%
The Pamela Dolan Story Finally Dropped - 80%
The Possibility Of Kat Cheating On Tia - 75%