The Bold Type: Season 2/ Episode 8 "Plan B" – Recap/ Review (with Spoilers)
As Jane's BRCA diagnosis comes back to haunt her, Sutton is put into a boss position and Kat into an awkward one thanks to Cleo. Network FreeForm Director(s) Marta Cunningham Writer(s) Becky Hartman Edwards Air Date 7/24/2018 Do Your Research & Read the Fine Print: Kat, Cleo, Jacqueline Being that Kat is a first Black…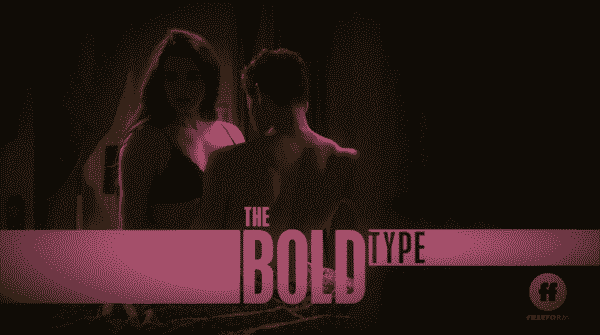 As Jane's BRCA diagnosis comes back to haunt her, Sutton is put into a boss position and Kat into an awkward one thanks to Cleo.
---
Network
FreeForm
Director(s)
Marta Cunningham
Writer(s)
Becky Hartman Edwards
Air Date
7/24/2018
Do Your Research & Read the Fine Print: Kat, Cleo, Jacqueline
Being that Kat is a first Black anything, it makes her a valuable commodity. So, naturally, to further validate her position on the board and bring on some revenue, Cleo tries to set up a partnership. One in which Kat would be an influencer for this company known as "World Spa." Unfortunately though, similar to Chick-Fil-A, while the company, on the surface, is very inclusive and diverse, those who make corporate decisions aren't so much.
Thus leaving Kat in an odd situation and Jacqueline as well. For one, Cleo put the reputation of the magazine at stake and she didn't do her research before bringing Kat into the project. Luckily, Kat putting a rather rebellious Insta-Story seemingly will be deal able, though very awkward.
Commentary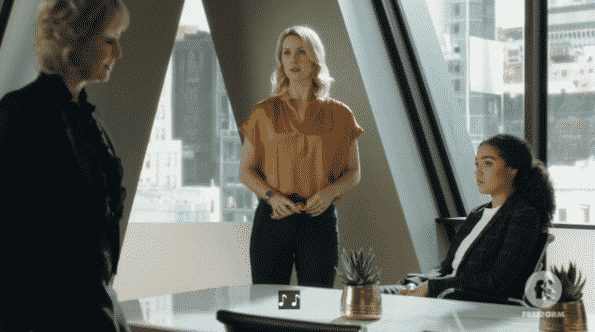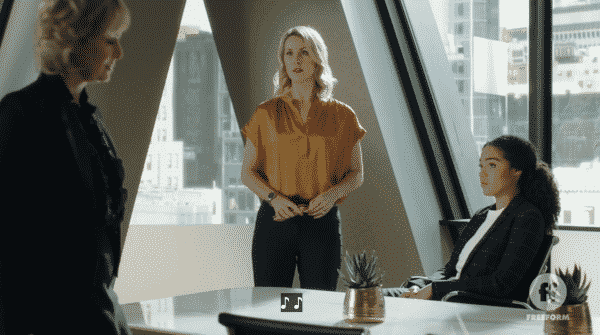 Jacqueline and Cleo are going to butt heads and have a verbal altercation. I can foresee this happening. Not because of them being women or any nonsense like that, but because Cleo is passive-aggressive and doesn't think. Also, and maybe this is just me, I would have made it where Kat couldn't have signed anything until legal looked it over. If not, at the very least, advised her to not sign anything until legal looked it over. For Kat's "brand" is very much connected to Scarlet, as Jacqueline pointed out. So her having the weight of the company to back her up should have been pushed as much as Cleo low-key putting Kat in a position she can't say no to.
After all, Kat is a department head now and surely will move up higher in the future. Plus, Kat is a fighter and she needs as many allies as she can get on the board. So you got to feel bad for her getting caught up not only with a two-faced company but Cleo and Jacqueline's beef. But, as shown this episode, Jacqueline's job isn't just about mentoring and making the girls feel good about themselves. Sometimes she has to play the bad guy.
By Any Means Necessary: Sutton, Oliver
Being that Oliver is in Paris, and Sutton is his assistant, naturally, she is left with the reigns of the office. Problem is, he leaves her with the reigns during a budget meeting and Sutton is pressured into dropping 10% from the fashion budget. Thankfully, Sutton's background in finance and having to shop at flea markets comes in handy. Making it where, when she loses the venue because the fashion department can't afford it, she finds a set and recreates it. Thus winning not just Oliver's respect but a trip to Paris for… FASHION WEEK!
Commentary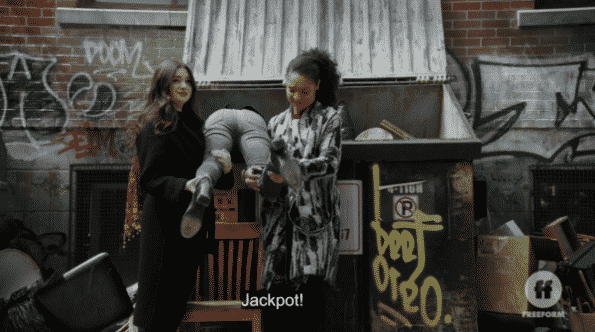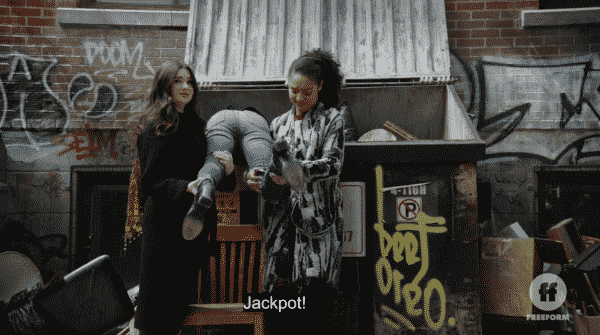 I really do adore Sutton and her journey. Mostly because she is like Kat. When something doesn't go her way, she makes a way out of no way. She couldn't afford the place Oliver wanted so she rebuilt the set. On top of that, using her accounting degree, she found a cut to satisfy Jacqueline. Making you wonder, what is Sutton's short-term goals? We know she wants go beyond being an assistant and be a designer, or is it buyer? Either way, I am waiting for her review to come up to see if she gets a raise and what her next move might be. She has done so much in such a short time so maybe, like Jane, she may move on from Scarlet?
Plan B: Ben, Jane, Kat
With a broken condom, and the Plan B pill causing some uncomfortable side effects, Jane sees her doctor who pushes her to think about her future. In particular, whether she will have kids or not because one preventive measure, to fight against BRCA, would be the removal of her ovaries. Leading to, as usual, Jane's article for Scarlet being her research into a personal matter.
One which she doesn't really come to a resolution with. She does talk to Ben about it, who goes full doctor on her, so while he is understanding, he is a bit too understanding. Leading to, of course, Jane talking to her girls about it, as she has done before, and Kat bringing up that maybe what makes Jane so uncomfortable about motherhood is that her mom died when she was young. An idea which pushes Jane to call her brother and ask about her mom since, as of now, most of Jane's memories deal with her mom dying.
Commentary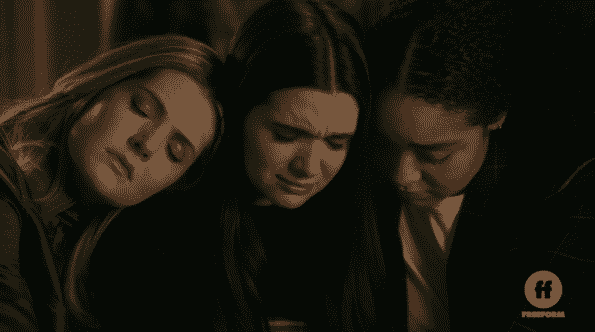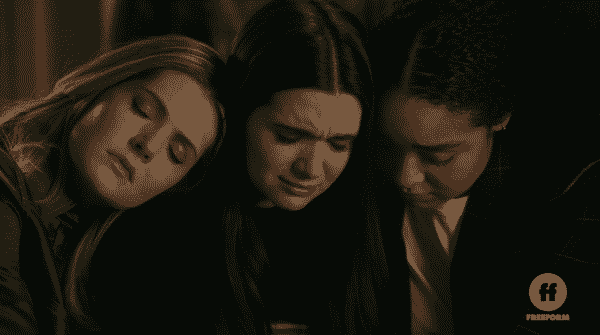 Being someone very critical of Jane, and how lax everyone is on her, alongside how she gets what she wants with hardly as much work as her friends, I will admit she got to me this episode. Not too deep under the skin, but when you get reminded how hard certain things were in Jane's life coming up, it makes you want to feel for the child. She usually says or does something to ruin it, but outside of Jacqueline being lax beyond belief, there weren't any reasons to roll my eyes or question anything. It was just a talented girl dealing with a problem she unfortunately inherited. A problem which forced her to grow up fast as a child and continues to accelerate her life as a young adult.
Other Noteworthy Facts & Moments
Question(s) Left Unanswered
Did Jacqueline's assistant, Andrew, reveal himself to be a drag queen possibly?
Highlights
Jacqueline and Cleo butting heads.
Sutton doing what it takes to make her superiors happy and flex her creative muscles.
Jane reminding us that, despite how annoying she can be, she is still human. With flaws that can't be fixed overnight.
On The Fence
So, is Ryan just waiting for Ben to mess up and swoop in? Because, the more we see him, the more I believe Jane is going to cheat or rebound with Ryan.
Kat really signing something without doing her research seems odd. Especially after that whole VR fiasco in the first season.
Follow Wherever I Look on Twitter, Like us on Facebook and Subscribe to the YouTube Channel.
---
Previous Episode's Recap
[visual-link-preview encoded="eyJ0eXBlIjoiaW50ZXJuYWwiLCJwb3N0IjoyNDQ0NywicG9zdF9sYWJlbCI6IlBvc3QgMjQ0NDcgLSBUaGUgQm9sZCBUeXBlOiBTZWFzb24gMi8gRXBpc29kZSA3IFwiQmV0c3lcIiAtIFJlY2FwLyBSZXZpZXcgKHdpdGggU3BvaWxlcnMpIiwidXJsIjoiIiwiaW1hZ2VfaWQiOjI0NDQ4LCJpbWFnZV91cmwiOiJodHRwczovL3doZXJldmVyLWktbG9vay5jb20vd3AtY29udGVudC91cGxvYWRzLzIwMTgvMDcvVGhlLUJvbGQtVHlwZS1TZWFzb24tMi1UaXRsZS1DYXJkLTEucG5nIiwidGl0bGUiOiJUaGUgQm9sZCBUeXBlOiBTZWFzb24gMi8gRXBpc29kZSA3IFwiQmV0c3lcIiAtIFJlY2FwLyBSZXZpZXcgKHdpdGggU3BvaWxlcnMpIiwic3VtbWFyeSI6Ik9wZW4gcmVsYXRpb25zaGlwcywgZ3VuIHZpb2xlbmNlLCBhbmQgZ3VuIG93bmVyc2hpcCBnZXQgZmVhdHVyZWQgYW5kIG9ubHkgYXMgVGhlIEJvbGQgVHlwZSBrbm93cyBob3cuIiwidGVtcGxhdGUiOiJkZWZhdWx0In0="]
---
Follow, Like, and Subscribe
Community Rating: 0.00% (0) - No Community Ratings Submitted (Add Yours Below)