Networking and doing what you love, even when it is just a gig, is the focus of a multi-layered lesson episode. Which also includes learning from failure.
---
Network
FreeForm
Director(s)
James Travis
Writer(s)
Celine Geiger
Air Date
6/19/18
Actors Introduced
Cleo
Siobhan Murphy
The Importance of Networking: Adena, Kat, Sutton, Jane, Ben
Things are a little worrisome for Adena. She has been making a lot of calls but no gallery seems to be biting. So, since Kat overhears Sutton is looking for a photographer, she pushes Adena's portfolio – even though this would be a whole new genre for Adena. As this happens, Jane is calling anyone and everyone she knows because not having a job is foreign to her.
But, luckily, while her news program appearance seems to have made her a no-go for many, it does push her to freelance and interview Dr. Ben for an article. One which reveals how committed he is to helping low-income people, especially women and immigrants, get quality healthcare. Perhaps because he too is an immigrant who was once low income. Though, with him doing some of their paperwork, which seemingly is illegal, while Jane may admire the passion, you have to wonder if not reporting on that may bite her in the behind.
Commentary
One of the things we're, being people in their 20s or those who are job seekers, are always told to do is build a network. A prime reason is shown through this episode. Sutton and Kat, while friends, are also a network. Sutton talked about needing a photographer, Kat knew Adena need work, and she connected Adena with Sutton. Network benefits 1 0 1. Yet, as shown by Jane, they don't always lead to a job or anything really.
You know why? Networking gets your foot in the door but a reputation can be what leads someone to ask you to leave. Though, taking note of how strong Jane's voice is, and her now freelancing, maybe she might decide to build on her own voice without adapting it to a magazine or editorial's culture? You know, become famous as her own person vs. because she has been with this publication or this website for decades.
I mean, it presents the challenge of her paying her part of the bills while also working with a vast number of people. All of different cultures, identities, careers, and making it where she can be excited about her day like Ben. Who I swear I thought she was going to kiss right in that hospital around the time he complimented her.
Yet some of ya'll want pinstripe to come back.
Working With Friends: Sutton, Oliver, Adena, Kat, Jane
Taking note of my spiritual guide, Amanda Seales, one thing noted in an episode of Small Doses is that working with friends, or friends of friends, isn't always ideal. Yes, there is some form of familiarity but there also needs to be some sort of complementary work relationship. Something that wasn't happening when Sutton and Adena started working together since Adena is edgy and while Sutton's clown neck get up was different, it wasn't in Adena's realm of different.
Which makes Adena kind of taking Oliver's ideas with candy and literally hitting it with a hammer alarming. After all, while Sutton has a fairly good track record, she isn't solid yet. She isn't at the point where she can really afford a failure. So Adena trying to take control of the set is a bit terrifying. Luckily though, Adena recognizes this is a new connection and she doesn't want to mess it up so she becomes a bit more collaborative. Leading to a shoot which has some edge to it, but also fits the issue's theme body positivity.
But, best of all, Oliver likes the girls showing off the jewelry, flaws and all. Well, at least Sutton and Kat's actress. I don't know if we saw much of Jane.
Commentary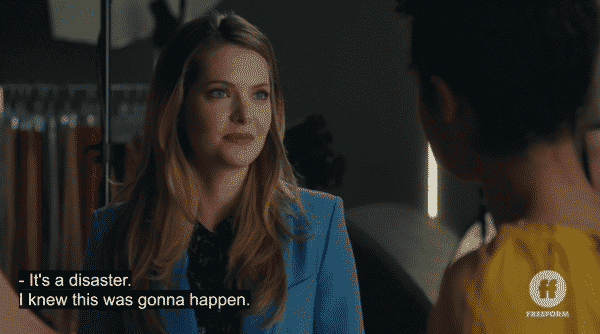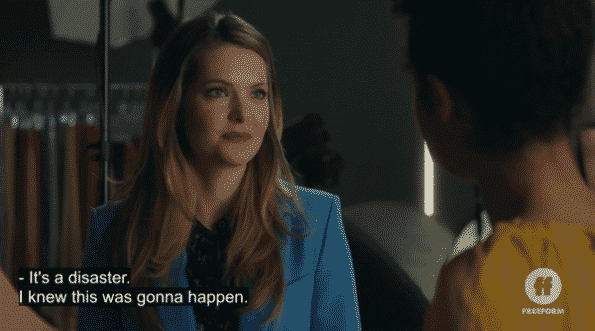 I think we have to take note that one of the reasons Kat, Jane, and Sutton are friends, and have worked well with each other, is because they compliment each other. Each one can't really do what the other does as well as them. Sutton's style may sometimes be a bit side-eye worthy but, as shown when she styled Jacqueline for a bracelet, she has a good eye. Kat may type up social media posts all day but she isn't a good writer. Hence why she struggled to make a bio and knew she needed a third party to look it over. Then with Jane, she may be able to style herself, but when it comes to presenting herself to the public, I don't want to say she doesn't have a backbone. More so, her handling of setbacks and criticism isn't strong. Especially in terms of social media.
Thus why they rely on each other's strengths so much and feel empowered by their connections. For like any relationship, finding someone who makes you feel whole allows this sense of actualization. That you can do and conquer anything for if there is something you don't know or feel anxious about, you have a pillar to support you on this new journey. Even if said pillar isn't sure they could hold up the weight of the situation. As seen when Sutton was freaking out about Adena.
As noted, Jane is not handling this whole unemployment thing well, so with hanging about Sutton and Kat so much, realizing what she lost, she decides to see if she can get her job back. Something that Jacqueline says could be possible, for she could fight for the budget, but it isn't going to happen. Why? Well, she believes Jane needs to live in her failure.
Now, what does that mean? Well, it seems Jane left something good and as much as Jacqueline could consider her whole leaving a slap on the wrist and fight for her, she wouldn't learn from that. Jane left Scarlet so she can grow and she hasn't really grown yet. She is dealing with growing pains, definitely, but she has barely sprouted. Jane hasn't truly budded yet. And, like Jacqueline says, a good editor doesn't exploit but support. So, her means of supporting Jane is letting her know she is here for her but not supporting her financially.
Leading to Jacqueline taking note of perhaps a personal failure. Not something dealing with her family or anything like that, but her letting that fire to write die out. Something which Sutton asks about and it gets Jacqueline to thinking, especially as Cleo decides she doesn't like the idea of fit and fat being seen as something which goes together. After all, her empire is based on fitness. So, as a sort of finger to Cleo, in a professional way, Jacqueline revives the Letters from the Editor section, to be called "The Scarlet Letter" to regain her voice.
Commentary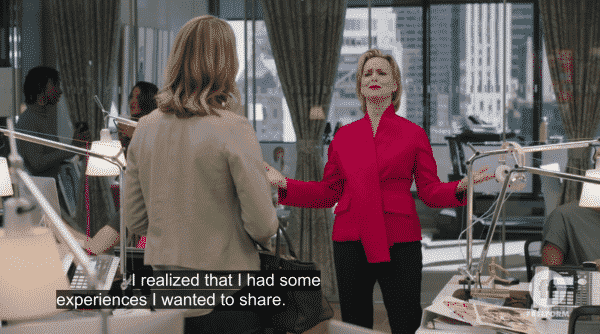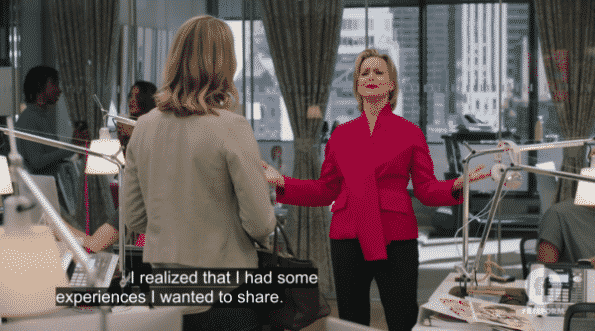 I'm sticking with my idea that Jane needs to be independent and that would be an awesome direction for her. As for Jacqueline, I like that she too has challenges, but challenges which match her career level. She has a boss which, respectfully, doesn't agree with her so she finds a way, as the girls would, to do what she wants and take a risk. Because Cleo could have seen this as a challenge and with being a board member, who was able to convince them to take out that fat and fit piece, she is gaining her own network. One that could give her a bit of power.
Yet, as Jacqueline makes clear, she has the power to get things done and knows which battles are worth her time and which aren't. So, whether Cleo and Jacqueline keep things professional, while challenging one another on the sly, or this was a one-time thing, I'm definitely interested in. Aren't you?
Other Noteworthy Facts & Moments
Ben has been practicing medicine for 5 years, went to UCSF and Columbia. He immigrated to the US at 15. We aren't told if he ever got his papers though.
Question(s) Left Unanswered
Is it safe to say nearly every other episode is about a month in time? Noting how there is usually a new issue talked about?
Highlights
Showing the importance of building a network and having a positive reputation in terms of your work and social media presence.
Jacqueline showing that you can turn a loss into a win, if you look for an opening. Also her writing again on what she feels passionate about.
Jane's story of being unemployed, and struggling for work, not being over in a snap.
Sutton putting her fears aside, and Adena perhaps her ego, and collaborating on the photoshoot.
Follow Wherever I Look on Twitter, Like us on Facebook and Subscribe to the YouTube Channel.
---
Previous Episode's Recap
[visual-link-preview encoded="eyJ0eXBlIjoiaW50ZXJuYWwiLCJwb3N0IjoyMTYyOCwicG9zdF9sYWJlbCI6IlBvc3QgMjE2MjggLSBUaGUgQm9sZCBUeXBlOiBTZWFzb24gMi8gRXBpc29kZSAyIFwiUm9zZSBDb2xvcmVkIEdsYXNzZXNcIiAtIFJlY2FwLyBSZXZpZXcgKHdpdGggU3BvaWxlcnMpIiwidXJsIjoiIiwiaW1hZ2VfaWQiOjIxNjMwLCJpbWFnZV91cmwiOiJodHRwczovL3doZXJldmVyLWktbG9vay5jb20vd3AtY29udGVudC91cGxvYWRzLzIwMTgvMDYvVGhlLUJvbGQtVHlwZS1UaXRsZS1DYXJkLTEucG5nIiwidGl0bGUiOiJUaGUgQm9sZCBUeXBlOiBTZWFzb24gMi8gRXBpc29kZSAyIFwiUm9zZSBDb2xvcmVkIEdsYXNzZXNcIiAtIFJlY2FwLyBSZXZpZXcgKHdpdGggU3BvaWxlcnMpIiwic3VtbWFyeSI6IldoYXTigJlzIGluIGEgcmVwdXRhdGlvbiBvciBhIGxhYmVsIGFuZCBob3cgbXVjaCBzaG91bGQgb25lIGFsdGVyIGl0IGNvbnNpZGVyaW5nIHRoZWlyIGVudmlyb25tZW50PyBUaG9zZSBhcmUgdGhlIHF1ZXN0aW9ucyBwb3NlZC4iLCJ0ZW1wbGF0ZSI6ImRlZmF1bHQifQ=="]