As Gypsy comes to realize Nick doesn't fit her knight in shining armor fantasy, we begin to see how Dee Dee developed Munchausen syndrome by proxy.
---
Network
Hulu
Director(s)
Laure de Clermont-Tonnerre
Writer(s)
Heather Marion
Air Date
4/17/2019
Introduced This Episode
Emma
Margo Martindale
Images and text in this post may contain affiliate links which, if a purchase is made, we'll earn money or products from the company. Affiliate links and external links have an upward facing, superscript, arrow.
Momma Was Cruel: Emma, Dee Dee
Dee Dee had long struggled when it came to her relationship with her momma Emma. Cruel is perhaps one of the best ways to describe her. Not cruel in the form of drugging, hitting, and trapping Dee Dee, but knowing the wrong thing to say at the right time. Take when Gypsy was born, and Emma made Dee Dee seem like an invalid. That is what got the ball rolling and led to Dee Dee feeling insecure as a mom and, as Gypsy got older, Emma being more of a liability than asset. Especially taking note of when Dee Dee went to jail, for check fraud, she cut Gypsy off from knowing who her mom is. At least, that was my impression.
It Progressively Got Worse: Dee Dee, Emma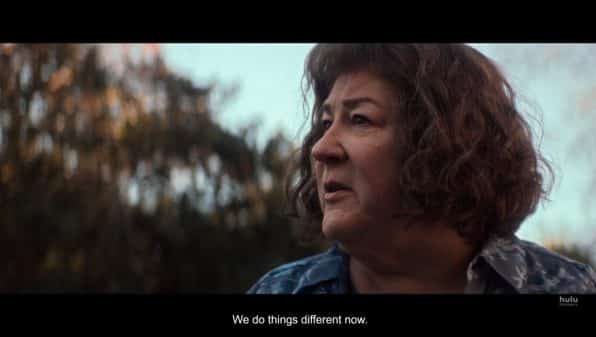 Particularly because Emma was isolating Dee Dee from Gypsy. The letters sent from her 6-month prison sentence went unopened. Emma began a new routine with Gypsy, and her daughter became foreign to her. So, once they regained that connection and Emma got sick, she made sure that bond wouldn't be broken.
So as for what caused Dee Dee's Munchausen syndrome by proxy, while there were underlying issues, we're pushed to see Emma as one of the main causes. Making it so, even after her death, Dee Dee still felt insecure about her relationship with Gypsy and then when she got hurt playing with her cousins? Oh, that was it. From there she put her in a chair and likely that was the beginning of the end of Gypsy's childhood – somewhere after the age of 6.
Second Thoughts: Nick, Gypsy, Dee Dee
After Nick kills Dee Dee, Gypsy sees herself as free, and for a day or two, she is happy. However, then she comes to realize that Nick isn't capable of fulfilling her knight in shining armor fantasy. Between messing up the tickets, not being that great of a lover, and her perhaps having an addiction to her "Sleepy Baby" bills, things aren't how they are supposed to be. Add in guilt slowly creeping up on her, and it's leading to a lot of conflicting thoughts.
Question(s) Left Unanswered
Did Emma know Dee Dee wasn't all there or was just a mean mother?
Where is Gypsy's dad during all that we see in the past?
Highlights
Judging These Strangers As Time Goes On
One of the things you have to keep challenging yourself to do is not justify certain behavior because of abuse – verbal, emotional, or otherwise. Which becomes increasingly challenging since you are pushed to show empathy. With Dee Dee being verbally abused by her mother, even if just pokes to her self-esteem, you can see how that can wear a person down after decades of it. And, as said before, when it comes to Gypsy, while the treatment by her mother is no excuse, it helps you understand how truly difficult it can be to judge someone when you know them.
For, as a viewer, a part of you feels like judge and jury since you are being presented a court case. One which already has been decided, but with being presented both sides, the sympathetic story and facts, it leaves you twisted. Well, it could potentially – I still think Gypsy's jail time for 10 years is just. Granted, this isn't 100% factual but with this all seeming premeditated, she is lucky it was just 10 years.
Gypsy Having Second Thoughts
I must admit sometimes there is a conflict between the story and performances which makes me unsure whether to mark something as a highlight or on the fence – Gypsy having second thoughts in a prime example. On the one hand, Joey King is really just beyond what I think I expected and shows how good an actor can be when they are challenged. Yet, I do feel the pacing of this show is getting a bit slow, and it makes me glad this is only 8 episodes.
The reason I say that is while you have to appreciate us seeing Gypsy realizing what she has done, what the real world is like, especially with Nick, it's getting to that point where you're (I'm) ready for this to wrap up. For, again, beautiful performance by King, but we're starting to veer to the lane of while you want to praise the performance, you have to note the entertainment aspect is slipping. Not quickly but noticeably.
Follow Wherever I Look on Twitter, Like us on Facebook and Subscribe to the YouTube Channel.
[ninja_tables id="34438″]