Tales of the City: Season 1, Episode 9 "Rainbow Warriors" – Recap, Review (with Spoilers)
---
Community Rating: 0.00% (0) - No Community Ratings Submitted (Add Yours Below)
---
This post may contain affiliate links and spoilers. Please read our disclosure policy.
---
Alongside Molly Ringwald appearing, we may finally know who is the one who is blackmailing Anna, and it seems that person is a little off-kilter.
---
Network
Netflix
Director(s)
Sydney Freeland
Writer(s)
Andy Parker
Air Date
6/7/2019
Introduced This Episode
Mrs. Duncan
Molly Ringwald
Images and text in this post may contain affiliate links which, if a purchase is made, we'll earn money or products from the company. Affiliate links and external links have an upward facing, superscript, arrow.
Goodbye Connecticut: Robert, Shawna
It seems the whole visit to Connecticut, to see Robert specifically, was just to get a firmer grasp of who Mary Ann was. However, we honestly don't get that while she is there. Outside of drinking with Robert and his friends, the only real moment we get is Robert revealing to Shawna what Mary Ann said to Brian – that she was afraid to fail. Robert also adds in maybe she felt she wasn't maternal enough, but it seems, at this point, Shawna is looking at things, big picture wise, and realizes Mary Ann could have been a good mom but wasn't. Yet, like her biological mother, she left her with people who could give Shawna what she needed.
The Destruction of Barbary Lane: Ben, Harrison, Michael, Mary Ann, Michael, Brian, Margot, DeDe
With the papers seemingly long signed and sent, it appears Barbary Lane is to be demolished. But, with seeing one of Harrison's foremen, forewomen, and all this coincidental evidence, so comes the thought maybe he is doing all this. Even Ben gets caught up in the idea when he was trying to drop off Michael's stuff. However, in the long run, it's revealed he has nothing to do with this.
But, as he learns the truth about Harrison, and also a bit about himself, Mary Ann, Michael, and Brian are hunting an alternative. This leads them to head to DeDe on a lead and learning her and Margot are officially a thing. And after rifling through her art foundation documents, and buying some expensive and weird art, they come upon a grandeur house.
Documentary or Exposé?: Claire, Anna, Mrs. Duncan, Mary Ann, Michael, Brian, Ysela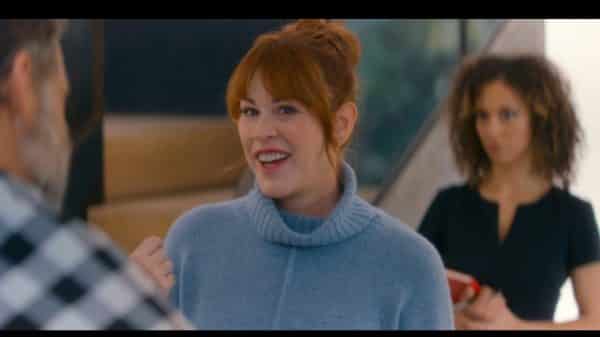 Whose house? Well, Mrs. Duncan's (Molly Ringwald), aka Claire's mom. Someone who seems much nicer than how Claire made her seem but don't most people have moms who seem nicer when company is over, and they aren't comfortable around you? Anyway, they enter Mrs. Duncan's house under false pretenses of wanting to buy some art and discover the Claire connection.
As that happens, after a long day hunting down Ysela hoping for forgiveness, Anna comes home to a large protest as well as Claire. Someone who she plans to give an interview to and unbeknownst to her, Claire is likely the one blackmailing her. Also, to make matters more interesting, when Claire is set up in Anna's apartment, she makes sure to lock the door before beginning.
Other Noteworthy Facts & Moments
It's October 2018 in the show.
The twins now have 300,000 followers
Highlights
Okay, The End To This Mystery Is Kind Of Cool
Claire being the culprit, which is an assumption but one we're pointed towards, not only make sense but is a good idea. Think about it: She is doing a documentary on Barbary Lane, Anna, a lot of what happened during the queer movement and when it comes to Shawna, there is a sense of jealousy. Leading you to wonder if, considering the family Anna left behind, is Claire a relative of hers?
Think about it, Anna hasn't spoken of this family she left behind in the Midwest the entire season. We know she had a wife and a daughter. Someone who likely isn't Molly Ringwald, but could be, and it would make a nice parallel to Shawna's story. They both are seeking to know someone who abandoned their family for what can be seen as a selfish reason. However, when it comes to Shawna, she isn't necessarily seeking to punish Mary Ann but get to know her. In terms of Claire? She wants to destroy what was built for maybe she figures that is the reason behind her misery?
Then, when you add in how Shawna got what perhaps Claire thinks she should have gotten and was raised with, you get why Claire would go this far. Maybe even handle Shawna the way she did. She wanted to tap into what Shawna had, understand that emptiness, and question how can Anna be treated and placed on such a pedestal considering what she did? Not just to her family, but the community which, in masse, would rally for her with little to no notice?
Follow Wherever I Look on Twitter, Like us on Facebook and Subscribe to the YouTube Channel.
Check Out The TV Master List Page
Okay, The End To This Mystery Is Kind Of Cool - 89%