Tales of the City: Season 1, Episode 4 "The Price of Oil" – Recap, Review (with Spoilers)
---
Community Rating: 0.00% (0) - No Community Ratings Submitted (Add Yours Below)
---
This post may contain affiliate links and spoilers. Please read our disclosure policy.
---
As some question Anna's decision to sell the building, others are focusing on the relationships they have, or had, thanks to Anna providing them a safe and affordable place.
---
Network
Netflix
Director(s)
Silas Howard
Writer(s)
Andy Parker
Air Date
6/7/2019
Introduced This Episode
Ida
Caldwell Tidicue
Images and text in this post may contain affiliate links which, if a purchase is made, we'll earn money or products from the company. Affiliate links and external links have an upward facing, superscript, arrow.
The Fallout From Anna's Announcement
One of the main issues many have with Anna's announcement, on top of the way, is what they will do after. With rent for a two-bedroom less than 1200, per Jen, there isn't anything comparable. Yet, for some, there is this idea that maybe it is time to move on. Ben never liked how weak the water pressure is, there is apparently a mouse in the house, and many bring up minor issues to try to weaken the blow.
However, when it comes to Mary Ann, she isn't for giving up and plans to continue to fight.
It's A Generational Thing: Ida, Shawna, Mary Ann, Michael, Ben, Harrison, Margot, DeDe
In the episode, the younger and older characters find themselves having what could be seen as contentious moments – to varying degrees. Some are light, like Margot and DeDe bonding as DeDe talks about how she came to know she was a lesbian. However, some are a bit more fiery.
The big one being Ben, at a party Harrison hosts, trying to police one of Michael's friends for using the word "Tranny" and noting the man's privilege. This becomes a big thing since the man gets defensive and so he brings up AIDS, not being able to be out when he was young, and the secretiveness of it, and really lays into Ben. Leading Ben to walk away, and be upset with Michael, for the man made it seem Ben couldn't understand society not caring if you live or die – completely disregarding Ben being Black. Add in Michael not saying anything, and actually signaling Ben to stop before things get worse, and he feels unsupported.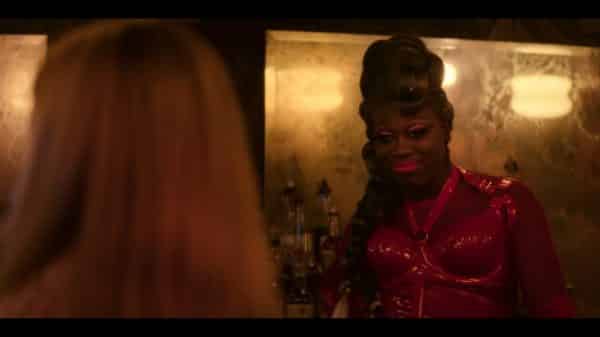 But while that was bad, there is also the need to mention Mary Ann at the Body Politic. After watching a show, she and Shawna, with Ida chiming in, talk about feminism. Specifically the difference between the feminism of Mary Ann's day which was against objectification vs. the feminism of modern time which deals with owning one's body and doing with it as one pleases – damn the male gaze. Of which, due to being outnumbered, Mary Ann backs down from.
Breaking Apart Or Coming Back Together: Michael, Ben, Shawna, Mary Ann, Margot, Jake
It seems like the end of Margot and Jake as Margot plans to move on and Jake goes back to living with his parents. As for Michael and Ben? Despite their fight, and Ben's snooping, partly thanks to Shawna creating a reason to, they are fine. However, the big to do may just be Mary Ann and Shawna reaching a place where it seems they may not be mother and daughter, but at least cool. For with Mary Ann getting tipsy, singing on stage, and them connecting through their worries over Anna, it seems old wounds are healing.
Now, as for how long the good time may last? Hard to say.
Other Noteworthy Facts & Moments
While Brian and Wren aren't dating, she seems open to it with time.
Highlights
The Generational Conversations
One of the primary benefits of having a diverse cast is getting to see how things have changed and getting varying perspectives. As noted, some of it is small like how someone identifies, like DeDe when it comes to being a lesbian. However, identity, and labels, evolve, and that can cause friction. Some of it can be understood like in Mary Ann's case since her generation had a different goal based on what they went through compared to modern women. However, then there is the Harrison dinner party.
What is interesting about that is how Harrison's guest was both an ass about the situation, yet you can also understand why he was so defensive. On the one hand, even if Ben isn't trans, you can get why he was uncomfortable and why he spoke out. He is the only person of color in the room, and while they all are gay, he is a minority due to color and age. Add in Harrison is Michael's ex, and trying to prevent himself from becoming too uncomfortable is understandable. Heck, noble even considering the likelihood of how things went.
Yet, when it comes to Harrison's guest, as the guest and Michael pointed out, as much as they aren't politically correct, you do have to understand the agitation of Ben correcting them. Perhaps similar to Mary Ann, there is this idea that the younger generation may not be walking on paved roads, but they aren't dealing with an untamed jungle either. Speaking specifically for Harrison's guest, people like him in his generation lost the youth and frivolity Ben, and his generation takes advantage of. AIDS for them, HIV as well, isn't a death sentence as it used to be. Their right to exist is now law in many places, and while some of those laws are being repealed, they have more public support than ever.
So imagine being the age of Michael and Harrison, finally getting to be public, out, and some form of happy, and you have some kid, benefitting from your trauma, trying to police how you talk and act? It isn't on the level of trying to push you back into the closet, but it does create a sense of shame you have long correlated as something no longer acceptable in your life.
Which isn't downplay Ben's feelings, especially the disregard of him being Black and understanding a society that appears to not care for his people and culture. More so, what we got was perhaps the best-written retort for why being called "privileged" can sometimes be too grand of a term.
On The Fence
Drama vs. Conversations
As the show goes on, I'm starting to realize the best parts of it come from conversation than anything else. The drama has largely becoming a bit of a bore, especially as it is stretched out over hours. Yet, when two people are just talking from their character's perspectives, you see something authentic. You get something which doesn't seem like a queer rehash of something you've likely seen or heard before and get real people. So one can only hope
Follow Wherever I Look on Twitter, Like us on Facebook and Subscribe to the YouTube Channel.
Check Out The TV Master List Page
Drama vs. Conversations - 75%
The Generational Conversations - 90%