Tales of the City: Season 1, Episode 3 "Happy, Now?" – Recap, Review (with Spoilers)
---
Community Rating: 0.00% (0) - No Community Ratings Submitted (Add Yours Below)
---
This post may contain affiliate links and spoilers. Please read our disclosure policy.
---
Insecurities and secrets are starting to eat up those who frequent or live at 28 Barbary Lane. Specifically their relationships – romantic or otherwise.
---
Network
Netflix
Director(s)
Silas Howard
Writer(s)
Hansol Jung
Air Date
6/7/2019
Introduced This Episode
DeDe
Barbara Garrick
Claire
Zosia Mamet
Harrison
Matthew Risch
Mateo
Dickie Hearts
Eli
Benjamin Thys
Inka
Samantha Soule
Images and text in this post may contain affiliate links which, if a purchase is made, we'll earn money or products from the company. Affiliate links and external links have an upward facing, superscript, arrow.
The One Who Just Won't Go Away: Mateo, DeDe, Brian, Mary Ann, Michael, Harrison, Wren
While Mary Ann stays in San Francisco, she will be living at DeDe's mansion with DeDe's gay and deaf butler Mateo – who seemingly can't stand Mary Ann. It isn't clear why, unless her need to tidy and do things is bugging him, but let's just say he can't wait for her to leave. Luckily, she doesn't stay in the house long and has a chat with Brian. Someone who she seemingly was going to reconcile with, but then she talked about how he wanted her to be small (business wise), fail, and so any peace or possible reconciliation with them is gone.
However, the good thing about Mary Ann riling Brian up is that it leads to him making a move on Wren. I'm talking about saying they should have sex and she agrees. This doesn't mean they are in a relationship now, but considering how long Brian has been stuck on Mary Ann, this is progress. Right?
But what is progress without looking back every now and then? Wondering what could have been, recounting mistakes, and both usually lead you to thinking about an ex. That's what happens with Michael as one of his exes, Harrison, appears after he is getting his usual checkup. Which was already awkward, since Michael was checking with his doctor if he is still undetectable but add in Ben seeing the exchange and it makes the situation even more uncomfortable.
What About Margot's Joy?: Margot, Jake, Flaco
It's coming to the point for Margot where she is probably prepping to leave. Jake is being less and less responsive to her needs, disappears one night to have sex with Flaco, and when Margot comes to one of Jake's family things, he raises some red flags. Mostly in the form of saying things which makes it seem he wants to put off having a family and making long term moves. Which is a growing issue in their relationship since Margot doesn't know how much longer they can or may be together.
The Beginning Of The End: Anna, Claire, Shawna, Inka, Eli
Someone is blackmailing Anna, and she plans to put a stop to it by giving in. Why? Well, as Shawna points out, Anna is the type who may give you a small glimpse of her life, but never tell you the full story. Also, she presents the vibe that asking follow up questions won't be in your best interest.
Perhaps explaining why Anna and Shawna get along so well since Shawna too doesn't like talking about herself much. For example, Shawna ends up at Inka and Eli's place again and doesn't want to mention Mary Ann or Claire, who she was seemingly into until she decided not to leave an event with her. Instead, she just sits at their table and absorbs their conversation. Something Inka pushes Shawna to be more than welcome to do since her place in their lives, her and husband Eli, doesn't have to be purely sexual.
Highlights
Dating & Sex When HIV+
While the first season of Pose touches on this topic, as well as BPM (Beats Per Minute), there can never really be enough examples of what it means to live with HIV and how that can affect everything. And while, granted, the two aforementioned take on HIV/AIDS when it was still a genocidal plague, compared to Michael who has access to PrEP, it is a nice reminder of how far things have come. For on top of there being less of a stigma, we are also seeing Michael, who is made to see in his 40s perhaps, being healthy, muscular, and as undetectable as his blood. Making HIV seem less of a death sentence and more… I don't want to say inconvenience. If anything, Michael's presence and being HIV+ shows that it is an unfortunate disease that you can learn to live with and still have a life.
On The Fence
The Possibility Of A Mary Ann & Brian Reunion
I can't imagine this not eventually veering towards Mary Ann reconciling with Brian. She just got divorced, Brian has been single and low-key pining for her forever, and this show has to have something generic about it, right? So why not make its hetero people have the boring kind of storyline you expect from them?
Venturing Into The Past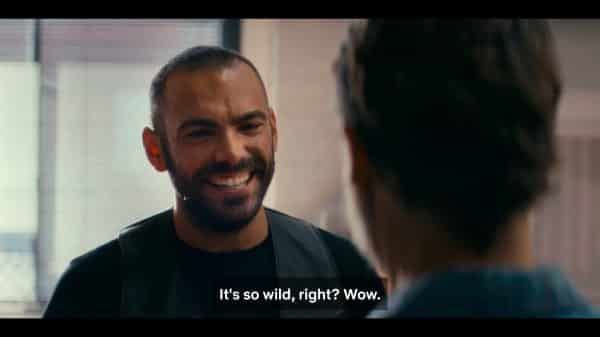 Right now, we have danced about when it comes to Anna's past, and I think the show can pull off one more episode of doing so before that gets tiring. However, when it comes to everyone else, honestly, the desire to venture into their past lessens. It's hard to say why but whether we're talking about Michael and Harrison, or especially Mary Ann's past with anyone, it just leads you to hunch a bit. For what have we been presented with these characters lately to make us want more – outside of Anna? Who, honestly, the intrigue when it comes to her is just because she is cagey and getting to know her would mean getting to know Shawna better – who is clearly a mini her.
Jake & Margot
Don't get me wrong, I love what is going on and where this could go. The issue is, as said in episode 1, there is something about this show, beyond Mary Ann now, which makes 10 episodes at around an hour each a lot. Maybe it is because, even with the twins, there is no comic relief? Perhaps because the story on paper is better than the performances on screen? It's hard to say, but Jake and Margot are flirting with having a storyline that may have had potential but could easily becoming the same old storyline we're used to but with a trans/queer twist.
Follow Wherever I Look on Twitter, Like us on Facebook and Subscribe to the YouTube Channel.
Check Out The TV Master List Page
Dating & Sex When HIV+ - 80%
The Possibility Of A Mary Ann & Brian Reunion - 70%
Venturing Into The Past - 71%
Jake & Margot - 72%
Related Topics:
Barbara Garrick
,
Benjamin Thys
,
Dickie Hearts
,
Hansol Jung
,
Matthew Risch
,
Netflix
,
Samantha Soule
,
Silas Howard
,
Tales of the City
,
Tales of the City: Season 1
,
Zosia Mamet