SweetBitter: Season 2, Episode 7 "Peach Treats" – Recap, Review (with Spoilers)
---
Community Rating: 0.00% (0) - No Community Ratings Submitted (Add Yours Below)
---
This post may contain affiliate links and spoilers. Please read our disclosure policy.
---
In the penultimate episode of the season, Tess' fantasy becomes a reality and many start contemplating life after the Pink Chair.
---
Network
Starz
Director(s)
Stuart Zicherman
Writer(s)
Lucy Thurber
Air Date
8/18/2019
Introduced This Episode
Layla
Erica Pappas
Images and text in this post may contain affiliate links which, if a purchase is made, we'll earn money or products from the company. Affiliate links and external links have an upward facing, superscript, arrow.
[ninja_tables id="37369″]
Collected Quote(s) & .Gifs
Caring isn't pretentious. Apathy is.
— Tess
Question(s) Left Unanswered
So is Tess' roommate just going to be completely absent? No follow up on who they are at all? Just that simple line drop in season 1?
Follow Wherever I Look on Twitter, Like us on Facebook, Sign Up For Our Mailing List and Subscribe to the YouTube Channel.
Ari, Tess, Heather, Simone | You're All Going To Leave Me
Ari has primarily been a happy-go-lucky character. Someone who is noted not to be close to her parents, has some trouble dating, and little tidbits have flown about here and there. However, in this episode, she has a bit of a breakdown. One that all stems from Tess and Heather leaving her at a concert alone, to be with the guys they are interested in, and then Simone, who hasn't really talked to her in 5 years, asking her for drugs.
With that in mind, she feels used, and like she has a limited and temporary place in everyone's life. Which, when some are honest, like Heather, they say it's true. But, with that in mind, Simone notes, she doesn't need the money and hasn't cashed a check in 14 months. So is what has left her, Ari, stagnant in life the people she worked with vs. lack of opportunity, like most are struggling with?
Commentary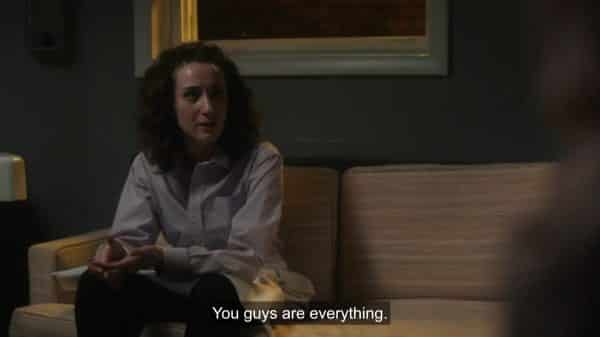 One of the big issues, maybe sole issues, with Sweetbitter is that it doesn't have the episode count or time length to dedicate all of its time to each character evenly. Making it so those like Heather and Ari, while we may learn bits and pieces, it isn't until episode like this are we really pushed to realize they are an entire person and not just a small part of Tess' life. Which isn't to say things haven't been building up to Heather reconsidering law school, but with Ari it's different. She took a step back this season, in terms of her role in Pink Chair outside of one of Tess' friends. So while big fans of the character may have seen this coming, as someone who feels Ari has gotten less focus than the dishwasher's this season, it seemed to come out of nowhere.
Yet, let's be real, as Heather noted, a lot of the friendships and relationships we see were born and survive strictly due to convenience. They work together all day, into the night, and like most 20 or 30 somethings, post-college/high school, where else would they find friends outside of work? Yeah, there are clubs and all that but, as shown by the dating habits of many of the staff, pretty much the only way they can work out a schedule with someone is them being on the same schedule or having them be a guest who knows their routine. Otherwise, there comes the issue of still being part of the Pink Chair family despite having to run off when things are done to satisfy a partner.
Layla, Simone, Tess, Will, Jake | One Dream Dies & The Next Becomes Reality
Tess abandons Ari to spend the night with Jake, and they finally have sex. Something she reveals to Simone the next day who, because she is feeling testy, and is also on drugs and alcohol, she decides to use that as ammunition against Will. Someone who is an innocent bystander but you know how Jake and Simone get down. When they are miserable, they believe in spreading the pain around.
Leading to Will officially being done with Tess since their back and forth is getting old, as are her apologies for doing something which hurts him. So, to lick his wounds, while at the Home Bar, he chats up a girl named Layla, uses his title to woo her a bit, and has sex with her in the bathroom. Now, whether this will lead to him following in Howard's footsteps (read: mistakes) or not? Well, time will tell.
Commentary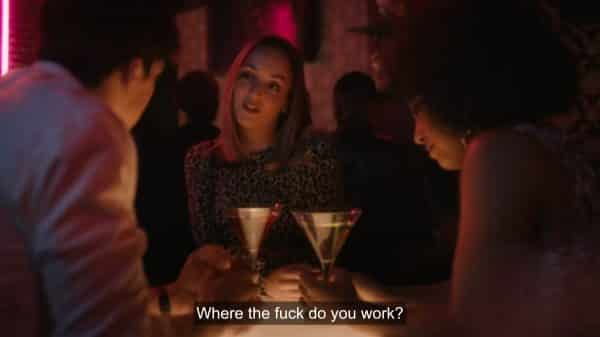 I wonder, if offered, would Simone have taken that management position? She knows the restaurant, puts out fires all the time, and does what Will has long done. So was Howard's oversight personal?
Also, when it comes to this Will and Layla thing, will it go somewhere or is Will just flexing his muscles? Taking advantage of being in an attractive power position that he wasn't in previously? Much less, trying to close an old chapter, archive the old Will and become someone who takes initiative, is less shy, and goes for what he wants. Especially when there isn't baggage pushing him to think or realize it might be a bad idea.
Jake, Simone, Tess | Can't Have One Without The Other
Despite Simone spreading Tess' business and going on a bit of a mean streak, she shows up to what originally was supposed to be a breakfast date between Tess and Jake. Thus showing Tess that you can't really have one without the other for they are so entangled they are damn near twins. Which may lead to Tess really having to consider, now that the dream is a reality, can she be in this weird threesome? One which is so volatile, maybe unhealthy, that if one has an issue, the other will run to them without thinking? Especially if they aren't held back.
Commentary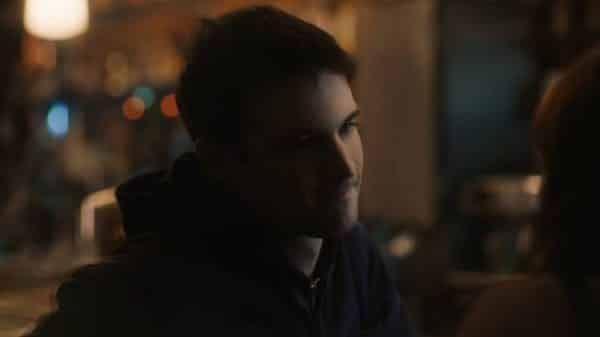 One of the things worth mentioning is that Jake too has plans to leave the restaurant. Specifically, joining Scott on a new venture. With that in mind, you have to wonder if both Simone and Jake are ready for that distance and lack of consistent access to each other? On top of that, how does Tess fit into the equation? She clearly has both enamored, and I'm sure Jake would ask her to join him, so what would her decision be?
Heck, considering it relies on Simone selling her house with Jake, will she let him get away from her or will she trap him?
Tess' Acknowledgment of How She Observes People and Seeing It In Action - 85%
Will Moving On To Layla - 86%
Heather, And Others, Talking About Not Being At The Pink Chair Forever - 87%
Getting To Know Ari A Bit More - 84%
Simone Loosening Up - 80%
So Are We Just Not Going To Learn About Tess' Roommate? - 65%
Sweetbitter takes note of Ari's place in life and further expands on the Pink Chair not being a permanent fixture in everyone's life. Thus pushing the need to question what is the thereafter for many and providing us an idea of who really has a plan and who is willing to coast.
Related Topics:
Erica Pappas
,
Lucy Thurber
,
Starz
,
Stuart Zicherman
,
Sweetbitter
,
SweetBitter: Ari
,
SweetBitter: Heather
,
SweetBitter: Jake
,
SweetBitter: Layla
,
Sweetbitter: Season 2
,
SweetBitter: Simone
,
SweetBitter: Tess
,
SweetBitter: Will