Sweetbitter returns, picking up from where the finale left off, and Tess continues to push to be seen beyond everyone's perceptions of her.
---
Network
Starz
Director(s)
Augustine Frizzell
Writer(s)
Stephanie Danler
Air Date
7/14/2019
Introduced This Episode
Becky
Katerina Tannenbaum
Images and text in this post may contain affiliate links which, if a purchase is made, we'll earn money or products from the company. Affiliate links and external links have an upward facing, superscript, arrow.
Recap
We All Have Our Secrets: Becky, Howard
Remember Becky? The one who made a huge stink and then was courted off like an angry protestor? Well, Howard is back in her life and seemingly never left. In fact, it seems her whole blow-up may have been for appearances, for now, they share a tub together, and while still a secret, they don't have to hide to the same extent as before.
The Return Of Sasha Fierce: Sasha, Tess, Jake, Sasha, Ari, Heather
After Sasha's suicide attempt, Ari and Heather, alongside Tess, are trying to cover for him as much as possible. Problem is, Sasha is still miserable and isn't making it easy on them. What also doesn't help is Tess confiding in Jake and him betraying her trust. Then following that up with saying he isn't into Tess because she is a child. Making the formerly adorable nickname of "Baby Monster" no longer appealing to Tess for she wants to be taken seriously.
Some Pig: Simone, Will, Tess, Howard
Which, by Simone, she is. Granted, as Will puts out there, things are perhaps not what they appear with Simone, but Tess is wide-eyed and trying to absorb everything. So as much as she is warned not to trust Simone, she doesn't want to cut off all she can expose her to. And maybe this curiosity, this maintained zest for life, is what Simone is fearful of. For, like everyone else, she is a bit jaded, comfortable even. Hence why Howard has a big slaughtered in front of them. But Tess, she watches and shows a further appreciation for the pig when it is fed to people.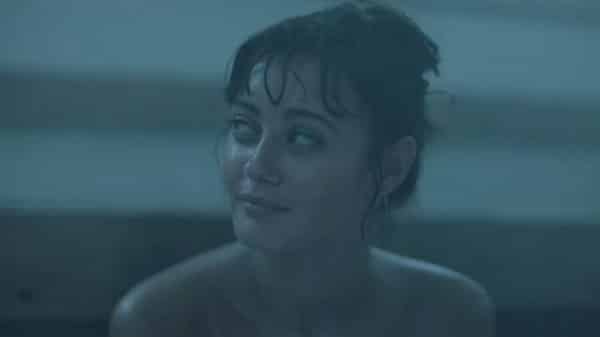 Also, to make things clear to Simone, she notes she is not the pig to her farmer and does not blindly trust her. A sentiment noted.
Collected Quote(s) & .Gifs
[…] when the job stops giving [you] freedom [it] starts to feel like a trap.
— Simone
Review
Highlights
Simone Recognizing Tess As Her Equal Or Potential Equal
One of the best things about this show is the relationship between Tess and Simone. For you can see, while there is some sense of being threatened by Tess, there is also this intrigue. She is new, not from the city, and allows Simone a new sense of eyes to take things in all over again. Then for Tess, Simone is older, sophisticated, maybe not everything she wants to be, but someone to place on a pedestal and consider a role model. Making this idea she may not like her difficult to grasp since it doesn't always match how she is in person. Especially considering she takes time with her away from everyone else. Sort of like a pet.
A Community Doesn't Fix A Mess
While you have to love Sasha, you have to also recognize the quarter-life crisis going on. Like nearly everyone else, he has hit a wall and, I wouldn't say he is being overdramatic about it, but is certainly frustrated to the point of doing something drastic. Which for those in their 20s or 30s is an understandable feeling. You've been on this path for years, realize you aren't happy but don't have the safety net to quit and finding something new is immensely difficult. For the longer it takes, the more interviews you don't get, or get but not the job, it pushes you to feel stuck. Perhaps even trapped and coerced to either accept your fate or, like Sasha, try to escape it by any means possible.
Venturing Into Howard's Personal Life
While Howard seems better stoic and like someone who would have an interesting double-life, it is always nice to peer behind the curtain. Maybe not be fully invited and allowed to touch things, but just getting to know he has a life, secret or not, adds to the allure a bit. Specifically to erase the idea that he has any romantic interest in Tess.
Follow Wherever I Look on Twitter, Like us on Facebook and Subscribe to the YouTube Channel.
Sweetbitter
Season/ Episode
Synopsis
Episode Information
Topics & Focused Characters
Season 2, Episode 8 "Bodega Cat" [Season Finale]

How one wields their power and influence is focused on as Tess reads Simone's short story and Will fears what may come if he continues to be a manager.

| | |
| --- | --- |
| Director(s) | Stuart Zicherman |
| Writer(s) | Azie Dungey, Luke Sand |
| Air Date | 8/18/2019 |

Will, Layla, Howard, Sasha, Heather, Tess

 

| Preparing For The Next Episode
Simone, Tess, Jake

 

| The Mermaid, The Boy, And Tess
Tess, Simone, Howard, Jake, Scott

 

| You Know This Means War?

Season 2, Episode 7 "Peach Treats"

In the penultimate episode of the season, Tess' fantasy becomes a reality and many start contemplating life after the Pink Chair.

Director(s)
Stuart Zicherman
Writer(s)
Lucy Thurber
Air Date
8/18/2019
Introduced This Episode
Layla
Erica Pappas

Ari, Tess, Heather, Simone

 

| You're All Going To Leave Me
Layla, Simone, Tess, Will, Jake

 

| One Dream Dies & The Next Becomes Reality
Jake, Simone, Tess

 

| Can't Have One Without The Other

Season 2, Episode 6 "Truffles and Champagne"

Simone's ex-husband, Etienne, shows up, giving her fresh optimism, as Tess gives will a look over after he treats her to truffles.

Director(s)
Geeta V. Patel
Writer(s)
Christopher Oscar Pena
Air Date
8/11/2019
Introduced This Episode
Etienne
William Abadie
Eddie
Eric D. Hill

The Boy I Should Like vs. The One Who Riles Me Up:

 

Tess, Will, Jake
The Man I Left Behind & Look Back On Fondly:Simone, Etienne, Tess, Jake

Season 2, Episode 5 "Entropy"

As the restaurant is thrown into disorder, the chaos coerces conversations between people who haven't necessarily been on the best of terms lately.

Director(s)
Geeta V. Patel
Writer(s)
Sharr White
Air Date
8/4/2019
Introduced This Episode
Manny
Gabriel Gutierrez
Martin
Allen McCullough

Starting From The Bottom Shouldn't Mean Life Will Be Hard:

 

Howard, Santos
The Rebellion Begins:

 

Sasha, Jake, Ari, Tess, Manny, Simone, Howard, Santos, Scott, Will
Peace Talks:

 

Santos, Howard, Jake, Tess, Simone, Martin, Will

Season 2, Episode 2 "Equifax & Experian"

Tess opens up about her mother, which concurrently happens as many let out their secrets.

Director(s)
Augustine Frizzell
Writer(s)
Stuart Zicherman
Air Date
7/14/2019
Introduced This Episode
Rosalyn
Sadie Scott

Being A Family Is Exhausting:

 

Rosalyn, Tess, Jake, Howard, Ari
While We Are Different, Alas, We Are Also The Same:

 

Sasha, Santos, Tess
We Are One Of Many:

 

Tess, Simone

Season 2, Episode 3 "Last of the Season"

As the owner of the restaurant appears, we're reminded all who envy Tess' brand new eyes to things still are capable of experiencing something new.

Director(s)
Marta Cunningham
Writer(s)
Kenneth Lin
Air Date
7/21/2019
Introduced This Episode
Maddie
Sandra Bernhard
Omar
Karim Saleh
Gabe
Paul Anthony Stewart
Giselle
Tiffan Borelli

Some People Are Meant To Change Your Life Just In Minor Ways:

 

Tess, Simone, Omar
You Gotta Keep Stimulated:

 

Maddie, Tess, Scott, Howard, Simone
Not All Growth Needs To Be Public:

 

Tess, Will, Giselle, Gabe

Season 2, Episode 4 "Sec of Demi-Sec"

As Sasha has a mental breakdown, Tess finds herself a pawn in Howard and Simone's passive-aggressive chess game.

| | |
| --- | --- |
| Director(s) | Marta Cunningham |
| Writer(s) | Charise Castro Smith |
| Air Date | 7/28/2019 |

I Don't Need A White Savior:

 

Heather, Tess, Howard
What's Left Behind In Old Country:

 

Sasha, Tess, Jake
While You Talk Too Much, Keep Going:

 

Tess, Howard, Becky, Simone

Season 1/ Episode 1 "Salt" [Series Premiere]

There is a bit of a change in the usual girl from nowhere comes to the big apple, and with Ella Purnell at the helm, this could very well get interesting.

Director(s)
Richard Shepard
Writer(s)
Stephanie Danler
Air Date
5/6/2018
Noted Actors
Tess
Ella Purnell
Howard
Paul Sparks
Simone
Caitlin FitzGerald
Will
Evan Jonigkeit
Sasha
Daniyar
Jake
Tom Sturridge

Season 1/ Episode 2 "Now Your Tongue Is Coded"

With Tess being alone in New York City, naturally she is seeking friendship. However, finding something, or someone, normal is becoming quite difficult.

Director(s)
Cherien Dabis
Writer(s)
Stuart Zicherman
Air Date
5/13/2018
Actors Introduced
Ari
Eden Epstein
Sophia
Meaghan Bloom Fluitt
Nicky
Todd Gearhart
Heather
Jasmine Mathews
Santos
Rafa Beato

A Lonely Girl In The Big City: Tess, Jake, Simone, Howard
A Past (W/L)ife: Sasha, Tess
Though Things Might Be Bleak, The Future Looks Bright: Tess, Jake

Season 1/ Episode 3 "Everyone is Soigné"

How one defines settling is pushed to the forefront as Tess starts something with Will and someone from Simone's past comes to the restaurant.

Director(s)
Adam Bernstein
Writer(s)
Kenneth Lin
Air Date
5/20/2018
Actors Introduced
Serena
Wrenn Schmidt

Settling For Will: Tess, Will, Ari, Heather, Simone, Jake
Settling vs. Stagnant: Simone, Tess, Jake

Season 1/ Episode 4 "Simone's"

Tess spends most of this episode with Simone and in doing so, some layers to this rather mysterious character are stripped away. But not so much you think you fully understand her.

Director(s)
Shira Piven
Writer(s)
Liz Tuccillo
Air Date
5/27/2018
Newly Noted Characters
Scott
Jimmie Saito

Welcome to Simone's: Simone, Tess
One of the Group: Tess, Ari, Jake

Season 1/ Episode 5 "Weird Night"

Baby Monster spends some time with uncle Sasha to help her get through a bad day and make him feel less alone in the world.

| | |
| --- | --- |
| Director(s) | Ry Russo-Young |
| Writer(s) | Stephanie Danler, Deborah Schoeneman |
| Air Date | 6/3/2018 |

No Good Deed Left Unpunished: Santos, Howard, Becky, Tess, Will
Live Life With All The Regrets: Sasha, Tess, Will, Ari
I Don't Want To Live Forever: Tess, Sasha

Season 1/ Episode 6 "It's Mine" [Season Finale]

As we learn why Simone was said to not be trusted, Tess takes her trials and learns her fate.

| | |
| --- | --- |
| Director(s) | Stuart Zicherman |
| Writer(s) | Jaquén Castellanos, Azie Dungey |
| Air Date | 6/10/2018 |

What Am I Getting Myself Into?: Tess, Jake, Simone, Will, Ari, Heather
Decision Time:  Tess, Howard, Will, Simone
The Peeling of the Mask: Tess, Simone

Season 2, Episode 1 "The Pork Special" [Season Premiere]
Sweetbitter returns, picking up from where the finale left off, and Tess continues to push to be seen beyond everyone's perceptions of her.

Director(s)
Augustine Frizzell
Writer(s)
Stephanie Danler
Air Date
7/14/2019
Introduced This Episode
Becky
Katerina Tannenbaum

Some Pig: Simone, Will, Tess, Howard
The Return Of Sasha Fierce: Sasha, Tess, Jake, Sasha, Ari, Heather
We All Have Our Secrets: Becky, Howard
Venturing Into Howard's Personal Life - 80%
A Community Doesn't Fix A Mess - 81%
Simone Recognizing Tess As Her Equal Or Potential Equal - 90%