She's Gotta Have It: Season 2, Episode 8 "#OnTheComeUpTheComeDown&TheComeRound" – Recap, Review (with Spoilers)
Clo and Nola have a conversation Nola, specifically, has been avoiding as Divine finds himself reconciling with two people he may not have expected to.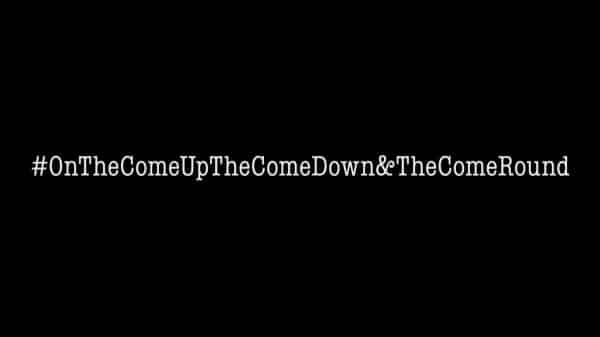 Clo and Nola have a conversation Nola, specifically, has been avoiding as Divine finds himself reconciling with two people he may not have expected to.
---
Network
Netflix
Director(s)
Spike Lee
Writer(s)
Joie Lee
Air Date
5/24/2019
Introduced This Episode
Nairobi
Nyla Nolasco
Images and text in this post may contain affiliate links which, if a purchase is made, we'll earn money or products from the company. Affiliate links and external links have an upward facing, superscript, arrow.
Getting To Know You: Nairobi, Bianca, Divine
With being sober, Divine's head is much more clear. Also, it makes people like Bianca less wary of him. Though, considering she is a divorcee who made herself into a social pariah, the friendly guy who used to wander the neighborhood is better than just her dog. So, despite their history, they get to talking. Leading to her apologizing, Divine revealing he is a vet, and that the brownstone she lives in, Bianca, used to be his home.
And on that day, that isn't the only encounter Divine didn't expect. He also meets, after maybe a decade or more, his now 21-year-old daughter Nairobi. Someone who found him, due to word of mouth, and doesn't necessarily confront him, but does want answers. Answers he is more than willing to give.
The Come Up: Shemekka, Nola, Septima
Shemekka officially launchers her hairline based off her grandmother Edwina's recipe and it's soft launch, in Nola's home, goes well. Also, Septima feels revived a bit working as an actress, as she did before Nola was born, and Nola is happy for both of these important people in her life.
Hard Conversations: Jameelah, Clo, Nola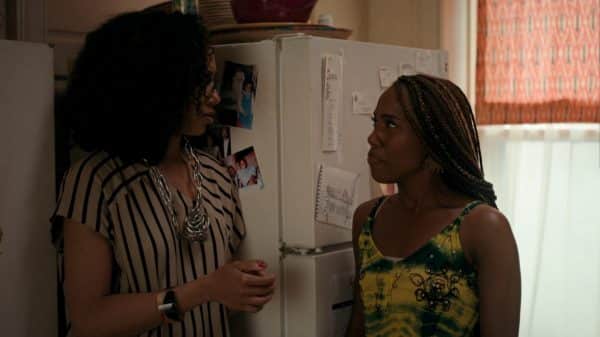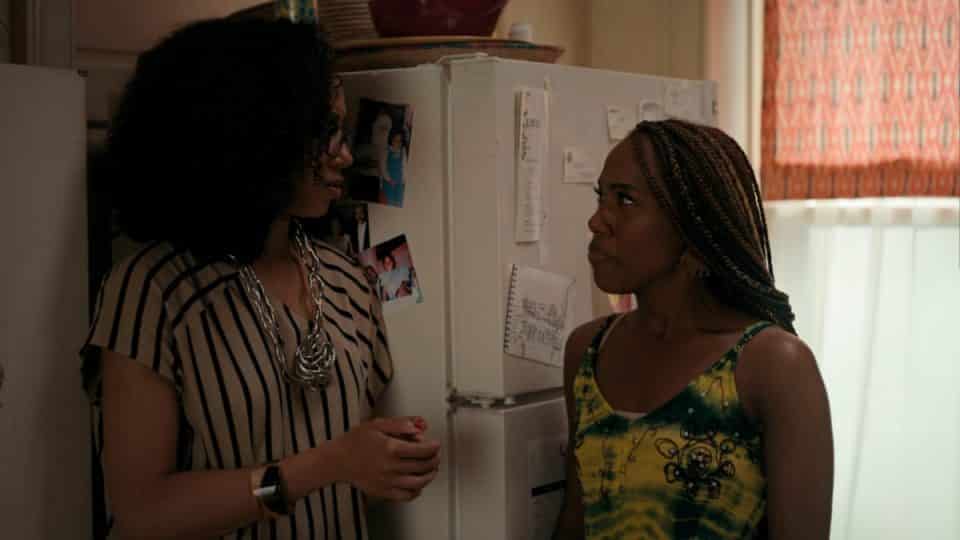 While things are going well for Nola's mother and best friend, they are getting a bit murky for her. When it comes to earWave and Jameelah, Nola is learning what it means to work with the corporate world. Specifically that, what might be agreed upon in your meeting can change by the time the actual rollout happens. Which Jameelah apologizes for, yet it isn't like Nola didn't get paid.
As for Clo? Well, with all Clo is going through, and with Shemekka pushing them to talk, they both let it all hang out. Nola notes Clo's stank attitude, Clo thinks she is the only one who sees Nola's potential, and also claims Nola puts on a nice girl act. All of which pushes Nola to think trying to be in business and friends with Clo is no longer a good look and them ending things without any clear resolution. Even with their grievances aired.
Highlights
Having Those Hard Conversations
Here is the thing about Nola, she isn't afraid of confrontation yet unless she is leading the charge, she doesn't necessarily choose to partake. Also, while more than capable of having an argument publicly, again, she does so when she knows she is in the right or the situation is in her favor. Making Shemekka push for those two to talk, as Miss Ella, Shemekka, Shemekka's cousin, and Miss Moss watched on – awkward. Yet, more so for Clo than Nola since I don't think anyone in the room liked Clo. She was bougie to the max, and that means Nola could have probably called her a b**** and someone would have likely co-signed.
Yet, how Nola likes to argue, debate, etc., aside, you have to appreciate her willingness to hash things out. After all, she knew things between her and Clo were not as they should. Also, considering she has Clo in her business, they need to talk. For even if they have nothing in writing, between earWave, an art show, and more, clearly Clo is invested, and if she was being written out, she deserved to know.
That aside, you have to feel bad for Clo a lil bit. Yeah, the Mars thing was trash, and wanting to take down either Nola's IG page or a post. However, the more isolated she comes off, the more you realize girl needs either a Dr. Jamison session or a real friend. Leading you to wonder, considering Nola's ultimatum, will she choose business, as she usually has, or friendship?
Switching to Nairobi and Divine, while things didn't get as deep as they could, it was nice the conversation still happened. That is, despite expecting a teenager and us getting a 21-year-old woman. That threw me all the way off but the conversation, while just skipping over the surface, was still worth being seen and told.
On The Fence
Bianca's Apology
The man essentially went to prison for over a year because of her. Which, yeah, got him clean, a decent gig, and things of that nature, but her weak ass apology seriously was not enough. Making you a bit joyous that her life seems miserable and all she has is a dog who helps to isolate her.
Septima
Is it wrong to feel that Septima's storyline doesn't have much oomph? Don't get me wrong, I'm happy for her but also hunch about her stage career and even her marriage, to be honest. Maybe because, compared to Nola and Stokely, her personality seems so small and managed. Heck, when it comes to this show in general, her and Miss Ella seem to be the most normal ones of the bunch and in a sea of eccentrics, what could Septima really do to stand out and be worth shouting out?
Follow Wherever I Look on Twitter, Like us on Facebook and Subscribe to the YouTube Channel.
Having Those Hard Conversations - 85%
Bianca's Apology - 70%
Septima - 71%
---
Follow, Like, and Subscribe
Community Rating: 0.00% (0) - No Community Ratings Submitted (Add Yours Below)