She's Gotta Have It: Season 2, Episode 2 "#ConeyIslandIsTheEndOfTheLine" – Recap, Review (with Spoilers)
---
Community Rating: 0.00% (0) - No Community Ratings Submitted (Add Yours Below)
---
This post may contain affiliate links and spoilers. Please read our disclosure policy.
---
It seemed that while Nola had 18 months of bliss, the good times are over and the s*** is inching towards the fan.
---
Network
Netflix
Director(s)
Spike Lee
Writer(s)
Cinqué Lee
Air Date
5/24/2019
Images and text in this post may contain affiliate links which, if a purchase is made, we'll earn money or products from the company. Affiliate links and external links have an upward facing, superscript, arrow.
Things Are Changing: Shemekka, Cheryl, Jamie, Cheryl, Nola, Stokley, Septima
When it comes to some characters, it seems the good times are on their way. Shemekka has a new job, Jamie and Cheryl are, so far, on the way to an amicable divorce, and when Nola visits her folks, they're doing well. Yeah, Stokley still talking a whole lot of mess, but Septima got a lead gig, and he wasn't hating. So things seem good with them overall.
You Better Get The Bag: Clo, Nola, Ms. Ella, Lulu, Mars, Miss Moss
With Nola's last check bouncing, and the grant money running out, it puts her on notice in terms of making some money. She checks in with Miss Moss, but only a mural type design she can offer Nola. Then, in terms of Clo, while she has this potential gig with a new streaming service called earWave, they are looking into Nola's "My Name Isn't" campaign want to commercialize it. Which leads her to feel like she is selling out if she takes that route – so, for now, she is against it.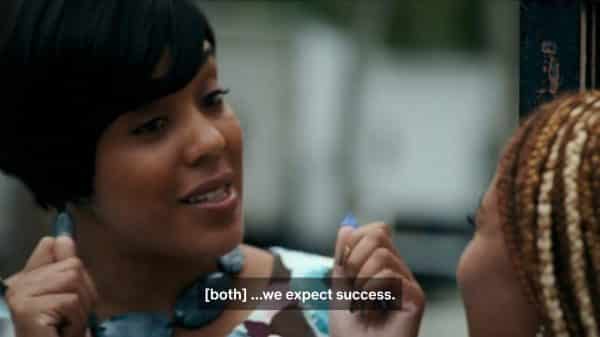 But, she isn't the only one struggling with housing. Lulu and Mars are officially homeless since the housing authority caught on that their mother moved back to PR. Leaving Lulu to have to find a place as Mars continues to bide his time.
I Don't Need Two Kids: Opal, Nola, Cheryl, Skylar
Opal is starting to reach that point with Nola. Maybe it is claiming her child yet not being a proper parent, perhaps it is largely due to Nola just getting here? Since, as Opal states, it is she who physically gave birth and raised Skylar. So Nola getting the title of mom seems not only inappropriate, but it could be considered insulting?
Especially since Nola is overstepping, such as letting Skylar get an ear piercing just because Cheryl told her off. Which leads to the need to back up a second. We find out Skylar and Cheryl's son go to the same school and are friends. This leads to Cheryl and Nola coming face to face and Nola walking into getting cursed out, as well as physically threatened.
But, between issues with picking up Skylar, the ear piercing that wasn't approved, Skylar cursing, and the undermining, that's it for Opal. She decides it is over and she doesn't want to feel she has a teenager and adult daughter. Thus Nola is left at her formerly favorite place, Coney Island, alone and heartbroken.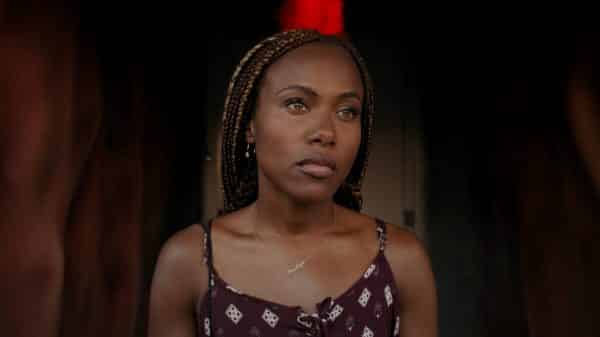 Question(s) Left Unanswered
Was Opal, monetary wise, supporting Nola?
Other Noteworthy Facts & Moments
Papo, now Divine, is out of jail. Also, we learn he is Dominican.
Highlights
Papo Update
I love Papo, I mean Divine, and with him out and seemingly having a job, I hope we get to know him a little bit. At least on the level we know Shemekka. For while, in season one, we learned he was one of Nola's peers, and things went left, there has to be more to that story.
The Difficulty Of Co-Parenting A Child Which Isn't Legally Yours
As noted in the previous episode, the balance between having a child mind you, like you, and forming a bond with them, while maintaining your relationship with their parent, is hard. For no matter how you look at it, to be with anyone, whether it is as a friend or partner, that child is part of the package. To be with Opal, especially in a serious relationship, means you have to have a relationship with Skylar at the same time. And while it has been 18 months, there is that need to question if that is truly enough time to find a good flow to things? Particularly since Opal is just now dropping boundaries about who Nola is in Skylar's life and seemingly trying to provide some redirection.
And one thing which wasn't gone into, which was weird to me, is how Skylar feels about this breakup. Granted, Opal makes it seems she can be hot and cold about the situation, but even with it being established that Skylar has at least one friend, how do you remove a maternal figure without causing problems? Never mind, how will Nola react if Skylar reaches out to still be cool, despite the breakup?
Cheryl Going Off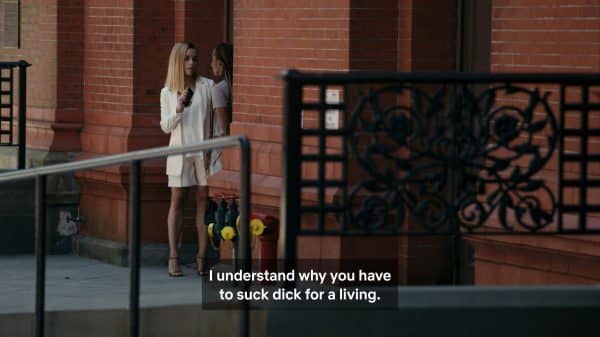 While Cheryl was in the wrong, it didn't make her going off on Nola less funny. Just her cursing, physically threatening Nola, commenting on her art, and calling her a ho, it had me dying. Making me, surprisingly, invested in Cheryl's next chapter far more than I was before.
On The Fence
Jamie Sneaking Around His (Former?) House
Poor Jamie. Unlike Greer, he has some watered down drama for his storyline that got him looking like he belongs on Tyler Perry soap opera. Making it seem he can't even have his dignity. He has to be the ex stalking about, not even shown he has moved on to bigger or better things personally or work wise.
Follow Wherever I Look on Twitter, Like us on Facebook and Subscribe to the YouTube Channel.
Papo Update - 80%
The Difficulty Of Co-Parenting A Child Which Isn't Legally Yours - 85%
Cheryl Going Off - 89%
Jamie Sneaking Around His (Former?) House - 70%