She's Gotta Have It: Season 1/ Episode 4 "#LuvIzLuv (Sexuality is Fluid)" – Recap/ Review (with Spoilers)
Opal finally appears in She's Gotta Have It and has certainly the makings of becoming the choice partner for Nola. Previous Recap: Episode 3 "LBD (Little Black Dress)" Community Rating: 0.00% (0) – No Community Ratings Submitted (Add Yours Below) Network Netflix Director(s) Spike Lee Writer(s) Eisa Davis Characters Introduced Opal Ilfenesh Hadera Skylar Indigo…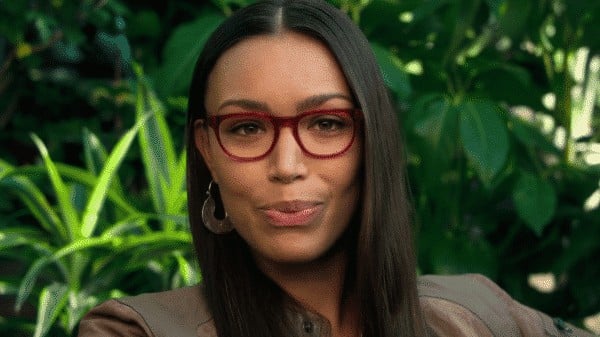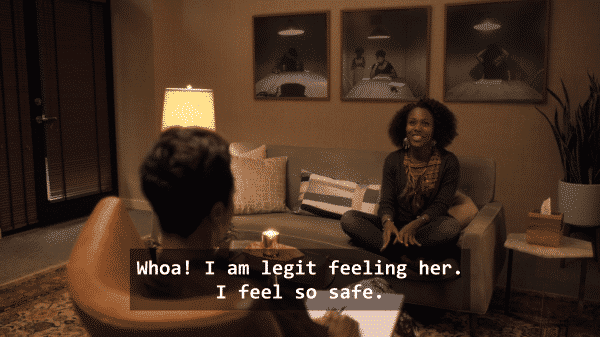 Opal finally appears in She's Gotta Have It and has certainly the makings of becoming the choice partner for Nola.
---
---
Community Rating:
---
Network
Netflix
Director(s)
Spike Lee
Writer(s)
Eisa Davis
Characters Introduced
Opal
Ilfenesh Hadera
Skylar
Indigo Hubbard-Salk
Terrell
Ato Blankson-Wood
Stefano
Riccardo Costa
Raqueletta Moss
De'Adre Aziza
---
The Beard: Nola, Terrell
While we get a break from Mars and Jamie, and see Greer briefly, for the most part, no one who would enter Nola's loving bed is seen. But, with the main cast away means we get some new blood. Of which one is Terrell, Nola's gay Trini friend who, like her, is an artist, but one with a major salary. But, despite that, and having a fiancé in Stefano, he wouldn't dare come out to his parents. After all, between disowning or taking back the life they gave him? He isn't ready for either. But, at the same time, Nola isn't ready or for playing anyone's beard [Usually a woman who pretends, for a gay man, to be his girlfriend in social situations where they can't be out and proud].
Though, as usual, she isn't ready to be criticized either. Terrell clapping back when Nola gets at him, and tried to bring Stefano into, Terrell being closeted leads to him checking her. For at least he can commit. Meanwhile, seemingly with men only, the idea leads Nola to convulse. But more on that later.
Don't Make Promises You Can't Keep (Part 1): Nola, Miss Ella, Papo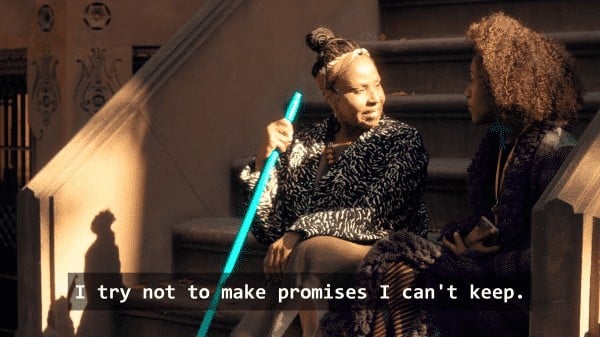 Nola is two and a half weeks late on her rent. A rent Miss Ella already heavily discounts just because of how far back she goes with Nola's parents. Also, to make matters worse, Nola, after drinking with Terrell and his family, lost her keys for the third time. But it doesn't end there, Nola starts making promises. She promises to pay Miss Ella her rent and promises her new boss, Mrs. Raqueletta Moss, she won't be 17 minutes late for class ever again.
And you know why she is likely to keep those promises? Papo. We find out Papo, the homeless gentleman who annoys Nola's neighbor, he was in Nola's class. Their lives are basically mirrored images. One in which, because of being unable to pay rent and child support, now Papo is homeless. Also because he doesn't have the support system Nola has. For while she may owe back rent, she is but a phone call away from having it. Meanwhile, who knows how or if Papo can bounce back.
Don't Make Promises You Can't Keep (Part 2): Opal, Skyler, Nola, Dr. Jamison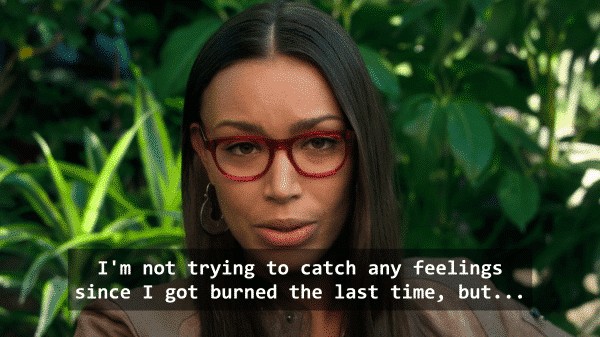 Opal, an old flame, comes back into Nola's life as she takes a cleanse from toxic masculinity. Something she talks about with Dr. Jamison and honestly, Nola seems so much happier being with a woman vs. being with men. She feels like she doesn't have to fight back against their points of view, there is less ego in the relationship so she has space for herself, and with the tools Dr. Jamison has recommended, she has truly found peace. Heck, despite the way Terrell was talking, she is even thinking about monogamy and family thanks to Opal.
But here is the thing, Opal fell for Nola once and got curved when she basically gave the ultimatum of them being exclusive or them being over. For already, Opal was a bit hesitant because she seemingly doesn't have the best experience with bi-curious people. So her letting Nola in, even meeting her daughter Skylar, that was a big deal and Nola ended up disappointing her.
Which, she does once more. She makes a promise to Skylar to be there before bed, and Skylar even preps for her arrival by making vegan cookies. Yet, Nola is late – very late, and this turns Opal all the way off. For bad enough if she can't take her seriously, and Nola presents herself, at best, like a friend with benefits. But you not being able to keep a promise to her child? A child she wanted for a very long time? You gots to go.
Other Noteworthy Facts & Moments
Opa owns a plant nursery and is into horticulture.
Nola makes it to the second round of the Catlett prize.
Shemekka seemingly is now a stage dancer but Win's club isn't making money so he is pissed.
Clo still with her old white man and is getting ****ed down.
The actress who plays Reggie, Taliyah Whitaker, you may recognize from The Incredible Jessica James.
Question(s) Left Unanswered
Why doesn't Papo sleep on Nola's stoop when clearly her guilt and them knowing each other is why he hangs around there?
Is it really over between Nola and Opal?
Will we see Opal and Terrell again? Honestly, I'm willing to trade Greer and Jamie for them to appear more. Maybe Clo too.
Highlights
LGBT In The Mainstream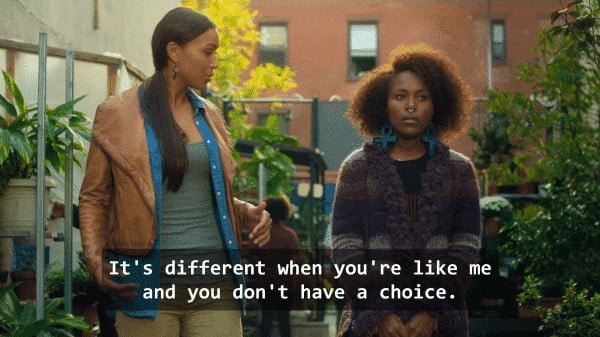 Though it isn't that hard to find a QPOC LGBT series on YouTube, and I'm sure LOGO has one, Netflix is a whole other platform. One which is worldwide, accessible to everybody, and that is what makes the LGBT presence of this episode something to be giddy over. For, at the end of the day, Netflix is a business and if people praise representation, it leads to a bunch of articles and other things which leads to views, Netflix will make more. Hence why they are the place everyone looks toward when their favorite show gets canceled. Heck, I was one of those people when Girl Meets World was clearly ending its run on the Disney Channel.
But, I digress, I loved how we got multiple viewpoints of queer people. We had Terrell being a semi in the closet man. When it came to his parents, due to Trini culture, he stayed the hell away from the idea of coming out. Yet, outside of the person he is around his parents, he has a fiancé, he is in touch with his feminine side, and seems to be loving life. Yeah, his family may be a problem, but unlike many a queer Black person, that doesn't mean he is living a Moonlight or Blackbird kind of life.
Then we have Opal. I have been waiting for her since the beginning and am so glad Nola was changed to be queer and not straight-laced. For Opal pretty much has Mars beat right now with who I'd vote for Nola being with. After all, did you see how at peace Nola was? All the things women likely have to think about when dating and dealing with men are no longer a problem. I imagine the feeling is similar to going from a workplace in which you are in the minority to you are part of the majority. Certain things you don't have to worry about saying, you don't have to wonder if you're being overly sensitive about certain things said, and you can be almost the total version of yourself.
Unfortunately, though, Nola is Nola and it sadly seems no sooner than this relationship began it might be over. After all, Opal is an older woman. One who may see some of herself in Nola, but she isn't that person anymore. She can't deal with being one of many and having someone around her child who can't be consistent. For she is the one who'll have to explain why Nola didn't show up and deal with the questions of was it something she said, did and etc.
Nobody got time for that.
Catch Up or Follow Along: Here [External]
Follow Wherever I Look on Twitter or Like us on Facebook.
---
Follow, Like, and Subscribe
Community Rating: 0.00% (0) - No Community Ratings Submitted (Add Yours Below)