She's Gotta Have It: Season 1/ Episode 10 "#NolasChoice (3 Da Hard Way)" [Season Finale] – Recap/ Review (with Spoilers)
The famous Thanksgiving scene is revamped and it leaves Nola with but one real choice. Previous Recap: Episode 9 "ChangeGonCome Gentrification" Community Rating: 0.00% (0) – No Community Ratings Submitted. Network Netflix Director(s) Spike Lee Writer(s) Spike Lee Guess Who's Coming to Thanksgiving: Nola, Mars, Greer, Jamie, Opal It's Thanksgiving and with Nola's parents at…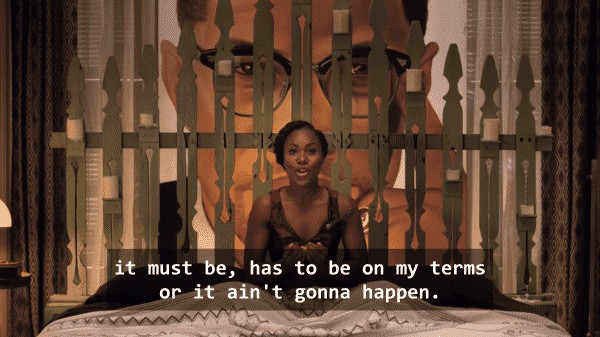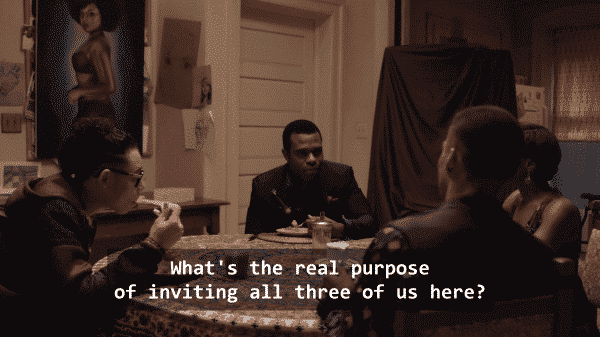 The famous Thanksgiving scene is revamped and it leaves Nola with but one real choice.
---
---
Community Rating:
---
Network
Netflix
Director(s)
Spike Lee
Writer(s)
Spike Lee
---
Guess Who's Coming to Thanksgiving: Nola, Mars, Greer, Jamie, Opal
It's Thanksgiving and with Nola's parents at her grandfather's house, not having the time to wait for her, she is alone for Thanksgiving. Well, if she didn't decide to cook up a meal and call the fellas over, she would have been. But being that Nola likes a certain level of control, she doesn't tell any of her lovers about the other coming to dinner.
Which of course, with three strong personalities at the same table, leads to a bit of a pissing contest. Whether it is saying what they are thankful for, complimenting Nola's food, their association with the president (Barack Obama) or noting their part of the monster portrait, the evening is barely with any peace. That is, until they all dance to Prince, "Raspberry Beret."
But no soon after the dance is done, they sleep and each man drifts off. Leaving the only one worthy of staying overnight in Nola's loving bed: Opal. Someone who comes over since Sky is spending the day with her father. Hopefully meaning all is forgiven since, at the end of the day, isn't Opal the chosen one?
Other Noteworthy Facts & Moments
Mars father is named Monty and mother Lucy.
Question(s) Left Unanswered
Anyone else thought that truth serum weed would have led to more than a dance sequence? Not that I'm complaining, since it was to Prince, but still.
Why wasn't Opal invited to Thanksgiving when she is, assumingly still, one of Nola's lovers? So much for transparency.
Highlights
Greer's Outfit
This praise has nothing to do with the story but, Prince would be proud – and perhaps wonder if that outfit came in his size. Well, back when Greer's look was Prince's style.
On The Fence
That's It?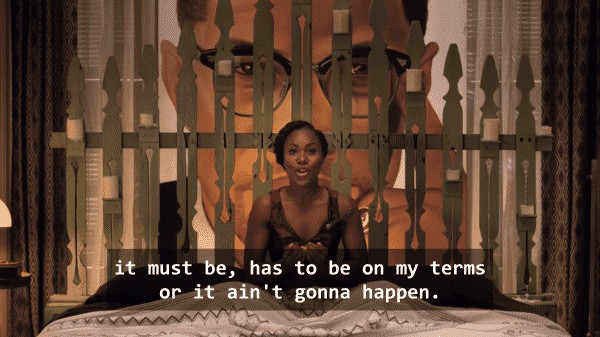 I don't wanna say this is a weak season finale but, it certainly doesn't end things with a BANG! It, if anything, is like the million and one candles Nola has. Things just flicker, make subtle pop noises then nothing but smoke. Which perhaps should have been expected? After all, Nola bringing every single guy to the same dinner? In the movie, after that event, she starts breaking up with everyone. Well, everyone but Jamie but watch the movie for the full details on that.
So with that in mind, I must admit I'm unsure how to feel about this ending. Opal, in the long run, was the only one of Nola's lovers she didn't have some kind of issue with, so her ending the season with her makes sense. Yet, at the same time, outside of one or two episodes, they barely shared multiple scenes. But, I guess that is what second seasons are for. Of which, while Netflix has yet to say a word, they usually take about 1 – 2 months, this year anyway, Spike Lee, according to Bustle.com, seems down for more seasons.
Catch Up or Follow Along: Here [External]
Follow Wherever I Look on Twitter or Like us on Facebook.
[ninja_tables id="35599″]