As Edward interrogates poor little Emilico, Kate tries to figure a way to get to her, despite the challenges of getting into Lord Grandfather's wing.
---
| | |
| --- | --- |
| Episode Title | To Lord Grandfather's Wing |
| Aired | 6/26/2021 |
| Network | Funimation |
| Directed By | Hayato Sakai |
| Written By | Yujin Ōnishi |
Recap
What Is She Planning? – Edward, Emilico
For who knows how long Edward, with a disguised voice, tries to get out of Emilico some kind of plot that he believes Kate has against Lord Grandfather. However, between there being no plot, and Emilico's loyalty, no threat or means of sway, budges Emilico to Edward's frustrations.
Is It A Rescue Or Is It A Trap? – Kate, Edward, Emilico
With the help of her fellow Shadow Masters and with avoiding Barbara, Kate finds Emilico, while disguised as a veiled doll. However, no sooner does she find Kate does Edward appear behind her.
Review
On The Fence
Edward's Issues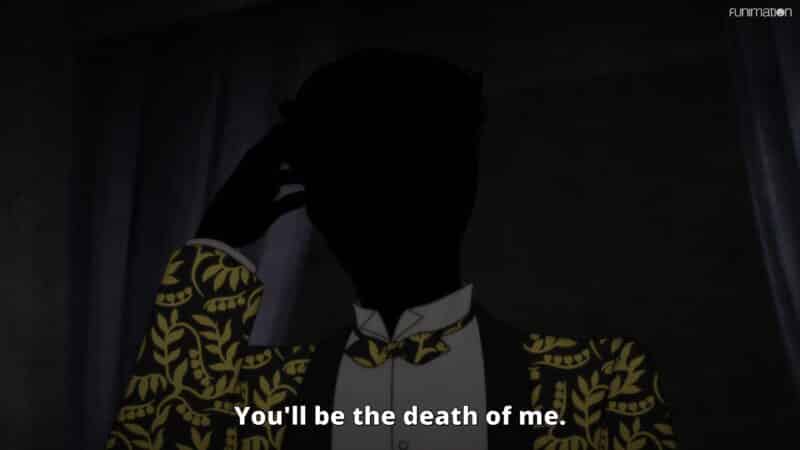 Maybe I missed something? Perhaps there is a reason, beyond hiding her soot abilities until the very end, that has Edward in a tizzy? Because, as of now, I don't get why Edward would go so far over a Shadow Master who is younger than him, has no status, and was the bottom of the bunch. What about Kate is threatening beyond the fact she reads and is far more social and likable than the average Shadow Master? Never mind, she gives autonomy to her living doll?
Or is that it? By allowing a human to buck the system, is that why Edward fears her? Does he believe she wants to undo Lord Grandfather's system that has worked for who knows how long? There are so many questions that shouldn't be something we'd need to ask at this point.
Trajectory: Decline
Is Shadows House terrible? No. More so, its pacing and handling of drama has become an issue that can't be ignored, and as we approach the end, it has become really apparent thanks to Edward.