Chance is faced with the most 25 and under seen thus far, but them Chicago/Mid-west kids got stories to tell and damn if they won't make you bop your head.
---
Network
Netflix
Director(s)
Sam Wrench
Writer(s)
N/A
Air Date
10/9/2019
Introduced This Episode
Herself
Kaylee Crossfire
Himself
Sam Be Yourself
Herself
Sasha Go Hard
Himself
Nikee Turbo
Himself
Ariyon
Herself
Big Mouf'Bo
Himself
Jae Ham
Himself
Jakob Campbell
Himself
Yung Water
Images and text in this post may contain affiliate links. If you make a purchase, we may earn a commission or products from the company.
Recap
You Stumbled, But You Going To LA: Kaylee Crossfire, Sam Be Yourself, Sasha Go Hard, Nikee Turbo
Whether you been doing it so long that Chance and the rest know you, like Sasha Go Hard, or you show you ain't new to the game like Kaylee Crossfire, you can stumble. After all, between bouncing around too much like Nikee Turbo, or your energy not being consistent like Sam Be Yourself, you can show signs why the road to stardom hasn't been smooth for you. However, following TI, Chance lets a lot of people go in either due to potential, or because they were some of the first who went up.
The Kids Are Alright: Ariyon, Big Mouf'Bo, Jae Ham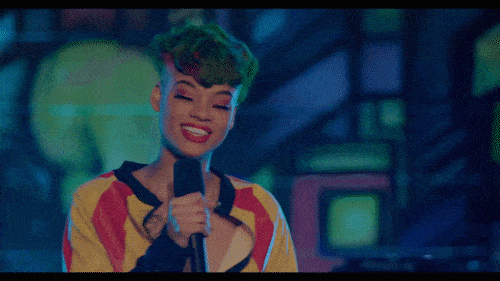 But, to much surprise, while those 25 and up struggled to a point, those 24 and under brought that fire. Big Mouf'Bo, for example, she didn't have to audition with the rest. Chance heard her, with Lupe Fiasco, and said never mind her having to try out twice. She went straight to LA.
However, while Big Mouf'Bo was good, Jae Ham and Ariyon, both 18, with Ariyon still in high school and Jae Ham in his first year of college, they may blow you away. For whether we talking about Jae's not relying too much on cursing or the n-word to get through his set or Ariyon's, if he is going to be energetic, he needs better breath control, the fact they got it that together is impressive.
Always Saving The Best For Last: Jakob Campbell
Jakob, like quite a few, is a rapper who can tell a story with his lyrics. Also, like too damn many, he raps so damn fast you'd think he is trying to be the next Twista, who was one of the judges. However, between slowing it down when he needed to, throwing in a Jill Scott line, and being one of the first who seemed like he had an actual song ready for a video and to be marketed, you can see why he went last. He, like most of those who have gone last, just needed a platform that made it so he wasn't one of millions but one of a few.
Collected Quote(s) & .Gifs
My biggest enemy is my inner me.
— Ariyon
[…] this ain't nowhere where I want to be, but it's bigger than what I'm supposed to been at.
— Ariyon
Other Noteworthy Facts, Moments, and Random Thoughts
Why is this the only episode, of the home city auditions, that didn't feature the city in the title card?
They going to encourage some of them to change their rap names, right?
Who going to monitor all these kids?
Review
---
Community Rating:
---
Highlights
They Were Consistently Good & Chances Choices Seemed Sound
When it came to T.I. and definitely Cardi, there were a lot of people who went through that you had to question, "Could they really be successful?" Even thinking back to the LA auditions, there is the need to wonder if, at best, they could find a niche or not? However, to much surprise, for me anyway, Chicago had some good ass rappers.
Now, admittedly, maybe it is because my taste is more geared towards rappers who tell a story, have energy, and got meaning behind their lyrics, like Nas, but aren't are chill as Common. But, be it the way this episode was edited or just who showed up, it seemed that as much as NYC gets props for starting things, and ATL is seen as the new Mecca, Chicago shouldn't be slept on.
Royce Da 5'9" Seems Like He Should Be A Judge
Yo, to me, Royce is someone needed for he talked about technique and made this whole process less superficial. For with Chance so meek in his criticism or compliments, it makes Royce's commentary, especially when it came to acts like Yung Water, show you how he might be more serious about his one-time role than chance. Someone who, let's be honest, as a Christian rapper, is a niche. Someone who, has respect from his peers, hence them voting for him to get multiple Grammys.
However, who would look at Chance and see tastemaker, or see him as someone who could make them a lot of money? As spoken on in the latest episode of "Getting Ignorant With It" (coming out soon), while you have to respect his hustle, is he really someone, outside of Chicago, who gets much in the way of props?
Chance Bringing Storytellers Into The Contest
With that said, I must admit that Chance not focusing on who had the catchiest lines, just those who had a good story to tell, flow, and could work the beat, that did recover his credibility a little bit. It reminded you that each one is coming from a different mindset and while Cardi is thinking social media come up, T.I. is geared towards how commercial you are, and longevity, Chance, since he hasn't reached the heights of Cardi or T.I., and considering the judges he had, seems more geared towards, can you find a niche.
After all, we got a whole lot of rappers like Cardi, and I'm sure many come to mind. Also, when it comes to trap, the drug game, and violence, you can think of a lot who may resemble T.I.'s discography. However, those who venture beyond that? Those people are usually word of mouth since they don't hit the top of the Hot 100, unless they are doing a feature. So here is to Chance trying to give niche rappers the chance to expand and show storytelling, and the p in rap (Rap = rhythm and poetry – to my knowledge) hasn't become lost.
On The Fence
Being Reminded That This Competition Isn't For Everyone
I will probably not get past Yung Water, and it isn't because I think he'd win or even get past the first elimination. My thing is, Nu Metal, or the kind of work we've seen with Linkin Park, Korn, and others, hasn't really been showcased with Black and Brown artist. Instead, when it comes to rap, the farthest it goes, on the eccentric or different side, is what we see come out of Atlanta. Otherwise, as this show has showcased, the looks are similar, lyrics are similar, and a lot of people more so blend in than necessarily stick out.
Which is one of the growing problems with Hip-Hop/ Rap. It's not that it needs more depth, it needs to be fun, or mumble rap has made annunciation seem secondary, the problem is that everyone looks similar, sounds similar, and people trying to step out of the box is solely through their look. Hence why Lil Nas X has been successful since, while "Old Town Road" wouldn't have been a hit if people had to physically pay for it, as a track which could chart based on streams, you get easy access to someone who shifted the game a bit.
Not to imply there aren't country rappers, or rappers with a bit of a twang to their music. It's just, like Yung Water, those who do something different rarely surpass their niche genre and make it nationally, or internationally – in a big way.
Rhythm + Flow Directory
Season/ Episode
Synopsis
Episode Information
Topics & Focused Characters
Season 1, Episode 10 "Finale" [Season Finale]
On the season finale, family members are gathered, budgets explode, and the winner of season 1 of Rhythm + Flow is given $250,000 – with no strings attached.

| | |
| --- | --- |
| Director(s) | Sam Wrench |
| Writer(s) | N/A |
| Air Date | 10/23/2019 |

The First Eliminated: Troyman
The Second Eliminated: Londynn B
There Can Only Be One: Flawless Real Talk, D Smoke

Season 1, Episode 9 "Collaborations"
Some of R&B's biggest names join our up and coming stars, and one person stumbles during their performance. Can you guess who?

Director(s)
Sam Wrench
Writer(s)
N/A
Air Date
10/23/2019
Introduced This Episode
Himself
Miguel
Herself
Jhené Aiko
Herself
Teyana Taylor
Himself
Ty Dolla $ign
Himself
Tory Lanez

You Gotta Have Fun With It: Miguel, D Smoke, Ty Dolla $ign, Troyman, Caleb Colossus, Tory Lanez
Get Sexy With It: Jhené Aiko, Flawless Real Talk
Will One F*** Up Ruin An Opportunity?: Teyana Taylor, Londynn B, Caleb Colossus

Season 1, Episode 8 "Samples"
Alongside learning who got cut, we get a taste of what these rappers can cook up real quick when the pressure is on.

| | |
| --- | --- |
| Director(s) | Sam Wrench |
| Writer(s) | N/A |
| Air Date | 10/23/2019 |

Can't Impress Everyone: Caleb, Sam Be Yourself
The Respect Of Your Peers Is Worth It All: Flawless Real Talk, Troyman, Londynn B, D Smoke
Elimination Time

Season 1, Episode 5 "Cyphers"

While it isn't clear why a cypher was needed, since many popular rappers wouldn't be able to do so, this is a competition and contestants have to be put through the ringer.

Director(s)
Iren Brown
Writer(s)
N/A
Air Date
10/16/2019
Introduced This Episode
Himself
C.Rose
Herself
Maddiemook
Herself
AJ, The One
Himself
King Vvibe
Himself
King Los

Who Are These People?: C.Rose, Maddiemook, AJ The One, King Vvibe
Let The Cyphers Begin
There Can Only Be 16

Season 1, Episode 6 "Rap Battles"

This episode, they got the contestants battle rapping, and while we lose some good ones, others get reminded many need that $250,000.

| | |
| --- | --- |
| Director(s) | Iren Brown |
| Writer(s) | N/A |
| Air Date | 10/16/2019 |

You Really Aren't About This Rap Battle Life Are You?:

 

Felisha George, Caleb Colossus, Big Mouf'Bo, Rae Khalil, Ali, Ariyon
You Said Who Won?:

 

Old Man Saxon, D Smoke, Jakob, Troyman
I CAME TO BATTLE:

 

Londynn B, Inglewood IV, King Vvibe, Sam Be Yourself, Beanz, Flawless Real Talk

Season 1, Episode 7 "Music Videos"
Rhythm + Flow

 

goes beyond what most of its competition does and shows us what these artists are selling. Question is, you buying?

| | |
| --- | --- |
| Director(s) | Sam Wrench |
| Writer(s) | N/A |
| Air Date | 10/16/2019 |

The Judges Are Iffy:

 

Troyman, Caleb, Big Mouf'Bo
Take My Money:

 

D Smoke, Flawless Real Talk, Londynn B
Because What Show Doesn't Have Cliffhangers?:

 

Ali, Sam Be Yourself

Season 1, Episode 4 "Chicago Auditions"

Chance is faced with the most 25 and under seen thus far, but them Chicago/Mid-west kids got stories to tell and damn if they won't make you bop your head.

Director(s)
Sam Wrench
Writer(s)
N/A
Air Date
10/9/2019
Introduced This Episode
Herself
Kaylee Crossfire
Himself
Sam Be Yourself
Herself
Sasha Go Hard
Himself
Nikee Turbo
Himself
Ariyon
Herself
Big Mouf'Bo
Himself
Jae Ham
Himself
Jakob Campbell
Himself
Yung Water

You Stumbled, But You Going To LA:

 

Kaylee Crossfire, Sam Be Yourself, Sasha Go Hard, Nikee Turbo
The Kids Are Alright:

 

Ariyon, Big Mouf'Bo, Jae Ham
Always Saving The Best For Last:

 

Jakob Campbell

Season 1, Episode 3 "Atlanta Auditions"

We head down to the ATL, and unlike NYC, no one dares bring their sob stories. Instead, many just rap like they trying to compete with Twista or Busta Rhymes.

Director(s)
Sam Wrench
Writer(s)
N/A
Air Date
10/9/2019
Introduced This Episode
Herself
Amavi
Himself
Caleb Colossus
Himself
Baddnews
Himself
2'Live Bre
Himself
Troyman
Herself
Londynn B

Some Got Potential But Had To Be Put On Notice:

 

Amavi, Caleb Colossus, Baddnews
Skinny Dudes Stay Winning:

 

2'Live Bre, Troyman
There Can Only Be One:

 

Londynn B

Season 1, Episode 2 "New York Auditions"

Cardi B hits up S.O.B.'s in New York to find some talent, and… she may have found one that won't just fill a slot but could also win.

Director(s)
Sam Wrench
Writer(s)
N/A
Air Date
10/9/2019
Introduced This Episode
Herself
$avannah Hannah
Herself
Kay Makavel
Herself
Beanz
Himself
Cakes Da Killa
Herself
Felisha George
Himself
Onetake Carter
Himself
Flawless Real Talk
Himself
Jadakiss
Himself
Fat Joe

These Sob Stories Gotta Stop:

 

$avannah Hannah, Kay Makavel
All My Life I Had To Fight:

 

Beanz, Cakes Da Killa, Felisha George, Onetake Carter
The Only One Whose Name Rings True:

 

Flawless Real Talk

Season 1, Episode 1 "Los Angeles Auditions" [Series Premiere]
Rhythm & Flow

 

begins with the need to question, to be rap's next big superstar, what's more important: Lyricism, being a performer, or accessible to a white audience?

Director(s)
Sam Wrench
Writer(s)
N/A
Air Date
10/9/2019
Genre(s)
Musical, Competition
Good If You Like
Hip-Hop/ Rap Music
Introduced This Episode
Himself
Tip "T.I." Harris
Herself
Cardi B
Himself
Chance The Rapper
Himself
Snoop Dogg
Himself
Nipsey Hussle
Himself
Anderson .Paak
Herself
Rae Khalil
Himself
Ali Tomineek
Himself
D Smoke
Himself
Old Man Saxon
Himself
Inglewood IV
They Were Consistently Good & Chances Choices Seemed Sound - 85%
Royce Da 5'9" Seems Like He Should Be A Judge - 95%
Chance Bringing Storytellers Into The Contest - 86%
Being Reminded That This Competition Isn't For Everyone - 75%