Alongside meeting the legendary Deer Lady, we watch Cheese, and Big spend the day together.
---
Aired
8/30/2021
Network
Hulu
Directed By
Blackhorse Lowe
Written By
Sterlin Harjo
Newly Noted Characters
Big (Adult)
Zahn McClarnon
Big (Younger)
Bodhi Okuma Linton
Deer Lady
Kaniehtiio Horn
Recap
The Legendary Deer Lady – Big, Deer Lady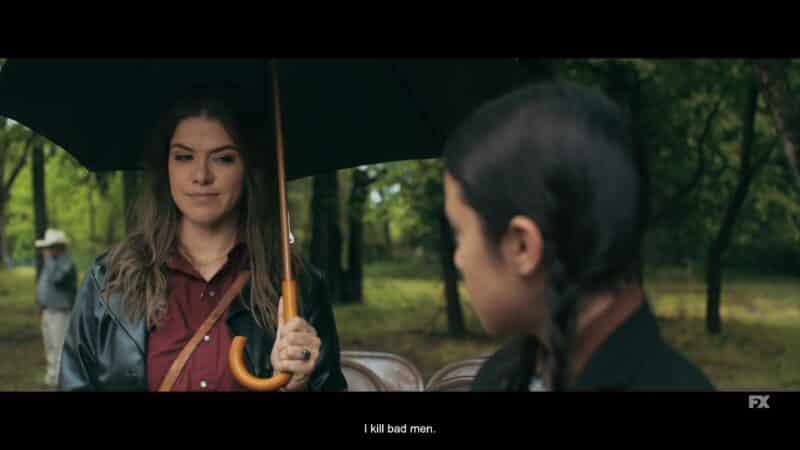 While spoken about earlier in the season, who is Deer Lady, and if she was dangerous to the general population, wasn't dove into. However, Big believes she is a good person. Granted, she kills bad men, but they had to deserve it, right? Plus, she is part of the inspiration for Big becoming a cop since, if he gets to them before she does, they may have a second chance. So in a way, on top of being a good guy, he is a lifesaver.
A Ride-Along – Big, Kenny Boy, Ansel, Cheese
With Cheese wanting to become a detective, he gets to do a ride-along with Officer Big Hill, who is doing his best to steer Cheese towards being a Lighthorseman. Which, locally, doesn't get much respect, compared to the cops of Okern, but Big still takes pride in his role. And while the ride-along doesn't lead to Cheese changing his mind about what he wants to do for a career, it does seem he has changed his opinion of the Lighthorsemen.
Things To Note | Question(s) Left Unanswered
Question(s) Left Unanswered
Did anything special happen in Cheese's life to make him want to become a detective?
Considering the Deer Lady murders people, including the two robbers, in broad daylight, how do they handle her murder cases?
Who raised Big after his grandmother died?
What We Hope Happens Next
A Mose and Mekko episode.
Review
Highlights
Getting To Know Big
You have to appreciate a show that places value in nearly every character and shows that they have a life. That they can provide more than some off-the-wall comment and walk away. With Big, they gave us insight on what it means to be a cop for a reservation, to some capacity. Be it lack of funding for your vehicle, lack of respect, or the ambiguity of whether or not you are considered federal law enforcement or local? Never mind having to make decisions, as Big did with his cousin, on whether the offense is serious enough to ruin someone's life.
Which you could say is an issue all cops deal with, but with Big, between blood relations or him genuinely having a sense of community, I think there is a recognition that everyone is so connected that to actually arrest someone, it means they need to be a bad person, not just someone who did something stupid. So for Big, he has to really consider his community, the culture, before he thinks of his job. Something that isn't pushed to be the norm for cops, hence why we still see news stories highlighting when cops do act this way and people putting that cop on a pedestal.
Reservation Dogs: Season 1/ Episode 5 "Come And Get Your Love" – Recap/ Review (with Spoilers)
Trajectory: Plateau
"Come and Get Your Love" develops two lesser characters and definitely raises Big's profile beyond what it once was. All while introducing Deer Lady and leaving you to wonder if we may continue to see more spirits show up?
Highlights
Getting To Know Big