Ready To Love: Season 3/ Episode 11 "Love Is Calling" – Recap/ Review (with Spoilers)
---
Community Rating: 0.00% (0) - No Community Ratings Submitted (Add Yours Below)
---
This post may contain affiliate links and spoilers. Please read our disclosure policy.
---
The third season of Ready To Love ends and as Nephew Tommy warned against, it seems more people stuck around to make it to the end than to find love.
---
| | |
| --- | --- |
| Director(s) | Michael Carrozza |
| Writer(s) | N/A |
| Aired (OWN) | 1/8/2021 |
This content contains pertinent spoilers. Also, images and text may contain affiliate links, which, if a purchase is made, we'll earn money or products from the company.
Recap
Anthony and Wynter
When it comes to meeting the family, Wynter and Anthony have their sisters come, and neither give glowing reviews of Anthony. For Wynter's sister, she likes Anthony, his energy especially. Yet, it seems clear she isn't sure he is ready for more than a good time.
The same is repeated by Anthony's sister. While she recognizes Wynter is one hell of a woman, when it comes to her brother, who she loves and adores, she recognizes that he is going to have to play catch up. Which Wynter says she is down for, yet in the same episode notes meeting and dating a pattern of men who were not at the same place she is.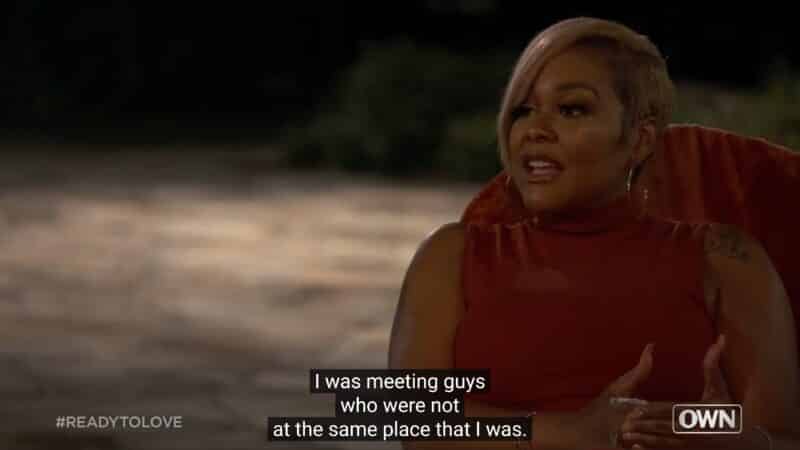 So, you could very well say that when it comes to Anthony, she is trying to convince either us or herself this could be a good match.
The Love Triangle – Khalfani, Adriana, Rashid
When it comes to Adriana, she is still stuck between the familiar and the new. Rashid is someone she met before the show, gets along with, but feels safe and comfortable in a way that isn't exciting. With Khalfani, while she can barely explain what attracts her to him, beyond his physical features, she at least meets his parents and wins them over.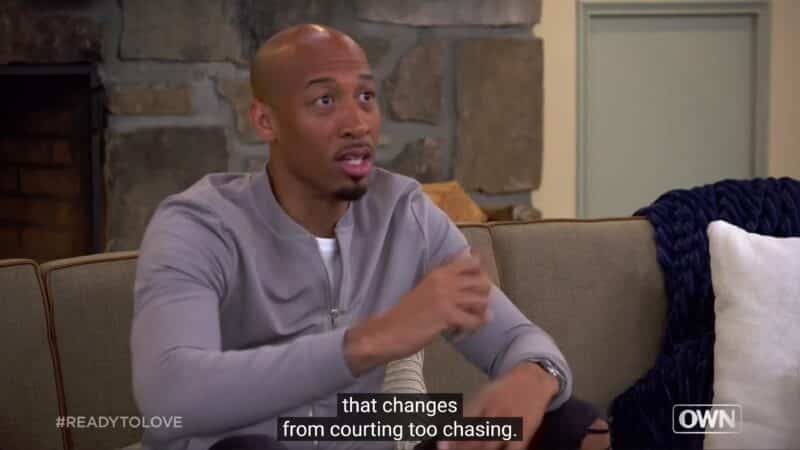 And being that Rashid is 42, divorced, has a son, and can see 31-year-old Adriana is switching their dynamic from courting to chasing, he is ready to go. He even talks to his sister about it and is all but ready to leave until Adriana says she wants Rashid to meet her dad. Which, compared to Khalfani meeting him, Rashid does well. I'd even say that, when it comes to Rashid, he at least gets a B+.
However, when it comes to chemistry, Adriana's dad doesn't see it. Mind you, we do not get to see what he thinks of Khalfani at all, probably because Khalfani crashed and burned. I'm talking, as Adriana notes, Khalfani saying he has a meeting and her questioning what meeting does he have when they are at a resort. But, because she thinks he is cute, in a high school boyfriend way, she makes excuses for his behavior.
And The Final Two Couples Are – Anthony, Wynter, Khalfani, Adriana, Rashid
Which leads to the question: Who joins Joy and Jay as the final couples? Well, Anthony shows up for Wynter, and it seems they'll be – something. As for who Adriana chooses? It's Khalfani. For after her dad saying there wasn't chemistry with Rashid, that is made to appear as the deciding factor, and with that, it's over for them. Mind you, their end is amicable but still leaves you wanting to side-eye Adriana.
But, with her ending "the journey" with Rashid, it means she is all in with Khalfani.
Things To Note | Question(s) Left Unanswered
How did we go from Rashid saying they were there 8 weeks to Nephew Tommy jumping to 10?
Review
Low Point
Where Was The Footage of Adriana's Dad's Opinion on Rashid?
All I'm going to say is, I feel like I was fed a narrative. The way James, Adriana's dad, was responding to Khalfani, and him deciding to bail, you know that man did not have a high opinion of Khalfani. Never mind that James actually vibed with Rashid and bonded over going to HBCUs and things like that.
In The End, It Didn't Feel About Love But A Competition
Neither of the two couples left standing seem like good matches. Granted, I don't think any of the final couples yet have gotten married and found the one, of the entire series. So it isn't like the show's "process" has really worked all that well.
However, let's be honest, Anthony and Wynter aren't a good match. Yes, opposites attract is what we have heard for generations but while that is true about magnets, it isn't universally true when it comes to people. And when it comes to Anthony and Wynter, you have to admit Wynter has the attitude of, "Well, he's there and I minas well try" versus her being giddy and excited about the potential relationship. Then with Anthony, in any other season, he wouldn't have made it this far. Like Wynter, he was no one's top choice and both he and Wynter settled on one another because there were no other options.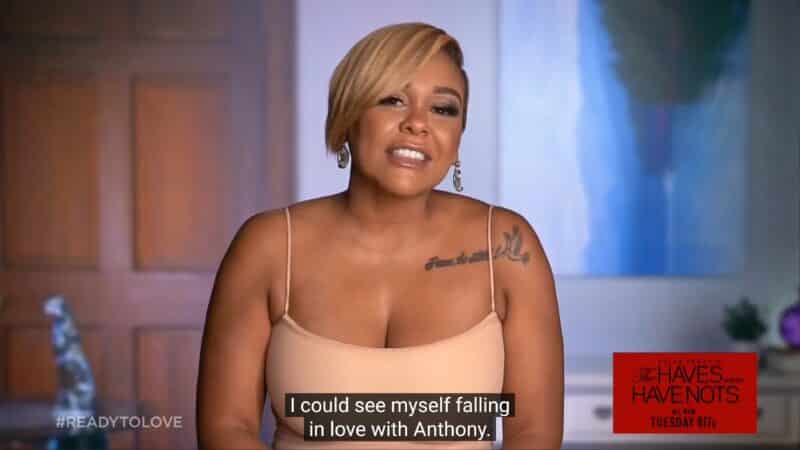 Then with Adriana and Khalfani? I barely brought up people's ages throughout the season but I do feel that at 31, Adriana isn't ready for love or to settle down. Date? Have fun? Absolutely. She's a sweet young lady but I think the way she has talked about Khalfani since the beginning has made him sound like a prize. Like she is the sort of dorky girl who somehow ended up with the captain of the football team and by being with the guy everyone wanted, that makes her status elevated.
All the while, we got Rashid here who is the one who stuck by her through and through, who, as soon as Adriana knows she is the only one the jock wants, she sticks with Rashid out of guilt, and wrestles with it. Which, as of this episode, don't think that implies Rashid and Adriana would have been a good match. Rashid is probably the only decent dude of the season and a part of me wonders if Khalfani, who supposedly was wanted by everyone, honed in on Adriana for the sake of competition.
Because think about this: When Rashid and Adriana describe their relationship, you get a vibe something was there right? Throughout the season Rashid has talked about Adriana's smile, how disarming it is, and a lot of positive adjectives. Then from Adriana, she talks about how safe she feels, and a lot of words you'd associate with an ideal partner, right?
Yet, take note of how Khalfani and Adriana talk about each other – it is the most shallow s*** you ever heard. If it isn't about Khalfani being the man everyone wanted, it is simple stuff about Adriana that makes you wonder if the producers set them up and this is nothing more than an acting gig for them both?
Which really leaves me to wonder, with the final couples becoming less and less believable as seasons go on, what can Ready To Love do to live up to its name?
Summary
Where Was The Footage of Adriana's Dad's Opinion on Rashid? - 67%
In The End, It Didn't Feel About Love But A Competition - 64%
The lackluster season gives us lackluster couples who seemingly chose someone to save face, or out of ego than because they were ready to love that person.