Despite changing some aspects of the show, Ready To Love still struggles to end up with three couples and cast people who can handle what the show calls for.
---
| | |
| --- | --- |
| Network | OWN |
| Creator(s) | Will Packer |
| Aired | 10/30/2020 – 1/22/2021 |
| Episodes | 13 |
| Genre(s) | Reality-TV, Competition |
This content contains pertinent spoilers.
Season Summary
Due to COVID-19 and to make cast members focused, Ready To Love has all contestants in one resort where they eat, sleep, and mingle. This, for some, means more quality time spent together. However, for others, as people go on "the journey" and "the process," it forces them to deal with knowing their crush has eyes for other people, be aware of what they're doing, and cause drama due to everyone being in close proximity.
Review
Highlights
Symone's Growth Throughout The Season
One of the things Ready To Love often pushes is that, with everyone over 30, that means they should know what they want and be prepared for love. Rarely has that been the case for most are more so ready to date, but not under the circumstances Ready To Love puts them in. Symone, one could submit, is a prime example, yet out of all the people who this show clearly wasn't geared towards, she was one of the few who came out of it well, even when unseen footage was shown.
The reason we say that is, Symone remixed what it means to be on a journey. While it was pushed and praised that Edwin realized he needed therapy, with Symone doing so previously, what we got was what she learned in therapy put into practice. And while, yes, some of the theory didn't work well in the practicum and led to some moments that could have been handled better, you could never deny what was said was wrong. Symone's primary sin was the delivery.
Yet, as we say every season, the problem with Ready To Love is that it creates so many opportunities to push people's buttons and trigger them. However, while Symone was sometimes shown to be affected by how Jay and other men treated her, her overall journey showed growth. So by the time we saw her with Rashid, and they looked like something cute, you could say she wasn't the same woman edited to be something she wasn't in the beginning. She broke that shell, and if you allowed yourself to see Symone for who she really was, you would.
Rashid
This season, I would say Rashid was the only man who was ready to love without question. This isn't to say Kris might not be able to join that, but with Kris, it almost seemed that with just focusing on Nyya and how she played him, we didn't get to see flaws. So like how Jay was portrayed, until the reunion show, you're left wondering is there more to him?
With Rashid, what you saw is what you got. He was married, is through with his divorce, is raising his child, and seems chill. As for flaws? I'm not saying he doesn't have any, but in terms of the courting phase, he seemed like the only pick who seemed ready to love and not just date out of all the men.
I mean, take note, with each woman he went out with, from Adriana to Symone and Alex, you could see a potential match there. Things felt very superficial with everyone else or like they hooked themselves onto someone just to stay on the resort. So while Rashid may not have ended with anybody, at the very least, he came out of all this with the most gained and the least amount of baggage.
Low Points
The Question Of Whether People Were Cast To Find Love Or For Entertainment
Whether you are talking about Nyya or Denice, Bryan too, there is a serious need to question what the goals of the casting team were? Was it to find people funny, romantic, compatible, or who would make good TV? Because the switch that we saw with Nyya? I feel like we were held back from seeing how she was until it was time for a twist.
Then with Bryan, I don't know how long the vetting process is, but did no one get a red flag? Was no one thinking, "He is going to gaslight one of these women, so it's a no for me?" Because watching Alex suffer the whole season, it's hard to believe no one saw that coming.
And then there is Denice. Both Denice and Symone were painted to be too much, but while Symone was given a reprieve and easy to defend, Denice was far harder. Mind you, as said in the reunion, you could submit she was setup. Heck, from the moment Nephew Tommy called her Aunt Viv, a statement made previous to Will Smith and Janet Hubert reconciling, you already knew all the connotations that meant. Add in she is very upfront about her relationship issues, and probably who knows what else in the interview process, and we can agree it should have been clear this show isn't for her, right?
I mean, the process since the first season has always been challenging, for knowing someone you're dating is dating someone else? That's tough. However, being forced into a room to talk about why and being made aware of all they are doing? No normal person wants to hear that. So imagine someone with a rough dating history like Denice? It damn near feels exploitive to have someone like her on a show like Ready To Love.
More Found Love After The Show Than Through The Process
Not a single one of the finale couples are dating. Wynter and Anthony aren't together, and let's be real, they ended up together due to people leaving and just not shaking the boat too much. Khalfani, as I believe he made clear, saw winning Adriana as a competition thing. Hence why, when he won his trophy, she got put on a wall, and he went back to an ex.
Heck, even with Joy and Jay, she calls what they have a situationship. These two grown people, Joy, 38, and Jay, 43, can't define what they have going on, even after all that has been said and done. Yet, two people eliminated early on, Shay and Raymond, they're dating. Also, despite David being gone in episode 3 and Alex lasting to later episodes, Alex and David are going out.
So, beyond getting to meet people, what did Ready To Love do? Because, once again, the final couples on the show didn't stick together. And granted, this show more so advertises finding love, not someone to marry and have kids with, but considering the age limit and the conversations often had, isn't love and marriage one and the same on this show?
Every Last Love Triangle or Square
In scripted television, love triangles and squares are trash, and the same goes for Ready To Love. Especially due to you questioning if the person in the middle is even worth it. Was Adriana really all that for Rashid and Khalfani to focus on her? Would you consider Khalfani all that for Denice to act like she did towards Adriana? Heck, I know there were only a handful of men, but what about Jay?
I don't know about you, but if multiple people are competing for one person, it should be understandable, right? Beyond slim pickings.
A General Feeling That No One Was Worth Rooting For
With that said, I don't know, looking back, if any couple was worth rooting for. Yeah, Rashid and Adriana got history, but they both ghosted one another, and it seemed Rashid should have learned the first time. And while he and Symone and him and Alex were cute, that was one date, and he was back to Adriana.
Then, with the golden couple, Joy and Jay, the reason they seemed so perfect is that the editors were hiding so much. But once we got confirmation he was sneaking around with Symone, and sneaking around with Wynter, so blew up that situation. So, was there anyone else?
Oh, Nyya and Kris you say? Yeah, they seemed end game for a hot minute, but with one wrong answer, she treated that man like he cheated on her with her sister. Leaving you wondering, if this is what love potentially looks like in your 30s and beyond, does Black love exist if you aren't a celebrity?
The Consistent Thought That Nephew Tommy Shouldn't Be Doing This Alone
While Nephew Tommy was less problematic this season, there remains the vibe they need someone with more than marital experience on this show. If anything, it just further proves that we need to properly define experts and who should be giving advice when they have platforms like this.
Mind you, this isn't to say Nephew Tommy isn't funny, but I think a licensed couples therapist, or someone who hasn't just lived but has done thorough research, needs to take over the episode to episode stuff, and Nephew Tommy just do the reunion shows.
The Missing Scenes
From what Adriana's father felt about Khalfani, to the often mentioned conversations the men had, that led to tears at times, while we recognize this is only an hour, are we going to pretend YouTube doesn't exist? Much less that OWN doesn't have a website (or God forbid putting stuff on Discovery+)?
Don't get me wrong, I understand reality tv operates on a narrative, and making certain characters seem deeper or not playing up the few romances that sort of work, just messes things up. However, not letting people get to save face and show they are more than their blunders, it would have shown they gave a damn about these cast members beyond the potential ratings.
On The Fence
The Reunion Was Entertaining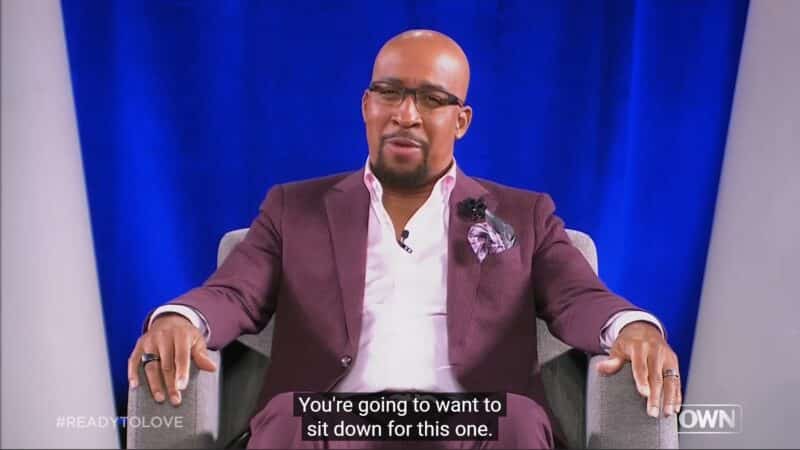 This entire season was dry. As noted in the various low points, any couple worth rooting for either quickly fell off or was revealed to not be all they seemed – once we saw the truth. So believe me when I say the reunion was a blessing. Granted, it amplified some of the worst of the season, like making Denice look like a damn fool, giving Nyya a platform to act up, and more, but at least it was entertaining. Didn't really make you think this deserves another season without more retooling, but it was funny and left you saying, "What a hot ass mess."
Overall
I don't know why I continue to watch Ready To Love. It's not getting better, the contestants seem more thrown together than ever, and even with a new location and keeping everyone in one place, we didn't get better results. If anything, it just led to more drama, which went against the idea that with age, we shouldn't get the same drama other shows get.
Hence the negative label. At this point, watching Ready To Love is less about believing in love or desiring to see Black people love one another. It's just another reality competition in which love is the false goal when really, it is about playing whoever you need to in order to make it to the end. Which isn't to say we're giving up on it. It's just our expectations are so low that we expect the worst and hope for the best.
Season Reviews & TV Specials
Summary
The Reunion Was Entertaining - 74%
The Consistent Thought That Nephew Tommy Shouldn't Be Doing This Alone - 65%
A General Feeling That No One Was Worth Rooting For - 64%
Every Last Love Triangle or Square - 63%
More Found Love After The Show Than Through The Process - 66%
The Question Of Whether People Were Cast To Find Love Or For Entertainment - 61%
Symone's Growth Throughout The Season - 83%
At this point, watching Ready To Love is less about believing in love or desiring to see Black people love one another. It's just another reality competition in which love is the false goal when really, it is about playing whoever you need to in order to make it to the end.