12 women to 3 men leads to the men being enabled to be all the things these women were hoping to get away from.
---
Network
OWN
Air Date
11/3/2018
Images and text in this post may contain affiliate links which, if a purchase is made from those sites, I may earn money or products from the company. Most affiliate links contain an upward facing, superscript, arrow.
What I Need & What I've Allowed: Rita, Christina
We finally get some background on Rita! We learn she was with a man, a professional athlete – sport not named – for 3 years. Then, to add some dysfunction to it, she notes there were side chicks in that relationship. On top of that, she wanted kids and he had two so he didn't want anymore! But, luckily for her, with bringing that up and showing herself as a fun person on her 4 to 1 group date with Aaron, that kicked her up a few notches and kept her from being eliminated.
As for Christina? Well, the more the guys see of her, the less they see her as a wife or girlfriend. Mostly because Christina is really silly and none of these dudes seem to be feeling that. So, she ends up getting eliminated.
Commentary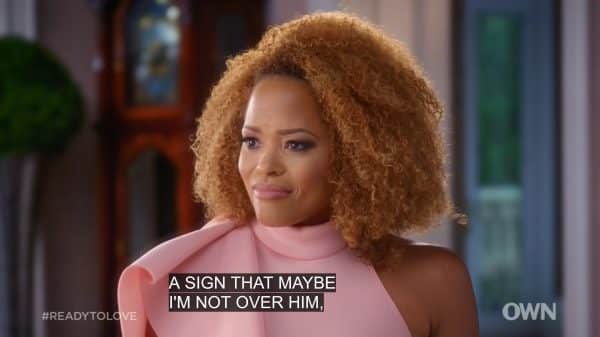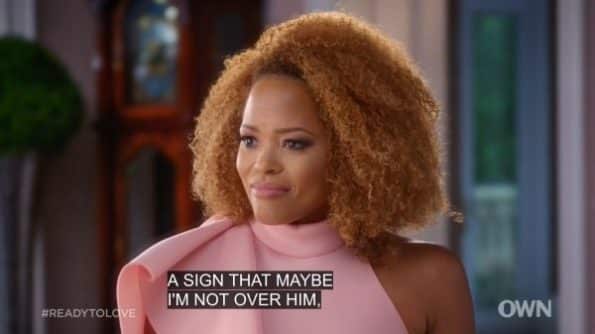 Quite a few people, myself included, think this show needs either THE Iyanla Vanzant, or an Iyanla Vanzant type. For with each episode we hear another issue these women have that are clearly factors in their dating life. And while it is nice that they recognize negative patterns, like Ashlee, and want them to end, do they have the tools? I mean, look at how this show is set up. Are girls like Ashlee not becoming the side piece again? Are women like Rita not trying to convince themselves they are the main one while dudes like Aaron sweet talk every girl whether he likes them or not? All under the guise of not wanting to hurt no one's feelings?
I mean, even the men could use some healing, or more reality checks, than Tommy can hand out just in a handful of conversations. Darnell alone seems like a dude who could use someone to help him deal with being cheated on like he was. Never mind help deal with the idea of being rejected on a nationally televised show. For I don't know if this program does follow up or not, but I think it would be unfortunate to have these people put themselves out there like that, use them for ratings, and then just drop them.
Living My Truth & Wanting Yours: Dr. Lexy, Shanta, Aaron, Alexx
The major tenants of Ready To Love are that these people are looking for something real, are too old to be BS'ing around, and thus should be comfortable in their person. Problem is, being comfortable in your person doesn't mean others are comfortable around you. Take Dr. Lexy. Since the beginning, and I'm guilty of this too, seeing her presents the idea that she is extra, is she really a doctor, and you having a real skeptical, outright negative really, view of her. Making it so you either approach her like you do Michael, in episode 2, who got to know her and understand why she dresses and acts how she does or you act like Alexx. Someone who lets his ignorance speak for him and thus not only offends, but victim blames – for a lack of a better term.
For with Dr. Lexy, who gives such a beautiful take on the difficulties of being a confident woman, there is this struggle with being comfortable with who you are but not so much that it intimidates others. Especially potential partners. Yet, if you were insecure and/or unsure of yourself, then that becomes a problem or opens you up to be taken advantage of. Which, since it seems Dr. Lexy wasn't down for that and was a bit "too much" for the guys, she ends up the second lady eliminated.
As for Shanta? Well, she calls out Aaron for being a playboy and it seems Aaron's charm is starting to make it where his fan club is dwindling. For while his abs distract and smile allures some, when you have a one on one with him, no real audience, the flaws come out. Be it lying to Shanta's face, trying to not come off as the bad guy or a jerk, and just digging a hole for himself. With the added effect of rain getting into the hole and making it where he can't get out.
Commentary
One of the things I love about this show, and I hope Will Packer, among many other male producers, take note of, is the women on this show. The Dr. Lexy, Shanta, and Christina types who represent Black women you just don't see a huge amount of – in media that is. Especially their voices. For while I honestly can't tell you if what Dr. Lexy said is going to change my actions immediately, it did plant a seed I do believe is going to grow.
Something I hope does happen for many since there aren't many Black female creatives who get to put out a lot of romance or romantic comedies. Especially at the rate Tyler Perry and Packer do. So while we have Gina Prince-Blythewood and others who have leaned more towards that genre, being that they, unfortunately, don't get the financing to increase their output, I need the dudes making most of their cash off the genre to step it up.
The Drama Begins: Melinda, Aaron, Courtney, Angel
All I know is, Aaron better get confronted, on a regular basis, because of how he is getting these women in their emotions. Be it Courtney and Angel having a tiff or Melinda going all out and yet not being Aaron's top choice, something may go down. Which, if it came to Aaron being smacked, not to say I'd support the violence but, I'd get why it was something one of the ladies felt needed to happen. If just for a cathartic release.
Commentary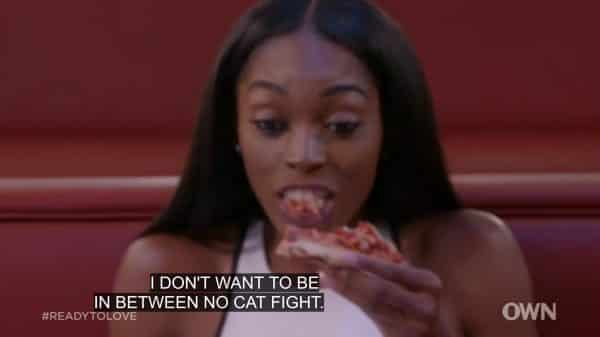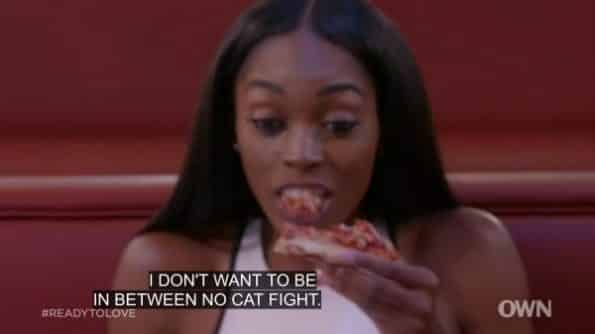 I really don't want this to devolve into a bunch of women fighting over a man who barely respects any of their time and affections. It seems like it will go that way but I wanna be wrong so bad. Because, again, you can see these women are as serious, if not more, than the men with finding someone. So it makes Aaron's comment about Melinda being too aggressive sound like the dumbest s*** you ever heard. Did they not hear Tommy say the title of the show? Do they, back up, does Aaron not know the premise of this show? To my knowledge, there isn't prize money, or a paid vacation, involved. So what is his problem?
Oh, he doesn't like women being the aggressor? Negro, this is a competition which you are in solely because you out finessed a bunch of dudes. Do you think these women won't be the same when you woo'd damn near all of them on a regular basis? Especially when it is 12 men to 3 and the other two are basically paired up already?
I really do find the format of this show, specifically it having eliminations, such a threat to what I believe was the point of this program.
Miscellaneous Commentary
Elimination Possibilities
At this point, I'd say Shea, Shatava, who are Michael's top pics are safe. Same goes with Angel, who Aaron likes and Tiffany – who wasn't in this episode at all. Pushing the idea it is between Stormy and Shanta who might be cut next. Stormy because, straight up, Pastor Chris was likely the one for her and I don't think any of the guys remaining will click with her. As for Shanta? I just can't imagine Michael and her being compatible because of how traditional he is. Then with Alexx? I feel as the ladies see through Aaron's BS, they are going to flock to Alexx and Shanta is likely to get lost in the mix. Even if she is aggressive.
Highlights
Lexy's take on the insult it is of treating a woman comfortable in herself, the epitome of a queen, as someone beyond reproach and thus isolated. Maybe even spoken about in such a way to take her down a notch.
These women really putting their stories out there and making you feel bad for the fact they have to go so far in order to hope they find someone.
Low Point
The whole elimination thing makes this show trash and fosters bad behavior and drama. On top of the guys becoming what these women are trying to not have in their lives anymore.
---
Follow Wherever I Look on Twitter, Like us on Facebook and Subscribe to the YouTube Channel.
---
---
Season/ Episode
Synopsis
Episode Information
Topics & People Focused On
Season 1, Episode 14 "Let The Sparks Fly"

We've come to a point where you can foresee more people who should be going home than should stay – for varying reasons.

| | |
| --- | --- |
| Director(s) | N/A |
| Writer(s) | N/A |
| Air Date | 10/19/2019 |

The Positive:

 

Tondy, Mario, Ashima, Darrin, Kerry
It's Still Hard Out Here:

 

Devyne, Alexis, Nina, Angie, Kimber, Jimmy, London
It's Not That You Aren't Ready To Love, It's These People Aren't For You Or You Them:

 

Michael, Angie, Chika, Ashima, Tondy, Nina, London, Kerry

Season 1, Episode 13 "Ready, Set, Mingle" [Mid-Season Premiere]
Ready To Love

officially returns, and while we got new people searching for love, you may recognize people and problems similar to what we saw in season 1.

For Some, While Ready To Love, They Aren't Ready To Compete:

Nina, Devyne, John, Chika
A Man Is Eliminated:

John, Jimmy
A Woman Is Eliminated:

Nina, Christina, Ashima

We end up down to three men and women this episode and only one woman leaves without frustration.

The first season of Ready To Love comes to an end and, as the title of the episode notes, it has come down to committing to one person or quitting the show.

Like any reunion special, we get a few touching moments, but a large part of the special was dedicated to Aaron just being Aaron.

As things begin to come down to the wire, the women grow tired and weary of the men dating around – they want a decision made.

As the numbers dwindle, and Melinda doesn't become the sole woman to eliminate herself, there is a need to question if anyone may find love?

With a double elimination around the corner, the question isn't so much who should stay but who should have been left – on their own accord.

Between Aaron realizing he has a problem and us learning Alexx might be a bit of a player as well, it's hard to say if these women aren't wasting their time.

Aaron reaches peak f***ery as Michael and Alexx continue to play the game because… well, it is what the show calls for.

Featuring: Rita, Stormy, Michael, Aaron, Angel, Melinda, Tommy, Alexx

12 women to 3 men leads to the men being enabled to be all the things these women were hoping to get away from.

Featured: Rita, Christina, Dr. Lexy, Shanta, Alexx, Melinda, Aaron, Courtney, Angel

We learn who got eliminated from the last episode, and learn who are the three men who will remain. You may not be surprised by the picks.

Ready To Love, thanks to its elimination process, will only differ from other dating shows thanks to it having people from 30 to 50.

Network
OWN
Creator
Will Packer
Air Date
10/23/2018
Genre(s)
Reality TV, Dating Show
Good If You Like
Dating Shows
Introduced This Episode
Himself
Tommy Miles
Himself
Alexx
Himself
Aaron
Herself
Stormy
Herself
Shanta
Herself
Tiffany
Himself
Michael
Himself
Chris
Himself
Paco
Herself
Melinda
Herself
Angel
Himself
Kebba
Herself
Dr. Lexy
Herself
Ashlee
Herself
Shatava
Herself
Shea
Himself
Darnell
Himself
Devan
Herself
Rita
Herself
Christina
Herself
Courtney