As Raven and Chelsea deal with their hoarding, Levi and Booker deal with spending too much time together.
---
Network
Disney Channel
Director(s)
Jody Margolin Hahn
Writer(s)
Douglas Danger Lieblein
Air Date
7/20/2018
Actors Introduced
Curtis
Donovan Whitfield
The Guntz
Nathan Blaiwes
Ms. Pittman
Liz Jenkins
Hoarders: Chelsea, Raven, Nia
Despite Raven always talking about how much money she needs, and Chelsea not having a job, it seems selling clothes never crossed their mind. Instead, they pack closets and even use the oven for shoes. Which is a strange idea since both Raven and Chelsea cook. So, being that Nia seemingly is the closest thing to responsible in the household, though she has some issues herself, she pushes her mom and Chelsea to sell some of their stuff.
Which doesn't lead us to learn how much they made but at least they tried.
Commentary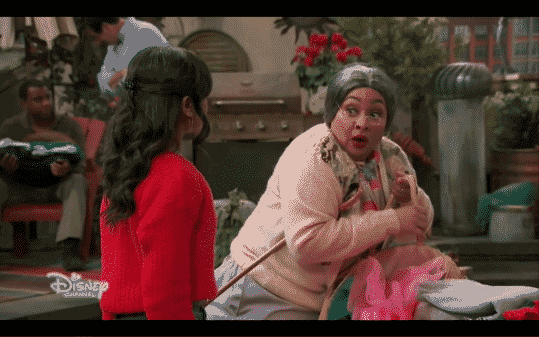 If this wasn't Disney, and Nia wasn't brought up as she was, I could fully imagine her making a big stink on how much they need money and selling the clothes would help. Because Raven makes a comment about Chelsea not working and bills nearly every episodes – including around the kids. So, while Booker maybe oblivious, I feel like Nia should be aware. Granted, not so aware she didn't but that expensive jacket in the last episode, but you know when you been struggling and can barely afford something nice, you see treating yourself as a big-time goal.
That aside, with the mention of Chelsea's divorce, so comes the question of whether that got finalized yet? Also, will we ever meet Levi's father? I'd love to see him chat with his son, much less deal with Raven.
Too Much Time Together: Booker, Levi, Curtis, The Guntz, Ms. Pittman
Despite it often seeming Booker and Nia only have Levi and Tess as their only friends, that seemingly isn't the case. For Booker, there is also Curtis and a boy known as "The Guntz." Two dudes in Booker's science class. A class in which the teacher, Ms. Pittman, delivers so many science puns it'll either make you laugh or *facepalm*.
But, while Ms. Pittman can be a bit corny, Booker mostly enjoys the class. That is, until Levi gets moved in and starts exposing the more embarrassing parts of his and Booker's relationship. Making it where Booker begins to ice out Levi both at school and home. All the while, Raven and Chelsea stay out of it for they figure they handled their own fights growing up and so can their kids.
Which, eventually they do. If just because, when Levi is given the opportunity to embarrass Booker, he doesn't take it. For this one spat doesn't make it where he'd be petty. For he does like having Booker as a big bro kind of figure in his life.
Commentary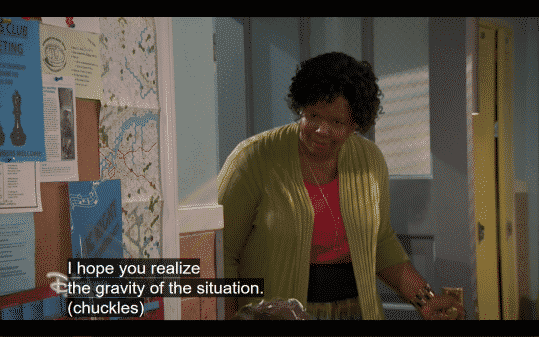 I wonder if we may ever get a flashback episode. We saw, in season 1, Raven and Chelsea when Chelsea's invention got big but imagine the day when Levi moved in. Maybe the first time Booker realized Levi had a drastically different life than him. If not presenting a "What If" episode where Devon was the one who did Raven dirty and so she had to live with Chelsea.
This is all brought up because you really have to feel a bit touched how they use affectionate terms like calling each other their brother, calling each other's mom their aunts, and things like that. It makes episodes like this a bit touching. Not to the point of crying but definitely wanting to say "Aw."
Highlights
Pittman's puns.
Taking note of the strength, and turmoil, of Booker and Levi's brotherhood.
On The Fence
Clothes surprisingly not being a part of what Raven figured could be sold to raise some money. Especially considering she is a designer who hasn't designed anything in a really long time. Even with that 10K, assumingly, unspent.
Follow Wherever I Look on Twitter, Like us on Facebook and Subscribe to the YouTube Channel.
---
Previous Episode's Recap
[visual-link-preview encoded="eyJ0eXBlIjoiaW50ZXJuYWwiLCJwb3N0IjoyNDM0MywicG9zdF9sYWJlbCI6IlBvc3QgMjQzNDMgLSBSYXZlbidzIEhvbWU6IFNlYXNvbiAyLyBFcGlzb2RlIDggXCJPaCBGYXRoZXIsIFdoZXJlIEFydCBUaG91XCIgLSBSZWNhcC8gUmV2aWV3ICh3aXRoIFNwb2lsZXJzKSIsInVybCI6IiIsImltYWdlX2lkIjoyNDM0NSwiaW1hZ2VfdXJsIjoiaHR0cHM6Ly93aGVyZXZlci1pLWxvb2suY29tL3dwLWNvbnRlbnQvdXBsb2Fkcy8yMDE4LzA3L1JhdmVucy1Ib21lLVNlYXNvbi0yLU1pa2UtTWFzc2ltaW5vLnBuZyIsInRpdGxlIjoiUmF2ZW4ncyBIb21lOiBTZWFzb24gMi8gRXBpc29kZSA4IFwiT2ggRmF0aGVyLCBXaGVyZSBBcnQgVGhvdVwiIC0gUmVjYXAvIFJldmlldyAod2l0aCBTcG9pbGVycykiLCJzdW1tYXJ5IjoiV2UgZmluYWxseSBnZXQgdG8gbWVldCBvbmUgb2YgVGVzc+KAmSBwYXJlbnRzLCBhcyB0aGUgc2Nob29sIGhvc3RzIGEgZmF0aGVyL2RhdWdodGVyIGRhbmNlLiIsInRlbXBsYXRlIjoiZGVmYXVsdCJ9″]