We finally get to meet one of Tess' parents, as the school hosts a father/daughter dance.
---
Network
Disney Channel
Director(s)
Leonard R. Garner Jr.
Writer(s)
Dava Savel
Air Date
7/13/2018
Actors Introduced
Jimmy O'Malley
Mike Massimino
Sheridan
Brianna Reed
Antoine
Roncho Hodges
Meeting Antoine: Sheridan, Antoine, Booker
Strangely, a famous basketball player's daughter goes to Booker's school and it is just now being brought up. So, upon discovering his daughter goes to the school, and there is a daddy/daughter dance, Booker tries to use the daughter, Sheridan, to get to Antoine. Which sucks for Sheridan since she likes Booker but what he did ruins it. Though, with an apology, she forgives him and allows a picture. One which, because Booker is shorter than both of them, he doesn't end up in the frame.
Commentary
It kind of stinks you know Sheridan is a one episode character. The idea of Booker getting a little girlfriend, especially with the tone of this show, could make for a nice arc. Show the dark side of dating when you have visions. Especially since visions, 9/10 aren't complete and make people very paranoid.
Here's Jimmy!: Tess, Jimmy
At this point, it seems only Tess' mom is a hot mess or maybe Tess has just been exaggerating how her family is. For with meeting Jimmy, a truck driver, and her uncle who is a cop, Tess seems to have a rather normal family. One which really pushes the idea that it isn't because of dysfunction that she is over the Baxter household, but because everyone works jobs which are so time-consuming.
Commentary
Okay, we need to meet Tess' mom. As noted, we have come to the point where the way Tess' acts and how she talks about her family and apartment must be all because of her mom. For the part of Chicago Raven lives in seems to be part of the city, but not the more urban part. So how Tess became who she is must be due to her mom. Someone who has been the butt of most of Tess' jokes and the source for many an eyebrow being raised.
I vote Katey Sagal for her mom personally.
Daddy Wasn't There: Raven, Devon, Nia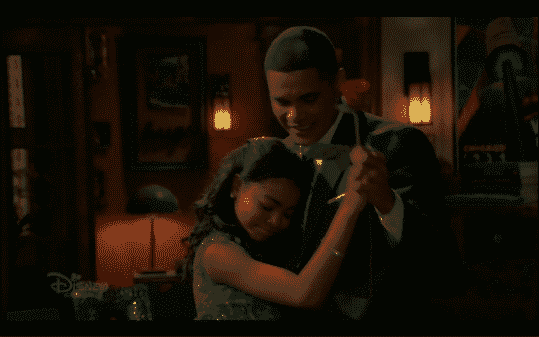 As made perfectly clear, while Raven and Nia have a relationship, she heavily focuses on Booker. So for Nia, being the one her dad makes a significant effort for, especially since he is on the other side of the country, in terms of him being south and her north, is important. Issue is, a snowstorm breezes in and shuts down flights.
But, with Booker having a vision they will dance, this gives Nia hope. After all, Tess got her dad and he is always on the road, so her dad should have no problem right? Well, thanks to Raven, this ends up true. Jimmy lets her borrow his rig and while she gets pulled over, twice, she is able to deliver Devon. Not to the dance, but they set up something nice in the living room.
Commentary
It would be too much to hope Devon and Nia get some real daddy/daughter time wouldn't it? Heck, I would love for us to see Levi's dad pop in and try to sneak some time with his son. But you can't have everything right? At most, Devon may just pop up like he did this episode, have his moment, and then off he goes. Making you wonder how much, if at all, his kids have adjusted to the change. Never mind if he may have started a new life in Dallas and how his kids, even Raven, may feel when he starts his next family?
Highlights
We get to meet Tess' dad and Devon made an appearance.
Again, a slight nod to what it is like being Black in terms of Raven's actions when pulled over by a cop.
Low Points
It sucks that you know Sheridan will probably only be around one episode. Seeing Booker with a love interest would have been interesting. Especially Raven getting jealous of the girl getting all his attention and a vision, likely, leading her to think she will do Booker dirty.
Follow Wherever I Look on Twitter, Like us on Facebook and Subscribe to the YouTube Channel.
---
Previous Episode's Recap
[visual-link-preview encoded="eyJ0eXBlIjoiaW50ZXJuYWwiLCJwb3N0IjoyNDI3MiwicG9zdF9sYWJlbCI6IlBvc3QgMjQyNzIgLSBSYXZlbidzIEhvbWU6IFNlYXNvbiAyLyBFcGlzb2RlIDcgXCJBbGwgU2V3biBVcFwiIC0gUmVjYXAvIFJldmlldyAod2l0aCBTcG9pbGVycykiLCJ1cmwiOiIiLCJpbWFnZV9pZCI6MjQyNzQsImltYWdlX3VybCI6Imh0dHBzOi8vd2hlcmV2ZXItaS1sb29rLmNvbS93cC1jb250ZW50L3VwbG9hZHMvMjAxOC8wNy9SYXZlbnMtSG9tZS1TZWFzb24tMi1SYXZlbi0xLnBuZyIsInRpdGxlIjoiUmF2ZW4ncyBIb21lOiBTZWFzb24gMi8gRXBpc29kZSA3IFwiQWxsIFNld24gVXBcIiAtIFJlY2FwLyBSZXZpZXcgKHdpdGggU3BvaWxlcnMpIiwic3VtbWFyeSI6IkJlaW5nIHRoYXQgUmF2ZW7igJlzIGhvbWUgaXMgdXN1YWxseSBjYXNoLXN0cmFwcGVkLCBzaGUgdHJpZXMgdG8gdGVhY2ggaGVyIGtpZHMgYWJvdXQgc2F2aW5nLiBIb3dldmVyLCBOaWEgYW5kIEJvb2tlciBnaXZlIGludG8gdGVtcHRhdGlvbnMuIiwidGVtcGxhdGUiOiJkZWZhdWx0In0="]