As Raven finally gets around to starting her fashion line, the kids find themselves learning about the difficulties of the disabled.
---
Network
Disney Channel
Director(s)
Trevor Kirschner
Writer(s)
Anthony C. Hill
Air Date
7/27/2018
Actors Introduced
Isabella
Eliza Pryor
Ravenous: Raven
Finally, Raven sets up a business account to start her fashion line Ravenous. Problem is, it is taking a long time for her money to transfer over and it's becoming worrisome. Especially since Mitch wants his rent money,
Meet Isabella: Isabella, Nia, Tess, Booker, Levi, Raven, Mitch
Luckily, sort of, Isabella comes into the picture and she gives Raven an excuse to stall. How? Well, Isabella is in a wheelchair. Which is a huge problem since Mitch has hidden the elevator and when Nia and Tess ask for him to make the building wheelchair accessible, he flat out says no. Thus leading to protest which eventually lead to Mitch backing down and making the elevator available to all.
Oh, and while this is happening, Levi is trying to deal with his crush on Isabella the best he can. Something that's a bit hard since Isabella has other friends and Booker is giving him advice. The kind which, at first, doesn't seem so bad. He tells him to be nice, complimentary, smile, but don't overdo it. Levi, unfortunately, misinterprets that but Isabella doesn't hold his awkwardness against him. She actually likes he is being himself. That is, until he fakes an injury to get attention for that insults her a bit. But, in the long run, he is forgiven and she can finally come upstairs for dinner.
Commentary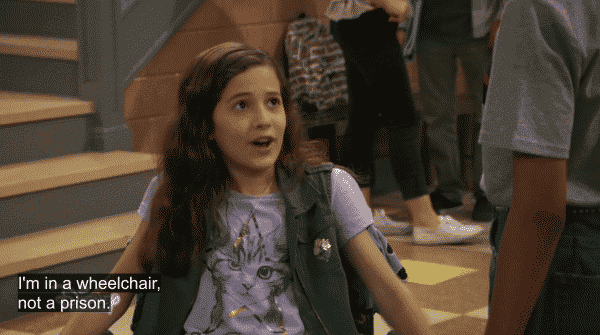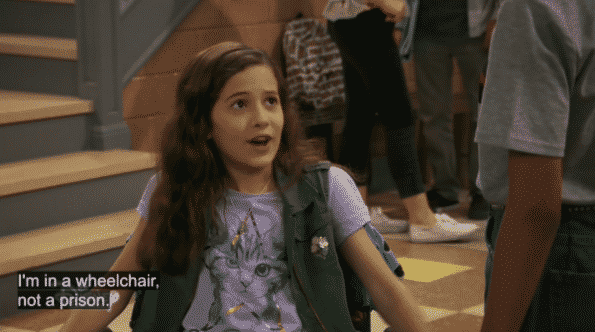 The fact Chelsea wasn't in this episode sucked for Levi is her everything and imagine her antics over his first crush! Yet, at the same time, taking out Chelsea's shenanigans allowed Raven to focus on starting her business rather than worrying about Chelsea. Also, it gave room for her to spend some time with Nia and speak on the importance of protests. Especially when it is something you strongly believe in.
But, in the grand scheme of things, while you have to love that they had a character in a wheelchair on the show, you got to side eye the fact Pryor isn't actually someone who uses one in her daily life. Especially since this show films in Los Angeles and surely there are kids who use wheelchairs they could have cast. Not to bring some sort of SJW issue to a kid's show, for the likelihood of seeing Isabella again is slim, but representation is a big deal nowadays. So imagine some kid thinking that Isabella's actress is like them only to find out it is a lie.
That thought aside, you still have to applaud the show for addressing a real issue. On top of also showing, just because someone is in a wheelchair, it doesn't mean they are trapped in it or deserve to be treated differently. Yes, they have to do some things differently, but that doesn't mean they should be alienated or seen as less than.
Question(s) Left Unanswered
So, whenever anyone has a crush should we just not expect to see that person beyond that episode?
Highlights
A voice for disabled tweens was featured and they were treated as both a friend and crush.
Raven FINALLY started her fashion line.
We got a second's glance at Tess' mom and she kind of looked like a hot mess.
Follow Wherever I Look on Twitter, Like us on Facebook and Subscribe to the YouTube Channel.
---
Previous Episode's Recap
[visual-link-preview encoded="eyJ0eXBlIjoiaW50ZXJuYWwiLCJwb3N0IjoyNDUwOSwicG9zdF9sYWJlbCI6IlBvc3QgMjQ1MDkgLSBSYXZlbidzIEhvbWU6IFNlYXNvbiAyLyBFcGlzb2RlIDkgXCJUaGUgVHJvdWJsZSB3aXRoIExldmlcIiAtIFJlY2FwLyBSZXZpZXcgKHdpdGggU3BvaWxlcnMpIiwidXJsIjoiIiwiaW1hZ2VfaWQiOjI0NTEwLCJpbWFnZV91cmwiOiJodHRwczovL3doZXJldmVyLWktbG9vay5jb20vd3AtY29udGVudC91cGxvYWRzLzIwMTgvMDcvUmF2ZW5zLUhvbWUtU2Vhc29uLTItTGV2aS5wbmciLCJ0aXRsZSI6IlJhdmVuJ3MgSG9tZTogU2Vhc29uIDIvIEVwaXNvZGUgOSBcIlRoZSBUcm91YmxlIHdpdGggTGV2aVwiIC0gUmVjYXAvIFJldmlldyAod2l0aCBTcG9pbGVycykiLCJzdW1tYXJ5IjoiQXMgUmF2ZW4gYW5kIENoZWxzZWEgZGVhbCB3aXRoIHRoZWlyIGhvYXJkaW5nLCBMZXZpIGFuZCBCb29rZXIgZGVhbCB3aXRoIHNwZW5kaW5nIHRvbyBtdWNoIHRpbWUgdG9nZXRoZXIuIiwidGVtcGxhdGUiOiJkZWZhdWx0In0="]