Booker finds himself with Raven's money and it seems either he'll have to tell a gigantic lie or tell the truth about his visions.
---
Network
Disney Channel
Director(s)
Robbie Countryman
Writer(s)
Michael Feldman, Dava Savel
Air Date
6/25/2018
The Vision Reveal: Raven, Booker, Chelsea, Levi, Nia
With us not having a huge gap between Raven getting $10,000 and this episode, she still has the money on her. Which is a huge issue for Booker for he foresees her losing the money. A huge problem because, with Raven having quit her job and Chelsea still not doing anything to bring money in, they need that money. So, the idea is that Booker, Levi, and Nia will steal it and hide it so Raven doesn't lose it. However, all this does is fulfill the vision as Raven goes nuts and things a falcon named Ernesto took it.
But, all that ends up happening is a lot of hijinks and the bag the money is in ending up in a pool of cement, Levi being forced to get it, being dropped in the cement, and the kids wanting to use Chelsea's gardening tools to get him out. Leading to Raven, who suspected something was going on all episode, to want answers. Of which, while Nia is ready to participate in a lie, Booker comes clean – he has visions. Something which excited Raven but not enough to say she has visions too.
Commentary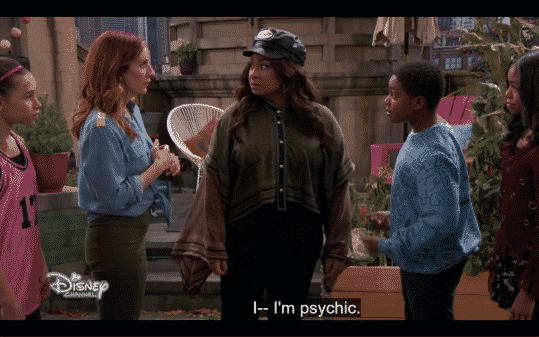 While it is a happy day Booker finally revealed he had visions, I gotta admit that was the only good part about the opening. Don't get me wrong, I feel like I still like this show. It is just, readjusting to the hijinks of Raven's Home may take a few episodes. Especially since there wasn't necessarily that balance between old school Disney and new school with the premiere.
Well, at least in a major way. Raven does address Chelsea not having a job and we see Raven driving for an Uber/Lyft like service so she doesn't have to touch the $10K but that's about it. Everything else is Disney style comedy from Chelsea beating Tess in a basketball and the mentioned backpack thievery turned confession.
Highlights
Booker reveals he has visions to Raven.
On The Fence
The balance of sort of dark comedy for the adults and hijinks is off and it is just pure hijinks this episode.
Follow Wherever I Look on Twitter, Like us on Facebook and Subscribe to the YouTube Channel.
Previous Episode's Recap
[visual-link-preview encoded="eyJ0eXBlIjoiaW50ZXJuYWwiLCJwb3N0IjoxMzgwNiwicG9zdF9sYWJlbCI6IlBvc3QgMTM4MDYgLSBSYXZlbidzIEhvbWU6IFNlYXNvbiAxLyBFcGlzb2RlIDEzIFwiVmVzdCBpbiBTaG93XCIgW1NlYXNvbiBGaW5hbGVdIC0gUmVjYXAvIFJldmlldyAod2l0aCBTcG9pbGVycykiLCJ1cmwiOiIiLCJpbWFnZV9pZCI6MTM4MDcsImltYWdlX3VybCI6Imh0dHBzOi8vd2hlcmV2ZXItaS1sb29rLmNvbS93cC1jb250ZW50L3VwbG9hZHMvMjAxNy8xMC9SYXZlbnMtSG9tZS1TZWFzb24tMS1FcGlzb2RlLTEzLVZlc3QtaW4tU2hvdy1TZWFzb24tRmluYWxlLTIwMHgyMDAucG5nIiwidGl0bGUiOiJSYXZlbidzIEhvbWU6IFNlYXNvbiAxLyBFcGlzb2RlIDEzIFwiVmVzdCBpbiBTaG93XCIgW1NlYXNvbiBGaW5hbGVdIC0gUmVjYXAvIFJldmlldyAod2l0aCBTcG9pbGVycykiLCJzdW1tYXJ5IjoiU2Vhc29uIDEgb2YgUmF2ZW7igJlzIEhvbWUgY29tZXMgdG8gYW4gZW5kIHdpdGggUmF2ZW4gbWFraW5nIGEgYm9sZCBhbmQgc2NhcnkgZGVjaXNpb24uIE9uZSB3aGljaCBCb29rZXIgYXR0cmlidXRlZCB0by4iLCJ0ZW1wbGF0ZSI6ImRlZmF1bHQifQ=="]