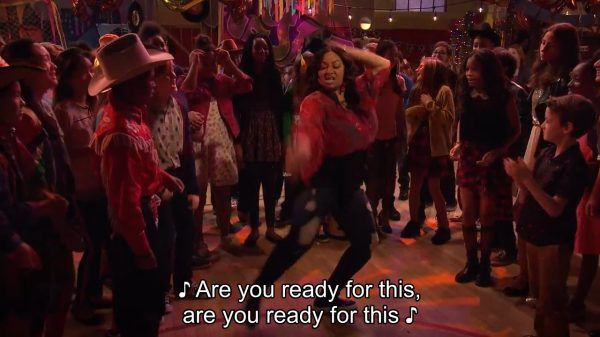 As Chelsea cements the idea she isn't a complete airhead, Raven tries to be supermom and Nia expresses some anxiety about the 6th-grade dance.
Supermom Handbook: Chelsea, Raven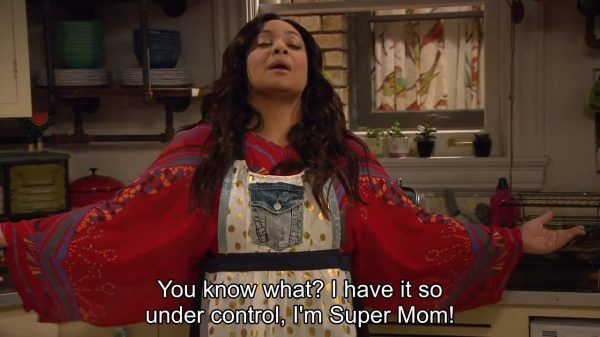 Being that Raven is the only one, seemingly, who works in the household, she takes her dog designing job seriously. To the point, she gets a little guilty about not being as involved in the kids' life as she perhaps used to be. Making it so when the principal guilts her about her lack of volunteering, in comparison to Chelsea who is planning a whole dance, it gets to her a little bit.
So she ends up trying to bake 500 cupcakes. Which, considering Raven has been working late, leads to a few potentially dangerous situations. However, in the end, Chelsea reminds Raven of all she does for her kids. Be it making breakfast, tucking them in, and also that she could have just bought the cupcakes, messed them up a little bit, and voila.
When The Anxiety Kicks In: Nia, Raven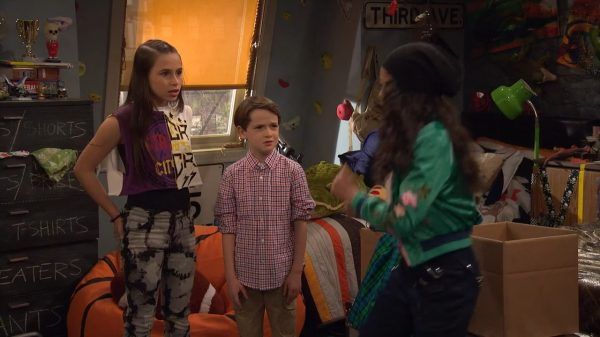 Nia is the more introverted twin. Because of that, the idea of too much attention and being made fun of gives her a bit of anxiety. However, with a mom like Raven, she isn't going to stand for her child not enjoying the life she works so hard for. So, she decides to level with Nia. She doesn't push her out of her comfort zone but rather tries to show her how much fun she could have and dances alongside Nia when it is time for the dance. Thus leading to what kind of felt like a rare Mommy and me moment.
The Best Dance Ever: Tess, Booker, Chelsea
Remember when Chelsea was living in Nia's room, felt guilty about it, then redesigned it for her? Yeah, it seems interior design, maybe even event planning, is Chelsea's thing. Problem is, her two most active volunteers are Booker and Tess. Two people who interact more in this episode than ever before, and honestly I would ship.
That aside, they are trying to insert their ideas for a theme out of fears, due to a vision, the party would end up lame. Problem is, both are stubborn as hell. Tess wants an old school hip-hop theme and, thanks to his dad sending stuff from Texas, Booker wants a wild west theme. Leading to them trying to come to a compromise which would be the other person giving in. Problem is, neither vocally says, "We'll do what you want to do." Thus leading to both of their themes happening and causing a real mess. One which Chelsea gets full control over so that the party can still happen and the kids can have fun.
Highlights
It was Funny
At this point, I'm adjusted to what Raven's Home is selling so my expectations have been altered. Not lowered, simply altered. So with that, I'm enjoying myself more, laughing at the antics of Raven and how deadpan Levi is just giggling as if was a tween.
Nia having Anxiety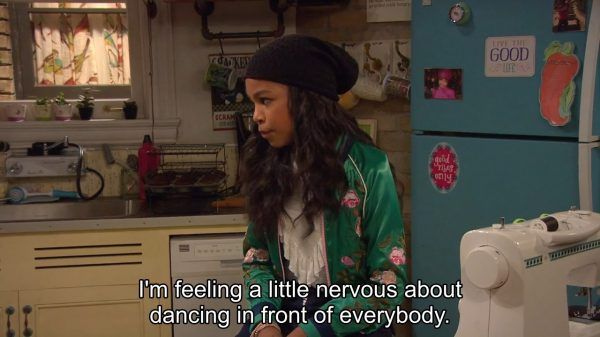 Yet, I do still find myself maintaining some old standards, which are met every now and then. Such as Nia showing anxiety. I liked that she wasn't over the top about it, but had real concerns. Not even because of some social media elements or maybe a mental disorder, but a common fear of looking like an idiot.
Which, thankfully, finally led to a moment between Raven and Nia that didn't make it seem like Raven's relationship with her would primarily be apologizing to the child. Instead, she gives motherly advice and gets to have some fun with her kid. Plus, being that Nia is a bit more self-sufficient than Booker, I bet Raven loved the fact her kids still need her. Especially outside of needing money for something.
Mommy's Guilt
As Shonda Rhimes mentions in Year of Yes, the idea of being a supermom is unrealistic and kind of damaging. You are an entire person and while your kids are an important part of your life, there comes a point you kind of have to accept you can't do absolutely everything for them. Something Raven learns this episode by trying to be a provider and show up.
But what is the kicker here is that the principal dares to guilt her into doing something. Which, considering this man had to be at least 50, and surely been a principal for a few years, I'm kind of mad he didn't have the common sense to know not all moms have the time to volunteer. Much less, the guilt which comes from not being like a lot of mom's we saw in TV and films. Never mind Chelsea not chastising him about it.
Though, the point still came across how Raven, thanks to being a single mom, is really overworking herself to try to maintain some sense of normalcy for her kids. On top of still being an active presence in their lives.
Chelsea Actually Has Talent & Shows Maturity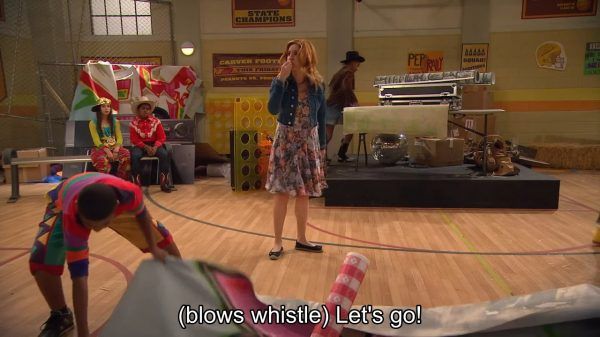 Since the first episode, I found myself wondering how in the heck has Chelsea been surviving? Yes, she did marry rich but what about before that? For the Chelsea we have seen thus far can't cook, is such an air head it is amazing she doesn't walk around with a helmet on and seemed far too dependent on her son to keep her life stable.
Yet, that is all erased this episode, though likely will be back for the next. For there isn't that weird, barely functioning Chelsea this episode. She is fully in control of the planning for the dance and while a little stressed out, we really get to see her in her element. Making me hope, as they revert her back to the old Chelsea, they make sure to slip in she can function as an adult. It is just she is very much a weirdo.