Queen Sugar: Season 5/ Episode 5 "May 19, 2020" – Recap/ Review (with Spoilers)
It's the calm before the storm as Ralph Angel and Darla have a whirlwind wedding filled with love and joy.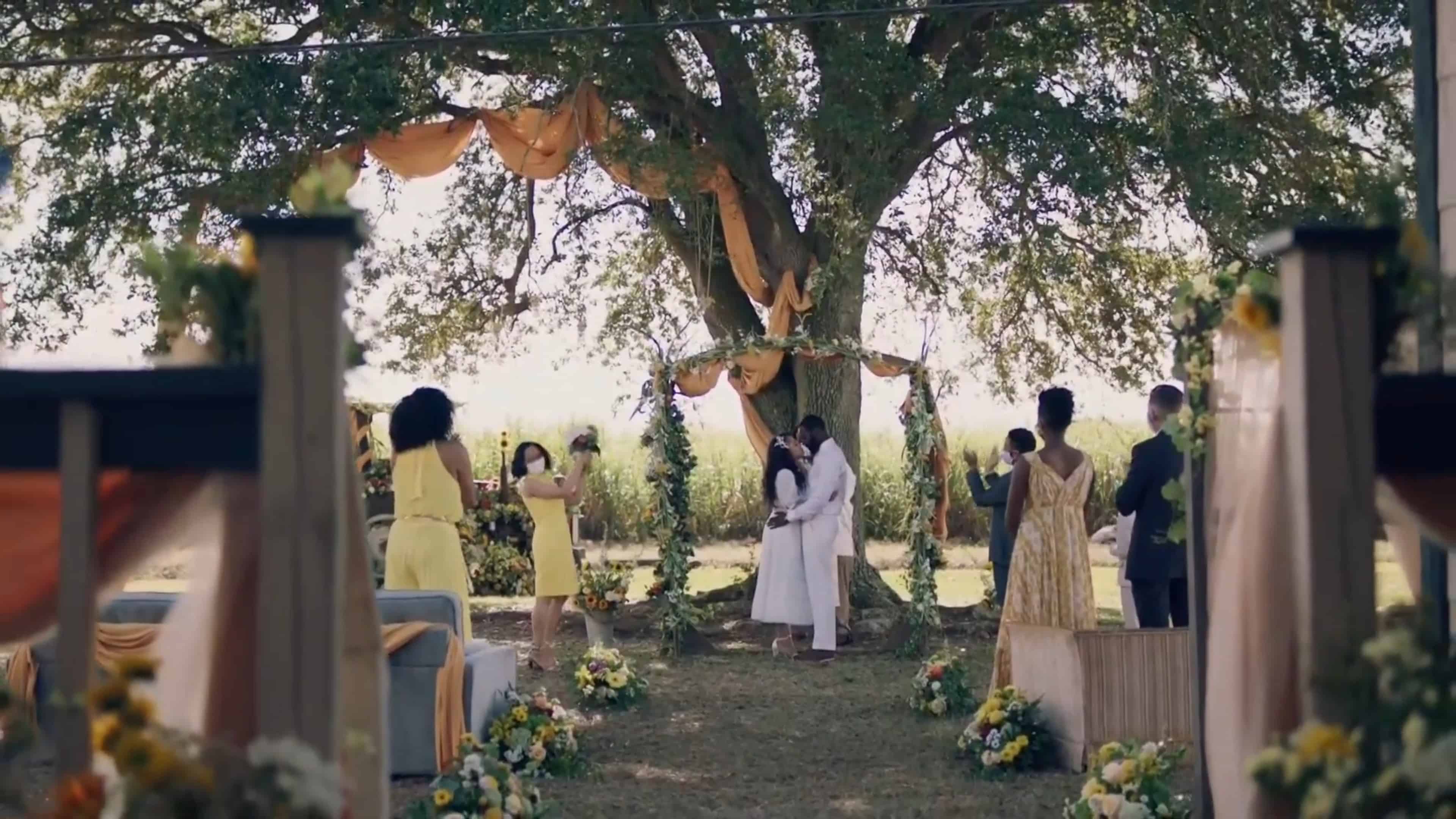 It's the calm before the storm as Ralph Angel and Darla have a whirlwind wedding filled with love and joy.
---
| | |
| --- | --- |
| Director(s) | Lauren Wolkstein |
| Writer(s) | Norman Vance Jr., Ava DuVernay |
| Aired (OWN) | 3/16/2021 |
This content contains pertinent spoilers. Also, images and text may contain affiliate links, which, if a purchase is made, we'll earn money or products from the company.
Recap
Wedding Preparation – Charley, Darla, Ralph Angel, Blue, Darlene, Nova, Calvin, Micah, Hollywood, Aunt Vi
With the wedding being a bit rushed, with only 12 or so hours notice, everything isn't necessarily done last minute but does put pep into people's step. Though considering it was three months into COVID lockdowns, having something to do not dealing with death, disease, and sadness, it made for quite the occasion. Sadly, one that Hollywood wouldn't be able to join, on account of his mother's passing, but Micah steps in as best man and holds it down.
As for everyone else? Well, Blue, naturally, is excited, as so are Calvin and Nova. Though, with Nova being forced to remember how hard she made things on Darla, there is some guilt, and so she pushes hard to make Darla feel welcomed. However, the person who does the most is Charley, who accepts being maid of honor, and even gets Nova, Aunt Vi, and Darla's mother Darlene to join her for a bridal shower!
A Joyous Occasion – Charley, Darla, Ralph Angel, Darlene, Nova, Calvin, Hollywood
To kick off things, Nova presents to Darla a message Trudy, Ralph Angel, and Nova's mom wrote before her passing, bestowing a blessing to Ralph Angel. Following that, arriving just on time, Hollywood shows up, and while he doesn't stand beside Ralph Angel at the altar, but during the reception, he does give a nice speech. However, the star of the show, Darla, oh she stuns them all.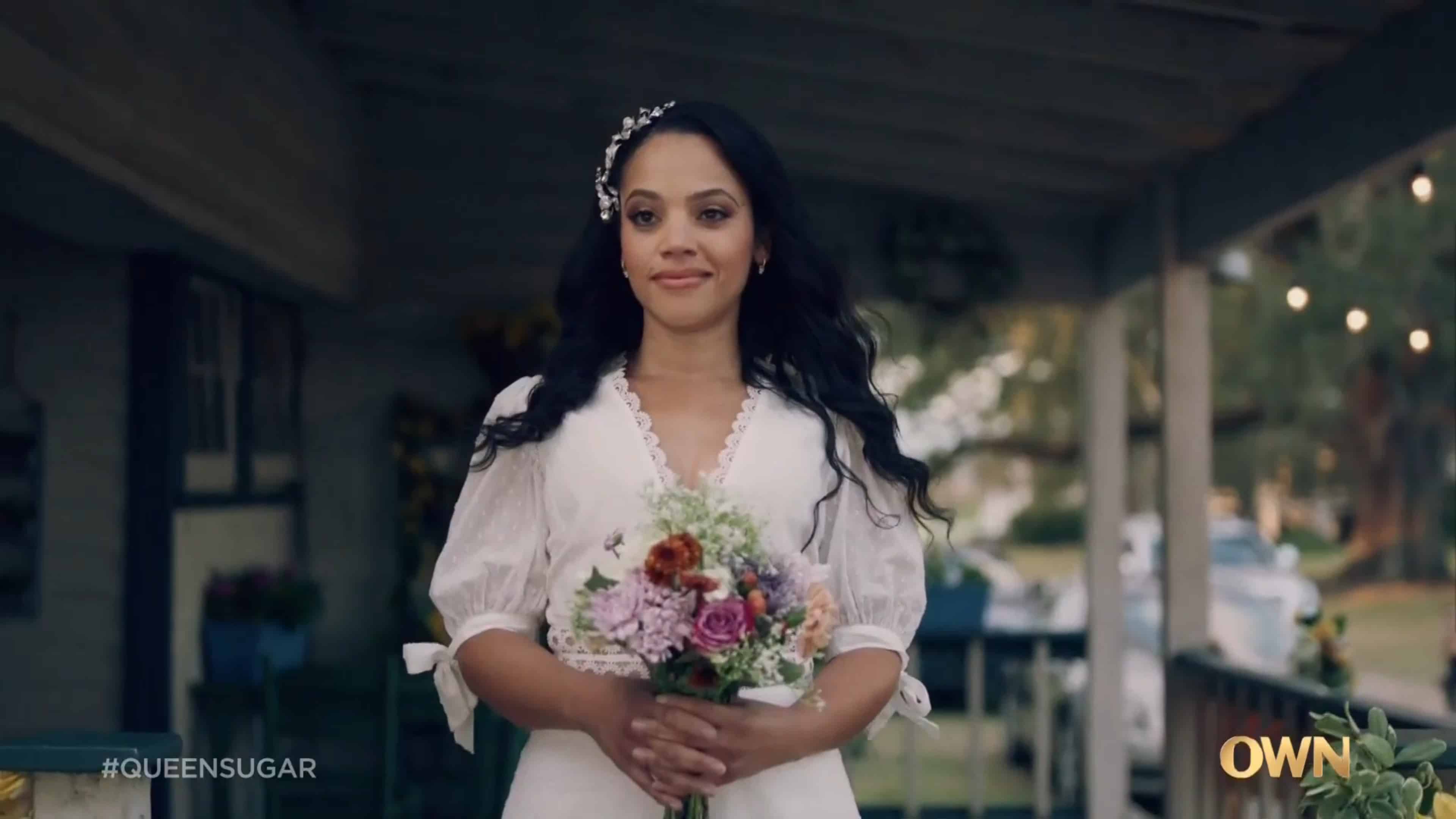 And mind you, throughout all of this, there isn't much anxiety and very little doubt. Darla has some, which she talks about with Charley, but it is just that old struggle with questioning what she does and doesn't deserve. All of which gets hushed up.
But, overall, it is a beautiful wedding that Darlene attends via Zoom, and it even gets Calvin to thinking about getting married again, thus sparking a conversation with Nova.
Prepping For What's Next – Darla, Ralph Angel, Blue, Darlene, Nova, Calvin, Hollywood, Aunt Vi
As the high point of the day pasts, so comes the question of what's next? Well, Darlene starts by stirring the pot and bringing up the idea of Blue going to school in DC near her. A conversation she only has with Aunt Vi, who promptly avoids such an uncomfortable thought.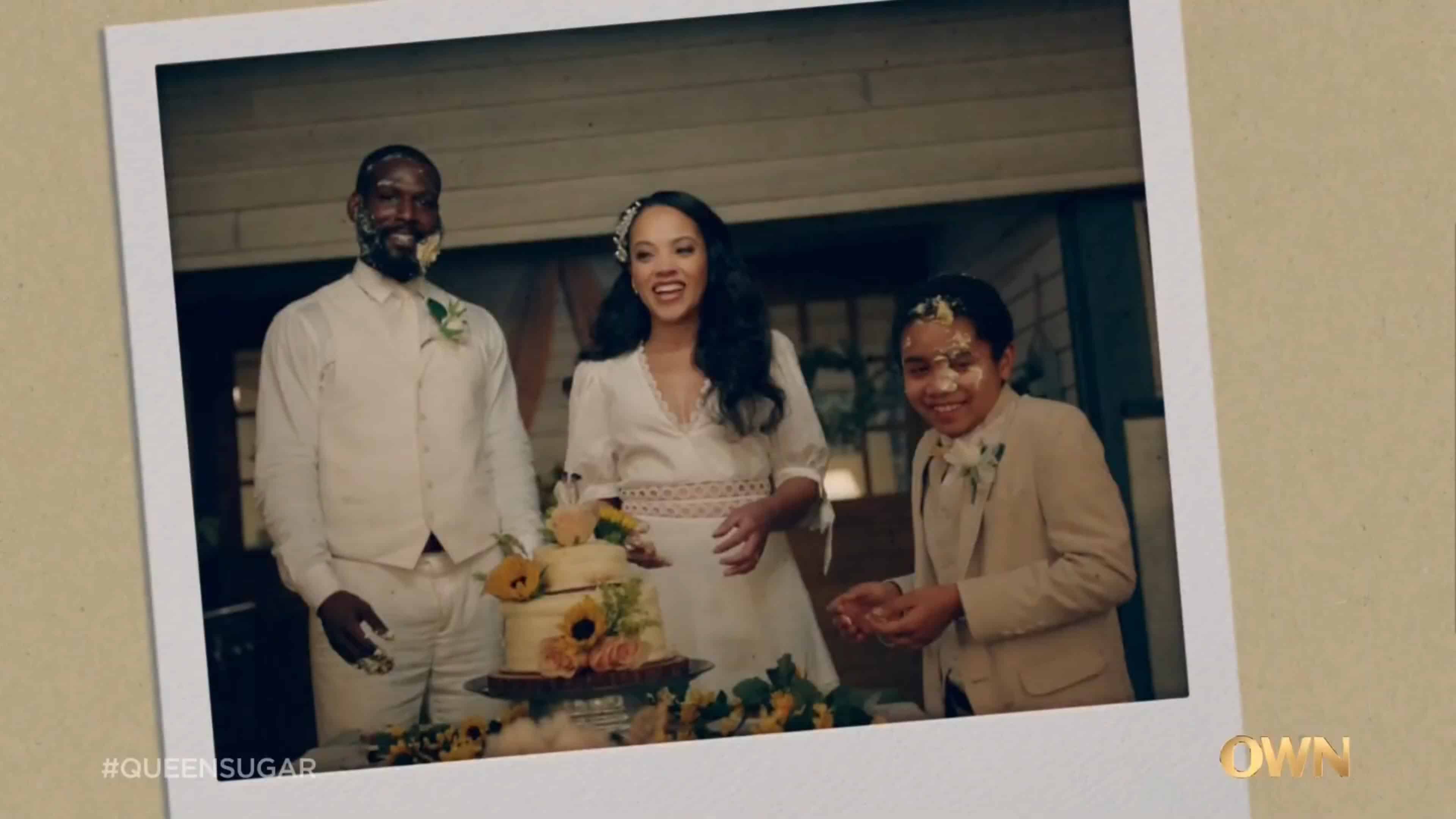 Leaving relatively nothing to disturb the day and us ending things watching Darla, Ralph Angel, and Blue smush the cake Aunt Vi made into each other's faces. All the while, Hollywood, still in his feelings, noting Aunt Vi is all he has left, and she reaffirms he is all she needs. Thus this brings to a close the happiest day the Bordelon family has had in a while.
Things To Note | Question(s) Left Unanswered
Peep Ralph Angel talking to Blue about his parentage – could this be foreshadowing Blue's biological father showing up?
What happened to Darla's dad? Why was there no mention?
Taking note Prosper, assumingly, is still in Aunt Vi and Hollywood's house, he couldn't get an invite? Has he not been quarantining better than everyone there?
Considering how much Davis is being brought up, should we expect to see him?
Collected Quote(s) & .Gifs
I'm only nervous about things I'm not sure about.
— Ralph Angel
Review
---
Community Rating:
---
Highlights
An Episode With Minimum Sadness
No one can question Queen Sugar being a drama for, more often than not, it operates as a dark cloud with a silver lining. Yes, COVID is running rampant, but the Bordelon family is fighting for its community. The Landry family might be trying to exploit and take people's land, but Charley is pushing back and, at the very least, slowing them down. There is almost always something happening, but the Bordelon family presents that silver lining "but," which impedes or slows down the BS so that people can prep or recover from the last onslaught.
However, while Hollywood was mourning and Darla dealing with some anxiety in this episode, there wasn't this dark cloud looming over or the vibe we were in a tunnel running towards the light. The clouds were minimal, and there was nothing but illumination all around. Too bad it'll only last an episode as the murder of George Floyd hits in the next episode.
An Acknowledgment Of Past Storylines
Whether it is how close Charley and Darla used to be, a reminder Blue isn't biologically Ralph Angel's, Darlene making a guest appearance, and Trudy, you have to always appreciate when long-running shows like this take a bit of a look back.
Charley Opening Up More
While Charley is no stranger to us, we've even met her mother for a whole arc, we must admit that in the pursuit of fighting for the parish, showing she belongs, it is easy to forget her journey to this point. Of which we understood her mother's affair with Ernest, which caused a rift between her and Nova. Also, how Aunt Vi played a role in her upbringing. However, her years with Davis, being that we only got to see the tumultuous end, recent episodes remind you we didn't know much about the beginning.
And from what it seems, Micah wasn't aware either, so it as their relationship changes, it means Charley getting to open up and show a side beyond the one which inspires the community. Which, since hardly anyone has friends on this show, it may mean Micah will be the key to understanding where Charley's head is at. Specifically, beyond her advocacy and in terms of being a single woman whose son no longer needs her and has a rather big empty house that rarely has more than her in it. Never mind Ralph Angel's older sister who has memories of him, and with him, that haven't really been delved into.
[amazon box=" B08WRKZ82V, 0143132733″]
[ninja_tables id="55776″]
Summary
---
Community Rating:
---
Charley Opening Up More - 82%
An Episode With Minimum Sadness - 83%
An Acknowledgment Of Past Storylines - 85%
In one of the few happy episodes Queen Sugar has provided in a long time, we're given a reprieve before it dives into George Floyd's murder and the Black Lives Matter marches.
---
Follow, Like, and Subscribe
Community Rating: 0.00% (0) - No Community Ratings Submitted (Add Yours Below)