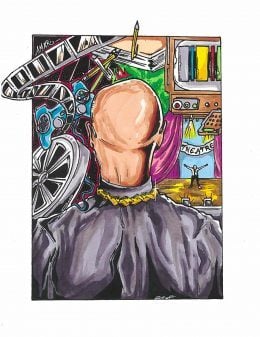 |
Overview
We've almost reached the end of the line and if there is one thing that should be noted in this episode: Never, ever, trust Vee.
Review (with Spoilers)
As you can tell by now, Vee pretty much took whatever significance Sophia had, among others, and damn near stole the season. Arguably she is only 2nd to Piper at this point, and with one episode left, question is will she make it for season 3? One random girl got shanked and now Red and her have a standoff going. And unlike the little battle between Vee and Gloria, there will be blood.
Topic 1: When the Truth Comes Out – Piper and Fig
With Piper, and Ruiz, about to be shipped out, Piper really is just trying to figure out what to do with herself. Luckily, with the storm knocking the power out, and flooding the prison, she finds something perfect to do with her remaining time. She sneaks into Fig's office and takes the invoices that Andrew is looking for. But! When the lights comeback on, and she tries to escape, there is Caputo.
As for Fig, she is at some fundraising party for her husband and pretty much ignores Caputo as he tries to see what he is to do. But after 11 calls she answers and the two have a heated discussion which includes Caputo questioning her credentials since she went from an assistant, giving neck rubs, to deputy warden. Something which surely won't be forgotten or forgiven. But that isn't the only insult she receives that night. I'm not sure if I mentioned it before, but Mr. Fig is an odd one isn't he? He wants to be a big time politician, yet isn't really trying to pursue a family and treats Mrs. Fig as an obligation. Well, it isn't just because he doesn't like her, but also because he doesn't like her gender. You see, the man is bi or gay and messing around with a young man who is part of his campaign. Mrs. Fig catches them kissing after the fundraiser, showing every person you could hate on this show gets their just due.
Though, just to note, Lorna, who seemingly is a bit more humbled now, has a nice moment with Miss Rosa and gives her a dum dum lollipop. It isn't much for repentance, but without much to offer it is better than nothing for her racist ways.
Topic 2: You Should Never Trust a Criminal – Poussey, Taystee & Vee
Needless to say, Poussey has developed a destructive drinking problem. A few episodes ago she damn near goes to fight Vee, and now she destroys Vee's product and leaves it for any correctional officer to see. Luckily for Vee though, she arrives before anyone else, but there is a need for someone to pay. Thing is, Poussey only got one thing to lose, and that is Taystee. So, in order to punish Poussey, Taystee gets cut out and all the girls are forced to ostracize her.
But this isn't the first, and only, time Vee acts cold blooded toward one of her children. In Taystee's episode, we briefly meet RJ, but in this one we get to really get to know him better. He was one of Vee's favorites, she thought he was cute, sexy even, but he wanted to go on his own, take some of her customers, and that is betrayal. So, she has sex with him, takes her phone, and ends up getting him setup so the crooked cop she employs can kill him in cold blood.
Which matters because it shows Vee's word don't mean a damn thing. She is looking out first and foremost for Vee because, with her being in the foster system her damn self, that is who she learned should be priority. So if it means sacrificing her favorite son, a good bookkeeper, and etc., she'll do that.
Leading to the topic of her beef with Red. With Red trying to claim Taslitz's assault was just a warning, Vee calls her bluff and then threatens Red's son, leading to Red spitting in Vee's face. Strike 1. Then, after the storm hits, all the lights are out, and the girls are forced to use a bucket for a toilet. Strike two comes with getting some plastic wrap from the kitchen, after begging Gloria to lend her a knife, and she goes to choke Vee. Thing is, Red doesn't have it in her to get the job done and with Vee being the sociopath she is, she makes it seem she recognizes Red's capabilities and will step off. But when Red is alone in the greenhouse, Vee steps in with a lock in a sock and goes to town.
Things to Note
I should probably mention Daya is still on the outs with Bennett, but I really do not care about their story since she seemingly wants him to sacrifice his career, like Mendez did. Which I find dumb, especially because she'd rather Bennett go to jail, and they both serve time, than wait until she is out and maybe just deal with the difficulty in explaining to their kid that Bennett is the father. Which makes me wonder if anything could happen to Bennett in that situation?