One Day At A Time: Season 2/ Episode 6 "Work Hard, Play Hard" – Recap/ Review (with Spoilers)
In a rather uneventful episode, without any serious hot topic, the importance of work and communication is focus. Network Netflix Director(s) Pamela Fryman Writer(s) Andy Roth Air Date 1/26/2018 Episode Focus: Hard Work Pays Off – Eventually | Alex, Elena, Penelope, Lydia, Schneider With her kids getting to the age where they can legally work,…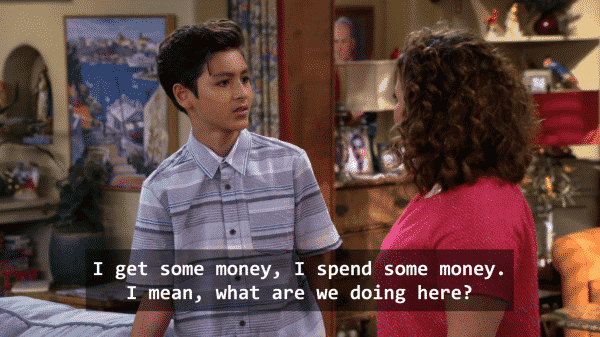 In a rather uneventful episode, without any serious hot topic, the importance of work and communication is focus.
---
Network
Netflix
Director(s)
Pamela Fryman
Writer(s)
Andy Roth
Air Date
1/26/2018
---
Episode Focus: Hard Work Pays Off – Eventually | Alex, Elena, Penelope, Lydia, Schneider
With her kids getting to the age where they can legally work, or get hired and paid under the table, Penelope wants them to develop a worth ethic. Especially since, with Lydia spoiling Alex, and Elena being 16, it is really now or never. But, it is a bit of an uphill battle. With Alex, a job comes up at Penelope's job since Scott and Lori are at vacation, but between Alex finding it boring and Lydia doting on him at work, he doesn't get the experience she wanted. In fact, he only gets to see the boring parts and her getting told off for allowing someone to have their physical too early.
Then, with Elena, she wants to become twitch famous to make money and Penelope goes with this. However, she has to make 1000 subscribers in a week and with her getting a hundred in a day or two, it seems she could make it. That is, until she realizes the work which goes behind doing speed runs and trying to turn a hobby into something that makes you money.
But, the lesson isn't a total loss. After being told off at work, we later see Dr. Berkowitz bring a gift basket from a client. Someone who, if it wasn't for Penelope, would have not only died but have been unable to give birth to a baby girl. Someone who gets named after Penelope for saving her life. Thus giving Alex a showing of why his mommy's job is cooler than it appears. As for Elena? Well, with Schneider being her sponsor for her short-lived Twitch career, and enjoying their dynamic, he decides to make her a mini-super for the building when that dream ends.
Now, as for how much he is paying her? Well, that doesn't come up.
Commentary
Though the idea that hard works comes with eventual rewards is the lesson here, I'm kind of surprised something heavy wasn't brought up. The pay gap was talked about in the first season, the show addressed racism in the first episode, so I guess the lack of a political or social topic came from the show not wanting to repeat itself. Which I can appreciate.
But it does make me wonder if, similar to The Carmichael Show, once One Day At A Time
touches on a subject, it won't be dug into again.
Subplot 1: Max Isn't The Only One Who Wants Something More Serious | Dr. Berkowitz, Lydia, Alex
Dr. Berkowitz, at this point, doesn't want a situationship with Lydia but to be a relationship. However, while she will allow him to use that word, it requires quotations. So, bypassing Penelope, since that would be awkward, Dr. B asks Alex to give some advice. Because, you know, teenagers got all the deets. Leading to Alex's advice basically being, curve Lydia sometimes and don't seem so available. Something that Dr. B does, but oh is it difficult for him.
Commentary
One of the things you have to love is seeing how much of an influence Lydia has had on Penelope and how, despite them being of different generations, being raised in different environments, it doesn't stop there being similarities. Like how they handle their relationships this season. Now, I doubt Lydia and Dr. B are having relations, but outside of that, you can see her keeping it casual the way Penelope is trying to with Max.
Heck, even when it comes to spoiling the kids, there isn't any real fight to have Elena come to work with her and spend time with her. She wants to be around Max. Penelope wants to give him a hook up to make real cash, while she lets Elena pursue some video game dream. Neither are necessarily major things, but as said in the last episode, it shows how Lydia's influence has certainly not worn off with time. It is just Penelope ignore, sometimes, how similar she is to her madre.
---
Follow Wherever I Look on Twitter or Like us on Facebook.
---
Previous Episode's Recap
[visual-link-preview encoded="eyJ0eXBlIjoiaW50ZXJuYWwiLCJwb3N0IjoxNjk2MSwicG9zdF9sYWJlbCI6IlBvc3QgMTY5NjEgLSBPbmUgRGF5IEF0IEEgVGltZTogU2Vhc29uIDIvIEVwaXNvZGUgNSBcIkxvY2tlZCBEb3duXCIgLSBSZWNhcC8gUmV2aWV3ICh3aXRoIFNwb2lsZXJzKSIsInVybCI6IiIsImltYWdlX2lkIjoxNjk2NCwiaW1hZ2VfdXJsIjoiaHR0cHM6Ly93aGVyZXZlci1pLWxvb2suY29tL3dwLWNvbnRlbnQvdXBsb2Fkcy8yMDE4LzAxL09uZS1EYXktQXQtQS1UaW1lLU1heC1hbmQtU2NobmVpZGVyLnBuZyIsInRpdGxlIjoiT25lIERheSBBdCBBIFRpbWU6IFNlYXNvbiAyLyBFcGlzb2RlIDUgXCJMb2NrZWQgRG93blwiIC0gUmVjYXAvIFJldmlldyAod2l0aCBTcG9pbGVycykiLCJzdW1tYXJ5IjoiV2hhdCBtYXkgc2VlbSBsaWtlIHlvdXIgdXN1YWwgaGlqaW5rcyBlcGlzb2RlLCBtaW51cyBwb2xpdGljYWwgdG9waWNzLCB2ZWVycyB0b3dhcmRzIGd1biBjb250cm9sLiIsInRlbXBsYXRlIjoiZGVmYXVsdCJ9″]
---
Follow, Like, and Subscribe
Community Rating: 0.00% (0) - No Community Ratings Submitted (Add Yours Below)