---
Community Rating: 72.91% (3)
---
As Penelope teaches Alex to have fun on a budget, Lydia reveals a shocking secret to the family.
---
Network
Netflix
Director(s)
Phill Lewis
Writer(s)
Dan Signer
Air Date
1/26/2018
---
Episode Focus: For The Love of Cuba! | Lydia, Elena, Penelope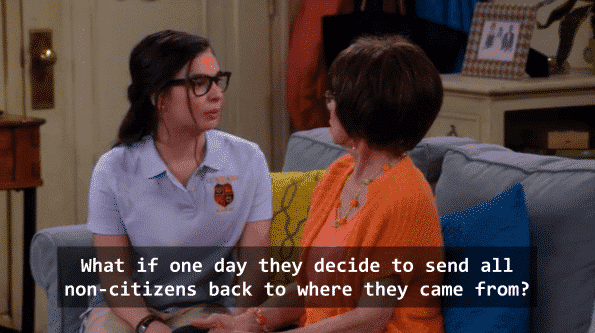 You remember Carmen right? The girl whose family was deported because they weren't citizens? Well, the immigration issue returns for we learn that while Lydia is a permanent citizen, a green card holder, she is not a citizen of the United States of America. Why? Well, because part of becoming a citizen requires renouncing her Cuban citizenship.
Something which she can't bring herself to for, even after 60 some odd years living in the US, there are hopes that things in Cuba will improve to the point of returning. Whether for a visit or to live, well that isn't clarified. What is made clear though is that Elena needs, not wants, Lydia to take this seriously. At first, the issue is just Lydia not voting and not having the right to. However, with 45 in office, and the rules always changing, and even with Cubans probably not being high on the hit list, you never know. So with that fear of suddenly, anyone who isn't a citizen being up for deportation, Lydia realizes what she has to lose.
For while she may have a house in Cuba waiting on her, her home is with Penelope and her family.
Commentary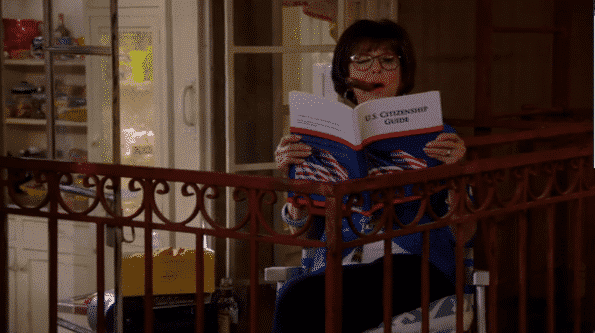 Call me ignorant, but as Lydia was saying she was a permanent resident, a green card holder, I was confused with how she wasn't a citizen. But, generally speaking, who knows the process immigrants have to go through if that isn't something you're passionate about? Most of us, at best, know you will have to take a test, pay some money, and pledge your allegiance. However, everything that comes before that is an utter mystery.
Leading to perhaps why, alongside racism of course, so many don't take note of how hard it really is for those who have been here for years, whether they qualified under DACA or not, to become a citizen. For never mind the civics and English exam, as noted in In The Country We Love, there is so much more that can make the process difficult. Be it mistrusting people to help you gain citizenship, the cost factor, or time.
Which I say because, the way it seems, getting citizenship, going through the legal process, is only easy and accessible if you are an immigrant with privilege. That is, someone who has the kind of money to take off work, spend hours and book multiple appointments to meet with someone, and still be able to survive. Something that may sound easy from the other side, but taking into consideration other factors like raising kids, maybe being a refugee, and possibly working minimum wage, multiple shifts, just to break even, hiding and keeping your nose clean sounds easier.
Subplot 1: What Snacks You Got? | Alex, Penelope
Being that everyone relies on Penelope's money, asking for more than $10 for a movie is a bit much. So, Penelope introduces Alex to sneaking snacks in. A time-honored tradition amongst people of color (well, in my experience). However, with Penelope going beyond Pop Secret popcorn in her purse, with an Arizona, but bringing a mini-bodega, she takes it to the next level. To the point, it inspires Alex to bring hot dogs and bacon and be reckless.
Leading to them being caught and the lesson becoming, make enough money so you don't have to be so cheap.
Commentary
While big topics like immigration, colorism, and etc are nice to see, you have to also like these cultural nods which aren't as serious.
Other Noteworthy Facts & Moments
Penelope took a test and found out she would be sorted into HufflePuff.
Highlights
·       The levels of being a legal immigrant and reasons why citizenship might be avoided.
---
Follow Wherever I Look on Twitter or Like us on Facebook.
---
Previous Episode's Recap
[visual-link-preview encoded="eyJ0eXBlIjoiaW50ZXJuYWwiLCJwb3N0IjoxNjkyOCwicG9zdF9sYWJlbCI6IlBvc3QgMTY5MjggLSBPbmUgRGF5IEF0IEEgVGltZTogU2Vhc29uIDIvIEVwaXNvZGUgMyBcIlRvIFppciwgV2l0aCBMb3ZlXCIgLSBSZWNhcC8gUmV2aWV3ICh3aXRoIFNwb2lsZXJzKSIsInVybCI6IiIsImltYWdlX2lkIjoxNjkzMiwiaW1hZ2VfdXJsIjoiaHR0cHM6Ly93aGVyZXZlci1pLWxvb2suY29tL3dwLWNvbnRlbnQvdXBsb2Fkcy8yMDE4LzAxL09uZS1EYXktQXQtQS1UaW1lLUVkLVF1aW5uLWFzLU1heC5wbmciLCJ0aXRsZSI6Ik9uZSBEYXkgQXQgQSBUaW1lOiBTZWFzb24gMi8gRXBpc29kZSAzIFwiVG8gWmlyLCBXaXRoIExvdmVcIiAtIFJlY2FwLyBSZXZpZXcgKHdpdGggU3BvaWxlcnMpIiwic3VtbWFyeSI6IlJvbWFuY2UgYmVjb21lcyBhIHBvc3NpYmlsaXR5IGZvciBFbGVuYSBhbmQgUGVuZWxvcGUsIGJ1dCBjb21wbGljYXRpb25zIG1heSBrZWVwIHRoZW0gZnJvbSBoYXBwaW5lc3MuIiwidGVtcGxhdGUiOiJkZWZhdWx0In0="]
---
One Day at a Time | Netflix Official Site
In a reimagining of the TV classic, a newly single Latina mother raises her teen daughter and tween son with the "help" of her old-school mom.
---