One Day At A Time: Season 2/ Episode 12 "Citizen Lydia" – Recap/ Review (with Spoilers)
---
Community Rating: 0.00% (0) - No Community Ratings Submitted (Add Yours Below)
---
This post may contain affiliate links and spoilers. Please read our disclosure policy.
---
As Lydia and Schneider take their citizenship test, Penelope tests the waters when it comes to the possibility of having another child.
---
Network
Netflix
Director(s)
Gloria Calderon Kellett
Writer(s)
Dan Hernandez, Benji Samit, Dan Signer
Air Date
1/26/2018
Episode Focus: The End Of The Line | Max, Penelope, Lydia
With Max saying he wanted kids, and Penelope 39 going on 40, she tries to get people to side with her and tell her what a crazy idea it is. However, no one decides to do that. Medically she gets the ok, she holds a baby and realizes she does miss having one in her arms, but she'd rather wait to be a grandparent. This pushes her to talk to Max and despite him saying he just wants her and can deal with not having a kid, she knows he'd regret it someday. So, she breaks up with him.
A decision Lydia decides to combat her on and it leads to them both getting pretty heated. To the point that Lydia decides to walk away but not before making sure Penelope knows she still thinks she is foolish. Making the fact, the next morning, Lydia seemingly is in a shocking state something which will make for some season finale.
Subplot 1: I Want To Be An American | Schneider, Lydia
To put it simply, despite some of the worries of both Schneider and Lydia, they both become citizens. Lydia gets a bit of a scare because of social security number was written wrong, but once that gets cleared up, she is good to go. As for Schneider, he just acts like an idiot but still passes.
Subplot 2: Emoji Battle | Elena, Alex
This storyline which went without a conclusion basically just deals with Syd sending a random set of emojis and Elena not knowing how to reply. Alex helps and so, while it doesn't lead to Elena knowing what the hell Syd was talking about, she thinks she understands the game.
Low Points
Minus The Argument Between Lydia and Penelope, It Was Kind of Anti-Climatic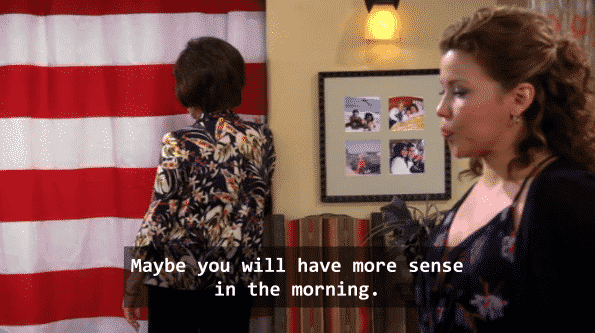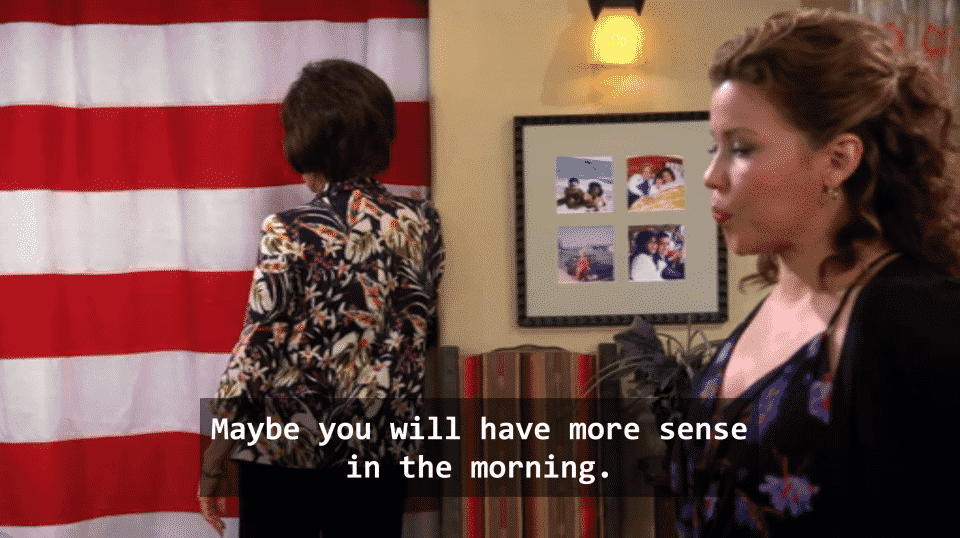 Lydia and Schneider getting their citizenship just didn't seem to pop like you thought it would and considering how adorable Max and Penelope were, you'd think that would have been made a bigger deal as well. Yet, despite both being season-long arcs, they concluded kind of abruptly without much in the way of fanfare.
Well, maybe not the Max and Penelope breakup. If just because that led to an argument between Lydia and Penelope. However, considering we didn't get to see Penelope end it, it sort of left us without closure. Then with the citizenship thing, while it tried to put us on baited breath, did anyone really think Lydia would get rejected? True, it is the episode before last and with the binge format, it means you really need an exclamation point for a finale, but Lydia failing wouldn't be that. Much less, with a permanent resident card and green card, she can't be deported. So, at worst, she'd just have to take the test again.
Thus leading to her either falling, having a stroke, or whatever it is planned to surely put us in our feelings for the finale.
On The Fence
Putting Herself Before Others
Penelope has made a lot of sacrifices in life in order to put other people's comfort and happiness before hers. However, so it seems, the one thing that has not applied to is how she handles her relationships. Be it Victor or now Max, once she knows things aren't right or perhaps can't be right, she walks away. It is hard, especially with a mother like Lydia making you doubt yourself, but it has to be done and by god, Penelope finds the strength to do it.
---
Follow Wherever I Look on Twitter or Like us on Facebook.
---
Previous Episode's Recap
[visual-link-preview encoded="eyJ0eXBlIjoiaW50ZXJuYWwiLCJwb3N0IjoxNzAyMSwicG9zdF9sYWJlbCI6IlBvc3QgMTcwMjEgLSBPbmUgRGF5IEF0IEEgVGltZTogU2Vhc29uIDIvIEVwaXNvZGUgMTEgXCJIb21lY29taW5nXCIgLSBSZWNhcC8gUmV2aWV3ICh3aXRoIFNwb2lsZXJzKSIsInVybCI6IiIsImltYWdlX2lkIjoxNzAyNCwiaW1hZ2VfdXJsIjoiaHR0cHM6Ly93aGVyZXZlci1pLWxvb2suY29tL3dwLWNvbnRlbnQvdXBsb2Fkcy8yMDE4LzAxL09uZS1EYXktQXQtQS1UaW1lLVNlYXNvbi0yLUVwaXNvZGUtMTEtSG9tZWNvbWluZy1QZW5lbG9wZS5wbmciLCJ0aXRsZSI6Ik9uZSBEYXkgQXQgQSBUaW1lOiBTZWFzb24gMi8gRXBpc29kZSAxMSBcIkhvbWVjb21pbmdcIiAtIFJlY2FwLyBSZXZpZXcgKHdpdGggU3BvaWxlcnMpIiwic3VtbWFyeSI6IkFzIEVsZW5hIGFuZCBBbGV44oCZcyBob21lY29taW5nIGRhbmNlIGNvbWVzIGFyb3VuZCwgTWF4IHJldmVhbHMgc29tZXRoaW5nIHdoaWNoIGNvdWxkIG1lc3MgdXAgaGlzIHJlbGF0aW9uc2hpcCB3aXRoIFBlbmVsb3BlLiIsInRlbXBsYXRlIjoiZGVmYXVsdCJ9″]
---
One Day at a Time | Netflix Official Site
In a reimagining of the TV classic, a newly single Latina mother raises her teen daughter and tween son with the "help" of her old-school mom.