On My Block: Season 2, Episode 6 "Chapter Sixteen" – Recap, Review (with Spoilers)
---
Community Rating: 0.00% (0) - No Community Ratings Submitted (Add Yours Below)
---
This post may contain affiliate links and spoilers. Please read our disclosure policy.
---
Monse's new life in Brentwood is comfortable, but does she want to stay permanently? Ruby and Jamal, as well as new friends, help her make a decision.
---
Network
Netflix
Director(s)
Erica Watson
Writer(s)
Lauren Iungerich
Air Date
3/29/2019
Introduced This Episode
Sahara
Dana Gaier
Jane
Brooke Sorenson
The End of the Truce: Cesar, Dwayne, Monty
It seems what Ruby said did end up riling the Santos, and now the truce is over. Thus leaving Cesar vulnerable and Dwayne worried. So, with the help of Monty, they hide Cesar in Monty's room. Leaving you to wonder why Monty had a sudden change of heart? Unless he is that lonely.
M.I.A.M.I: Ruby, Marisol, Jamal
With Marisol feeling the money is cursed, her arthritis, and not selling many dresses, it has made her ability to clean money nil. Thus far, she has only cleaned $98, and she spent a good portion of it. Leading to there being some fuss and her eventually deciding to quit the project. Making it so Jamal and Ruby are back at square one.
The Answer To All Your Problems: Monse, Jamal, Julia, Ruby, Monty, Cesar, Jasmine, Sahara, Jane
With it being a little over a month since going to Brentwood, apparently just to get to know Julia, not officially moving, Monse has gotten to know her and used to her lifestyle. For whether it is having a Macbook and going to a café with Julia, reading to her younger siblings, getting used to her friends' kids, Sahara and Jane, or just living the high life, things are nice. However, whether or not she'd want to make things permanent is hard to say. After all, her dad doesn't have anyone but her, and there is, of course, the crew. She fought for months to keep them together, and now she is the one who could potentially tear them apart.
So, to help make a decision, and with Julia's permission, she invited the crew from Freeridge, minus Cesar, and Brentwood over. This leads to a few good things, at least for Ruby, since he flirts with June and Sahara, and gets to feel June's breast. As for Jamal, from Sahara, he gets some insight on how to money launder and get away with it.
But then things get bad. Jasmine comes, to help kill the party, and ends up in one of Julia's robes, Jamal takes a whole lot of edibles and ends up really paranoid. As for Ruby? Well, he knows how to handle his stuff so he's good. Yet, rather than tell Monse what she wants them to say, which is "Comeback" they tell her to stay.
Something which she would have done if it wasn't for Sahara slipping and Monse hearing that, to cover up her not speaking to Monse, Julia was saying that Monty was abusive. As you would expect, Monse confronts Julia since that is a serious accusation and she tries to defend herself with weak excuses. All of which don't convince Monse that her mom left for a good reason but more so for selfish reasons. One of which may include, when it comes to leaving Monse specifically, her not being the same skin tone as her friends. Thus leading to Monse going back to Freeridge with Monty – who doesn't hear about what went down.
Highlights
Colorism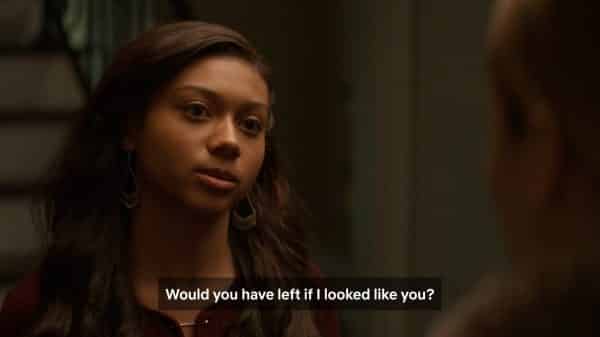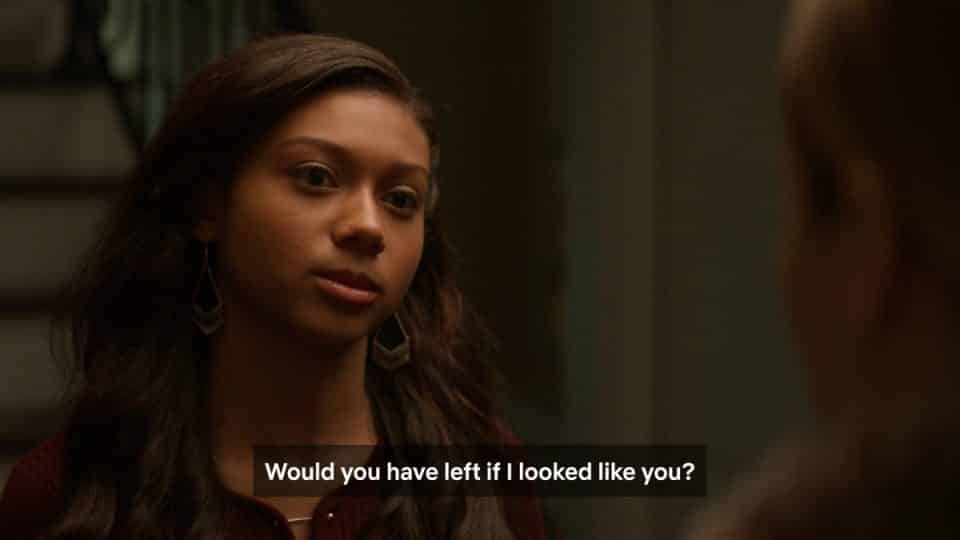 While colorism is addressed in one single line, Monse asking if she was lighter if she would be left, it still is a noteworthy thing since colorism in the Latinx and Caribbean community is a big deal. One which hopefully is addressed beyond Monse's question.
Low Point
Not Getting To See Monse Or Julia's Family Adjust
While Monse isn't ratchet or anything like that, it seems the show missed a good opportunity to show the culture shock of living in someplace nice. For while Jamal's home isn't too shabby, the crew rarely seems to go over there. Also, there is the question of how the twins adjusted and how Julia's husband handled learning Julia had another kid? Plus, considering how Monse's little sister was starting to pick up some slang, how was that handled?
Yet, the show sidesteps all of that.
Damning Julia
Things felt strangely one-sided when it came to Julia leaving. One could push that Monty's ultimatum of him or her family was a factor, her sisters not presenting the best environment, or an opportunity across the country she couldn't miss out on. Yet, nothing is really presented so even if Monse doesn't get it right now, at least the viewer could have something to grasp onto beyond theories. For with the way Julia has thus far acted, it seems she felt horrible about leaving Monse behind. However, the why of it has largely been dodged.
Follow Wherever I Look on Twitter, Like us on Facebook and Subscribe to the YouTube Channel.
---
---
[ninja_tables id="33265″]
Colorism - 80%
Not Getting To See Monse Or Julia's Family Adjust - 65%
Damning Julia - 64%