On My Block: Season 2, Episode 2 "Chapter Twelve" – Recap, Review (with Spoilers)
Ruby and Oscar, of all people, have a heart to heart, as Jamal tries to get his money back – from a cop.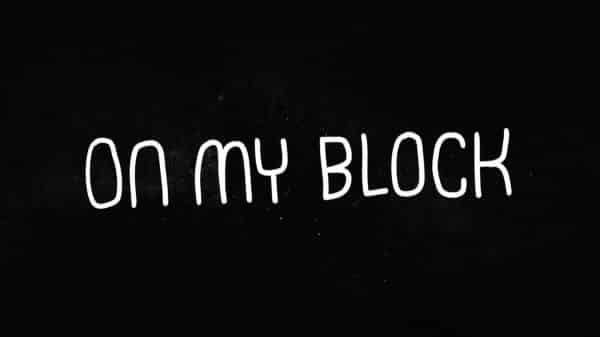 Ruby and Oscar, of all people, have a heart to heart, as Jamal tries to get his money back – from a cop.
---
Network
Netflix
Director(s)
Lauren Iungerich
Writer(s)
Eddie Gonzalez, Jeremy Haft
Air Date
3/29/19
Introduced This Episode
Office Hamill
Brent Werzner
Spending The Day With Oscar & Evening With Geny: Oscar, Geny, Ruby, Amber
Thanks to Olivia dying, Ruby's faith is rocked a bit. I'm talking him willing to go toe to toe with Geny, who is no pushover, so he doesn't have to go to church – which she allows. However, it is expected for him to stay home. The problem with that is, Amber is also home, and she is annoying as hell. So, Ruby was supposed to help Jamal with getting the bag, but then he ran across Oscar. Someone he decides to go off on, publicly, and he pays for that by running errands with Oscar.
During that time, Oscar reminds Ruby of how bad things were and Ruby questions whether the Santos really are making things better or not. Also, he reveals, in a similar manner to Amber, he too is quite ignorant. For whether it is complaining about his mom, the idea of working at Walmart, and so much more, Oscar snaps on him for forgetting his privilege. Leading to Ruby remembering not just how good he has it but how hard Oscar does. Even if he has some peculiar taste in food.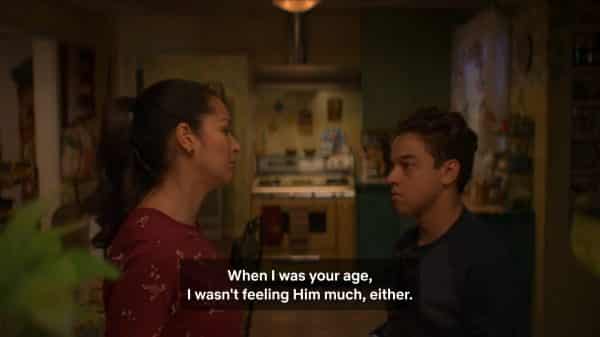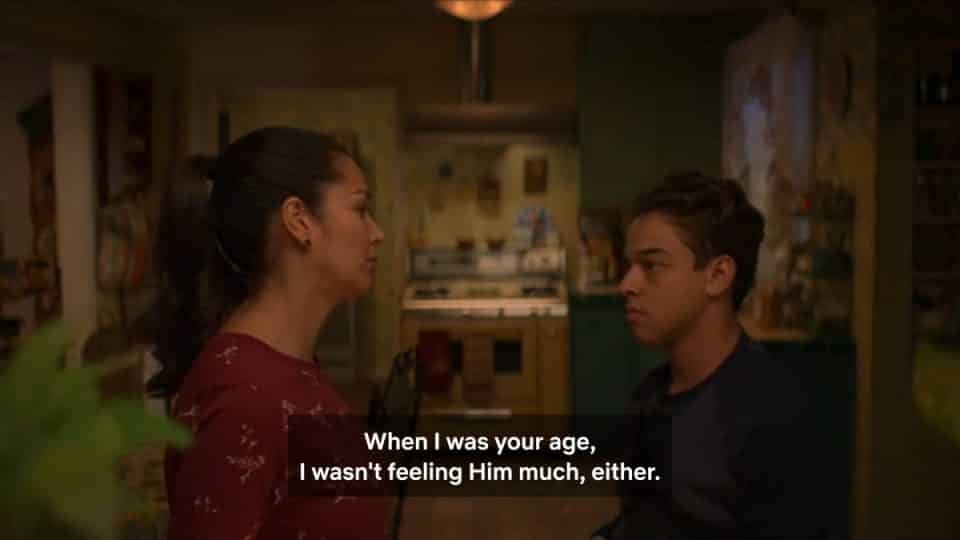 Yet, the best conversation comes from Geny who admits her faith wavered when she was Ruby's age. However, having kids, having a kid survive being shot at, it made her faith renew and not she makes sure to show up to church.
The Money and Explorer Program: Officer Hamill, Jasmine, Cesar, Monse, Jamal
While the money is found and retrieved, there is a bit of an issue with Jamal saying the money is his. That is alongside Monse and Cesar wanting to see it after Jamal spending months talking about the money in every other conversation. They fight over the bag publicly, and with Freeridge being Freeridge, when a cop sees some Black and Brown kids fighting over a gym bag with some weight to it, he brings them in.
Mind you, he doesn't book them and takes forever and a day to open the bag. However, luckily Jasmine is a third generation explorer program member, meaning she is training to be a cop, and gives her friends the skinny on Officer Hamill. Thus allowing them to manipulate his issues with his ex-wife and new girlfriend so that he doesn't discover the money and they can leave.
Communication Is Key: Monse, Cesar, Jamal, Dwayne, Coach, Jamal's Mom
Thanks to Officer Hamill who, by the way, was the one who advised Cesar in Season 1, Cesar and Monse come to an agreement. One in which he'll sleep in Monty's car, to circumvent Monse's promise, and seemingly she may give him some company in there. Possibly leading to Monty discovering them later on – it's a possibility.
As for Jamal? Well, while the day dealt with getting his money back, the night deals with how he got the money – digging up the football field. Leading to his parents, and the coach, at dinner, questioning why he did what he did.
Question(s) Left Unanswered
Taking note of how Oscar respected Mario, I wonder how he feels about the Amber situation?
Where was Mario?
Highlights
More Jasmine and Geny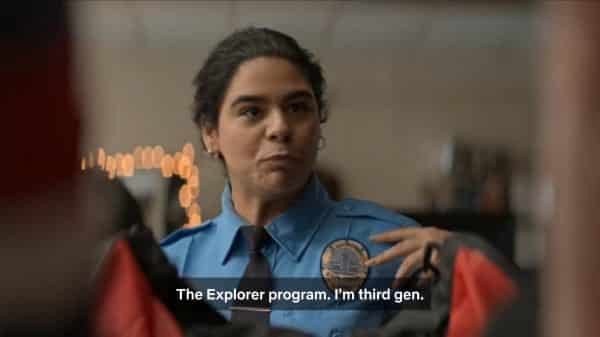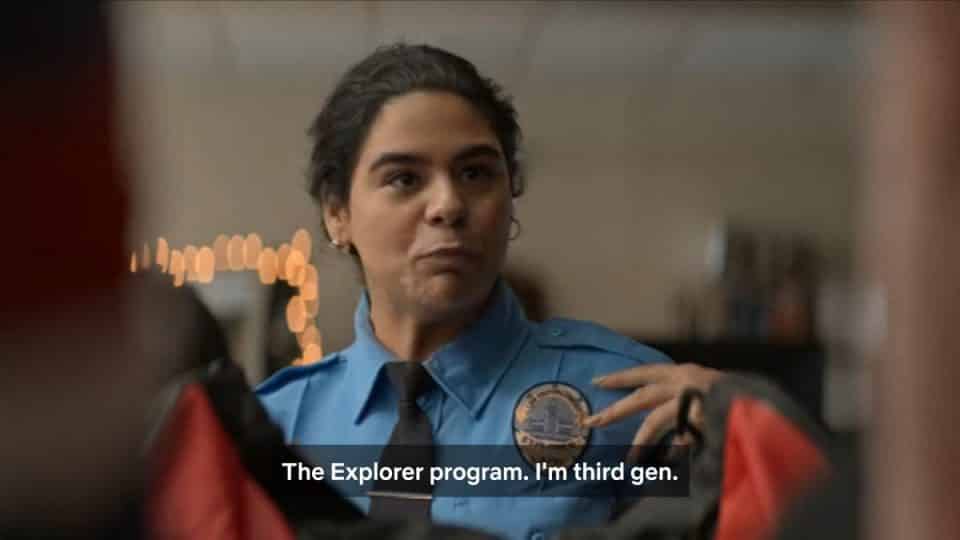 Though a small, almost forgettable role in season 1, I must admit I'm loving Geny and her place in season 2. Granted, I feel like she is taken the screen time Abuelita got, but while recognizing Geny and her husband had to work, it was unfortunate we never saw them interact with their kids. Well, Ruby anyway since I don't think the twins are ever on screen for more than a minute or two.
Then, with Jasmine, though still very much a comic relief, at least they are building on her character. Not by much, but with her having a life and history outside the crew, it is a positive step forward.
Monse and Cesar Growing Stronger
Both Monse and Cesar have Type A personalities, and that leads to a lot of do as I say and don't question me. Yet, I think taking note of Officer Hamill's drama has them learning how to be a better couple. Which is important since, lest we forget, Jamal and Ruby's family are their main examples, but we don't see them go over Jamal's house for parties or dinner. Then, when it comes to Ruby's family, depending on how things are, what we're seeing this season may just be the weekends, and most of the time they aren't around to set an example.
Thus leaving both nothing but media to really observe and scrutinize. Which, thinking about it, thus far, how often do you see either watch TV or talk about a movie? So Officer Hamill is probably a serious wakeup call.
Ruby Understanding How The Other Side Lives
When it comes to the Crew, especially Ruby, there is a bit of a bubble. For while Cesar is connected, or was connected, Oscar didn't really integrate him much until a few months ago. Even then, he was in Santos for maybe 6 months? If that? So Ruby not knowing the truth wasn't surprising but was necessary.
One of the key reasons why is because gang culture, the reason for it, wasn't really noted in season 1. We mostly saw Oscar hang on a stoop and beyond the Latrelle drama, we didn't see why The Santos exist or what they do. But, another thing worth noting is that Ruby is not only privileged but a snob.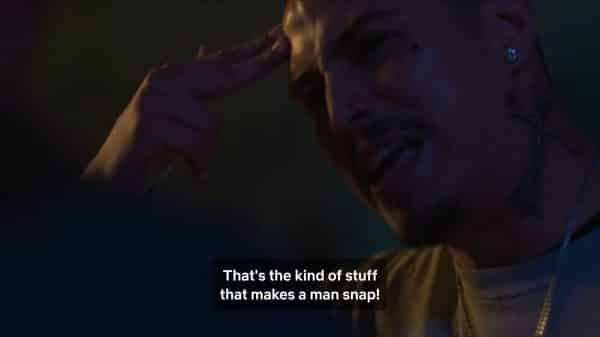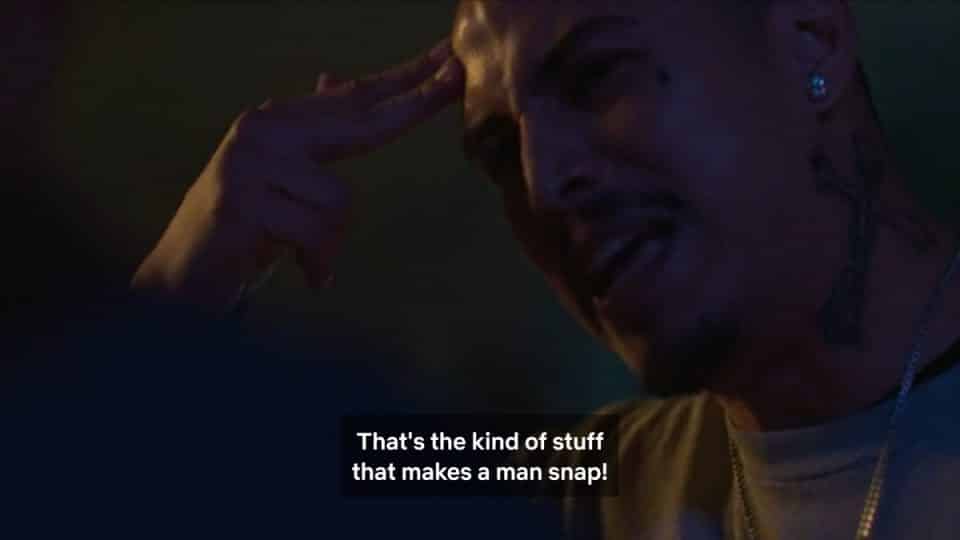 Remember season 1 when he thought Oscar couldn't handle his idea? When putting down the idea of working at Walmart, we saw that again, and I think Oscar reminding him that is the best some can do shook him up a bit. Leading you to wonder, what does Geny and Ruby's dad do for a living?
On The Fence
Amber
I try to spin thing when doing recaps or summaries, but it is so hard to see the point of this character besides frustration. Maybe she is supposed to present a different perspective on life and things, but if that is the goal, a terrible job is being done. For one, Mario is nowhere to be found, and we're not told if he is looking for a job or what. Two, considering how Mario was love struck over a local girl, how Amber come into the picture? Did she trap him or something? Is she supposed to show how ghetto or ratchet white girls can be? Even if they seem like they are from the suburbs? Maybe it is too early to be criticizing her, but this is a difficult character to get into.
Jamal's Storyline
Jamal separated from Abuelita is seeming like a bad move. The way the actors played off each other made Jamal someone to love and pay attention to. Plus, it made it so he didn't have to be like some weird, over the top, form of Blankman in his interactions with people. He was still a rather privileged Black kid, but his eccentricities weren't a 9.
Follow Wherever I Look on Twitter, Like us on Facebook and Subscribe to the YouTube Channel.
---
---
[ninja_tables id="33265″]
More Jasmine and Geny - 86%
Monse and Cesar Growing Stronger - 85%
Ruby Understanding How The Other Side Lives - 87%
Amber - 70%
Jamal's Storyline - 75%
---
Follow, Like, and Subscribe
Community Rating: 0.00% (0) - No Community Ratings Submitted (Add Yours Below)