On My Block: Season 1/ Episode 6 "Chapter 6" – Recap/ Review (with Spoilers)
---
Community Rating: 0.00% (0) - No Community Ratings Submitted (Add Yours Below)
---
This post may contain affiliate links and spoilers. Please read our disclosure policy.
---
With the secret dropped, now comes the question of how to move forward. Though for Jamal, it becomes time to reveal his secret as well.
---
Network
Netflix
Director(s)
Ryan Shiraki
Writer(s)
Adam Starks, Francesca Gailes
Air Date
3/16/2018
Characters Introduced
Jamal's Mom
Raushanah Simmons
Coach
Rob Murat
Monty (Monse's Dad)
Reggie Austin
I Can't Live A Lie… Unless You Help Me: Ruby, Jamal, Olivia
Jamal accidentally reveals he is doing better now and with that, his mom is under the impression he is going to play in the next football game. One which, by the way, will decide if the school gets into the playoff. So, since Ruby has a silver tongue, Jamal goes to him only to get rejected for keeping a secret. Luckily for him, since everyone is fighting, the only one Olivia has to sit with at lunch is Jamal and she confides in him about Monse and Cesar possibly hooking up.
Which is a secret worth trading. Though, in the process of trading that secret from a favor, they learn something about each other. That is, that Monse lied to both of them about each one being her first kiss. Ruby in the 7th grade and Jamal in the 6th. Making this whole family idea a bit more complicated and weird.
Commentary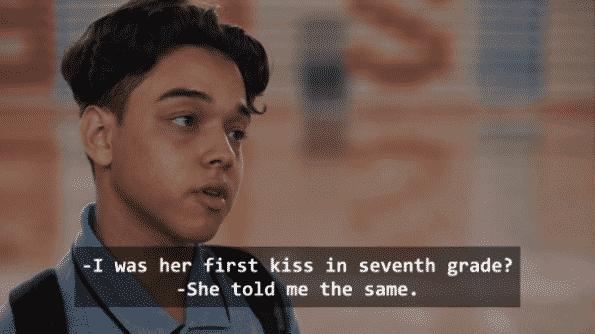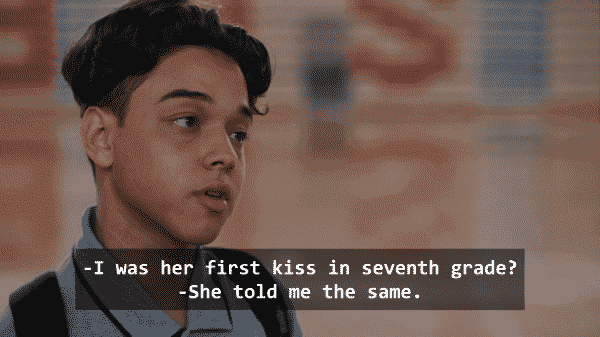 HOLD UP – FULL STOP! Monse kissed both Ruby and Jamal? Um, I need some background here. Was it because, at one time, she had feelings for one or the other, so they can be each other's first kiss or was she pestered into it? This is kind of an essential question for her excuse with not being with Cesar, besides the whole "Not Safe" thing is breaking up the family by being together. Yet, arguably, considering how sensitive Ruby is and Jamal the odd type of Black guy who doesn't get a lot of girls' attention, in a positive way, you'd think this would be major.
Plus, all things considered, while Cesar may have made serious moves, and openly talks about liking Monse, so comes the question if the other boys do too? Maybe not enough to pursue her but, if she made a move, would they say no?
Nobody Wins When The Family Feuds: Ruby, Jamal, Olivia, Cesar, Monse
At Jamal's first and only football game, that Ruby convinces the coach, through sheer annoyance, to let him bench for, things are hashed out. All thanks to Olivia, by the way, who, despite being the catalyst to the riff, strangely no one blames her for what happened. Heck, even when she tries to take responsibility, Monse isn't mad at her at all. Even when she says she kissed Cesar there is no anger directed at her. Which I want to write off as the people involved not wanting girls to fight each other for it doesn't make any sense beyond that idealism.
But, that thought aside, Monse comes clean about her liking Cesar but makes it sound like she rejected him. Then, to make matters worse, despite just in one episode her being ready to become official, now she pushes Cesar to ask out Olivia. An idea she isn't happy with but anything to keep the family together right?
Leading her to spend the night crying, in her dad's arms, and you beginning to understand how desperate she is to keep her friends together. Perhaps due to her mother leaving.
Commentary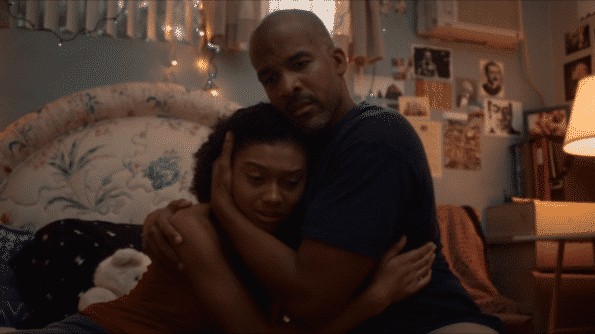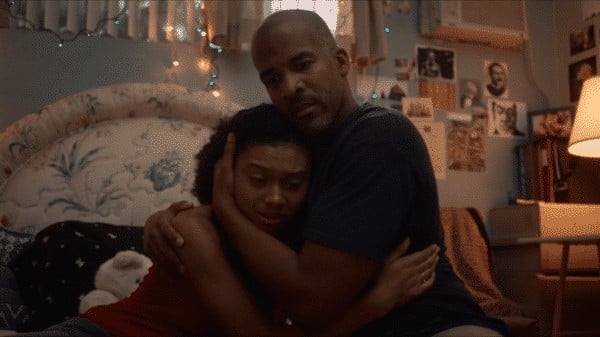 Let's go further on that last bit. In my mind, Monse wants consistency in her life. Your mom leaving when you are two and dad always out on the road makes it so consistency doesn't exist. Then, on top of that, the person semi-raising you is being paid to do it. That's not family. Jamal, Ruby, and Cesar, since the 4th grade, being a squad, that's family. So losing potentially two members to strengthen the bond with one, and that bond ending possibly in a breakup, it just doesn't seem worth it. For what would Monse have to fall back on?
Oh, Olivia, you say? Well, all Olivia would end up being is a reminder of what used to be. Much less, in my mind, Olivia got away with her part in the situation so easily that eventually Monse would blame her for it all falling apart. Even if the show wants to push the idea that Monse, of all people, would not even think of putting any aggression towards Olivia, even when she openly admitted to initiating the kiss. All the while knowing, even asking about, Monse and Cesar having something going on.
Ending Things On Top: Jamal, Oscar
Despite quitting as soon as he got on and faking injuries ever since, Jamal scores a touchdown. In fact, it is the game-winning one and it gets him a lot of respect – even from Oscar. To the point, Oscar gives Jamal Lil' Ricky's address. Thus bringing him one step closer to that fortune. Well, more so him knowing it is real since, if Lil' Ricky scares Oscar, the chance of Lil' Ricky sharing a dime is laughable.
But, this isn't the only win for Jamal. His parents, upon hearing he has been lying and he has now fully quit football, they are fine with it. So fine it weirds Jamal out a little bit. Though it also makes him happy.
Commentary
I have a love/hate relationship with Jamal. You have to love how weird and eccentric he is, yet his style of weird and eccentric is like every Black best friend on a tween TV show. So while you gotta love how he isn't pretending to be tough, not desperate for love like Ruby, and is completely his own person, him coming off as your generic Black sidekick makes his character complicated more than complex.
Other Noteworthy Facts & Moments
Jamal is 14 so, give or take a year, that is the average age of the characters.
Ruby and Olivia reconcile, if just because he is playing long He talks about being fine with her having her Cesar salad but he is there to be more than a snack. Ruby plans to be her husband and this confidence seems to be alluring to Olivia. I'm talking, while Ruby is talking smack and says their wedding colors can be anything but beige, she talks about them being lavender and this giving Ruby some hope.
Question(s) Left Unanswered
Has what happened to Ruby's dad been mentioned? Also, how come Mario doesn't call or check in?
On top of that, how come Olivia's family has yet to call her?
Monse's dad says he thought her mom went to New York. Taking note there is the possibility she didn't just up and left, could it be possible dad knows more than he has let on?
Highlights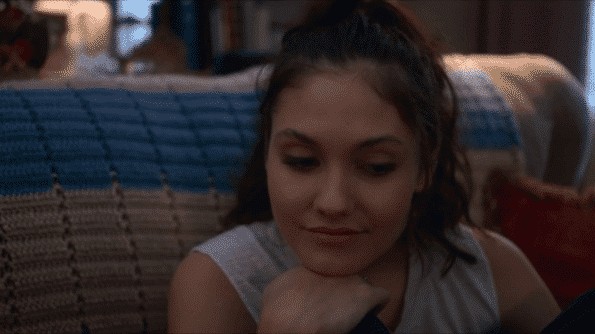 Ruby gaining confidence and seemingly wooing Olivia a bit.
Jamal proving he might have the talent for football, but rather pursue something he is passionate about than what, with some work, could come easy.

Also, his parents being supportive irregardless.

Monse and her dad having a cute moment.
On The Fence
The whole love triangle drama got resolved, though in a very convenient manner. Not even in a, "Look how mature they are" sort of way, but to sidestep a well-tread plot to instead go back to the road the show formerly was on.
Monse going right back to denying her own feelings for the sake of the squad. Which, makes sense, all things considered, but also makes it so the drama with Olivia kissing Cesar seemed overblown for binge hype. Which, you kind of have to appreciate, since a lot of Netflix shows don't necessarily push you to hit the next episode quick, but now I feel kind of cheated.
---
Follow Wherever I Look on Twitter or Like us on Facebook.
---
Previous Episode's Recap
[visual-link-preview encoded="eyJ0eXBlIjoiaW50ZXJuYWwiLCJwb3N0IjoxOTMyNywicG9zdF9sYWJlbCI6IlBvc3QgMTkzMjcgLSBPbiBNeSBCbG9jazogU2Vhc29uIDEvIEVwaXNvZGUgNSBcIkNoYXB0ZXIgNVwiIC0gUmVjYXAvIFJldmlldyAod2l0aCBTcG9pbGVycykiLCJ1cmwiOiIiLCJpbWFnZV9pZCI6MTkzMzIsImltYWdlX3VybCI6Imh0dHBzOi8vd2hlcmV2ZXItaS1sb29rLmNvbS93cC1jb250ZW50L3VwbG9hZHMvMjAxOC8wMy9UaXRsZS1DYXJkLUVwaXNvZGUtNS5wbmciLCJ0aXRsZSI6Ik9uIE15IEJsb2NrOiBTZWFzb24gMS8gRXBpc29kZSA1IFwiQ2hhcHRlciA1XCIgLSBSZWNhcC8gUmV2aWV3ICh3aXRoIFNwb2lsZXJzKSIsInN1bW1hcnkiOiJKdXN0IGFzIE1vbnNlIGlzIGZpbmFsbHkgY29taW5nIGFyb3VuZCB0byB3YW50aW5nIHRvIGJlIG9mZmljaWFsLCB0aGlzIE9saXZpYSBraXNzIGNvdWxkIHJ1aW4gZXZlcnl0aGluZy4gV2lsbCBzaGUgZmluZCBvdXQgYW5kIGlmIHNvLCBieSB3aG8/IiwidGVtcGxhdGUiOiJkZWZhdWx0In0="]