Just as Monse is finally coming around to wanting to be official, this Olivia kiss could ruin everything. Will she find out and if so, by who?
---
Community Rating: 56.01% (1)
---
---
Network
Netflix
Director(s)
Ryan Shiraki
Writer(s)
Jamie Uyeshiro
Air Date
3/16/2018
Secrets Are Deadly: Jamal, Cesar, Ruby
The guilt of what happened is haunting Cesar's life and dreams. Everyone can see what's wrong but, of all people, Cesar decides to confide in Jamal. Who, with him not being fond of keeping secrets, gives Cesar 9 hours to tell Monse and/or Ruby. Which he fully planned to do until he was tasked with tagging over what the Prophets tagged over. Though things weren't helped by Ruby wanting to hang out without Cesar and talk about some app. An app which has the acronym of Olivia, who he is supposedly over.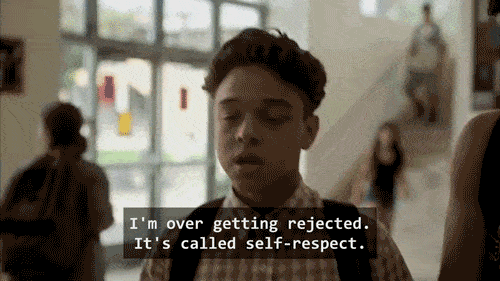 But, truth is though, with no one of the crew, but Cesar in 6th grade, ever dating, Ruby just wants the experience of someone liking him and it being mutual.
Commentary
You got to feel for Ruby. It isn't clear when he first started liking girls, maybe even pursuing them, but you can imagine Cesar being a constant issue. He is taller, suave, and while Ruby is a gentleman, all of his non-basic traits Cesar has. Making you wonder, did Ruby like Cesar's 6th-grade girlfriend? Could this be part of a pattern, minus liking Monse?
My Girlfriends: Jasmine, Olivia, Monse
Jasmine is more than just a joke now! Well, kind of. She at least gets to have a conversation with the girls, in the form of admitting she has feelings for Ruby. However, between her being all up in Olivia's underwear and… well, being Jasmine, she gets put on timeout in the hallway. During this period, Monse opens about her mother, who she learned is an author through Google searching, and brings up her boy problems. Something that, with her not having girlfriends before, she had no one to turn to, but Olivia says with them being girlfriends, she can fit that role.
Problem is, she doesn't know, yet, what Olivia and Cesar did just the other day.
Commentary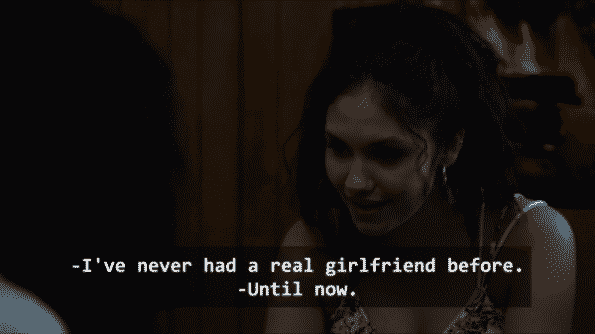 I'm betting on tears when Monse and her mom meet. Especially since, with what Olivia did, Jamal knew, and Cesar was hiding, she is probably not going to associate with the crew for an episode. So her focus will probably be checking with Rosé about how she knows her mom and trying to set something up. Now, whether she may invite Ruby for support, who knows. But with this being strike two for Cesar, she definitely is going to be looking to have some sort of win in life.
Switching to Jasmine, I really do hope Ruby gives her a chance now. Even if just a date where they realize they aren't compatible, but she can be part of the crew for real. I don't know why, but crazy Jasmine just seems like that type with a heart of gold who is only extra because she thinks that is the only time people will hang out or enjoy her. Even though her zaniness is perhaps why a lot of people don't.
Lockdown: Oscar, Cesar, Olivia, Ruby, Jasmine, Jamal
The clock is ticking and Jamal is cracking as Jasmine pees in the sink. Why? Well, Oscar showed up, says someone got shot, police lockdown the block, and he takes the bathroom for a phone call. Hey, what you going to do?
But, what makes matters worse is Olivia decides to try to push people out of their comfort zones with a game: Make love, marry, kill. Leading to damn near everyone killing Jasmine, Oscar proving he is still a creep by saying he would sex every single, underaged, girl there, and Olivia giving Ruby some hope by saying she would marry him. Oh, and Monse says she'd marry Jamal but since Jamal isn't on that "I Need a Girl" wave right now, it isn't made into that big of a deal.
However, with Olivia making it slip she kissed Cesar, there comes a problem. One that he, after doing his tag thing, being chased by Prophets, getting caught by police, and them dropping him off, makes an already stressful day into a living hell.
Commentary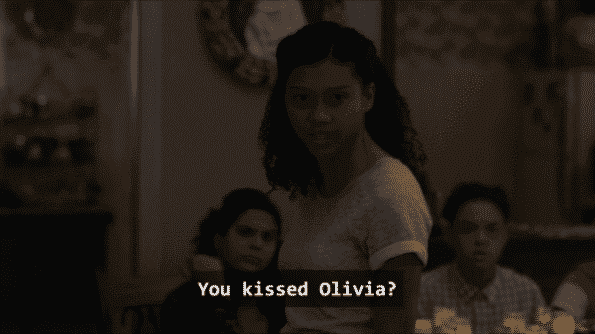 A part of me kind of wants to note it was interesting Olivia picked Monse to be within the game, but since I don't foresee Olivia making that comment a thing, and Monse saying she isn't about that life, let's drop it. Especially since Monse knows what Olivia and Cesar did and that is going to lead to some trouble. Though, let's not forget someone of the Santos got shot and that could mean Cesar may have to do some gang banging. Thus sending him further down the rabbit hole and maybe, like Kevin and Papa on The Chi
, having a moment when he realizes his crew isn't going to be down for him when things get real. Not because they don't love him but they didn't sign up to be about that life.
Collected Quote(s) & .Gifs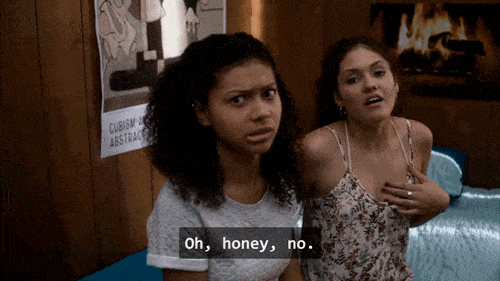 Highlights
Learning a little bit about Monse's mom, as well as the crew, outside Cesar, having never dated before.
Jasmine getting to be more than a running joke, or in the process of no longer being a running joke.
That moment Monse thought she had her first girlfriend but really she had just experienced her first backstabbing.
Low Points
This love triangle and how much drama it is going to cause.
Oscar reminding us he is a pedophile.
On The Fence
The cops VagiFi joke which is hard to say if you can laugh at or not.
Conversations happening in Ruby's house and neither Jamal and Ruby nor Jasmine, Olivia, and Monse seemingly being able to hear one another. Even when Ruby is yelling.
---
Follow Wherever I Look on Twitter or Like us on Facebook.
---
Previous Episode's Recap
[visual-link-preview encoded="eyJ0eXBlIjoiaW50ZXJuYWwiLCJwb3N0IjoxOTMxNCwicG9zdF9sYWJlbCI6IlBvc3QgMTkzMTQgLSBPbiBNeSBCbG9jazogU2Vhc29uIDEvIEVwaXNvZGUgNCBcIkNoYXB0ZXIgNFwiIC0gUmVjYXAvIFJldmlldyAod2l0aCBTcG9pbGVycykiLCJ1cmwiOiIiLCJpbWFnZV9pZCI6MTkzMjEsImltYWdlX3VybCI6Imh0dHBzOi8vd2hlcmV2ZXItaS1sb29rLmNvbS93cC1jb250ZW50L3VwbG9hZHMvMjAxOC8wMy9Nb25zZS0xLnBuZyIsInRpdGxlIjoiT24gTXkgQmxvY2s6IFNlYXNvbiAxLyBFcGlzb2RlIDQgXCJDaGFwdGVyIDRcIiAtIFJlY2FwLyBSZXZpZXcgKHdpdGggU3BvaWxlcnMpIiwic3VtbWFyeSI6IkphbWFs4oCZcyByZWxhdGlvbnNoaXAgd2l0aCBBYnVlbGl0YSBnZXRzIGhpbSBvbmUgc3RlcCBmdXJ0aGVyIHRvIFJvbGxlcndvb2QgZm9ydHVuZSBhbmQgd2l0aCB0YWdnaW5nIGFsb25nIHdpdGggSmFtYWwsIE1vbnNlIHNlZXMgYSBnaG9zdC4iLCJ0ZW1wbGF0ZSI6ImRlZmF1bHQifQ=="]
---