Mushoku Tensei: Jobless Reincarnation: Season 2/ Episode 5 "Ranoa University of Magic" – Recap and Review (with Spoilers)
Rudy arrives at the Ranoa University of Magic where familiar faces from season 1, like Sylphie's, greet him, and he gets into a situation that could trigger ill feelings from his past.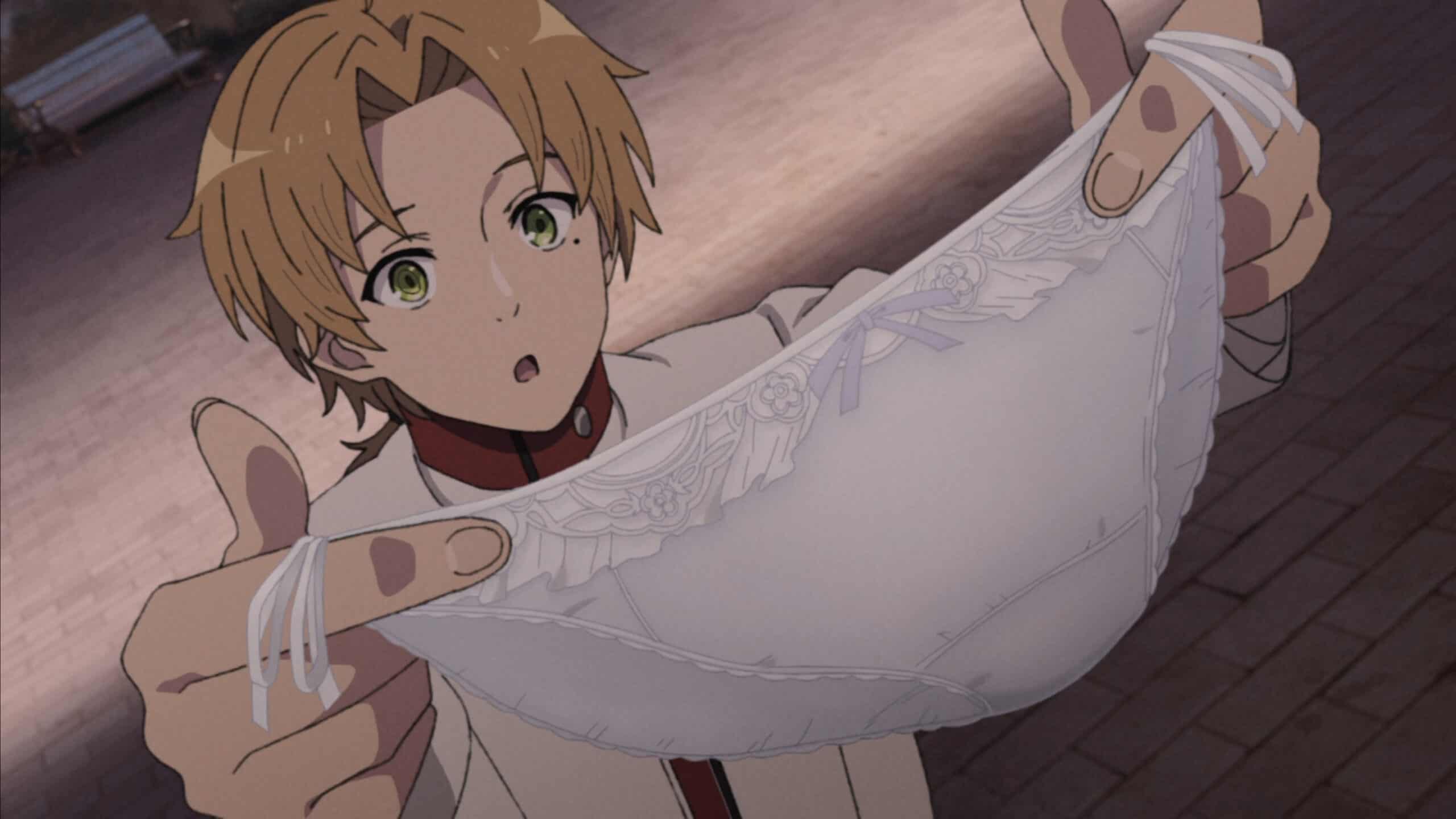 General Information
This section Includes information about the Director, Writer, and Cast.
Release Date (Crunchyroll)
August 6, 2023
Director(s)
Komari Kamikita
Writer(s)
Kōhei Urushibara
Newly Noted Characters and Cast
Linia
Fairouz Ai
Pursena
Minami Tanaka
Goliade
To Be Determined
Jenius
To Be Determined
Previously Noted Characters and Cast
Elinalise
Rie Tanaka
Rudy
Yumi Uchiyama
Luke
Okitsu Kazuyuki
Cliff
Ryōta Ōsaka
Ariel
Reina Ueda
Zanoba
Satoshi Tsuruoka
Sylphie
Ai Kayano
Plot Recap
This content contains pertinent spoilers. Also, images and text in this post may contain affiliate links. If a purchase is made from those sites, we may earn money or products from the company.
It's A Curse That Became A Fun Habit – Elinalise, Rudy, Jenius
We finally learn why Elinalise has sex with so many men, and the answer is: She is cursed. If she doesn't sleep with a man, for who knows how long, she could die. But while a curse, it seems she has grown to like what was supposed to be a punishment. In fact, it seems her reason behind joining Rudy to and at Ranoa University wasn't just to make sure he got there safely but to enroll since she has gained an attraction to young men his age.
Now, whether she slept with Jenius to secure her spot? Who knows. The only clear thing is, as promised, Rudy is allowed to attend tuition-free, and it seems the only class he has to go to is a homeroom class once a month, which has a lot of familiar faces.
Hello To Familiar Faces – Rudy, Luke, Linia, Pursena, Cliff, Ariel, Zanoba, Sylphie
As for who? Well, first off, Zanoba, the weirdo we met late in season 1, episode 20 to be exact, who was the brother of Pax, who kept Roxy damn near hostage. He greets Rudy with glee and keeps calling him master, as he did in the last season. Joining him are Linia and Pursena, both related to Gyes, who we met in season 1, episode 14, and lastly, there is Cliff, who we met in the Eris-focused episode "Eris the Goblin Slayer."
As expected, Rudy doesn't win over Cliff since Cliff is jealous or envious of Rudy. But, with the mention of Eris, Rudy's ears do pique up a bit but quickly drop as he realizes Eris could never get into Ranoa, nor would she accept. As for the others? While Zanoba, as noted, knows Rudy, Linia, and Pursena know nothing of Rudy's time in their home village or fighting with their war chief when the village was attacked.
Which leaves Ariel, Luke, and Sylphie. Ariel and Rudy don't come face to face, though he does get his hands on her underwear, as noted below. Luke? Well, with being Rudy's cousin, he makes himself known but seems to be a bit insulted by Rudy not knowing who he is. Luckily, Zanoba seems able and willing to be Rudy's guide on who is who since Zanoba appears to be a massive gossip. However, no one seems to know Fitz is Sylphie, never mind, not a dude.
Even Rudy slips back into his old ways and mistakes her for a guy. Yet, Sylphie appears to recognize Rudy, which makes having to be used to see if he truly is worth allowing into the university a challenge. But with Rudy feeling like he embarrassed her, he does what he believes often has helped by making himself small and letting the other person feel big in his presence.
Bringing Back Familiar Feelings – Rudy, Sylphie, Goliade
With only having to attend homeroom, Rudy only looks for why the Fittoa mass teleportation event happened, as Man-God instructed him to, so he can get an erection again. As he does this, he runs into Sylphie and allows Sylphie to know his parents are okay while making it clear there is one person, her, still missing and missed. This sweet notion leads to some blushing and joy, and Sylphie points Rudy in the right direction to study teleportation.
Later on, a pair of panties float from the sky, and for a moment, you may think Sylphie, perhaps taking note Rudy was a perv in the past, may have thrown them at him. However, it ends up being their mistake. It is Ariel's panties, and with a section of the school off limits to boys during a certain time and Rudy holding panties in his hand, he is in trouble. He gets berated by an ape-looking woman named Goliade, and the whole commotion looks like a scene from his old life.
Luckily, Sylphie is able to calm things down, but only when she threatens Goliade and everyone there. This act further leads to Rudy being enamored and thankful for Sylphie, to the point that he blushes when they speak alone, and Sylphie gets a little flirty.
New Character Description(s)
Linia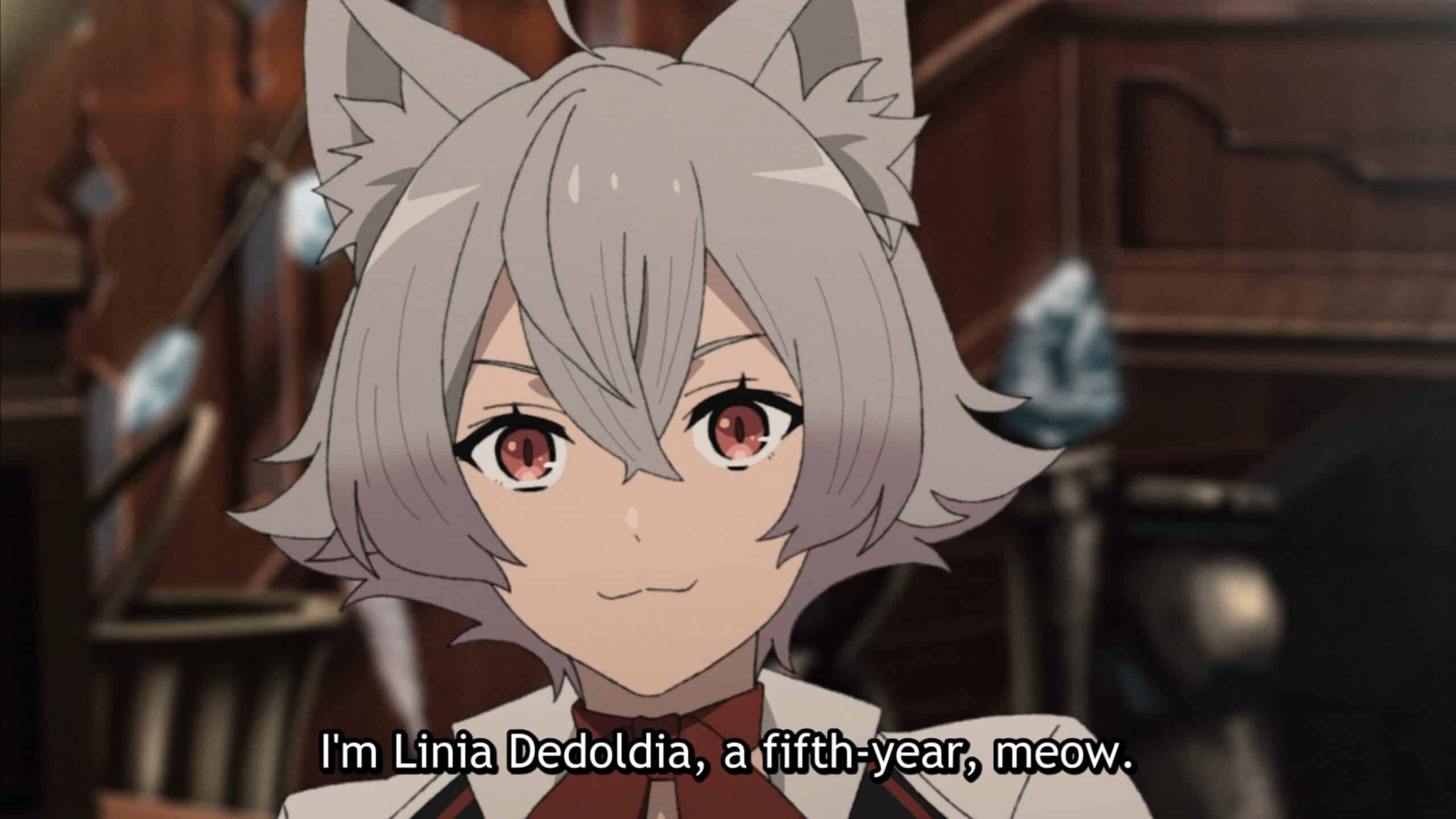 Linia Deldoldia is a fifth-year student at Ranoa who is also the daughter of Gyes, the Doldia Village in the Great Forest war chief.
Pursena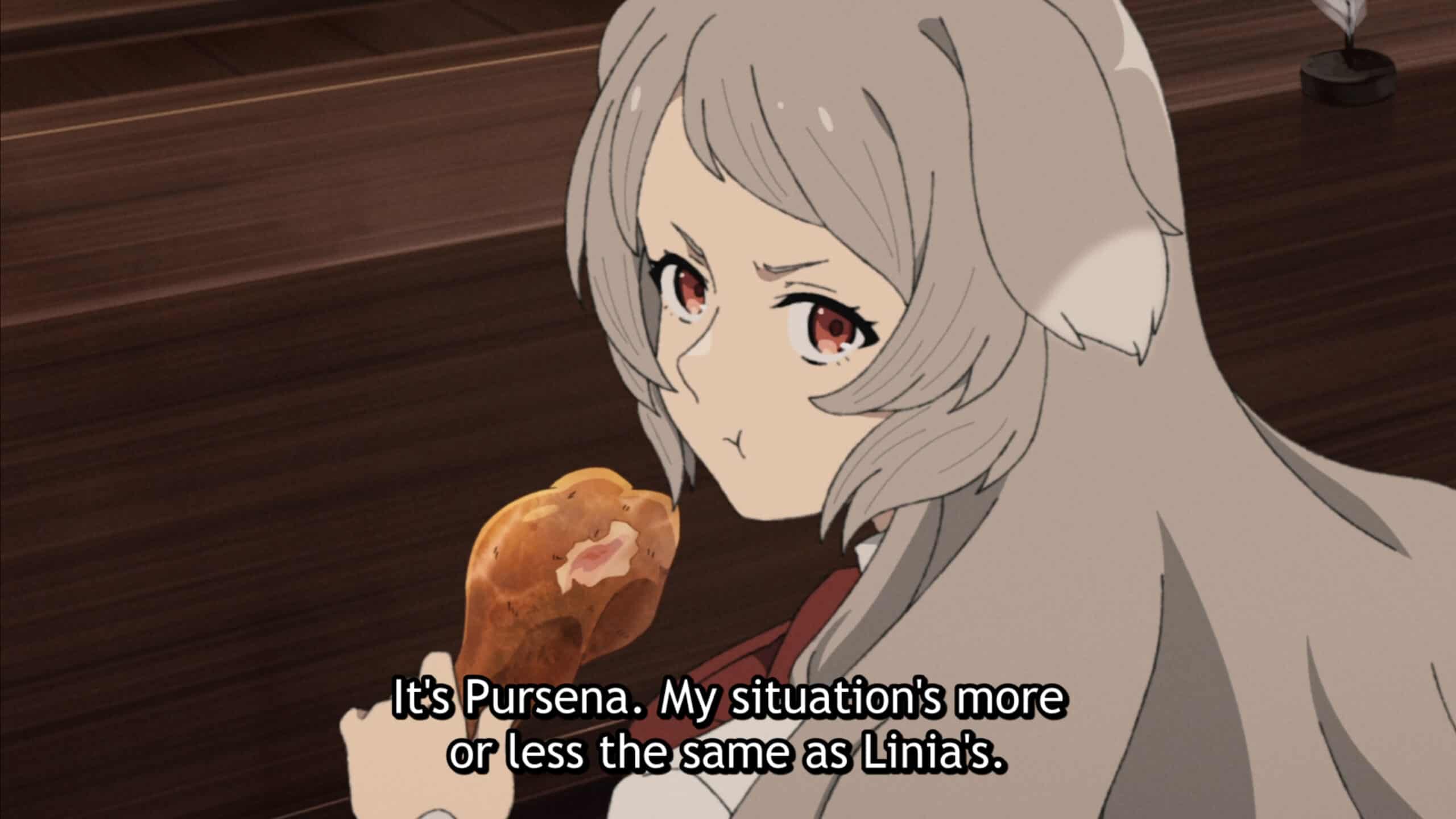 Pursena is also from the Doldia Village area and claims to have a similar background to Linia.
Goliade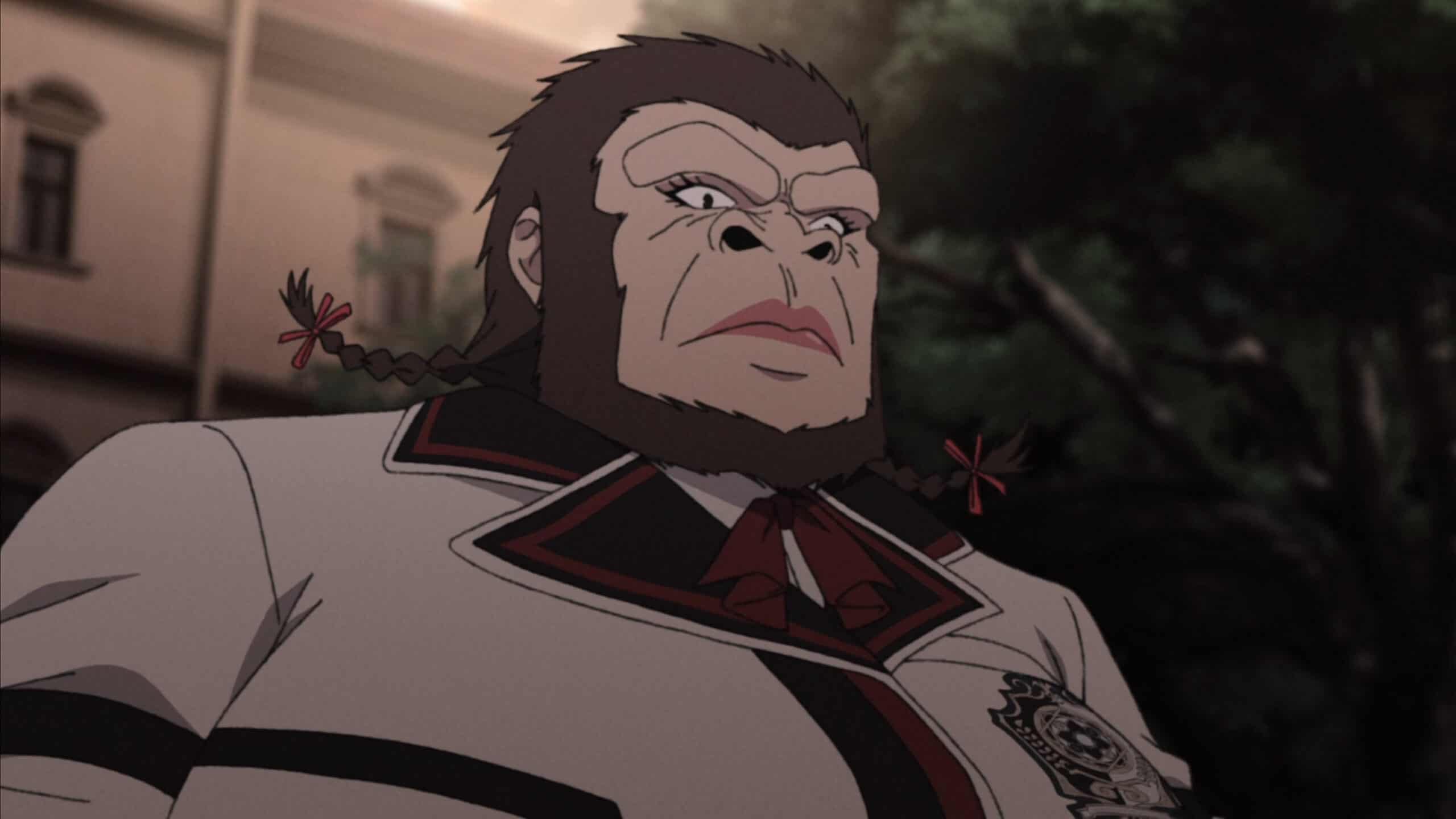 Goliade is an ape-like woman who rules the women's dorm area with an iron fist.
Jenius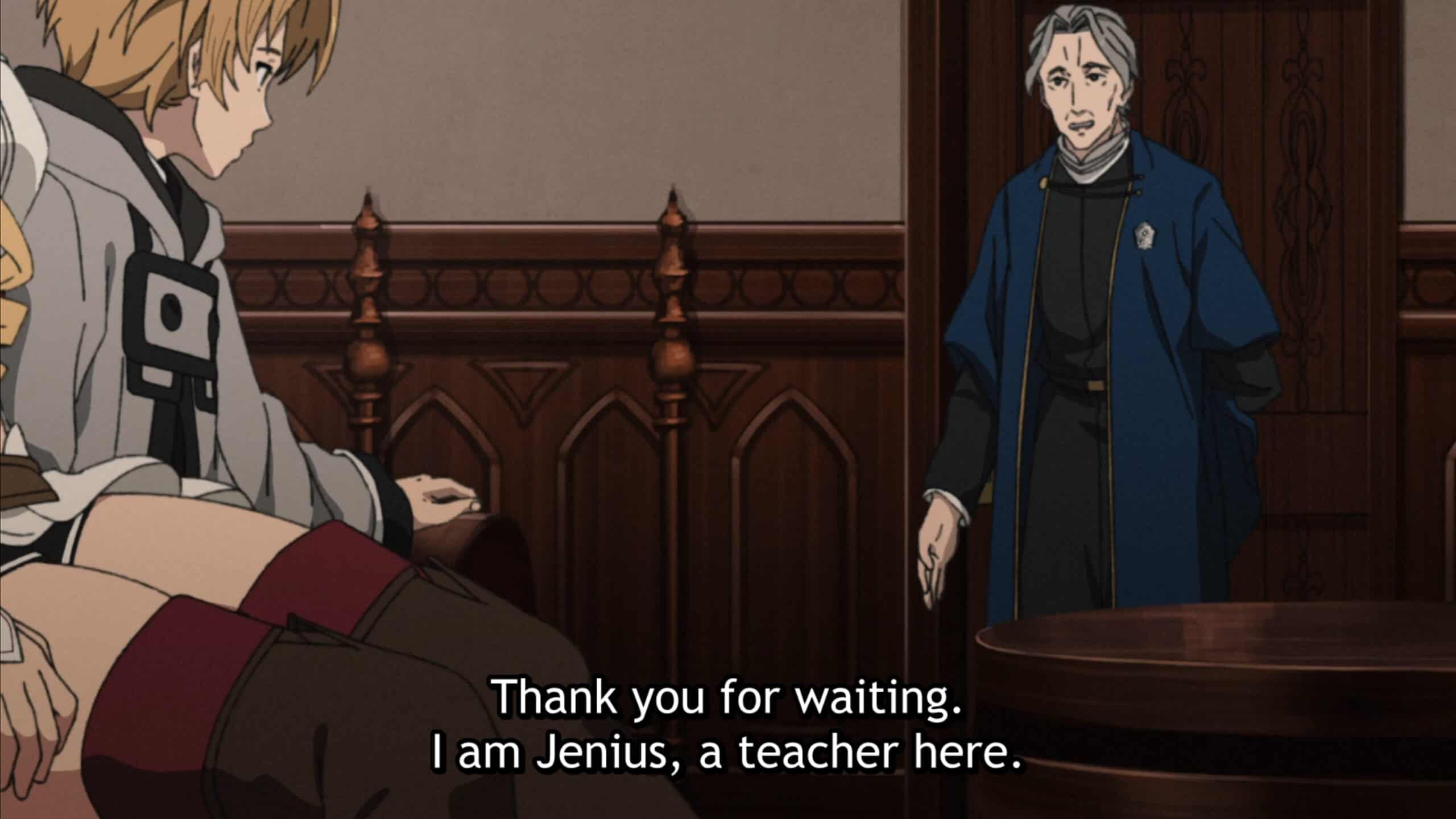 Jenius is the vice principal of Ranoa University and one of its teachers, who invited Rudy to join the school after learning that he can cast spells without incantations and hearing about his adventures. Never mind his association with star alumni, Roxy.
Review
---
Community Rating:
---
Highlights
A Flash Of The Past In The Present
As noted in a previous recap/review, what going to school again allows for Rudy is a chance to heal. He was bullied into seclusion at his past school, and as shown by Goliade, there is the potential to bring him back to that head space. But, like how things evolved with his father and other aspects of his life, it should be interesting to see how a more evolved Rudy handles situations which would formerly debilitate him.
Playing Long Game With Sylphie and Rudy
Is it going to be funny and awkward when it is noted Rudy, once again, mistook Sylphie for a boy? Yes. However, it is also going to be beautiful when he realizes it is her, especially if it coincides with him no longer having erectile dysfunction. Heck, imagine him having it still and her liking, maybe loving him, despite it?
All I can foresee from this is a really cute story that I hope unfurls in such a way that takes a few episodes, but once Rudy gets it, he'll be stuck between hugging Sylphie and crying since she is the last person, beyond his mom, he hasn't seen since the mass teleportation event. Heck, to add on a layer, at least Rudy knows his mom is alive. Sylphie, he had no means to find out what happened to her.
The Reunion Of So Many Characters
Many characters from season one have returned, which means new adventures with familiar faces. But what will make this all the more interesting is this isn't everyone adventuring and only being together for a short time. Most spend years at Ranoa, and it seems most are between their 2nd or 5th year out of who knows how many. So while that means another time jump is inevitable, it does make you wonder what will be explored while Rudy is there?
We know his past of being bullied, and the chance to date, love, and have sex are an option, but what else? What else could this Hogwarts on steroids place off not only Rudy but viewers as everyone is a young adult, a touch away from 18, and perhaps some of the most powerful people in the known world?
Episode Directory
FAQs
Answers to some questions you may have regarding this episode:
Why Is The Episode Called "Ranoa University of Magic?"
Because the show arrives at the Ranoa University of Magic, and we see how it looks, outside and in, who goes there, and start to learn the customs. 
---
Follow, Like, and Subscribe
Community Rating: 0.00% (0) - No Community Ratings Submitted (Add Yours Below)
Mushoku Tensei: Jobless Reincarnation: Season 2/ Episode 5 "Ranoa University of Magic" Review Summary
Summary
With setting up what is to come, this felt like a light episode which we don't hate having, but it still felt a bit odd.
Plot and Dialog -

83%

Character Development and Performances -

82.5%

Visuals and Sound -

82%

Pacing -

81%

Value For Intended Audience -

81.5%

A Flash Of The Past In The Present -

82.4%

Playing Long Game With Sylphie and Rudy -

83.6%

The Reunion Of So Many Characters -

80.5%
Highlight(s)
The Reunion Of So Many Characters
Playing Long Game With Sylphie and Rudy
A Flash Of The Past In The Present