Mushoku Tensei: Jobless Reincarnation: Season 1/ Episode 7 "What Lies Beyond Effort" – Recap/ Review (with Spoilers)
As Eris' 10th birthday is on the horizon, Rudy decides it is time to start furthering his studies as his cousin prepares for the major moment. But, soon enough, he is dragged into the chaos.
---
| | |
| --- | --- |
| Director(s) | Katsuya Shigehara |
| Writer(s) | Manabu Okamoto, Hirohisa Saitō |
| Aired (Hulu) | 2/21/2021 |
This content contains pertinent spoilers. Also, images and text may contain affiliate links, which, if a purchase is made, we'll earn money or products from the company.
Recap
Well Deserved Time Off – Rudy, Eris, Roxy
As Eris approaches her 10th birthday, and with every 5th birthday being considered a milestone, she is whisked off to learn how to dance. Thus, Rudy has more time to sculpt, learn new languages, and even write a letter to Roxy. Unfortunately, as instructed by his father, this doesn't mean contacting anyone back home, but Rudy has gained quite a life. One that, despite the promise of time off, ends up being about Eris all over again.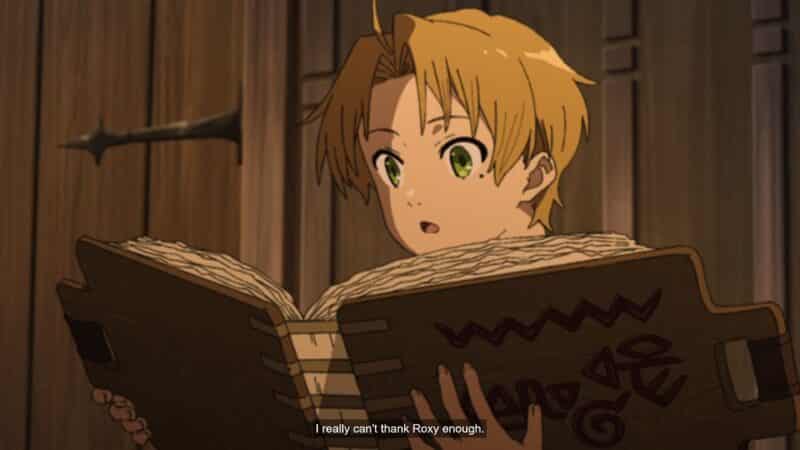 But, at the very least, with a letter from Roxy, which includes a book for him to learn the Demon-God language, Rudy knows someone out there loves and cares for him.
Saving Face – Eris, Rudy, Ghislaine
While Eris can swing a sword and keep up with Ghislaine quite well, formal dancing? Oh, she is terrible at that. What doesn't help is that for her 10th birthday, she is expected to dance like a young lady. Which, with rumors are already swirling about her ineptitude for dancing, alongside her struggles with studying, it makes the pressure on her immense. After all, Eris hasn't really made many friends amongst the staff, so of course, they gossip about her and are waiting for her to fail publicly.
But, while a part of Rudy wouldn't mind Eris experiencing a comeuppance, especially considering how she acts on a regular basis, she is still his cousin. Much less, while violent, she is often misunderstood. Hence, he participates in her dance practices, and when she doesn't do well with her first dance at the party, Rudy steps in and helps Eris save face for herself and the family. Thus she obtains a whole new level of love and restraint when it comes to Rudy.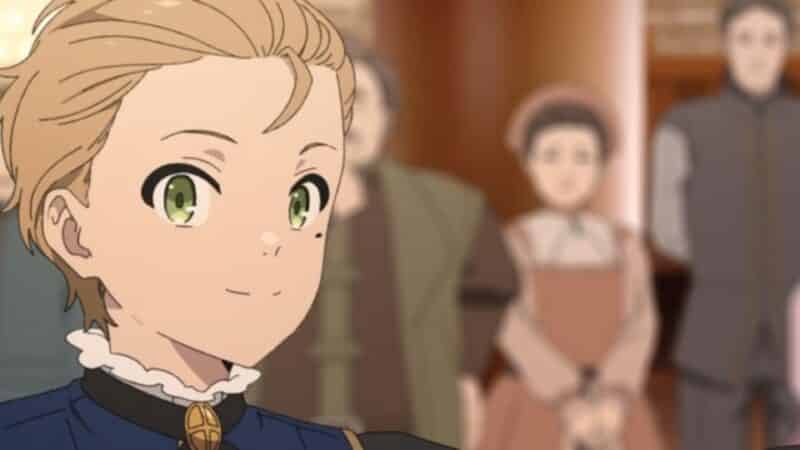 Heck, add in him giving her and Ghislaine a wand, and the attention Rudy got from girls after their dance, you could say Eris might become a bit possessive of him. Thus explaining why she decided to sleep in his bed, despite Rudy's past actions.
What's To Come – Rudy, Eris, Lord Sauros
As Eris rests, with Rudy tempted to do something unbecoming, he decides instead to venture about to a tower he has yet to explore. It is there he sees Lord Sauros having sex with one of the beast-humans that are staffed in the manor, who ashamedly runs upon being caught. But while she runs, Lord Sauros and Rudy talk about this thing that has appeared in the sky. Rudy, not knowing what it is, is worried, but not Lord Sauros. At least due to trying to think positively rather than give in to the need to worry about the dangers or omen this object may bring.
Things To Note | Question(s) Left Unanswered
Why was Eris sleeping in Rudy's bed? Ghislaine, surely, could have carried her to her own room.
Could it be the reason Eris' mom doesn't like Rudy is because of something his dad did? Be it consensual or not?
Review
Highlights
Rudy Stepping Up To Save Eris' Reputation
If you're someone who deals with children, or people who act like them, there is the occasional desire to see them get their comeuppance after you've tried to warn and guide them to the best of your abilities. With Eris, after pushing back, violently lashing out, and often being rude, her being embarrassed, with no one shielding her as her father, grandfather, and their staff have often done, it would have been her comeuppance. Yet, despite the kicks, punches, and frustration, Rudy saved Eris from embarrassment.
Now, you could say it was for the family's sake, but I think, to further who Rudy is, beyond the pervert, it is a reminder that being an otaku, a shut-in, all these negative traits, they were surface level. That perhaps, like we see with Eris, if someone stuck by him, broke through this armor of not caring out of fear of caring too much, then he would have been a better person.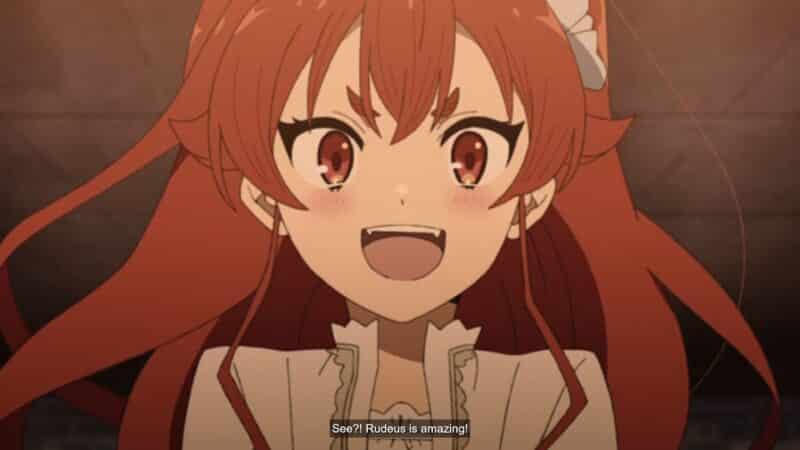 I'd even relate it to how he is focusing on language learning while he is 8 and has the mind and time to learn rather than wait till later. What Rudy is trying to do is not just fix the issues he had in his own life but also look out for Eris since he sees bits of himself in her. So, as her cousin, her teacher, maybe even a friend, he is giving to her what the world didn't give to him. Just as Roxy, out of the kindness of her heart, broke the spell which made Rudy a recluse.
[amazon box="B07JJNK8L8, B083BZSQ85″]
[ninja_tables id="54695″]
Summary
Rudy Stepping Up To Save Eris' Reputation - 84%
As Rudy helps his cousin save face after a major event, we are shown his growth as a person and development into a form of a protector. One who is still a perv but, no one is perfect.