Mushoku Tensei: Jobless Reincarnation: Season 1/ Episode 2 "Master" – Recap/ Review (with Spoilers)
In "Master," we get to peer into Rudy's former life as Roxy preps him for what's to come.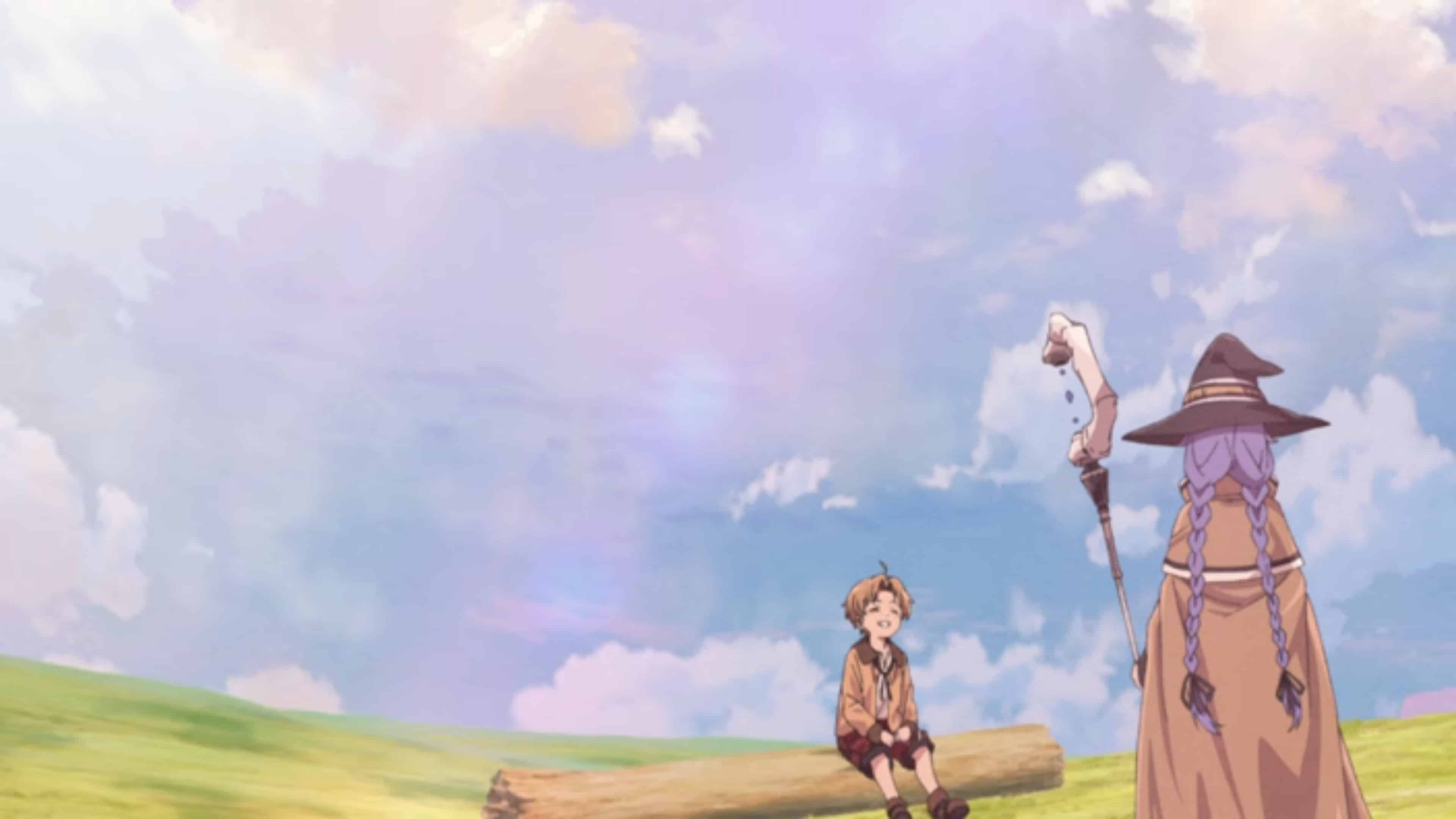 In "Master," we get to peer into Rudy's former life as Roxy preps him for what's to come.
---
| | |
| --- | --- |
| Director(s) | Hiroki Hirano |
| Writer(s) | Manabu Okamoto |
| Aired (Hulu) | 1/17/2021 |
This content contains pertinent spoilers. Also, images and text may contain affiliate links, which, if a purchase is made, we'll earn money or products from the company.
Recap
The Trauma From A Previous Life – Rudy
So why was Rudy a recluse in his past life? Never mind the situation before he got hit by a truck? Well, the answer is simple yet unfortunate. Rudy was stripped to his bare body at school, on more than one occasion, it appears, and his body made fun of. Because of this, he decided the outside world was far too dangerous, so he'd just stay inside, masturbate, eat, and play games.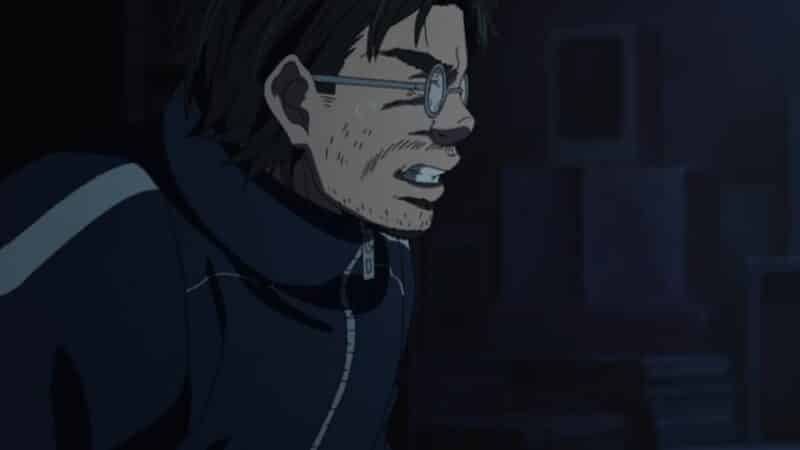 He was so committed to this way of life that he missed a funeral, possibly of his parents, and when his siblings came to the house, it appears they kicked him out. Thus he was left outside, with no shoes, wandering when he saw some high school teens arguing, a swerving truck, and then found himself pushing them out the way and putting himself in harm's way.
Learning So Much, And Hearing Things Quite Juicy – Rudy, Roxy, Paul, Zenith
With taking note of how he lived and died in his past life, that is why Rudy tries so hard now – but not just with magic. He also tries to be suave with the ladies, using his dating simulator experience. Though with being 4 years old, he doesn't get the kind of play he wants. However, between hearing Paul and Zenith having sex and even catching Roxy masturbating, it isn't like there isn't a lot going on to replace the porn he is used to.
Sex stuff aside, Rudy and Roxy are becoming quite the pair, and she teaches him, over the two years they have together, nearly everything she knows. This includes the history of the outside world, like the Superd demons, the Laplace war that happened a few centuries ago, and that Roxy herself is a demon. This, of course, is confusing since demons in their world are identifiable by their hair and perhaps a gem in their forehead. But, with Rudy infatuated with Roxy, he doesn't care what she is as long as she keeps being nice to him – and sitting at angles he can see her panties.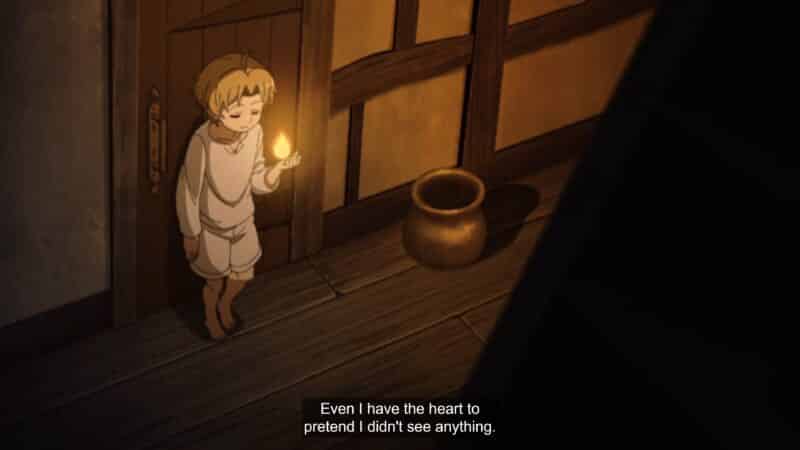 Now, as for how his swordsman training is going? Well, let's just say Paul's vigorous sessions with Zenith likely is to produce a child who can compensate for his disappointment. Granted, by the time the episode is over Rudy is only 5, but considering how advanced his magic skills are, his inability to lift and swing a sword is frustrating for Paul.
A Healer In More Ways Than One – Rudy, Roxy
Despite starting a new life, one thing that remained is Rudy not wanting to meet and deal with new people. In fact, he doesn't even leave the perimeter of the house. As shown, he will step outside his room and the front door, but where the house's boundary is, that is as far as he goes and he dares not interact with the other village kids all due to what happened in his past life. Which when it comes to his parents, it seems they never really took note of this and just let him read and play around the house.
But when it comes time for his final exam, since the magic Roxy has him tested on is sacred level, he has no choice but to join her to a field in the village. Thus giving him some exposure therapy that leads him to realize everyone isn't looking at him, they aren't out to embarrass or scare him, and they are actually lovely people. And with helping him face this fear in a calm and loving way, it just deepens Rudy's affections for Roxy.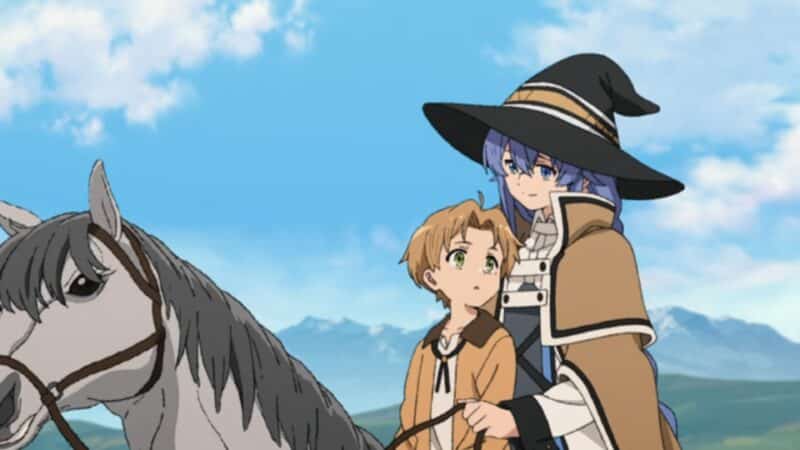 Which makes him passing her test with flying colors, bittersweet since it means it is time for her to go.
Review
---
Community Rating:
---
Highlights
Maintaining The Balance Shown In The First Episode
Once again, we got everything you could want. We got emotional moments from Rudy, revealing they were bullied into seclusion. Granted, we weren't told why the bullying started, but you could write it off as kids being the devil's minions. Also, we got some ecchi with hearing Zenith and Paul having sex, Roxy masturbating, and panty shots.
Alongside that, there was more world-building as Roxy talked about Ranoa University of Magic, a war on the demon continent, and showing us what sacred level magic looked like. All within less than a half-hour, which honestly makes me wonder, why can't more shows be a half-hour? Because, if this one can cover all that it does in such a short amount of time, it makes other shows just seem gluttonous.
How It Speeds Time Up, Yet Doesn't Leave You Feeling Like You're Missing Much
The idea of following a toddler for an entire season wouldn't make sense and wasn't likely to happen. But, thankfully, when we just 6 months or a year, you don't feel like you miss much. After all, what is there to miss? While we have been given a lot of information, Rudy lives in a bubble where things are peaceful. The village isn't ever under attack, his parents aren't called away, so Rudy is given a safe and docile environment. This is perfect for it makes it so you don't feel there is a need to recap what happened over the time sped through.
Why? Because you know, all that happened was Rudy trained with Roxy, acted a little pervy, and repeat. There is nothing to recap. But with him now being 5 and adults being considered 15, it does make you wonder, with Roxy leaving, how will episode 3 handle time and Rudy's growth? It's titled "Friend," so does that mean Rudy will make a friend his own age? Also, will they be a boy or a girl?
Take note, while he grew close to Roxy, she was technically an employee, and he made a point to call her master in a non-sexual context. So when the power dynamics are even, minus the magic Rudy can do, what is going to happen? Heck, throwing the magic into the situation, if they accept or hurt him emotionally, will he use said power against them? Never mind, show it off at all, considering he can use sacred level magic?
[amazon bestseller="Mushoku Tensei" items="2″]
[ninja_tables id="54695″]
Summary
---
Community Rating:
---
How It Speeds Time Up, Yet Doesn't Leave You Feeling Like You're Missing Much - 84%
Maintaining The Balance Shown In The First Episode - 87%
Mushoku Tensei: Jobless Reincarnation continues to balance all the best features shown in its premiere episode without picking up any notable flaws.
---
Follow, Like, and Subscribe
Community Rating: 0.00% (0) - No Community Ratings Submitted (Add Yours Below)