Motherland: Fort Salem Season 2/ Episode 5 – Recap/ Review (with Spoilers)
---
Community Rating: 0.00% (0) - No Community Ratings Submitted (Add Yours Below)
---
This post may contain affiliate links and spoilers. Please read our disclosure policy.
---
It's Halloween in the world of Motherland: Fort Salem, and while some get the treat of seeing the dead, others are tricked and end up in the grave.
---
Episode Title
Brianna's Favorite Pencil
Aired
7/20/2021
Network
FreeForm
Directed By
Jason Stone
Written By
Nicole Avenia
Newly Noted Characters
Valda
Wonser De-Gbon
Recap
The Real Evil Among Us – Anacostia, Shane, Bonnie, Scylla
It is Halloween, or Samhain for witches, and Anacostia and Scylla spend it hanging with Shane while Bonnie takes her daughter trick or treating. But rather than go to a protest, they go to a party, an actual Camarilla party where the main attraction is stoning a 9-year-old. Naturally, Scylla and Anacostia don't let a 9-year-old witch get stoned, but they expose themselves in the process of saving the child.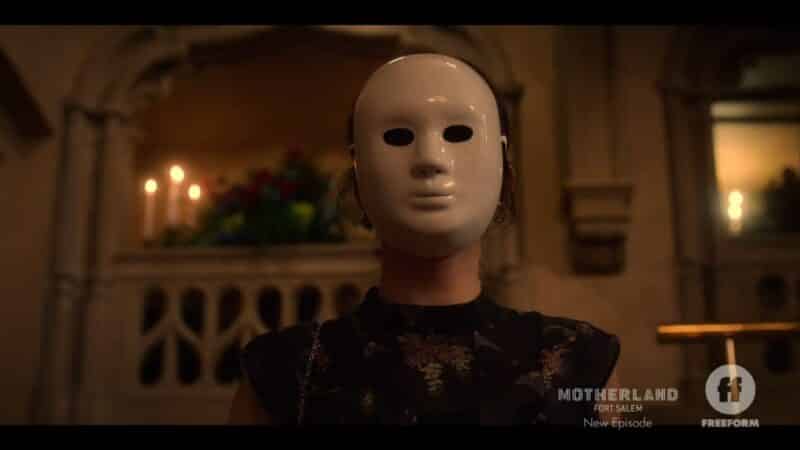 First by Scylla revealing she is a witch and taking out the Exarch of the local Camarilla. Following that, due to him kidnapping the girl, a friend of his daughter, Scylla stabs Shane in the ear and kills him. But before she exits Bonnie's life, she tells her to not be fueled by anger because of what she is about to discover.
Looking For Direction – Abigail
Twice now, she has been attacked by the Camarilla and barely saved. Meanwhile, after becoming a Biddy, Tally has surpassed Abigail with her abilities, and with Raelle being colonized by the Mycellium, she has made herself a huge asset to the army. Thus, now Abigail feels like she isn't much more than a name and a uterus.
Finding Answers – Valda, Tally,  Raelle, General Adler, Adil, Abigail, Charvel
This is why, during the Defending of the Hearth tradition, Abigail wants to speak to Charvel, if her coven can protect the flame till midnight. Luckily, they do, so Abigail speaks to Charvel, who gives her a much-needed pep talk. Tally speaks to Valda, of the Esterbrook witches, and learns General Adler lied about them voluntarily sacrificing themselves, for Off-Canon magic led to them committing suicide.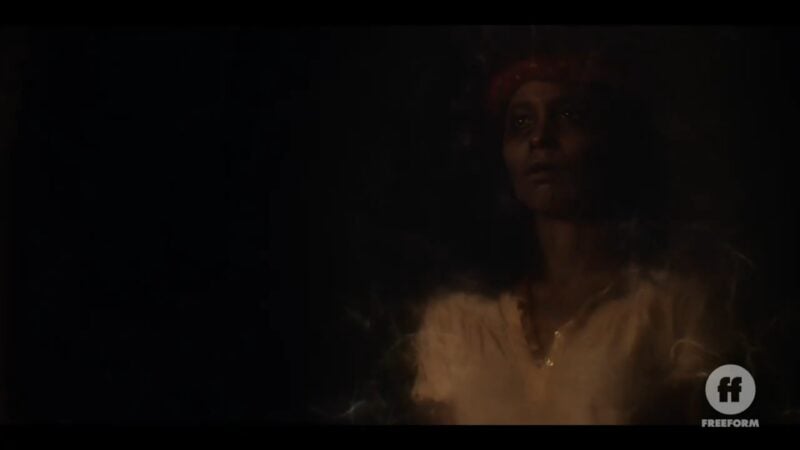 As for Raelle? Well, she tries to conjure Willa, but she doesn't appear since she isn't dead, and it appears no one told Raelle, whether they like it or not, the dead have to show up (per the After The Storm).
But, with this celebration coming right before fall break, it seems everyone is going to reflect on recent events. Raelle is going to go home and perhaps talk to her dad about her mom. Abigail, alongside Adil, after he was nearly killed in a Camarilla attack, may seek vengeance. As for Tally? Well, considering she now knows the truth about Valda, she may next seek the truth about Nicte and her whereabouts.
Review
Highlights
A New Low & High For The Camarilla
The Camarilla being willing and able to sacrifice a 9-year-old shows they are far worse than the Spree – especially because they were going to stone said 9-year-old to death. And I know what you're thinking, the Spree killed people who were also under 18, mercilessly, and in much higher numbers. You would be right to make that comparison. However, The Spree usually focused on general areas where they could make a statement. The Camarilla target children in schools, and who knows if that one girl Scylla saved is but one of many who got killed that night.
But, that aside, you also have to note they killed a member of The Hague, one of the high-ranking members at that. This forced them to be recognized internationally after the Americans tried to make their resurgence muted. So it should be interesting to see what they do next.
Tally Gaining New Information
Has seeing Valda and what happened to her coven made Tally's investigation a top priority and one of the most interesting storylines of the season? No. However, as expectations are lowered for season 2, it does make you look more favorably at what Tally is ultimately going to do here. She may very well get General Adler charged with war crimes and while an effort is being made to limit her access to Adler's memories and eventually discredit her, there is no denying Tally might be the one threat that sticks.
After all, if General Adler does truly try to rid herself of Tally, neither Raelle nor Abigail will just let that happen.
Abigail's Rebirth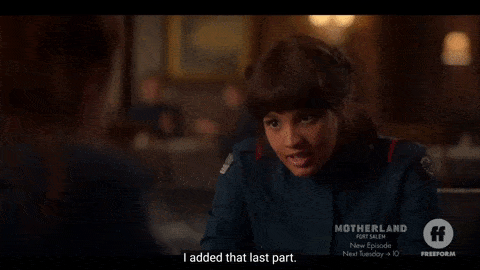 As Abigail has lost the notoriety her name has given her, and with being attacked multiple times, she has lost her sense of self. Add in people trying to define her without her input, and you are forced to remember she, like everyone else, is a teenager, or young adult, whose fate was sealed the moment she was born. Hence every tradition seems to take advantage of women her age. Be it the intrinsic need to find one's purpose or societal recognition, this is the perfect time for her to have a baby.
While Abigail's storyline may not be as much about magic as Raelle and Tally, it is touching upon the harsh reality that women in the army go through and reminds you why there is literally a role made for matchmaking.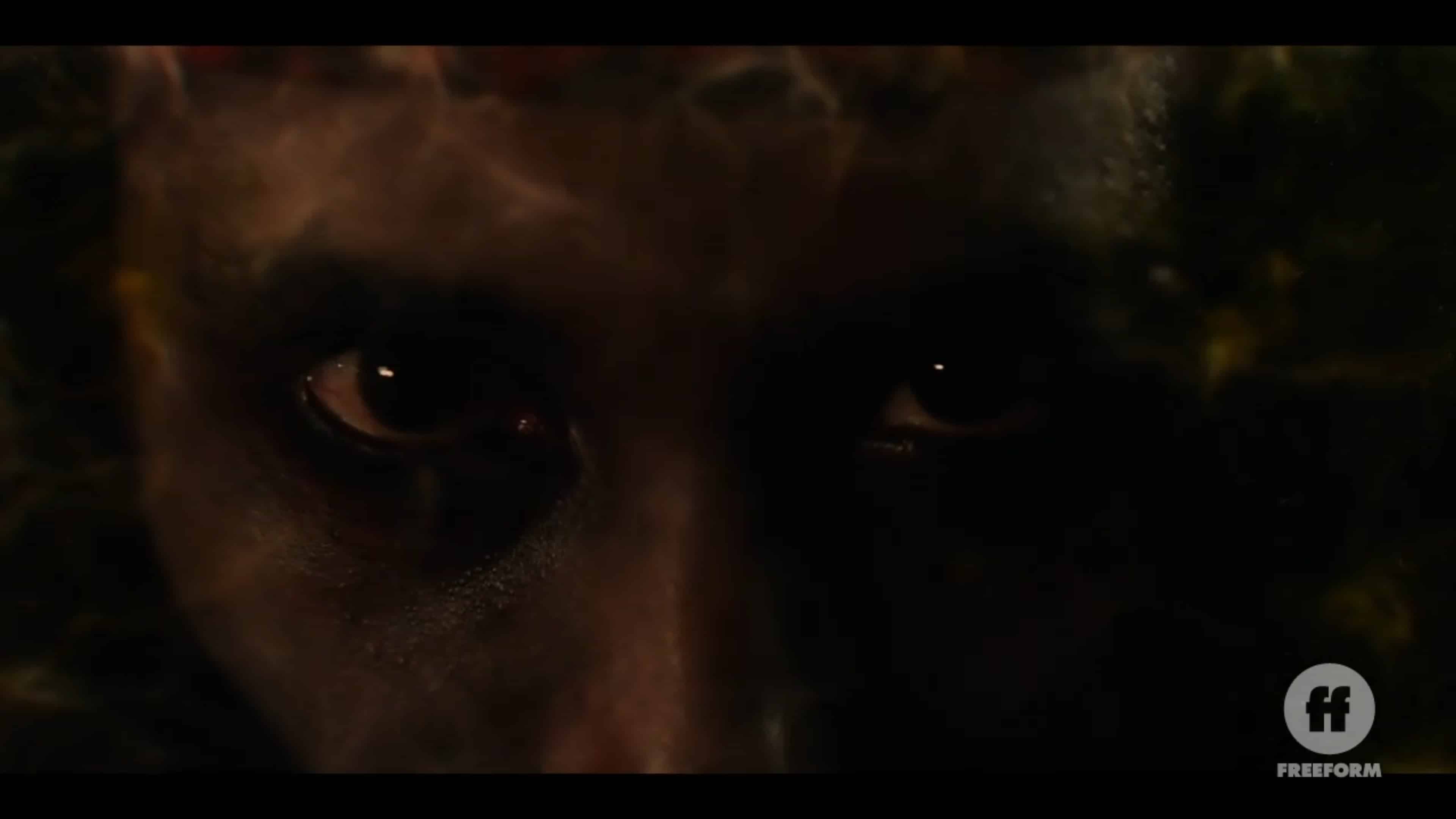 Motherland: Fort Salem Season 2/ Episode 5 – Recap/ Review (with Spoilers)
Trajectory: Plateau
As expectations shift, Motherland: Fort Salem begins to become enjoyable as the Camarilla further establishing themselves as this season's, and likely future seasons, big evil, and the show explores the enemies who are already in Fort Salem.
Highlights
A New Low & High For The Camarilla
Tally Gaining New Information
Abigail's Rebirth