As Marcus comes to terms with what Becca revealed to him, Mia reminds him of what he has long wanted.
---
| | |
| --- | --- |
| Aired | 11/4/2021 |
| Network | HBO Max |
| Directed By | Natalie Leite |
| Written By | Megan Mercier |
Recap
Man Up – Ida, Yogi, Kian, Marcus
Marcus really does not want this kid. Yet, no matter who he speaks to, he isn't getting that validation he needs to just exit the kid's life. Kian talks about his loneliness and wanting love, which has hardly anything to do with what Marcus is talking about. Ida mentions she almost did IVF with one of her exes and makes it mainly about her. However, Yogi perhaps is the only one who keeps the focus on Marcus long enough to break through as he speaks on fatherhood and tries to not necessarily guilt Marcus but remind him what he could miss out on.
Prepping To Go On Autopilot – Becca, Marcus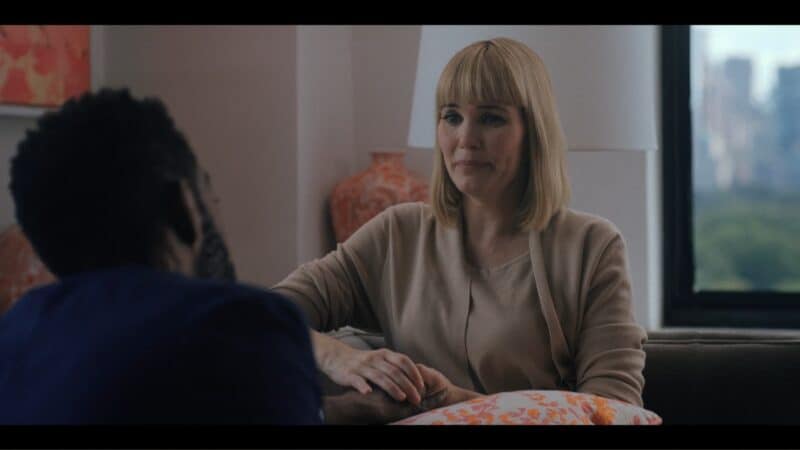 So, with Yogi's pep talk getting to Marcus, he decides to contact Becca for the first time in one to two months, and while surprised to hear from him, she is open to him being part of the process. One which ultimately leads to a child who isn't viable, so as much as Marcus hyped himself up and was ready to commit, it seemingly wasn't for naught, but to show he may be destined to have a kid. If not, better said, he wants a kid.
When You Change Your Mind, I'm The First In Line – Mia, Marcus
With Mia single again and one of the few people Marcus feels like he can talk to, they bond even more than previously. In fact, she is probably the only one who understands his entire journey with accepting he might become a father and knows his true feelings when Becca learns she is likely to have a miscarriage if she doesn't abort the pregnancy.
This leads to her opening up about an abortion she had at 18 that she doesn't like to talk about, but because of how open and vulnerable Marcus was being, she came to a place where she could speak on it. And with the way Mia talks and considering the kiss she and Marcus have, there is the vibe that maybe she is ready for a guy similar to her rather than seeking out opposites and believing that attraction could potentially last a lifetime.
Things To Note | Question(s) Left Unanswered
Question(s) Left Unanswered
What's Mia's mother like?
So once Becca aborts the child, will Marcus just exit her life? Will he at least try to develop a friendship or see her through the mourning process?
What Could Happen Next
We finally see Mia and Marcus happen and learn she isn't a soul mate the way most perceive a soul mate to be.
Review
---
Community Rating:
---
Highlights
Marcus Being Willing To Step Up
While I don't see Marcus stepping up as the narrator implied, since it did seem like he was going on autopilot, as usual, let's not pretend the option wasn't there to throw his hands up. Yet, instead, he decided to be all in and join on the doctor visit, was patient with Becca's other child, who he'd likely have to deal with, and was even contemplating moving if Becca does. I'll even give him props for letting Becca take the lead and try to be there for her, while recognizing there isn't much there to connect them beyond the kid.
But I think we have to recognize that circumstances forced him to grow up far more than him volunteering to do so. Which there is nothing wrong with, but I think we have to question whether he can follow through once the fun is over. Because it seems, based on his last few situations, he sticks to it because he's already in it, not because he genuinely wants to make it work.
Mia and Marcus Potentially Being In Good Places In Their Life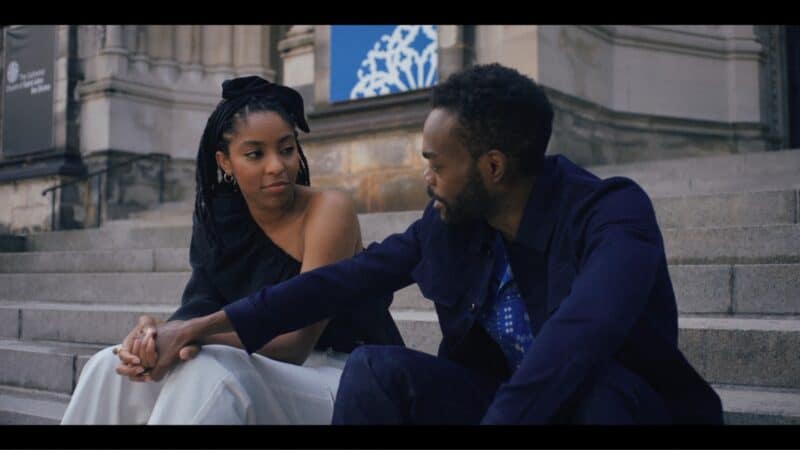 For both Mia and Marcus, they were going through things up until now. Mia seemingly was chasing status, someone who was a challenge since they weren't like her, and using their potential unavailability, or her own, to keep things close enough to be committed but far enough to not get bored. It seems things have changed now, and she wants something less of a challenge yet still exciting.
As for Marcus? I think he has gotten past that infatuation phase he has had with most of the women he has been seeing. He has had real fights with Mia and has learned how to reconcile and move forward without losing what attracted him to her in the first place. I'd even add, with a new chapter starting with his dad and the Becca saga, he matured in the way Mia would need him to for them to potentially be long-term. Because the Marcus of the past? Oh, he was not ready.
[ninja_tables id="61122″]
Love Life: Season 2/ Episode 6 "Becca Evans Part II" – Recap/ Review (with Spoilers)
Trajectory: Plateau
It's getting better. I wouldn't say it's at its best and has fully recovered from early disappointment, but it is getting better.
Highlights
Mia and Marcus Potentially Being In Good Places In Their Life
Marcus Being Willing To Step Up