The more episodes we watch of Love Is, the harder it becomes to figure out how these two ended up together. After this episode especially.
---
Network
OWN
Director(s)
Cheryl Dunye
Writer(s)
Jerron Horton
Air Date
7/10/2018
Actors Introduced
Camille
Jasmine Burke
Older Sean
Tim Reid
Saved By The Ring: Norman, Keith, Nuri, Angela
Despite being thoroughly played by Yasir, Nuri jumps towards her door hoping he is there but it ends up being Keith. Someone who was expecting to take Nuri up into the mountains and get some ass. Ain't no other way to put it since the negro straight up says they weren't going to be skiing and Yasir said the same thing in the last episode. Yet, Keith gets put on ice since Norman calls and with there being conversations about Wendy, from the show Marvin, maybe having a spin-off? Now is the time to make some pitches. Especially since Norman is getting tired of Marvin, its star, and feeling like he is selling out the culture.
Something that really hits hard as a network exec touches Angela's hair, tries to seem more hip than Norman, and Angela and Nuri open Norman's eyes to what women think and feel.
Commentary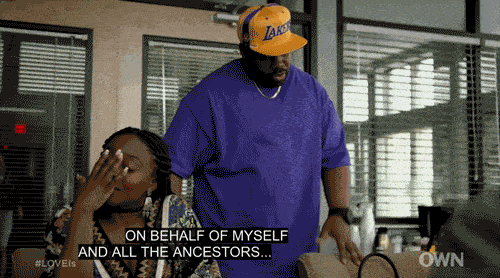 I wonder if Keith thought he was the only one or was simply the best one of all of Nuri's prospects. Not that she is messy with the men she dates but, it's not like she is at anyone's beck and call and calling people back as soon as she can. Yeah, her job makes a good cover but if Keith is upper echelon, he has to know something. He might not be the, or one of the, big dogs, but clearly, he is in the know.
But with that said, he doesn't have that Ruby vibe. You don't feel bad for Keith nor see him as someone Nuri should be with. He is nice, looks good on paper, but as for passion and desire? He's like Carlton with a bit of swag. Just enough to keep his invite to the cookout. Which, considering the way we have seen Nuri, something about her relationship with Keith reminds me of Nola Darling's relationship with Greer. The only difference being, Keith isn't condescending. Outside of that? What is Keith but someone to experience new and foreign things with? He serves a purpose in that but love? He may check off boxes but his name doesn't really leap off the paper and dance on your lips and waltz in your mind. He's a safe choice for when the passionate one burns your ass.
A Fresh Start: Ruby, Sean, Camille, Yasir
As has long been established, Sean is a hot mess. He cheats on his girl to the point she puts him on the couch and is tempted to break up with him. Yet, upon meeting Camille in the flesh, it seems she is a fool in love. Not a damn fool but still in just enough infatuation with Sean to take his nonsense, let him have his growing pains, and wait.
Something Yasir tries to call out but Sean got something for that ass. Yasir wants to talk about growing up but Sean is doing what a man does in more ways than Yasir. He got a job, taking care of his kid, and got a roof over his head. Yasir can't claim none of that and bringing up the idea that Sean is using Camille? HA!
Leading us to Ruby. Things are so complicated between her and Yasir since she knows he found someone new but both still love each other. Yasir can't leave the woman who has been his rock for weeks, if not months, and is in desperate need of someone to look after her as she recovers. Then for Ruby, Yasir ain't just some dude who used to d**k her down. He is the reason she came to LA. Yasir was the one holding her down in the beginning and is doing it now, with her, in the back of her head, knowing the main reason he hasn't run to ole girl isn't because of something she did or didn't do, it is because there is something that keeps bringing him back to her.
Yet, despite how weird their relationship is, past the relationship murkiness is a friendship and they decide to focus on that. At least for 6 weeks and then a new line of conversation has to be started.
Commentary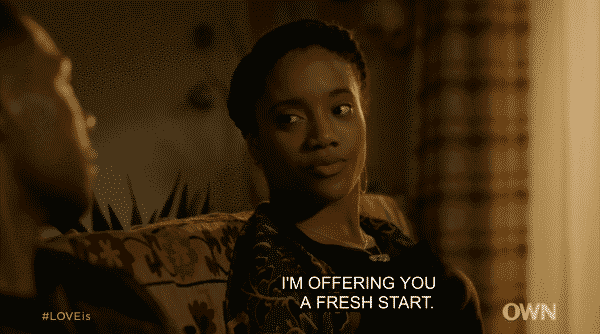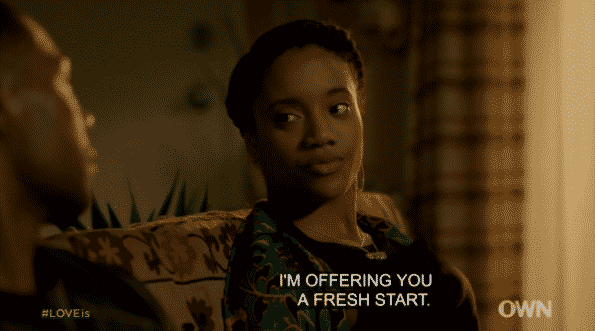 See, I would be perfectly fine with Ruby and Yasir ending up together. I know it doesn't happen because the future versions of Yasir and Nuri don't make things ambiguous at all, but I don't believe this is a mini-series. So more than likely they are going to D R A G – O U T Nuri and Yasir really getting their stuff together and, as Yasir says, "Cut all the bullshit." Making the possibility of another round between Ruby and Yasir not seem all that bad.
As for Camille and Sean? I loved the fact we saw older Sean, played by Tim Reid, and him being as comical as his younger version. But I gotta admit, being so sure of what happens with Nuri and Yasir has me wishing they would clue us into what happens with Sean, Ruby, and Angela in the future. Are they married, are they happy? Are Camille and Sean still together? Did Ruby become a yoga instructor and find a man to flex with? Maybe even a woman if she ended up swinging that way? What about Angela? What anxiety we bypass for Nuri and Yasir kind of gets pushed off onto their friends. For even if they seem to be doing well, let's not forget the future commentary all comes from them being interviews and with a camera in front of them. So how real can they be with us?
Too Little, Too Late: Keith, Yasir, Nuri
While Nuri may not necessarily be in a rush to settle down, she isn't really trying to stop her life to wait on Yasir either. So, being that Keith is there, stable, and more attentive than Yasir or Nuri's ex, he wins her time and attention. But no sooner does he win it does Yasir show up like Nuri hoped he would and break down his life. Real name: Earl Wallace Green, married and divorced and he has a 6-year-old son named Deonte. He and Ruby are over and he will be out in 6 weeks. He drops all the answers Nuri needed to hear but then Keith shows up and Yasir gets in his feelings. The man who talks about cutting the BS gets on some BS as if Nuri was supposed to wait for him to get himself together. Much less, she was supposed to take getting a door shut, in her face, in stride.
Leaving us, once more, wondering how in the hell did these two end up together?
Commentary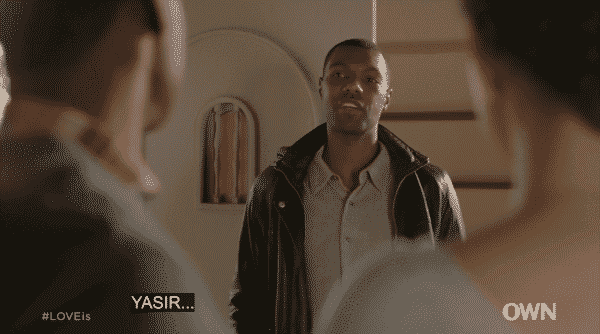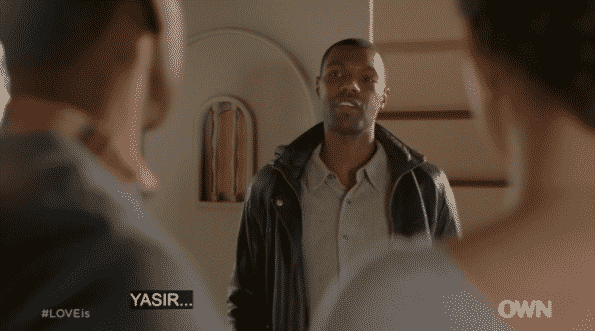 I love this show but am so frustrated by this show. For every moment I swoon I want to yell at the screen and call Yasir the N word or, in an exasperated tone, roll my eyes and say the N word. Like, my emotions get played with far too much with this damn show. Especially as older Yasir drops gems letting you know he does grow up, become stable, and all Nuri could ever want. But watching him become that guy is so frustrating
Yet, in a strange way, it is also refreshing too. Though we know for a fact the shoe would likely never be on the other foot in real life, seeing this guy talk the talk and crawl, and wobble so he can walk that walk makes you so invested in the journey. Hell, if you struggling, it gives you hope. It really pushes how much faith and confidence can get you over that hill and the support of a community, not just one or two women, can get you past that point of broke-ness and on your way. Not just on your way somewhere but on your way to a purpose. One which will reward all those who stuck by you when all you had was your word and time to give them.
Question(s) Left Unanswered
Where exactly are Ruby's people from?
Collected Quote(s) & .Gifs
If it's not part of the solution then maybe it's part of the problem – Pearly
When you're broke, people are always waiting for you to get past that point. Like it's a cold you can eventually shake. But it's hard getting past hungry. It's hard depending on people. It's hard being a man in the world and feeling like you've got no trinkets to prove it. – Older Yasir
There's a thin line between being loved and being used and guilt is the glue that holds that line together. – Older Yasir
Highlights
Yasir and Ruby's relationship.
Though it gives me Issa and Lawrence vibes at times, there are layers to this which make it hard to really make Yasir be an official F*** boy. Yeah, he sometimes comes real close but the often-used words "complicated" or "messy" really represents this man's life and relationships. In both entertaining and humanly fascinating ways.
Getting to meet Sean's girl rather than her being this woman he always complains and cheats on but never is given a chance to be seen and heard.
Yasir's whole take, both young and old, on using people you love.
Norman is honestly starting to grow on me, even though he still often seems ridiculous.
Low Points
The multiple convenient times in which their issues could have been solved but Nuri's number blew away or Yasir's note was at the bottom of the mail. Like, come on…
On The Fence
Can we bring in bachelor number three because Nuri and Keith don't even feel like a threat to Nuri and Yasir?
It really is frustrating to know that Yuri and Yasir are endgame yet they go through the type of stuff you can't imagine two people going through and ending up together. Trying to fathom how they ended up 20+ years together is mind-boggling.
Follow Wherever I Look on Twitter, Like us on Facebook and Subscribe to the YouTube Channel.
---
Previous Episode's Recap
[visual-link-preview encoded="eyJ0eXBlIjoiaW50ZXJuYWwiLCJwb3N0IjoyNDAxMiwicG9zdF9sYWJlbCI6IlBvc3QgMjQwMTIgLSBMb3ZlIElzOiBTZWFzb24gMS8gRXBpc29kZSAzIFwiKEhlcikgUXVlc3Rpb25zXCIgLSBSZWNhcC8gUmV2aWV3ICh3aXRoIFNwb2lsZXJzKSIsInVybCI6IiIsImltYWdlX2lkIjoyNDAxMywiaW1hZ2VfdXJsIjoiaHR0cHM6Ly93aGVyZXZlci1pLWxvb2suY29tL3dwLWNvbnRlbnQvdXBsb2Fkcy8yMDE4LzA3L0xvdmUtSXMtVGl0bGUtQ2FyZC5wbmciLCJ0aXRsZSI6IkxvdmUgSXM6IFNlYXNvbiAxLyBFcGlzb2RlIDMgXCIoSGVyKSBRdWVzdGlvbnNcIiAtIFJlY2FwLyBSZXZpZXcgKHdpdGggU3BvaWxlcnMpIiwic3VtbWFyeSI6IlRoZSBtYW4gYmV5b25kIHRoZSBzbW9vdGgtdGFsa2luZyBicm90aGVyIGdldHMgcmV2ZWFsZWQgdG8gTnVyaSwgd2hpbGUgc3RpbGwgZ2V0dGluZyB0byBzYXZlIGhpcyByZXB1dGF0aW9uIHdpdGggdGhlIGF1ZGllbmNlLiIsInRlbXBsYXRlIjoiZGVmYXVsdCJ9″]