Industry: Season 1/ Episode 4 "Sesh" – Recap/ Review (with Spoilers)
It's do or die for Harper as her secret is exposed, and she makes a major mistake. One that leaves her at the mercy of many.
---
| | |
| --- | --- |
| Director(s) | Ed Lilly |
| Writer(s) | Mickey Down, Konrad Kay |
| Aired (HBO) | 11/30/2020 |
This content contains pertinent spoilers. Also, images and text may contain affiliate links, which, if a purchase is made, we'll earn money or products from the company.
Recap
The Odd Man Out – Gus, Theo, Robert, Clement
With Gus being a numbers man forced into the world of phone calls and schmoozing, he is miserable. Especially since he is no longer the star but simply another man on the floor. Add in he can't really grasp Clement's humor, Robert doing better than him thanks to his social skills than intelligence, and then seeing Theo ignore him? Who knows how long he might last? Though, it could all change, right?
Playing A Man's Game – Yasmin, Robert, Seb, Harper
It isn't clear what Robert is expecting to get out of Yasmin, but it does seem clear that she might be the only one on his radar when it comes to women. Why do we say that? Well, on Harper's birthday, he rejects sex with her and makes it clear he thinks something is there with Yasmin – despite Seb being brought up repeatedly.
Yet, as Yasmin increasingly makes clear, while she enjoys the attention and wants more, Seb does get in the way. If not acts as an ever-pushed line so Robert can be put on a leash. Perhaps as a means of Yasmin compensating for the lack of power she feels at work?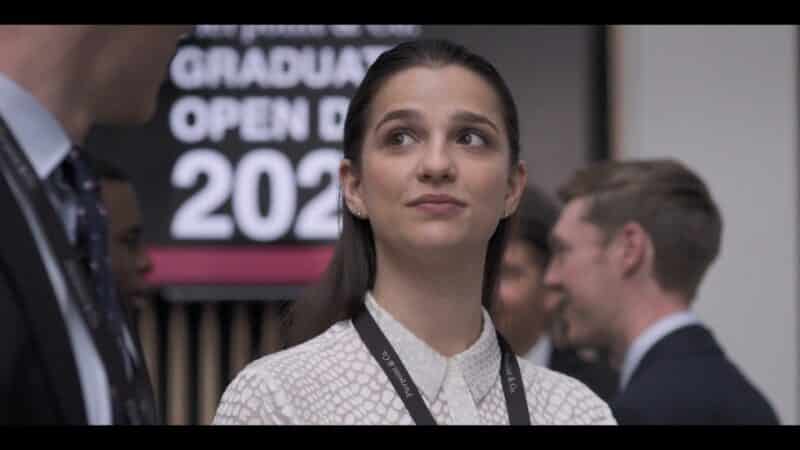 Though, considering she lets Robert finger her and gives her panties, more and more, it seems Seb might be becoming an afterthought. At least if he doesn't start matching her energy sexually.
Solidarity Only Works If There Is Trust – Eric, Daria, Nicole, Harper
Harper makes a major screw up by making an order in quid when the client actually wanted dollars. With that, her losses go up to nearly 50,000, and she is scrambling hard. Especially since some have caught her mistake and are pushing her to own up to it. But with things being okay with Daria and Eric having so much faith in Harper, she'd rather let Nicole do what she wants with her for money than lose Eric.
After all, as Yasmin makes it clear, he is different from the rest of the guys. As for why? Well, it is because Harper is a person of color, trying to rise from the bottom, and she is a hustler. Take note, none of the other grads are making deals. Granted, it is because they don't get to pitch, but Harper having the audacity to do so is what makes Eric like her and have expectations of her.
Hence why, even with discovering she is underqualified, he has no intentions to blow up her situation. Rather, he just wants there to be trust between them for while he admires her work ethic, he doesn't want to be blindsided – ever.
Collected Quote(s) & .Gifs
Hunger is not a birthright.
— Eric
---
There are generally two times to tell me when you've fucked up. The moment it's fucked, or the moment it's un-fucked.
— Eric
Review
Highlights
Eric Showing Himself To Be A True Mentor – And Not Conditional
It's the solidarity that I appreciate. Be it Harper being a young Black woman having a man invest in her, without it being sexual, or they both came from less than privileged backgrounds. Heck, both of them being people of color, also is what makes me feel so invested.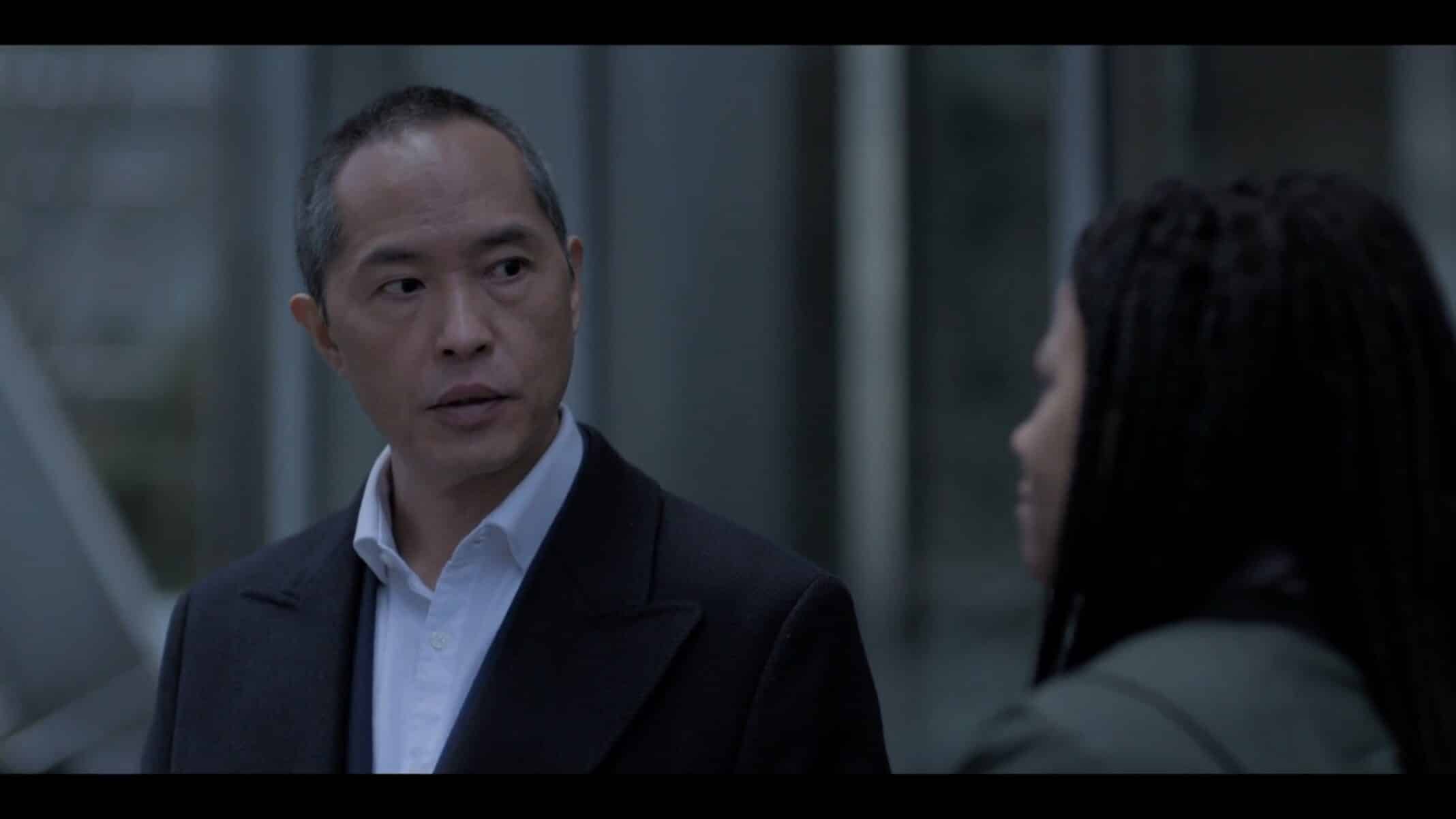 Yet, it isn't like this is one way. All the effort you see Harper make to avoid disappointing Eric, which included almost giving up some ass, it shows you she honors the opportunities Eric has given. She even verbalizes that. And to me, that is the heart and driving force of this series. Harper and Eric's relationship and Harper trying to live up to what potential Eric sees.
On The Fence
Nearly Every Storyline & Character Outside of Eric and Harper
That is in comparison to everyone else who have lackluster storylines filled with uninteresting debauchery, personal drama, and work lives that inspire little to no interest. Gus flailing, and yearning for Theo, it doesn't add much to Industry. Neither does Yasmin trying to have a steady thing at home while trying to have Robert as a side piece.
Yes, one could submit she is trying to adapt to how other men, in her mind, handle having a hard day and some fun on the side. However, while Yasmin's actions, like getting fingered and handing over her underwear, may get your attention, everything else we see her and Robert do? Not so much.
This could become a huge issue for a show that may focus on Harper but treats the show as an ensemble.
[ninja_tables id="53444″]
Summary
Eric Showing Himself To Be A True Mentor – And Not Conditional - 86%
Nearly Every Storyline & Character Outside of Eric and Harper - 73%
Harper remains the silver lining of a show that, to be honest, pushes you to question whether it should be made a priority for you to watch?