Humans: Season 3/ Episode 3 – Recap/ Review (with Spoilers)
As Laura and Mia trying to push for change together and on their own, Max's struggle to keep those like Agnes from rebelling is becoming difficult. Network Channel 4 Director(s) Al Mackay Writer(s) Debbie O'Malley Air Date 5/31/2018 Actors Introduced Anatole Ukweli Roach Neha Thusitha Jayasundera It's Time To Move On: Laura, Nick, Mattie, Leo As…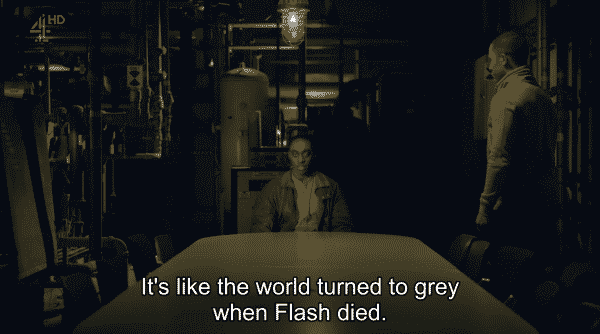 As Laura and Mia trying to push for change together and on their own, Max's struggle to keep those like Agnes from rebelling is becoming difficult.
---
Network
Channel 4
Director(s)
Al Mackay
Writer(s)
Debbie O'Malley
Air Date
5/31/2018
Actors Introduced
Anatole
Ukweli Roach
Neha
Thusitha Jayasundera
It's Time To Move On: Laura, Nick, Mattie, Leo
As you can imagine, for Leo it is a bit strange to be ostracized from Mia and the others and coerced to learn what it means to be human. Something which Mattie tries to help with but with Leo pushing this idea she is spending time with him out of guilt and not love, it is upsetting. Though, once he gets it, he gets it and this leads to a makeout session.
As for Laura? With Leo being out of commission for a year, he wasn't privy to her Joe splitting up and that brings some long-suppressed emotions. However, bigger picture, Laura has to meet with Nick to maybe gain an ally, craft some sort of strategy. Thing is, with his child dying due to a synth that gained consciousness, and him not necessarily willing to provide catch up, it's pretty much a date him or leave him alone situation. So, Laura pursues dating and gets a bit of a kiss herself.
Though, when it comes to the Dryden Commission? Nick remains far from an ally. Meaning Laura will have to shift focus if she wants any real impact. Leading to a call to Max who could use a shakeup.
Commentary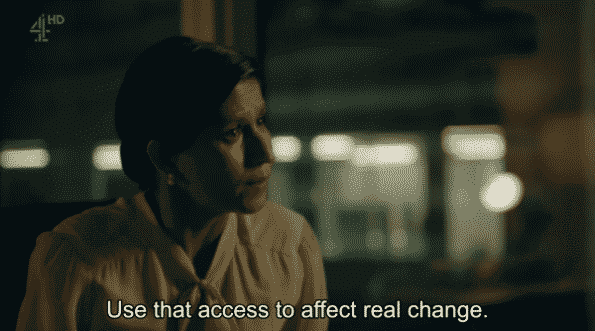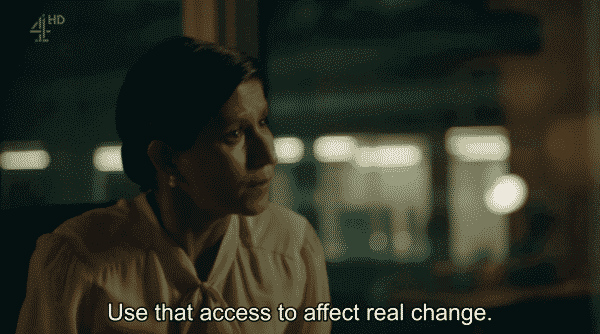 With Laura encouraged to make bolder moves and learn a bit more about the politics of the commission, it should be interesting to see the character evolve. For while Laura has always meant well, she has always been the underdog who never really acted as if she could win. She had enough courage to step forward, but not enough to lead or really be part of the charge. Sort of like we see in the next topic where she provides aide to Mia but isn't front and center.
Yet, in a way, with Humans taking a pseudo-X-Men approach to its story, it only makes sense, right? That is, taking note of the plight of people of color, perhaps Black folk in particular, and changing who is oppressed but keeping the sentiment.
Securing Normalcy: Mia, Joe, Karen, Sam
Using the fact Laura is still technically her owner, Mia rents a flat for herself to hopefully push the idea that synth and humans can co-exist. However, because humans are so peculiar, all they do is stare and collect themselves in front of her flat and harass her. Meanwhile, Mia just draws, remembers her former beach job, and speaks to the press when they come.
As for Joe? Well, while he isn't the most fond of synths still, it seems he has a soft spot for Karen and Sam. So while the idea of a child synth makes him uncomfortable, he starts to seemingly make Karen and Sam a bit of a second family. Which helps Karen a bit since, with David Elster making it so she can't put herself in harm's way, if Sam gets into any real trouble she is useless.
Commentary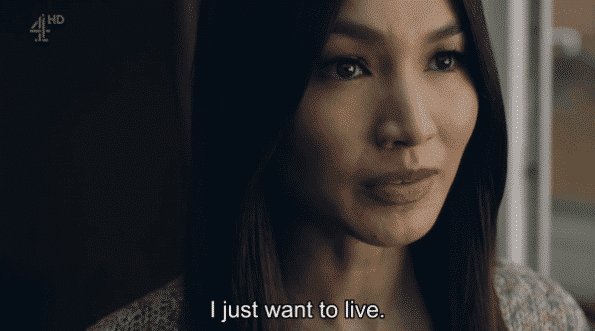 Honestly, Mia is the one mostly pushing the whole X-Men idea since one of the ways, at least in the US, Black folks used to integrate into suburban areas they couldn't get into on their own was through white sponsors. So, in a way, Mia is the Black person who is using Laura in order to integrate a building. Something which surely will have interesting results for they already broke a window. But the next issue comes from how will Mia afford the flat? Heck, how did she get the money to put down a deposit in the first place? Synths weren't given a wage before and unless they got more donations than previously mentioned, or are playing the stock market, I'm unsure how they are staying afloat.
Though, with that in mind, considering their knowledge and ability to connect to the outside world, why don't they have undercover synths taking advantage of human systems to support themselves? At least monetary wise.
An Unsure Future: Max, Agnes, Niska
While Laura pushes the idea of the Dryden Commission visiting the railyard, Agnes seems to not like any and all purposes which come out of Max. In a way, she is the Magneto to his Professor X and it is clear she is ready to start a rebellion at a moment's notice. Especially considering she finds the synths who Max turned away dead.
Though, the question might just be, will she form her own group or join the terrorist Niska is hunting? Because, frankly, Niska is only worried about the one who hurt her girlfriend and once they are handled, it leaves room for a new leader. One which could become Agnes considered her status grows by the day.
Commentary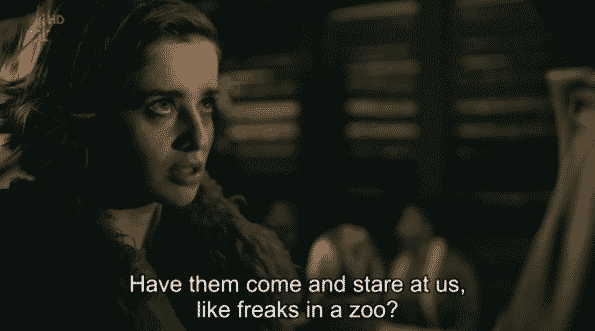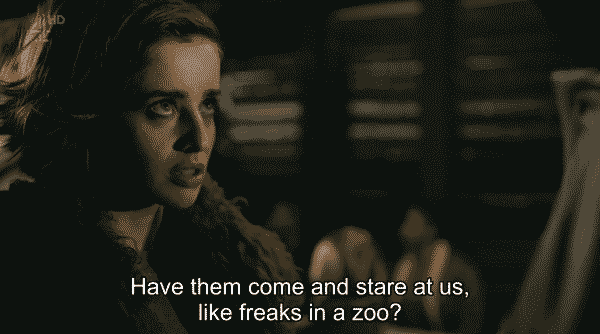 Would it be wrong to say that Humans taking note of how X-Men handles its various situations are definitely improving it drastically? We have villains who aren't necessarily evil, just worried about the future of humanity. While also having villains on the "other" side who see humanity as oppressors and rather take a more drastic role in defending their own than allowing themselves to be confined and/or slaughtered.
And while the X-men comparison might be strong, you have to note while the blueprint is being used the players have been modeled differently. Max is no Professor X since he is dealing with adults and doesn't have a huge amount of allies to help him run the railyard. I mean, he does have Anatole, who may or may not have feelings for Max, but even Anatole is an unsure ally. Especially since he has come up with his own religion which you know will eventually splinter off.
Yet, it is the Anatoles, the Mias, and even how Laura and Joe get involved, which make it so, while you can easily make comparisons, you can't say Humans, after 2 full seasons, has lost its originality and has decided to [tooltips keyword='bite' content = 'Meaning directly copy'] more popular media to boost itself and perhaps become a better program.
Miscellaneous Commentary
Budget Issues
It is noted during the Dryden Commission how the school system is overpopulated and underfunded. Leading to the need to question, as Laura pushes, if synths were to take that role, what would they be paid? Also, how would unions react? We already see how humans are now and those like Joe who lost their jobs to mindless synths, imagine how they would react to ones considered conscious.
Highlights
The X-Men like relationships and storyline has really taken Humans to the next level.
Laura being pushed to be more savvy when it comes to the Dryden Commission and truly be an outsider working from within with thoughts and ideas not fathomed.
Joe easing his prejudice against synths due to Sam.
On The Fence
Imagining Mattie and Leo having a full on plot where she introduces what it means to be human through love and acclimation.
Follow Wherever I Look on Twitter, Like us on Facebook and Subscribe to the YouTube Channel.
---
Previous Episode's Recap
[visual-link-preview encoded="eyJ0eXBlIjoiaW50ZXJuYWwiLCJwb3N0IjoyMTE2MSwicG9zdF9sYWJlbCI6IlBvc3QgMjExNjEgLSBIdW1hbnM6IFNlYXNvbiAzLyBFcGlzb2RlIDIgLSBSZWNhcC8gUmV2aWV3ICh3aXRoIFNwb2lsZXJzKSIsInVybCI6IiIsImltYWdlX2lkIjoyMTE2NCwiaW1hZ2VfdXJsIjoiaHR0cHM6Ly93aGVyZXZlci1pLWxvb2suY29tL3dwLWNvbnRlbnQvdXBsb2Fkcy8yMDE4LzA1L0h1bWFucy1BZ25lcy0yLnBuZyIsInRpdGxlIjoiSHVtYW5zOiBTZWFzb24gMy8gRXBpc29kZSAyIC0gUmVjYXAvIFJldmlldyAod2l0aCBTcG9pbGVycykiLCJzdW1tYXJ5IjoiQXMgaXQgaXMgaW5jcmVhc2luZ2x5IHF1ZXN0aW9uZWQgaG93IHN5bnRoZXRpY3MgY2FuIGNhcnZlIG91dCBhbmQgc2VjdXJlIHRoZWlyIGZ1dHVyZSwgaHVtYW5pdHkgaGFzIHRoZSBzYW1lIGRpc2N1c3Npb24gd2l0aG91dCB0aGVtLiBQb3NzaWJseSB0byB0aGVpciBvd24gZGV0cmltZW50LiIsInRlbXBsYXRlIjoiZGVmYXVsdCJ9″]
---
Follow, Like, and Subscribe
Community Rating: 0.00% (0) - No Community Ratings Submitted (Add Yours Below)