House of the Dragon: Season 1/ Episode 5 "We Light The Way" – Recap/ Review (with Spoilers)
---
Community Rating: 0.00% (0) - No Community Ratings Submitted (Add Yours Below)
---
This post may contain affiliate links and spoilers. Please read our disclosure policy.
---
In what might be Milly Alcock and Emily Carey's last episode, allegiances are declared, and as always in "Game of Thrones," a wedding is ruined.
Aired (HBO)
9/18/2022
Director(s)
Clare Kilner
Writer(s)
Charmaine DeGraté
Introduced This Episode
Larys
Matthew Needham
Joffrey
Solly McLeod
Laena (Young Adult)
Savannah Steyn
Rhea
Rachel Redford
Gerold
Owen Oakeshott
This content contains pertinent spoilers.
Recap
Desperate For Stability – Viserys, Corlys, Rhaenys, Rhaenyra, Joffrey, Criston, Laenor
While many would agree it is beneath a king to seek out a partner for his daughter, what choice does Viserys have? Rhaenyra has rumors circulating about her virginity, which thankfully hasn't left King's Landing, and Corlys, with his navy, remains a notable asset to the crown. So, while it may not be as Viserys wanted, at the very least, Corlys doesn't take too much of an advantage.
However, while the crown and Lord of Driftmark have made a deal, this doesn't mean there aren't other issues to consider. Rhaenys is well aware that Rhaenyra's claim will be challenged, and that is likely to drag her son into war. But, the children are quite fine with the arrangement since it will allow them to maintain their current relationships.
For Rhaenyra and Laenor, an open marriage is proposed and accepted, allowing Rhaenyra to continue having sex with Criston and Laenor to be with Joffrey. But, while Joffrey is fine with this, Criston struggles, for he would rather have an honest and real relationship with Rhaenyra. Which, for her, isn't an option for abandoning her crown and all it means for her first sex partner? It goes beyond logic, and her sense of duty doesn't allow for such nonsense.
Naivety and Innocence Is A Luxury – Alicent, Criston, Larys, Otto, Lyonel, Viserys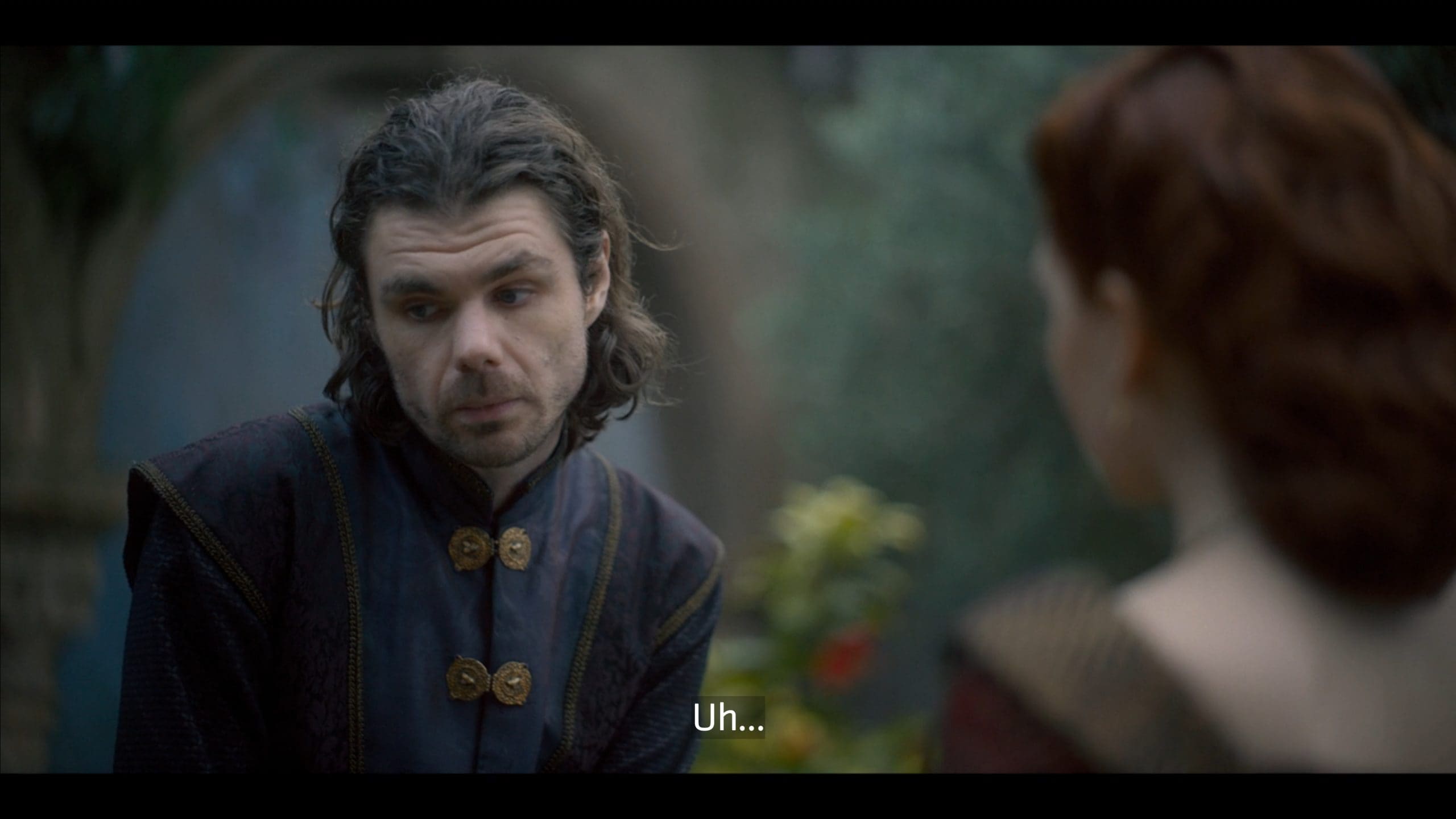 Alicent would like to believe all she is told is as people say. However, with her father leaving, she finds herself increasingly unable to be a naïve girl who found herself becoming queen. Lord Larys, the son of Lord Lyonel, the new Hand to the King, substantiates her father's claims, and when Alicent confronts Criston, thinking more of what Daemon might have done over Ser Criston, he snitches on himself.
This breaks Alicent's trust, and considering Lord Larys makes it clear Viserys is aware of far more than he has let on, it makes it clear Alicent needs to heed her father's advice if she wishes to keep her and her children alive.
What's A Wedding Season Without Bloodshed? – Rhea, Gerold, Daemon, Alicent, Viserys, Rhaenyra, Laenor, Joffrey, Criston, Laena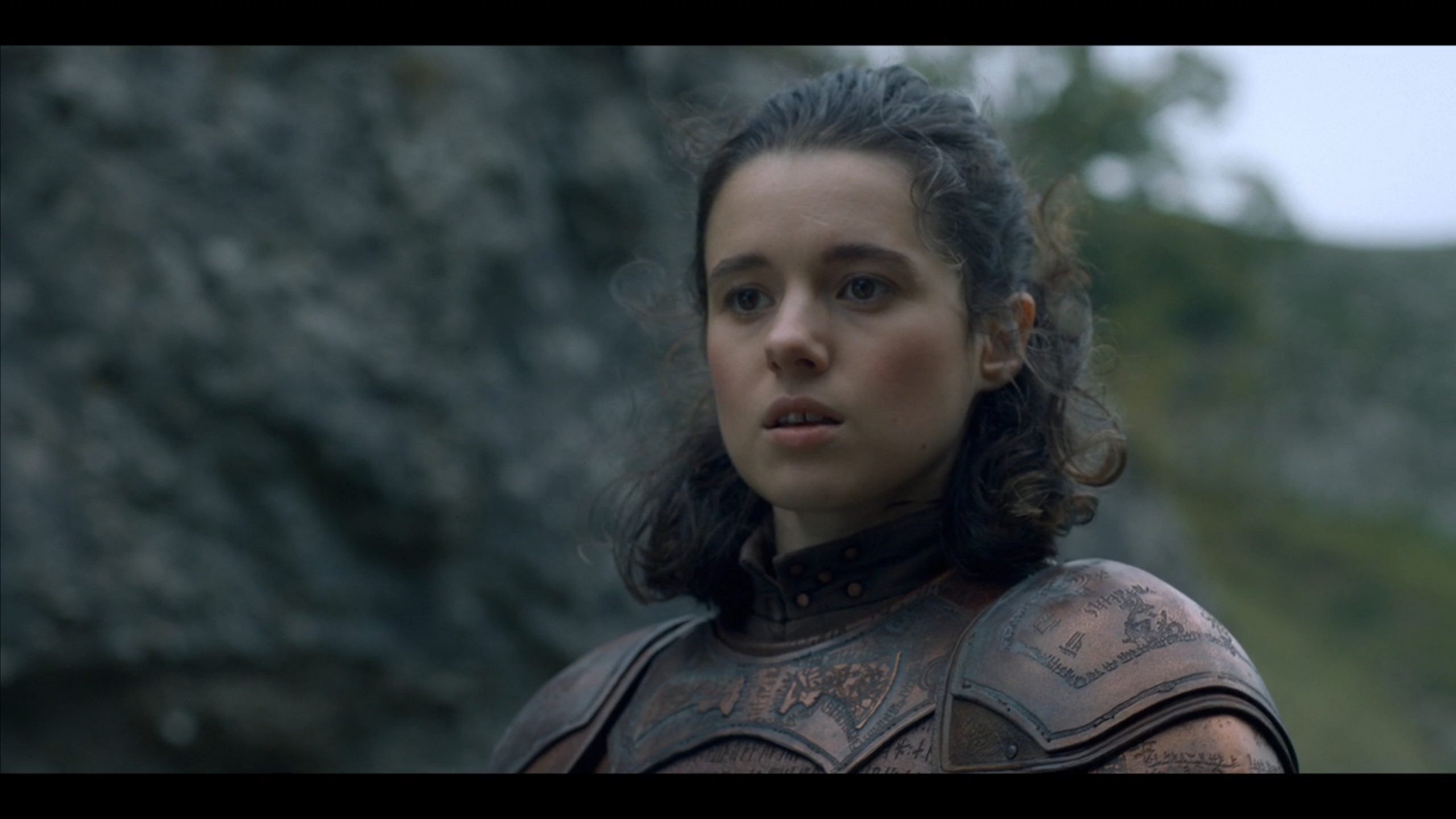 As is tradition within the "Game Of Thrones" universe, no wedding goes as planned. Daemon decides to kill his bride, Rhea of the Vale, and threatens her cousin Gerold when confronted at a wedding party. Joffrey decides to hold a conversation with Criston about being mistresses, which leads to Criston deciding to kill Joffrey, brutally, in front of everyone.
But that is just the beginning. Daemon tries to temp Rhaenyra away from all of this, and when that is clearly not going to happen, Laena becomes his target to better his standing. And amongst all this drama is Alicent wearing her family colors to the party, and whispers of the meaning behind it – like her allegiance being to herself and not to the Targaryens. But in the end, just to get the whole debacle over with, Viserys decides to cut the week short and have a mourning Laenor marry Rhaenyra without fanfare or much of an audience.
Things To Note
Episode Content
Dialog: Nothing notable
Violence: Criston caving in Joffrey's skull
Sexual Content: No sex this episode
Miscellaneous: Usual drinking
Question(s) Left Unanswered
When it comes to the time jump, will there be a transition scene from the late teens to twenties for Alicent and Rhaenyra, or just a hard cut?
Is Gerold going to spread rumors across the Vale of Daemon killing Rhea?
Will Laenor find another man, or was Joffrey his first and only love?
Considering Criston murdered someone in cold blood, even caused a semi-riot that could have allowed for the death of more than Joffrey, surely Alicent doesn't have the sway to keep him alive?
What Could Happen Next
Considering Viserys was coughing up blood, and is growing weaker by the episode, if he lives beyond episode 7, that would be a surprise.
Collected Quote(s)
When one is never invited to speak, one learns instead to observe.
Review
Highlights
Alicent Adapting Quickly
It is easy to believe Alicent is naïve, foolish, and easy to manipulate. She wasn't raised with any inclination she'd give birth or be right beside those who rule. Rather, she was raised to serve those who would and befriend Rhaenyra for a certain realm of protection. But that was then, and this is now, and it is increasingly clear Alicent can't rely on her old ways anymore. She can't maintain the persona that got her here if she wishes to survive what's next.
Which could lead many to think she wasn't taking note of her father's moves and was simply a pawn in all this, but that surely isn't the case. Alicent knows the easier path and has lived it for years, but what you can never discount is what a mother will do for her child. On her own, Alicent would likely have no issue begging for mercy as Rhaenyra took the throne, but Aegon and others being threatened? That would never do, and such would be an act of war in her mind, hence the green robe and no longer speaking to Rhaenyra as if they are friends, allies, or close. She uses the title she is to her and almost pushes an othering when she speaks. A sign that Rhaenyra should consider herself on notice.
Viserys' Recognizing His Mortality
As Viserys notes, and as we've seen, he has benefited from his predecessor's reign allowing for peace throughout the realm. Yes, there were issues in the Stepstones, but they didn't require a full-scale war, even if the issue lasted for years. But, with no major battles, new kingdoms, or means of boosting the economy, who is Viserys? The man who tried to make a woman a king? Is that all he can be?
It is something to think about, as most on the Iron Throne don't get to have time to wonder about their legacy. Too often, political issues keep them from such, and they aren't given the bereft of time Viserys has had. But, as anyone who has read the spoilers, or even some of the different articles about "House of the Dragon," know, this all is the calm before the storm.
On The Fence
A Bit Of A Anti-Climatic Goodbye To The Original Rhaenyra and Alicent
While you cannot discount Alicent's small act of rebellion, it should be said, if this is the final episode we see her and Rhaenyra with their original actors, this was a lackluster send-off. The wedding was the tamest of the franchise's history, even if we did see the inside of Joffrey's skull. Also, I don't know about you, but I'm still hesitant about the transition. While we have known forever we wouldn't keep these two actors, being that it was decided to have them just switch rather than go back and forth, there is a worry about how that may go.
Mind you, the franchise hasn't made any real, notably bad casting decisions thus far. Still, as noted in multiple episodes, it is going to be difficult to switch to someone else, especially when it comes to Rhaenyra. Alicent it should be fine since she just recently asserted herself and gained some sense of autonomy, thus allowing her new actress to easily take over. But for Rhaenyra? Alcock was able to make her, her own and now someone has to treat a character so well established by one actor as if it is a baton.
So here is hoping more is done to ease the transition, rather than just jumping right in and hoping for the best.
[ninja_tables id="69249″]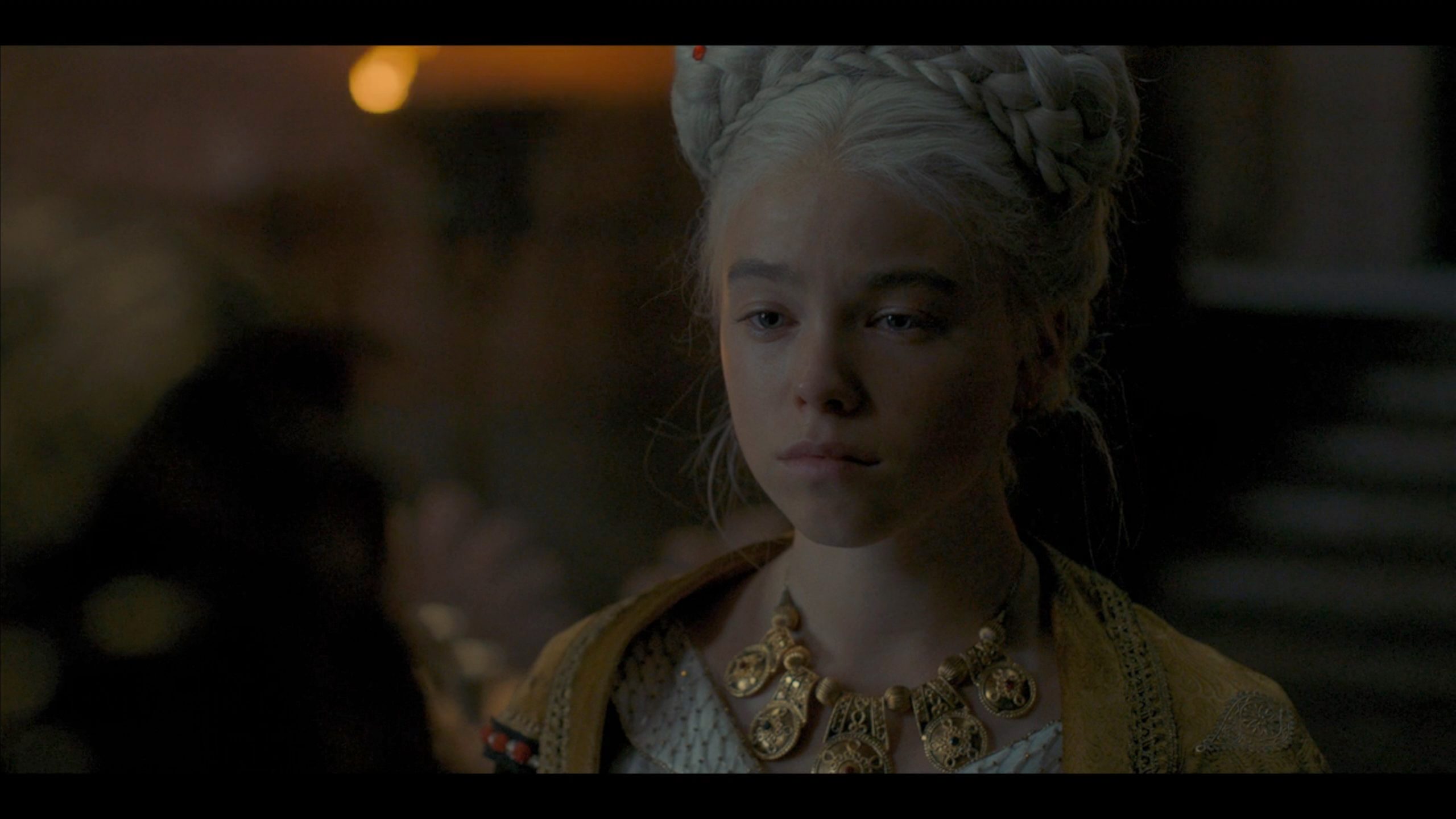 House of the Dragon: Season 1/ Episode 5 "We Light The Way" – Recap/ Review (with Spoilers)
Overall
While "House of the Dragon" delivers a rather lackluster wedding, perhaps one of the worst in the "Game of Thrones" franchise, it does seem like we're at the end point of Milly Alcock and Emily Carey's time on the show, which is potentially more tragic than Joffrey's murder.
Highlights
Viserys' Recognizing His Mortality
Alicent Adapting Quickly
Disputable
A Bit Of A Anti-Climatic Goodbye To The Original Rhaenyra and Alicent