Homecoming's air of mystery may not be a large selling point but, at the very least, the recognizable talent could compensate as the story picks up.
---
Community Rating: 0.00% (0) - No Community Ratings Submitted.
---
---
Network
Amazon Prime
Creator
Micah Bloomberg, Eli Horowitz
Director(s)
Sam Esmail
Writer(s)
Micah Bloomberg, Eli Horowitz
Air Date
11/2/2018
Genre(s)
Mystery
Good If You Like
Shows Featuring People Keeping Secrets To Be Uncovered

Watching Veterans Struggle With Acclimation To Civilian Life

Introduced This Episode
Heidi
Julia Roberts
Thomas
Shea Whigham
Colin
Bobby Cannavale
Images and text in this post may contain affiliate links which, if a purchase is made from those sites, I may earn money or products from the company. Most affiliate links contain an upward facing, superscript, arrow.
The Introduction
It is sometime in 2022 when Heidi finds herself questioning by a representative of the Department of Defense named Thomas. His questions stem from a complaint made while Heidi was practically running this facility, named Homecoming, which was made to help veterans acclimate back into civilian life. Something Heidi seems to desire to have a selective memory on for reasons we don't know why yet. All that is clear is that she quit her job, which was consuming her life. That and she didn't like the methods and procedures asked of her by her boss Colin. Who seemingly was doing things he shouldn't.
Question(s) Left Unanswered
Why was Colin seemingly in a foreign country? He talks about getting a consistent supply of "medicine" but where he was looked like the kind of shop which would produce heroin.
On The Fence
My Investment More So Comes From Familiar Faces than The Characters
Don't get me wrong, the mystery behind why Heidi quit and what may have led to this complaint isn't something which elicits a yawn. The problem is, the wheels aren't really pushed in your head to start crafting theories or anything like that. So what keeps you interested is familiar faces popping up or their names being noted in the cast listing.
For example, I'm looking forward to seeing more Frankie Shaw and Jeremy Allen White. That is, alongside Marianne Jean-Baptiste since I haven't seen her since I watched Blindspot
during its earlier seasons. Because, honestly, the show begins mostly living off hype than trying to fulfill it. But, as with most mysteries, especially those made to binge watch, they aren't going to try to sell you in episode 1. Unfortunately, you won't know whether something is good or not until you're halfway and, by then, you figure, "I've come this far" and bit the bullet.
First Impression: Mixed (Stick Around)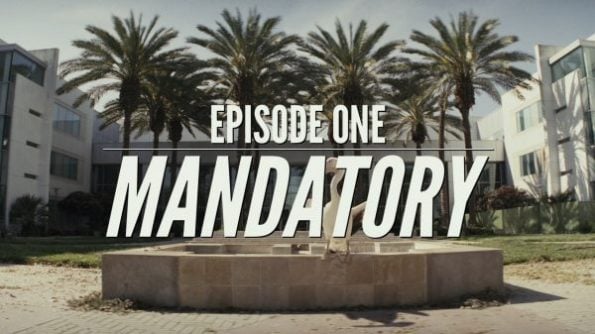 While there are many a name involved who pique my interest, none of them are the lead actors. Also, while I enjoy a good mystery from time to time, there is nothing worse than one set up in a binge watch way. Mostly because they put all the best bits towards the backend, and rely on this idea that, without commercials or weeks to wait, they don't have to present a strong hook in the beginning. Instead, they'll reward you for your loyalty later on. Problem with that is, not every show does that. Add on Homecoming not presenting the mystery of what happened to the soldiers as something to strongly ponder about? Well, that is what leads to the mixed label.
Homecoming could very well be a good show, but it is possibly a slow burner which asks for too much trust without giving you much reason to. That is, outside of some big names who, let's be frank, may have one or two shining productions in their past, but don't have the kind of consistency which makes you unquestionably down for the ride. So, this might be something to stick around and tough it out with but it is hard to say if it'll be worth it in the long run.
---
---
Follow Wherever I Look on Twitter, Like us on Facebook and Subscribe to the YouTube Channel.
---
---
---