While nearly everyone is given a grand opportunity, so comes the question of what they are willing to sacrifice? Be it professional relationships or personal.
---
Network
FreeForm
Director(s)
Jay Chandrasekhar
Writer(s)
Nicole Paulhus
Air Date
7/30/2019
Introduced This Episode
Amanda
Allison Paige
Images and text in this post may contain affiliate links which, if a purchase is made, we'll earn money or products from the company. Affiliate links and external links have an upward facing, superscript, arrow.
Recap
Does He Or Doesn't He Alice?: Alice, Dennis, Jeff, Davia
Alice finds herself in the middle of the Dennis and Davia situation. One which is getting to Davia a bit for with her finally breaking up with Jeff, she is single. Thing is, Dennis isn't making a move and Alice is trying to fish for information and isn't making much progress. In fact, she is actually making Davia more nervous about the whole thing. But, with her and Alice tired of the indecision and silence, Davia sits down with Dennis and it seems she'll get her answer.
Under Pressure: Mariana, Evan, Gael, Elijah
With the quarter coming to an end, and Mariana's actions embarrassing the company, getting her socially conscious app out has been made imperative.  Problem is, with how long Mariana's team was in disarray, and then all the other drama she's been dealing with, Evan giving her 10 days is way too tight. Especially since he is asking her, nearly every other minute, about dating etiquette.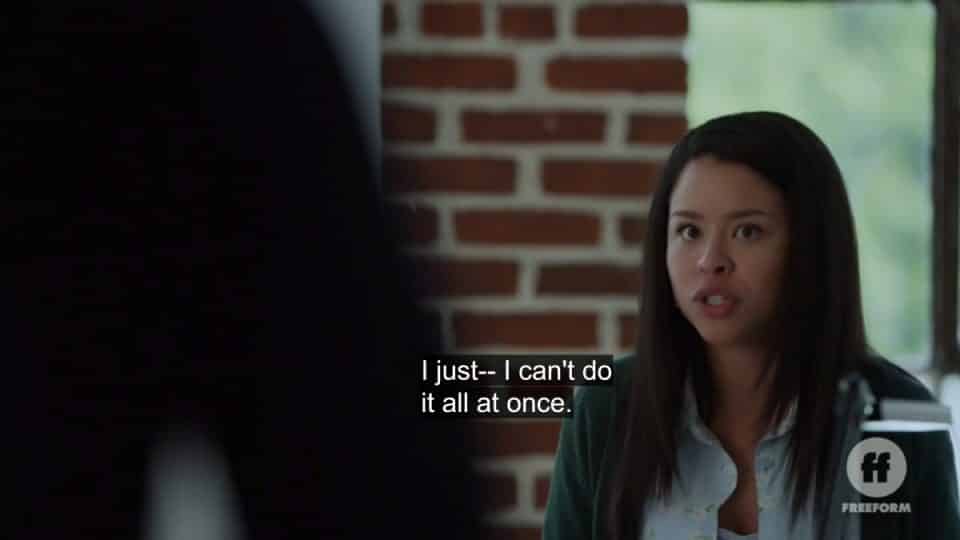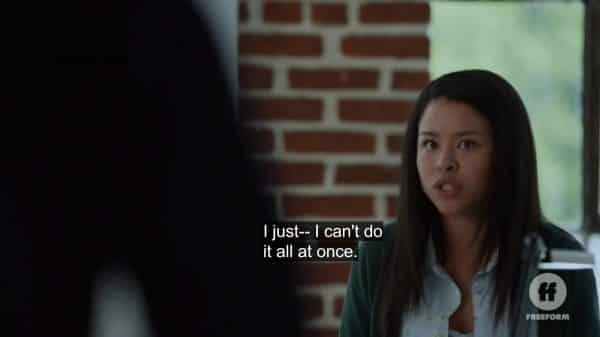 Which is why when he adds wanting a chat feature, it becomes a bit much. Though Gael doesn't help matters. While we rarely ever see him at Speckulate, he does work there and is on Mariana's team as a graphic designer. But with Elijah encouraging him to not be on Mariana's time, and deal with her being on a crunch, but instead taking a meeting, he chooses himself. Which may very well lead to him doing a major art installation, but at the sacrifice of his relationship to Mariana.
Who Needs A Comfort Zone?: Callie, Mariana, Davia, Teresa, Marcus, Malika, Isaac, Gael, Jamie
Callie is going through a lot, as is Malika. For Malika, she has found this ideal job but the problem is, while they support Malika's look and what she is about, they only want that as far as making money and avoiding scandal. They don't want her, as a brand ambassador, saying or doing anything which could alienate potential customers and effecting their bottom line. Which is a problem. One that leads her to want to not want the job, but Isaac continues to be that reality check that reminds her you have to make sacrifices. It's the only way you can eventually secure your freedom.
As for Callie? Well, when has she not had drama? It's just now instead of a love triangle, she has a work triangle as Teresa and Marcus are testing who is she going to be loyal to? Teresa who has been willing to mentor her from the start or Marcus who is far more ambitious? Oh, and is willing to go over Teresa's head to do what he needs done.
But, unfortunately for Callie, things at home aren't that better. Davia has started messing with her again, and being hella petty. Then there is Mariana who she keeps butting heads with, and upon discovering they share a chat of them all, even Alice, talking mess, it makes that idea of living with Jamie sound better and better. Granted, she isn't ready yet, doesn't think he is either, but why live with people who clearly don't like or respect you? Which now includes Gael since he learns about the piece Jamie bought.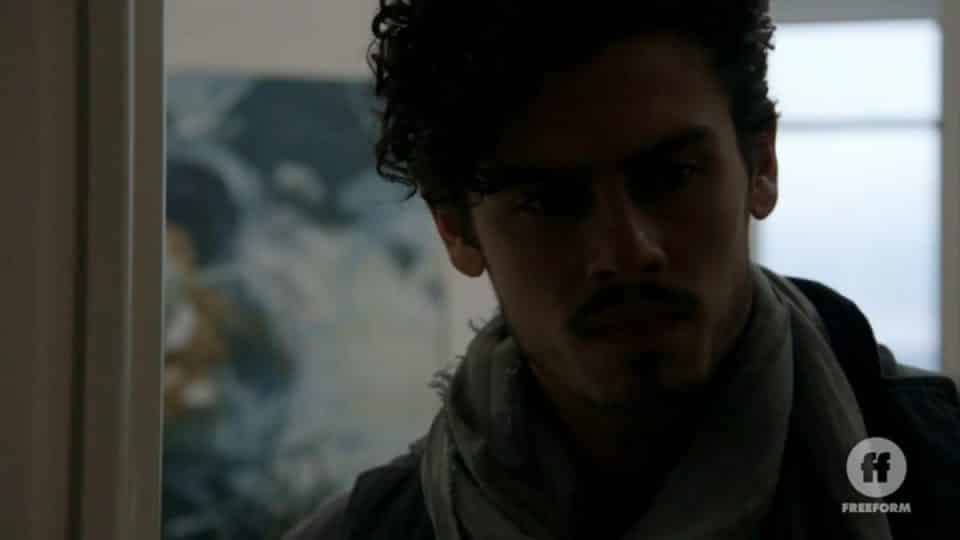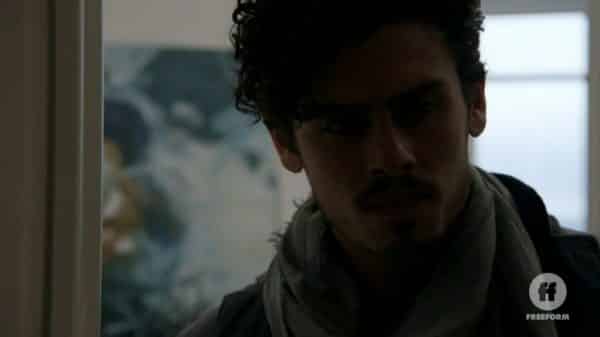 Review
Highlights
The Triangle Callie Deserves
You know what's better than a love triangle? One which tests a person's loyalty in the work place. This is what I'm hoping we see more of, in general. For, as seen with Gael, choosing what's best for you short term vs. long term can be a difficult decision. Yet, it creates the kind of drama you can really get behind since it credits the characters and actors with the idea that romance isn't the most important thing going on in their life.
Malika's Storyline
FreeForm consistently with this series, and predecessor, acknowledges that each community has different issues it struggles with. Malika noting that because her name implies being non-white, it created an obstacle. Because her social media was liked to an advocacy group, it had the potential to put her out of the running. And having to balance loving yourself, your people, and having a whole separate life outside of work is a real issue. Especially since companies fear their bottom line being affected because you angered a customer who happens to be well connected.
So it should be interesting to see where the show takes this considering Malika has been consistently focused on.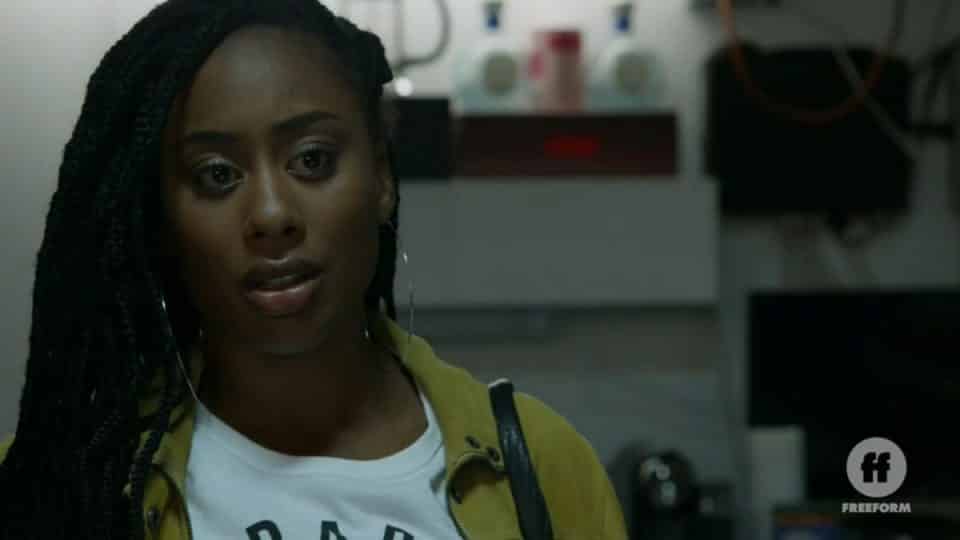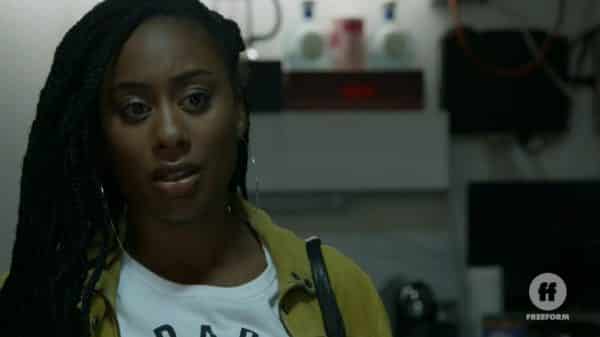 Mariana & Trying To Not Become Like Amanda
It isn't clear what happened with Amanda, but what is clear is that Evan can be demanding and there is surely more to that story than we currently know. Which I'm thankful for since Mariana's story is constantly feeling a little stale. Maybe it is because it is so rooted in her oppression that we haven't gotten to see her thrive? An issue that, for many, likely could be all consuming hence why that dominates her story? Never mind her feeling the need to prove herself as a woman, a Latina at that, so she knows she can't disappoint or fail. From the start they undervalued her, she can't prove them right now.
Elijah & Isaac – How They Revealed Their True Colors
Men on this show don't really get much credit since they don't do much of note. Yes Dennis has slowly peeled back his layers, but the rest have just been exes or current boyfriends. Elijah and Isaac aren't that much different but I will admit seeing them transition from either this lovable guy, or ass, to the complete opposite has been intriguing. I wouldn't call either of the shifts subtle but considering neither get a whole lot of screen time, the fact you can notice and get a little shocked from the changes is something. Here is hoping it continues in a positive direction.
On The Fence
The Will They Or Won't They Of Davia & Dennis
I'm back and forth when it comes to this Dennis and Davia thing. Often because I feel the show uses Dennis to humanize Davia. To trigger her insecurities and make up for how much of an ass she often is. Yet, isn't that one of the best parts about Davia? That she isn't that bubbly fat girl but can be an ass at times?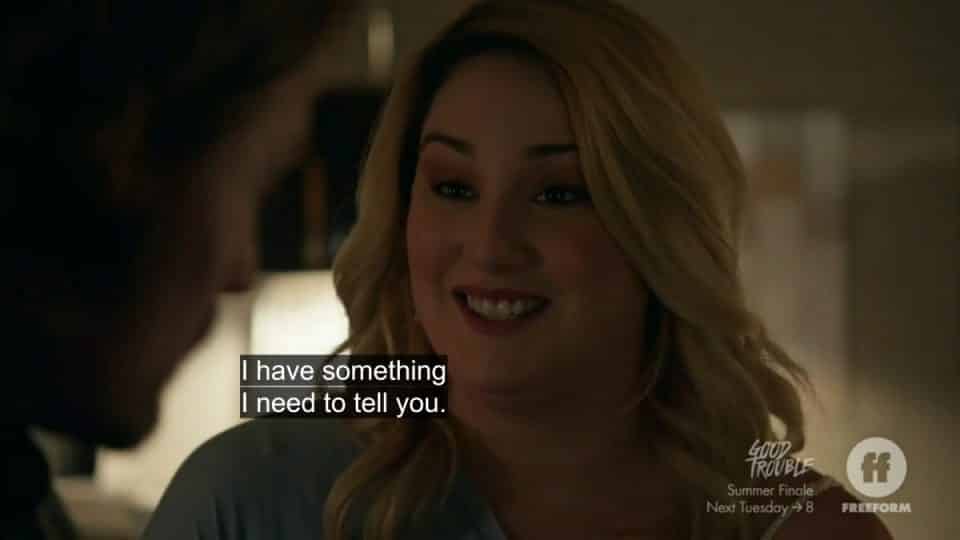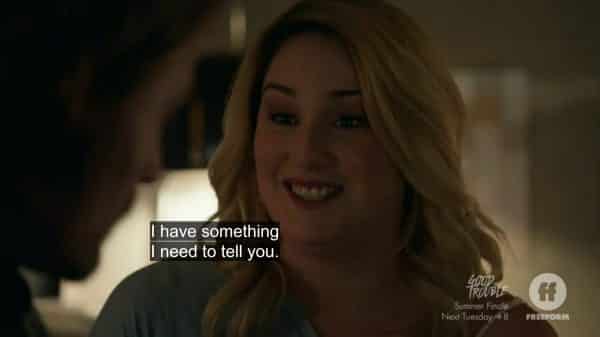 They Could Beef Up These BLM Characters & Malika's Friends
This is just a reminder that we've learned more about characters who are no longer on the show than Malika's friends and that pattern shouldn't remain. Malika as an individual is treated as one of the most invested characters so let's give her associates the same time and energy.
Follow Wherever I Look on Twitter, Like us on Facebook and Subscribe to the YouTube Channel.
Season/ Episode
Synopsis
Director, Writer, and Introduced Actors
Topics & Focused Characters
Season 2, Episode 8 "Disruptions" [Summer Finale]

In an emotional, or dramatic, finale, if not both, Callie has had enough, Mariana makes things worse at work, and our favorite queer relationships might be in trouble.

Director(s)
Peter Paige
Writer(s)
Joanna Johnson
Air Date
8/6/2019
Introduced This Episode
Kendra
Azita Ghanizada
Sariya
Presilah Nunez

Things Have Just Become Too Complicated:Lindsay, Alice, Joey, Elijah, Gael
You Said Too Much While Saying Very Little:Amanda, Evan, Mariana, Kendra, Davia, Dennis, Jennifer, Jeff, Sariya, Teresa, Marcus, Callie
Needing A Change:

 

Malika, Issac, Judge Wilson, Callie, Mariana, Gael, Jamie

Season 2, Episode 6 "Twenty-Fine"

It's Malika's birthday and tensions between people who live at The Coterie and their partners nearly throw off the vibe she was aiming for.

| | |
| --- | --- |
| Director(s) | Chandra Wilson |
| Writer(s) | Joanna Johnson, Ashly Perez |
| Air Date | 7/23/2019 |

Love Is In The Air:

 

Malika, Isaac, Davia, Dennis
I Just Want You More Confident:

 

Joey, Alice, Raj, Mariana, Gael, Elijah
Sisters Fight Sometimes:

 

Mariana, Raj, Jamie, Callie

Season 2, Episode 7 "In The Middle"

While nearly everyone is given a grand opportunity, so comes the question of what they are willing to sacrifice? Be it professional relationships or personal.

Director(s)
Jay Chandrasekhar
Writer(s)
Nicole Paulhus
Air Date
7/30/2019
Introduced This Episode
Amanda
Allison Paige

Does He Or Doesn't He Alice?:

 

Alice, Dennis, Jeff, Davia
Under Pressure:

 

Mariana, Evan, Gael, Elijah
Who Needs A Comfort Zone?:

 

Callie, Mariana, Davia, Teresa, Marcus, Malika, Isaac, Gael, Jamie

Season 2, Episode 5 "Happy Heckling"

As Evan reveals his intentions, things blow up at Speckulate. Also, Callie is once again struggling with her dating and life choices.

Director(s)
Erica Dunton
Writer(s)
Adam Starks
Air Date
7/16/2019
Introduced This Episode
Lindsay
Rhea Butcher

An Up And Coming Talent:

 

Alice, Joey, Lindsay
I'm Not Who You Think I Am:

 

Elijah, Gael, Callie, Marcus, Jamie, Alice
Something Beyond Co-Workers:

 

Mariana, Alex, Raj, Evan, Josh

Season 2, Episode 4 "Unfiltered"
Despite Callie starting a new job, old habits die hard. Also, Davia's mom, Bonnie, comes to town and reminds us of another reason Davia doesn't want to go home.

Director(s)
Laura Nisbet Peters
Writer(s)
Resheida Brady
Air Date
7/9/2019
Introduced This Episode
Bonnie
Reagan Pasternak
Gina
Rachel Rosenbloom
Marcus
Juan Antonio
Teresa
Lisandra Tena

Pay The Cost To Be A Boss: Gina, Raj, Mariana, Evan
Pulling A Callie: Callie, Joseph, Isaac, Malika, Marcus, Teresa
Mommie Dearest: Davia, Dennis, Bonnie

Season 2, Episode 3 "Doble Quince"

Jazmin decides to have a Doble Quince, and despite it being her party, nearly everyone else's minds are on other things.

| | |
| --- | --- |
| Director(s) | Bradley Bredeweg |
| Writer(s) | Joanna Johnson, Ashly Perez |
| Air Date | 7/2/2019 |

A Lady Is Allowed Her Secrets:

 

Malika, Dom, Isaac, Joseph
You Can't Have A Relationship Without Honest Conversations:

 

Joey, Alice, Raj, Mariana, Evan
Sometimes Progress Doesn't Come Soon Enough:

 

Gael, Elijah, Jazmin, Jamie, Callie

Season 2, Episode 1 "Percussions" [Season Premiere]

The verdict of the Jamal Thompson case is delivered, Mariana deals with how her personal and professional life has changed, and Alice prepares her next chapter.

Director(s)
Peter Paige
Writer(s)
Joanna Johnson
Air Date
6/18/2019
Introduced This Episode
Jacob
Carter Rush Adkins

The Struggle To Move Forward:

 

Dennis, Jacob, Davia, Jeff
A Change Gon' Come:

 

Alice, Joey, Raj, Mariana, Evan
Was This The Battle Or Was It The War?:Sandra, Judge Wilson, Malika, Callie, Jamie, Gael

Season 2, Episode 2 "Torn"
Drastic moves are made in order to go from surviving to being happy, thriving even, but they naturally come at a cost.

Director(s)
Peter Paige
Writer(s)
Joanna Johnson
Air Date
6/25/2019
Introduced This Episode
Naomi
Denise Dowse
Elijah
Denim Richards
Joseph
Richard Brooks

Case Of The Ex: Davia, Jeff, Elijah, Gael, Callie
Moving Past The Pain: Joseph, Dom, Malika, Dennis, Davia
A Complicated Future: Callie, Mariana, Evan, Raj, Jamie, Judge Wilson, Naomi, Malika

Season 1, Episode 13 "Vitamin C"



Nearly everything comes to a head as 

Good Trouble

 ends its first season which thankfully will be followed up by season 2 in June.

Director(s)
Joanna Johnson
Writer(s)
Joanna Johnson
Air Date
4/2/2019
Introduced This Episode
Viv
Riley Go

From Another's Eyes:

 

Viv, Davia, Malika, Dom, Sandra

The Truth Will Set You Free And Freedom Is A Dangerous Gift:

 

Mariana, Angela, Josh, Evan, Callie, Sumi, Joey, Meera, Alice, Ben

Picking Up The Pieces:

 

Raj, Mariana, Dom, Isaac, Malika, Callie, Jamie, Gael, Davia, Dennis, Alice, Trae, Malika, Jeff


Season 1, Episode 12 "Broken Arted"

You may think the title of this episode, "Broken Arted" is about romance but what'll break your heart is the loss of something, rather someone beyond love.

Director(s)
Peter Paige
Writer(s)
Megan Lynn, Wade Solomon
Air Date
3/26/2019
Introduced This Episode
Nathan
Brandon Barash

True Intentions:

 

Raj, Evan, Angela, Mariana, Josh, Malika, Casey
A Complicated Relationship:

 

Gael, Bryan, Callie, Jamie, Jasmin, Sumi, Alice, Meera, Joey
Goodbye Big Brother?:

 

Mariana, Dennis, Davia, Jeff, Nathan, Jenn

Season 1, Episode 11 "Less Than"
Good Trouble

 

dives into varying topics dealing with race from pay gaps, representation, privilege, and also how to be an ally this episode.

| | |
| --- | --- |
| Director(s) | Bradley Bredeweg |
| Writer(s) | Kimberly Ndombe |
| Air Date | 3/19/2019 |

She's Still In Love:

 

Alice, Sumi, Meera, Joey
In The Minority:

 

Malika, Isaac, Sandra, Mariana, Casey, Evan, Davia, Josh, Angela
The Work Drama Continues:

 

Kate, Judge Wilson, Callie, Jamie, Tate

Season 1, Episode 10 "Re-Birthday"

What begins as a fun night out, with 0 focus on work, leads to a lot of people addressing current relationships, boundaries, and self-respect.

Director(s)
Aprill Winney
Writer(s)
Claudia Forestieri, Dan Richter
Air Date
3/12/2019
Introduced This Episode
Brandon
David Lambert

Communication Issues:

 

Isaac, Malika, Brandon, Dennis, Jamie, Callie, Gael, Bryan
Boundary Issues:

 

Sumi, Mariana, Raj, Alice
It's My Party & I'll Cry If I Want To:

 

Davia, Dennis, Jeff

Season 1, Episode 9 "Willful Blindness"

On top of meeting Malika and Alice's illustrious mothers, and Rebecca's, someone says goodbye to 

Good Trouble

.

Director(s)
Kelli Williams
Writer(s)
Lauren Moon
Air Date
3/5/2019
Introduced This Episode
Moe (Malika's Mom)
Karole Foreman
Diane
TBD
Trea
Lee Chen
Kate
Dianne Doan

Life In The Closet: Trea, Alice, Joey, Sumi, Meera
Identity Issues:

 

Callie, Bryan, Gael, Mariana, Rebecca, Diane, Judge Wilson, Kate
A New Kind Of Family:

 

Moe, Dom, Malika, Mariana, Sandra

Season 1, Episode 8 "Byte Club"

Rebecca's past is revealed as she flirts with a future that includes Jesus and Mariana's Byte Club begins and finds a vital ally of the male staff.

Director(s)
Peter Paige
Writer(s)
Nicole Paulhus
Air Date
2/26/2019
Introduced This Episode
Tate
Zachary Gordon
Angela
Heather Mazur
Josh
Charlie Bodin
Jesus
Noah Centineo

When or Where Did I Go Wrong?:

 

Callie, Judge Wilson, Tate
Always Be Ready:

 

Dennis, Jesus, Rebecca
No Woman Left Behind:

 

Mariana, Casey, Callie, Raj, Rebecca, Angela, Josh, Alex, Ben

Season 1, Episode 7 "Swipe Right"
"Swipe Right" is purely about establishing the beginning, possible end, of nearly every characters current or future relationship.

Director(s)
Troian Bellisario
Writer(s)
Ally Musika
Air Date
2/19/2019
Introduced This Episode
Paul
Joe Burke
Isaac
Sarunas J. Jackson
Joey
Daisy Eagan
Eli
Steven Krueger
Lara
Alisa Allapach

Girls Just Wanna Have Fun: Paul, Isaac, Joey, Eli, Lara, Mariana, Malika, Davia, Alice, Sumi
I Can't Give All, So I Have To Give Nothing: Callie, Gael

Season 1, Episode 6 "Imposter"
While the truth helps Callie flourish, Mariana is getting sick and tired of being sick and tired. Also, Jazmin returns and clues us into how difficult her life is.

Director(s)
Geoff Haley
Writer(s)
Megan Lynn, Wade Solomon
Air Date
2/12/2019
Introduced This Episode
Jennifer
Annie Little

The Truth Will Set You Free: Judge Wilson, Jamie, Callie, Dennis, Davia, Ben, Jennifer

What It's Like To Be Me: Jazmin, Gael, Callie, Jamie

Fight Club: Alex, Raj, Mariana, Casey, Evan


Season 1, Episode 5 "Parental Guidance Suggested"
Stef and Lena come to The Coterie and reveal what is going on in their lives, and shine a light on Dennis.

Director(s)
Bradley Bredeweg
Writer(s)
Joanna Johnson
Air Date
2/5/2019
Introduced This Episode
Dennis
Josh Pence
Stef
Teri Polo
Lena
Sherri Saum

Moms Are Coming!: Callie, Gael, Mariana, Malika, Bryan, Davia, Stef, Lena

Introducing Dennis: Stef, Dennis

The Truth Sets You Free/ Someone Who Understands: Lena, Malika, Callie, Mariana, Gael, Bryan, Ben, Davia

Season 1, Episode 4 "Playing The Game"

Mariana and Alice are given the opportunity to stand up for themselves, as Davia and Callie are tasked with a needed shift in an important relationship.

Director(s)
Michael Medico
Writer(s)
Cristian Martinez
Air Date
1/29/2019
Introduced This Episode
Libby
Jessica Tuck
Jeff
Chris Sheffield

The Boy Back Home:

Davia, Jeff, Mariana

You Got To Stand Up For Yourself:

Mariana, Raj, Casey, Alice, Malika, Sumi, Alex
We All Have Our Secrets:

Libby, Judge Wilson, Rebecca, Ben, Callie, Malika

Season 1, Episode 3 "Allies"

Both Mariana and Callie continue to struggle with office politics as Malika's activism puts her at odds with her family.

Director(s)
Laura Nisbet Peters
Writer(s)
Kris Q. Rehl
Air Date
1/22/2019
Introduced This Episode
Jamie
Beau Mirchoff
Sandra
Nicki Micheaux
Evan
T.J. Linnard
Raj
Dhruv Uday Singh
Sam
Max Cutler
Jazmin
Hailie Sahar

You Make Time For The Things, And People, You Think Are Important:

Malika, Sandra, Dom

Slowing Down The Train Won't Mean It Won't Get To Its Destination:

Mariana, Alex, Raj, Sam, Evan, Casey

Step Your Game Up:

Jamie, Callie, Rebecca, Ben, Judge Wilson, Gael, Bryan, Davia


Good Trouble is charged with messages of equality mixed in with the relationship (platonic and otherwise) drama fans of its predecessor are used to.

Creator
Joanna Johnson, Bradley Bredweg, Peter Paige
Director(s)
Jon M. Chu
Writer(s)
Joanna Johnson, Bradley Bredweg, Peter Paige
Air Date
1/1/2019
Genre(s)
Drama, Young Adult
Good If You Like
Progressive TV Programming

Racial & Cultural Diversity

Your Usual 20 Something Drama with Random Sex Partners, Job Anxiety, and Unnecessarily Complicated Relationships

Isn't For You If You
Don't Like Your TV Programs Being Political
Introduced This Episode
Mariana
Cierra Ramirez
Callie
Maia Mitchell
Judge Wilson
Roger Bart
Casey
Chloé Wepper
Rebecca
Molly McCook
Ben
Ken Kirby
Alice
Sherry Cola
Malika
Zuri Adele
Gael
Tommy Martinez
Davia
Emma Hunton

We got a conversation on bi-sexuality, the backstory of multiple characters and work drama – aka what will probably be the usual from Good Trouble.

Director(s)
Peter Paige
Writer(s)
Joanna Johnson
Air Date
1/15/2019
Introduced This Episode
Jude
Hayden Byerly
Bryan
Michael Galante
Dom (Malika's Brother)
J. Mallory McCree
Sumi
Kara Wang
Alex
Dustin Ingram

Let's Talk About Sex(uality): Jude, Callie, Gael, Bryan, Sumi, Alice
The Outsider: Mariana, Alex, Davia
I'm Trying Here: Malika, Dom, Callie, Rebecca, Mariana, Ben
They Could Beef Up These BLM Characters & Malika's Friends - 70%
The Will They Or Won't They Of Davia & Dennis - 75%
Elijah & Isaac – How They Revealed Their True Colors - 80%
Mariana & Trying To Not Become Like Amanda - 85%
The Triangle Callie Deserves - 89%