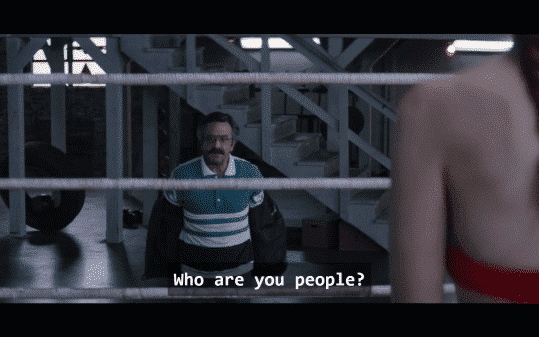 Glow is still struggling but is getting better. Mostly thanks to Cherry becoming more prominent as well as Melrose.
Time to Meet The Ladies of GLOW: Sam, Cherry [Sydelle Noel], Sheila [Gayle Rankin], Melrose [Jackie Tohn]
Thankfully, Ruth sort of takes a step back this episode. With that, the rest of the girls get introduced. Well, three anyway. The one we learn about the least is Sheila, the one who kind of looks like a wolf. We learn that part of her wolf persona comes from her acute sense of smell and her knowledge of wolves. That's about it.
But the big focus is on Cherry and Melrose. With Melrose, a lot of her development comes from playing off of Cherry and snooping in on a conversation she has with Sam. For, as established in episode 1, Sam and Cherry are familiar with one another. However, it is beyond just working together. We learn the two had a three way with Cherry's husband Keith (Bashir Salahuddin) back in the day. Also, we learn Cherry had a miscarriage two years ago.
Commentary
I'm definitely getting Orange is the New Black vibes in full force here. For Cherry has saved this show for me. Not just because we learn of her miscarriage or three way, but because Noel brings something more than the tough Black woman. There is a softness there, alongside this badass exterior, that makes it so you want to get to know her better. Alongside that, being that we meet her husband, and she physically shows Melrose she is not one to screw with, I was had one of these kind of moments.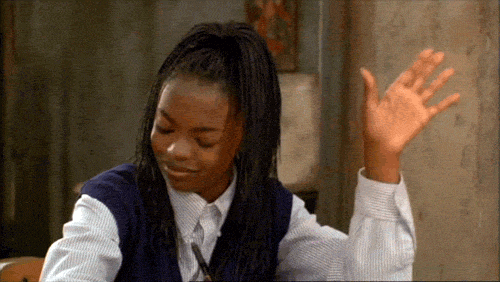 Speaking of Melrose, while not over the moon about her, she does help expand the idea that the whole Trojan Horse concept isn't just for people of color. It also benefits actresses like Tohn who have pretty much seemed to just have supporting parts for most of their careers. Yet, thanks to name recognized actresses like Brie, now they have more opportunities.
Something you can see Tohn is taking advantage of for even before Cherry read her life for filth, she was interesting. She is a woman who drives around in a limo, has been in a bunch of music videos, and has led an interesting life. Yet, there is some sort of sadness there. Cherry picks the scab but Melrose covers it before we can see if she has come anywhere close to healing or not.
Which, in comparison to Ruth who remained boring as hell, it makes these two women welcome forces.
Training and Breakdown: Cherry, Sam, Melrose, Carmen [Britney Young]
With Sam away hunting Debbie, Cherry is asked to train the girls. Why her? Well, Salty 'The Sack' Johnson (John Hennigan) was fired. Mostly because Sam didn't want that generic wrestling vibe. So, with that, while having Carmen as her assistant, Cherry trains the girls. Something which rubs Melrose the wrong way since Cherry is making this a chore. Which, of course, she doesn't enjoy. Melrose likes having fun and Cherry decides, since Melrose isn't taking things seriously, to call her out on it. This leads to Melrose revealing Cherry slept with Sam and joking about Cherry's miscarriage.
But what makes things worse is Sam, when he returns, makes it into a storyline. Something which really pushes Cherry to the edge. Not to the point of fighting Sam but more so tears. For while it has been two years, it seems that may also be the amount of time she hasn't worked. So the grieving process was two-fold.
Commentary
One of the main reason I gave the pilot a pass is because of the training. For while it is noted Gene Kelly did the title number of Singing in the Rain with the flu, that was then and this is now. Arguably, actors don't get pushed as far as they once did. So, with that in mind, and it being noted they are basically dropping onto slightly bouncy steal, you have to give it to them.
For on top of who knows how many takes of being flipped or bounced off of ropes, and into turnbuckles, they have to act. They have to make you laugh, get in your feelings, and that's tough. Especially since what we are seeing is the end result. So who knows, besides Kia Stevens who is used to the mat and ring, how the other actresses were dealing with this.
Possible excuses aside, I hope just as Melrose and Cherry were built up, so will the rest of the cast.
The Devil Always Gets The Best Lines: Debbie, Sam, Ruth
Despite her husband's mistress in attendance, Debbie finds herself charmed by Sam. With him talking about her as the lead, encouraging her to speak out and be more than what she is used to, she feels convinced. As for Ruth? Well, the whole situation is just awkward for her. To the point, she thinks she'll get fired due to Debbie. Sam though would rather her play the villain. Something, so it seems, Ruth isn't much for.
Commentary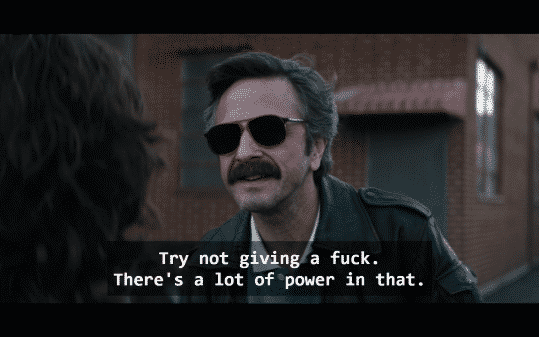 Let's back up for a second, when are these women being paid? Much less, how much are they being paid? For, as you can see, they are doing a lot of work, driving to this gym, and had to get their own outfits. All Sam is providing is a bunch of snake oil at this point. And while Cherry makes it seem Sam is legit, she also notes in the episode he hasn't worked as long as she has. So where does this guy who hasn't worked in years get financing for a wrestling show? Much less the money to rent out a gym and get a TV deal? I don't know about you, but something seems off.
As for the whole Debbie and Ruth situation? I feel like they are going to become a more likable, non-lesbian, version of Piper and Alex. For, at this point, despite all the tears and jokey moments, they aren't bringing anything really to the table. That could change, but I wouldn't invest in that possibility.